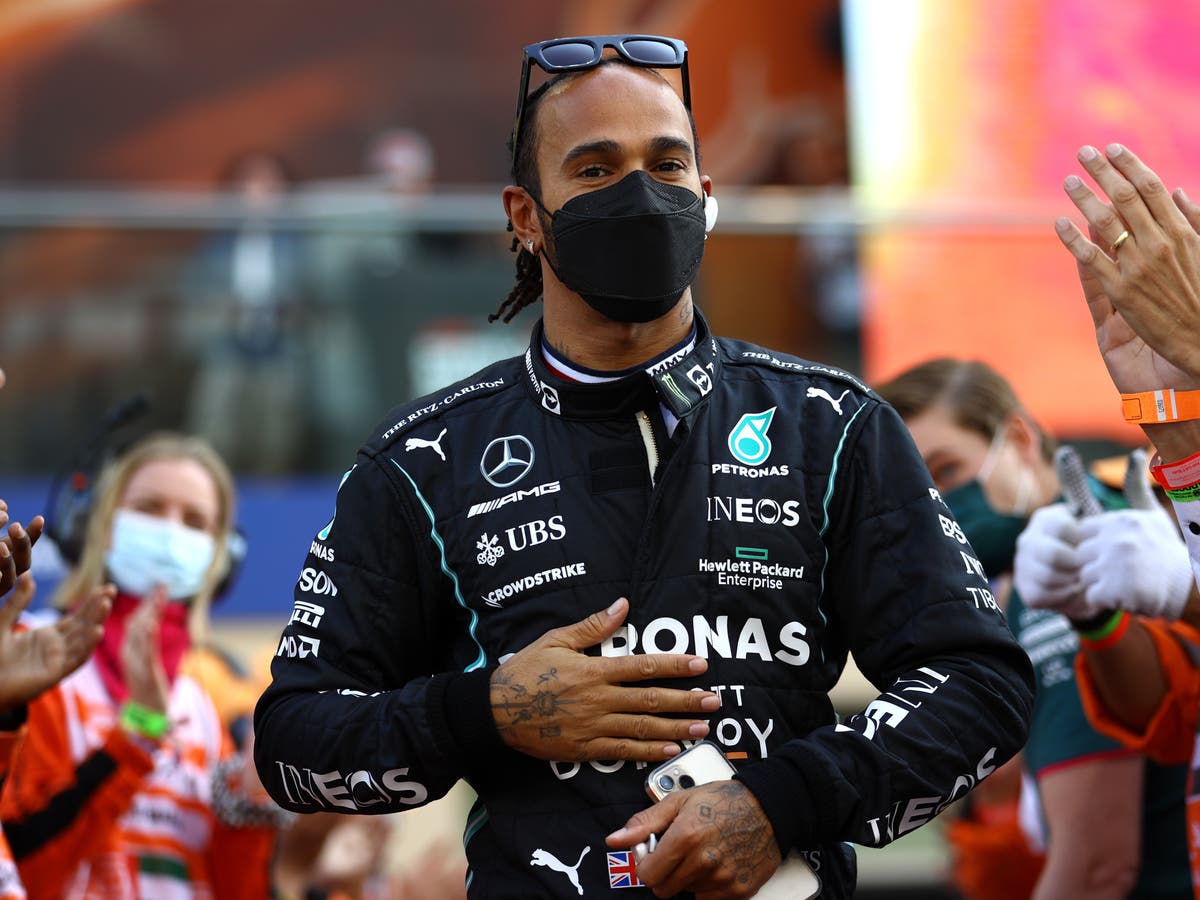 Follow latest race updates from the F1 title decider as Lewis Hamilton and Max Verstappen battle it out in the Abu Dhabi Grand Prix
Verstappen 'Will Do Everything' To Beat Lewis Hamilton
Follow live coverage as Lewis Hamilton and Max Verstappen do battle for the 2021 Formula One title at the Abu Dhabi Grand Prix today.
Verstappen could not hide his delight after beating Hamilton to pole position in today's race with an absorbing title race set to finally conclude. The Red Bull star described qualification as "an amazing feeling" after producing a lap 0.371 seconds faster than the Mercedes. And with both men level on points entering the final race of the season at the Yas Marina Circuit, it is winner takes all, with the Belgian-Dutch driver admitting he is "incredibly happy with this. It is of course what we wanted but it is never easy, especially with their form recently."
While Hamilton, aiming for his eighth world title, which would break a tie between himself and the legendary Michael Schumacher, appeared downbeat following his defeat in qualification: "Max did a great lap today so we just couldn't compete with that time at the end there."
The Constructors' Championship remains up for grabs, with Red Bull hoping to upset Mercedes, who are 28 points ahead, and they gained an edge in qualification as their second driver Sergio Perez will line up fourth, though McLaren's Lando Norris produced a sensational performance to take third, with the Briton admitting he is "nervous" to watch the drama unfold from his position at the start line. Hamilton's teammate Valtteri Bottas could only manage sixth and fell behind the Ferrari of Carlos Sainz.
Follow all the latest updates from what promises to be a thrilling finale to the F1 season:
1639311946
Pirelli chief discusses tyre worry for Red Bull
Nico Rosberg has told Sky Sports that Pirelli F1 chief Mario Isola has warned him that the soft tyres, on which Max Verstappen will start the race, will only last between 15 and 20 laps.
That could make a two-stop strategy a necessity for Verstappen, whereas Lewis Hamilton's mediums could allow him to make a one-stop work.
Both Rosberg and Jenson Button agree, though, that they would rather be starting first on the soft tyres because track position is so crucial at this circuit.
Dan Austin
12 December 2021 12:25
1639311812
Raikkonen set to start final ever F1 grand prix
Away from the battle at the top of the standings, the 2007 world champion Kimi Raikkonen will start his final ever grand prix in P17 before his retirement from the sport.
The Alfa Romeo driver first entered the sport in 2001 with Sauber before a spell with McLaren, eventually beating his former team's driver pairing of Lewis Hamilton and Fernando Alonso to the championship in his first season with the Scuderia.
'The Iceman' is renowned for his deadpan delivery over team radio and apathy towards media duties, and has been an immensely popular figure with fans throughout his career.
Dan Austin
12 December 2021 12:23
1639311555
Hamilton and Verstappen getting into their cars
Lewis Hamilton and Max Verstappen are getting into their cars as they prepare to drive to the grid.
We are just over forty minutes from lights out, and less than three hours away from the moment when either a new Formula 1 world champion will be crowned, or a master will be rewarded with his eighth title.
Make no mistake, this is the mostly hotly anticipated race in the 71-year history of the sport.
Dan Austin
12 December 2021 12:19
1639310844
Hamilton says title win would be his greatest ever
Lewis Hamilton says winning his eighth world title at Abu Dhabi on Sunday would be the greatest championship victory of his career so far.
The Briton has won seven titles, having taken his first at Brazil in 2008, but says that the speed of Red Bull and the way Mercedes have dealt with the pressure would elevate a 2021 win above anything else.
"If we seal the deal this will be the greatest one we have achieved as a team," he told Sky Sports. "We have had to pull together and we haven't been fastest all season. We have really had to dig deeper as a team than ever before."
Dan Austin
12 December 2021 12:07
1639310560
Lewis Hamilton: The Formula One superstar chasing history
Lewis Hamilton could move ahead of Michael Schumacher's record in Abu Dhabi today.
One of the great title battles in years is set to come down to one, winner-takes-all race today. For Verstappen it would be a first title, for Stevenage-born Hamilton it would be a record-breaking eighth.
Here's a profile of the man who could make Formula 1 history in a few hours' time.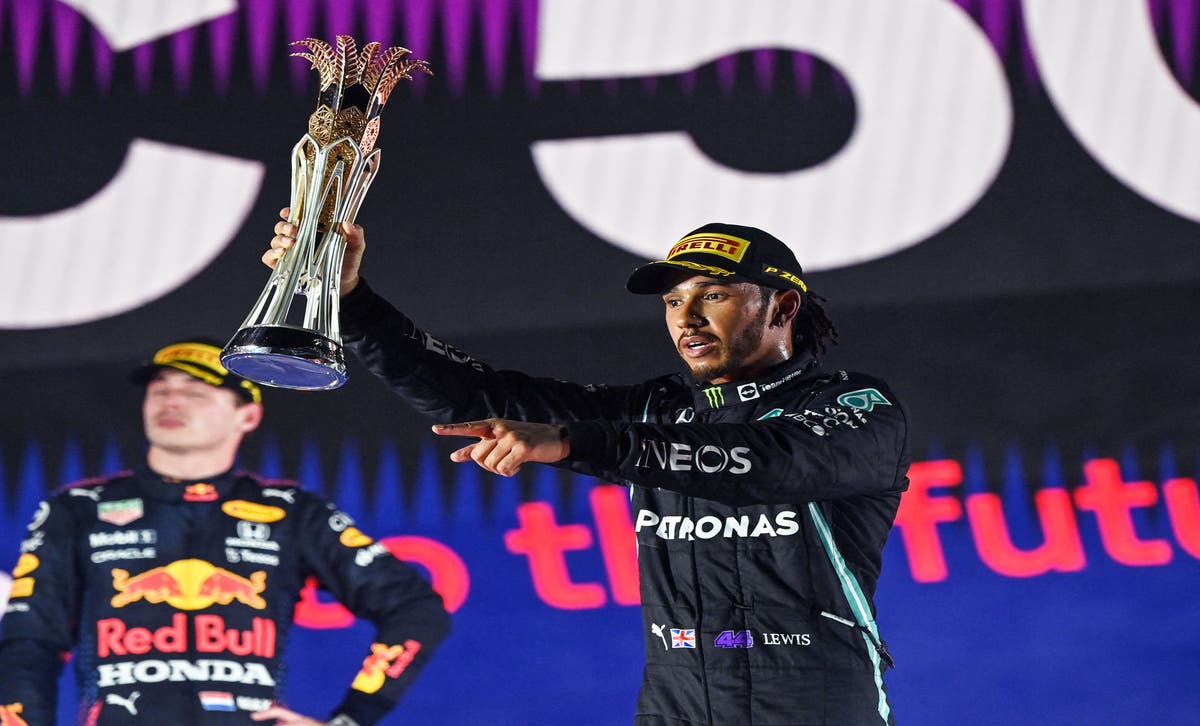 The British driver is seeking a record-breaking eighth world title in Abu Dhabi this weekend, writes Ben Burrows
Ben Burrows
12 December 2021 12:02
1639310385
Rosberg talks Hamilton overtaking tactics into Turn 1
Nico Rosberg has been discussing Lewis Hamilton's overtaking opportunities into Turn 1 against max Verstappen at Abu Dhabi on Sky Sports.
The German fought for, and won, the world championship against Hamilton as his team-mate at Yas Marina five years ago, and says the Briton can be aggressive into the first corner if he gets a good launch and can position his car alongside the Red Bull.
"Lewis is starting on the inside so all he has to do is get a little alongside into Turn 1," Rosberg said. "If he can do that, Max has to leave him space, or Lewis could even run him off the road."
Dan Austin
12 December 2021 11:59
1639310031
Hamilton will try to "assess the situations" throughout the race
Lewis Hamilton says he is unsure whether a one or two-stop strategy will be preferable at the Abu Dhabi Grand Prix, and that he will need to "assess the situations" around him as the race develops.
The Briton starts second on medium tyres, with Max Verstappen on pole using softs.
"I need to try to assess the situations around me with the best energy I can, and give it everything," Hamilton said. "We don't know if this will be a one or two stop strategy today, we're just going to have see how it works for us. I truly believe in my guys, and we'll be giving it everything with what we have."
Dan Austin
12 December 2021 11:53
1639309547
Chandhok says Mercedes have more strategy options than Red Bull
Sky Sports F1 analyst Karun Chandhok has been discussing what affect the split the strategy could have on the race.
Max Verstappen will start on the faster but less durable soft tyres, while Lewis Hamilton will start on the mediums.
"You lose so much time in the unique underground pitlane here that only a one-stop can really work," he said. "For me the critical point is when do Red Bull pull the trigger [and pit Verstappen]. I think it will be around lap 15-18. They are kind of locked in, whereas Mercedes have the options. [Mercedes] can go aggressive and come in early too or do a long overcut, and pit late to give Lewis fresh tyres to attack Max at the end."
Dan Austin
12 December 2021 11:45
1639309180
Brundle says 2021 is greatest Formula 1 season ever
Martin Brundle has told Sky Sports that the 2021 campaign has been the greatest season in Formula 1 history.
Asked whether this year had reached a new level compared to anything he had seen previously, the commentator and former driver said: "Without doubt yes. We've had surprises all season long, and hopefully all the way through to the last lap this afternoon."
2009 world champion Jenson Button, meanwhile, talked of the impact on new fans all around the world. "All the races this season have been exceptional, and even people who don't [usually] watch Formula 1 will be tuning in for the action this afternoon," he said.
Dan Austin
12 December 2021 11:39
1639308754
Verstappen believes he is on the "right tyres"
Max Verstappen has reiterated his belief that the soft tyres are the correct set to be on for the start of the Abu Dhabi Grand Prix.
The Dutchman told media during the drivers' parade: "We're feeling good. Let's see what the tyres will do in the race. A lot of things can happen with strategy but [we're using] the right tyres for the start. I really expect a tight battle but I'm looking forward to it."
Dan Austin
12 December 2021 11:32