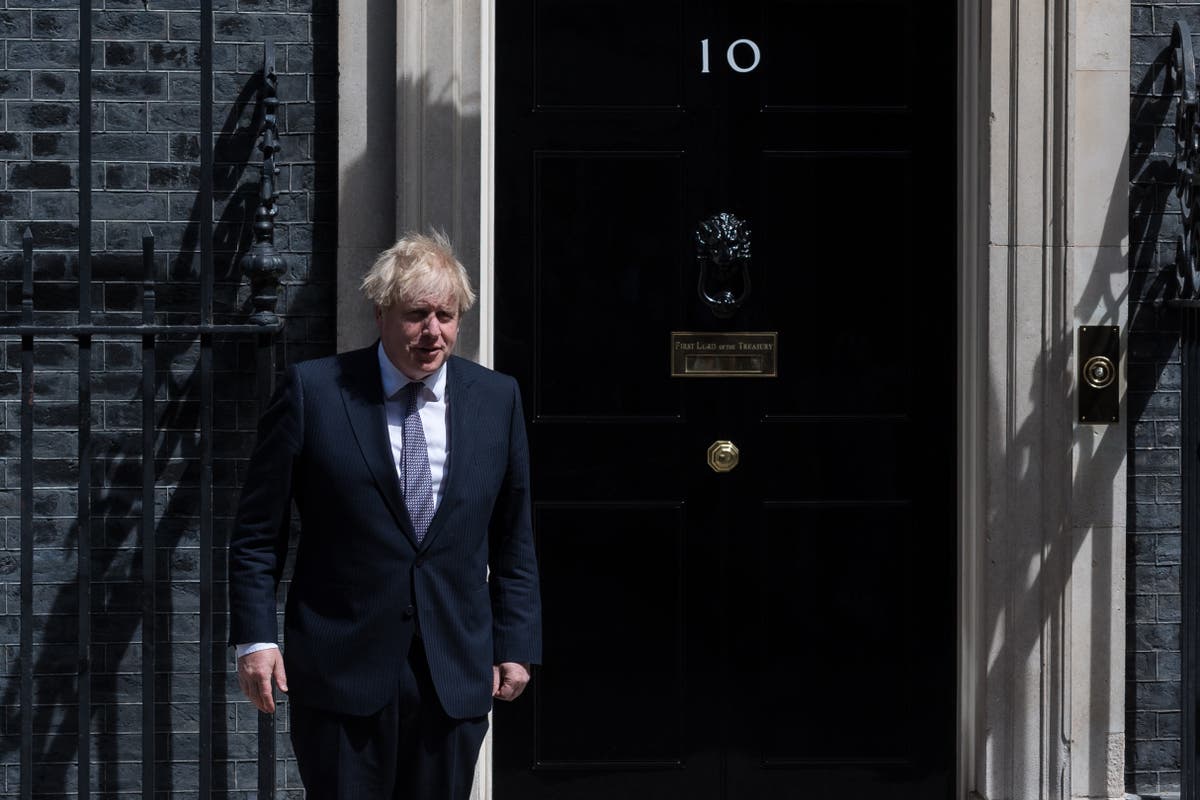 Latest developments from Westminster, as they happen
Cuts to foreign aid is 'life or death issue', says Gordon Brown
Boris Johnson faces potential defeat in a Commons vote on Monday over his decision to renege on a manifesto pledge on foreign aid, with backbench rebels supporting an amendment which would require new legislation to make up the shortfall left by the cut to the UK's official development assistance.
Former Cabinet minister David Davis called the move to trim the aid budget "harmful" and "devastating" and suggested people who miss out on vital humanitarian assistance in developing countries may die as a result.
"No other G7 country is cutting its aid in this way. It is going to have devastating consequences across the world," he said, adding that massive cuts in clean water which kills children worldwide and in funding for food for starving people could lead to "thousands" of deaths.
The prime minister has been criticised across the political spectrum for reducing foreign aid from 0.7 per cent of national income to 0.5 per cent, breaking a manifesto commitment.
Read more:
1623061040
Ulster Unionist leader 'not part of' illegal parade
Ulster Unionist leader Doug Beattie has defended his attendance at an illegal protest against the Northern Ireland Protocol in Co Armagh.
The Upper Bann MLA said he turned up at the event on Saturday to observe and listen, and said he was standing well back from the parade.
"I was not part of the parade, I stood well back from the gathering which was there at the demonstration and I listened to what was being said from the podium. I think that's also very important to listen to what people have to say," he said.
Loyalists gathered in Portadown town centre on Saturday in demonstration over the Northern Ireland Protocol and what organisers said is "two-tier policing".
A number of people leading the march were wearing balaclavas and many held anti-Protocol signs and placards while others waved Union flags.
Police officers held a sign informing protesters they were taking part in an illegal protest and that they are liable to arrest.
Tom Batchelor
7 June 2021 11:17
1623059941
Tory rebellion on foreign aid cut 'averted'
The Telegraph is reporting that a potential Tory backbench rebellion over cuts to the foreign aid budget has been averted after Commons clerks said the amendment would not be brought to a vote.
Tom Batchelor
7 June 2021 10:59
1623059771
Culture secretary says suspension of cricketer over racist messages is 'over the top'
Oliver Dowden, the culture secretary, has described the suspension handed to England cricketer Ollie Robinson while he is investigated for racist and sexist messages as "over the top".
The England and Wales Cricket Board (ECB) said Robinson has been suspended from all international cricket pending the outcome of a disciplinary investigation into offensive posts he sent in 2012 and 2013, when he was in his late teens
Mr Dowden said Robinson's tweets were "offensive and wrong" but added that they were "also a decade old and written by a teenager".
He said: "The teenager is now a man and has rightly apologised.
"The ECB has gone over the top by suspending him and should think again."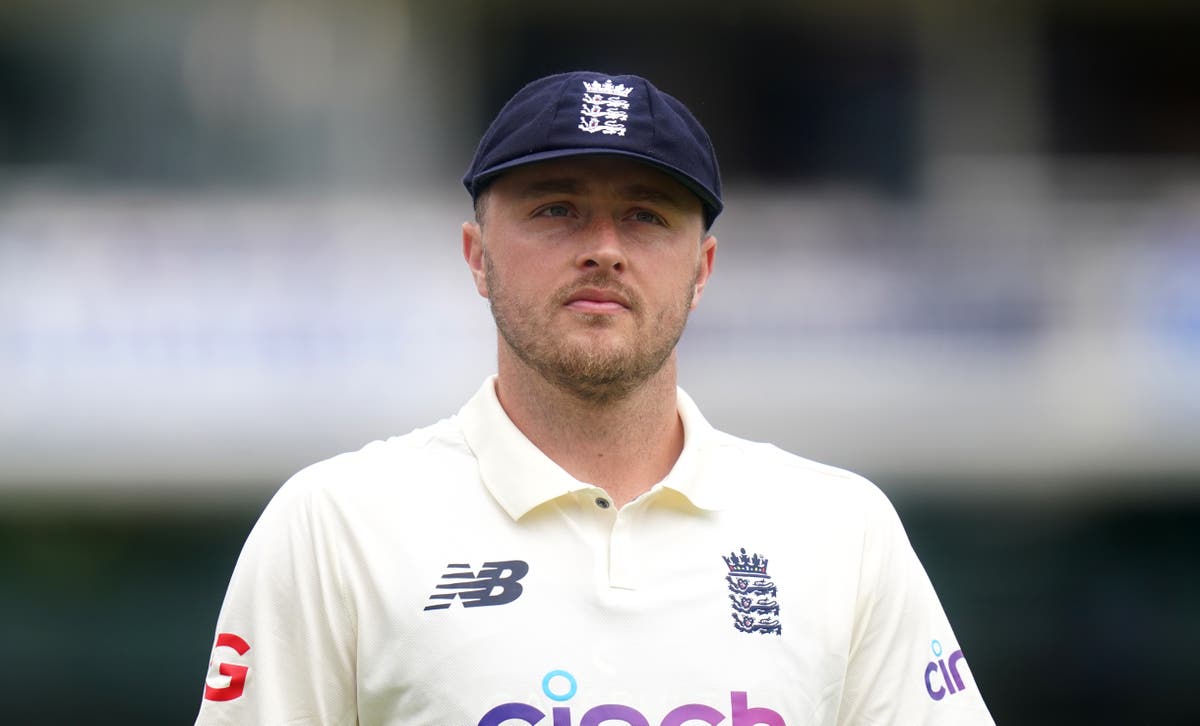 Messages were 'offensive and wrong' but cricketer was teenaged when they were sent, says Oliver Dowden
Tom Batchelor
7 June 2021 10:56
1623059111
Priti Patel threatened with legal action over unaccompanied child migrants
Kent County Council is threatening the home secretary with legal action as it warns its services for unaccompanied child migrants are at breaking point for the second time in less than a year.
The authority said it may no longer be able to accept new unaccompanied asylum-seeking children (UASC) within days, and has served a formal letter before action to the Home Office.
Read more on the story here: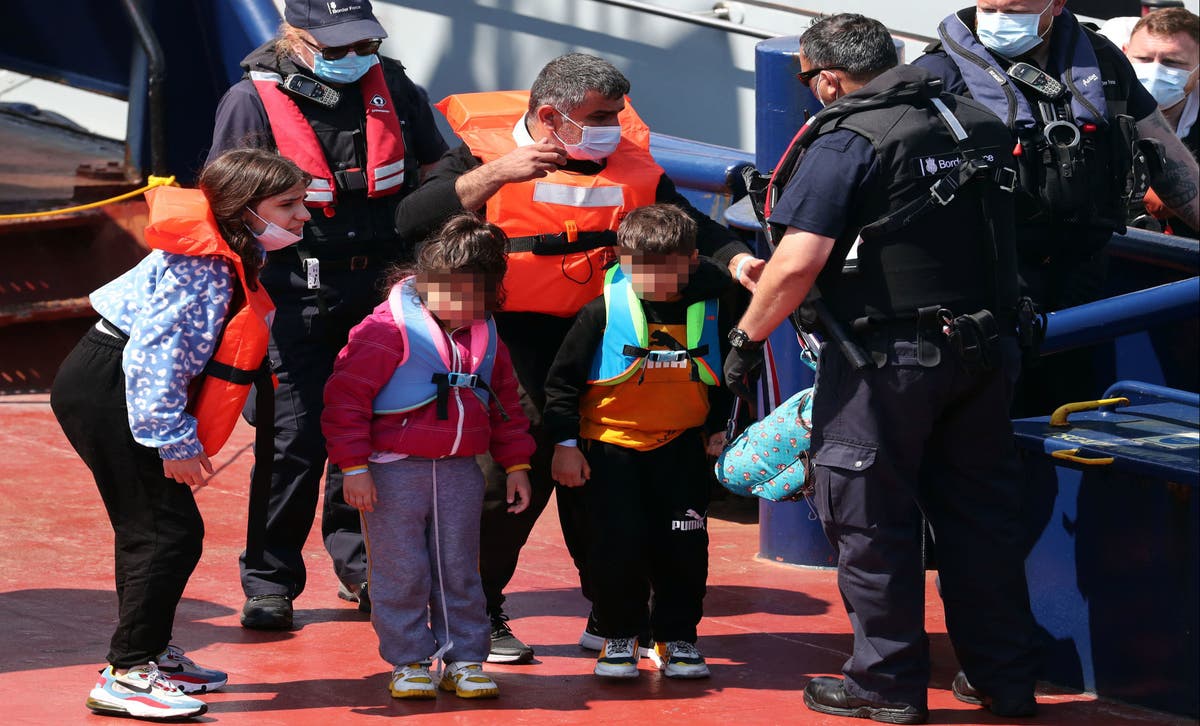 County has nearly double the number of children in care than is deemed safe
Tom Batchelor
7 June 2021 10:45
1623058271
How has UK spending on aid changed since the 1970s?
The UK foreign aid budget has expanded significantly since the 1970s, with the largest sustained increase in spending (as a share of GDP) during the 2000s under Labour.
This chart, produced by Statista, shows how it has changed over the past five decades.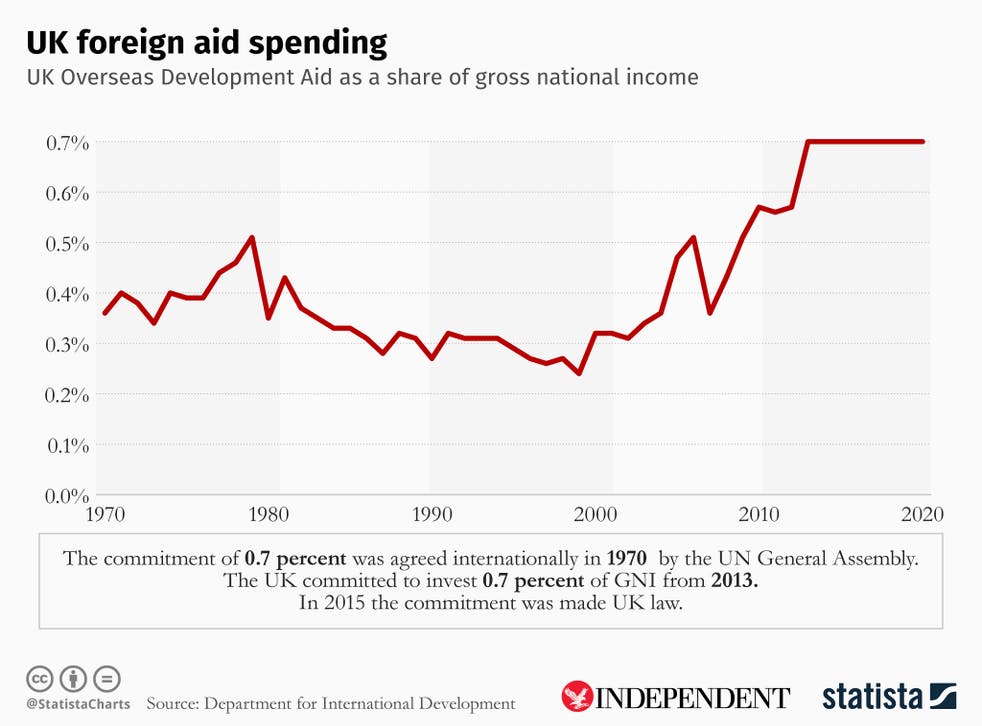 Tom Batchelor
7 June 2021 10:31
1623057551
Biden set to press Boris Johnson on Northern Ireland
More on Joe Biden's meeting with Boris Johnson in Cornwall this week, where the US president is expected to warn the PM not to renege on the commitments made in his Brexit deal when they meet for the first time at the G7 summit.
Mr Biden will use a meeting with the prime minister to back the Northern Ireland protocol and warn the prospect of a US-UK trade deal could be damaged if the current dispute with the EU remains unresolved.
However, Biden will also make it clear that he expects Brussels to stop being "bureaucratic" and adopt a more flexible approach to the implementation of the protocol, diplomatic sources told the newspaper.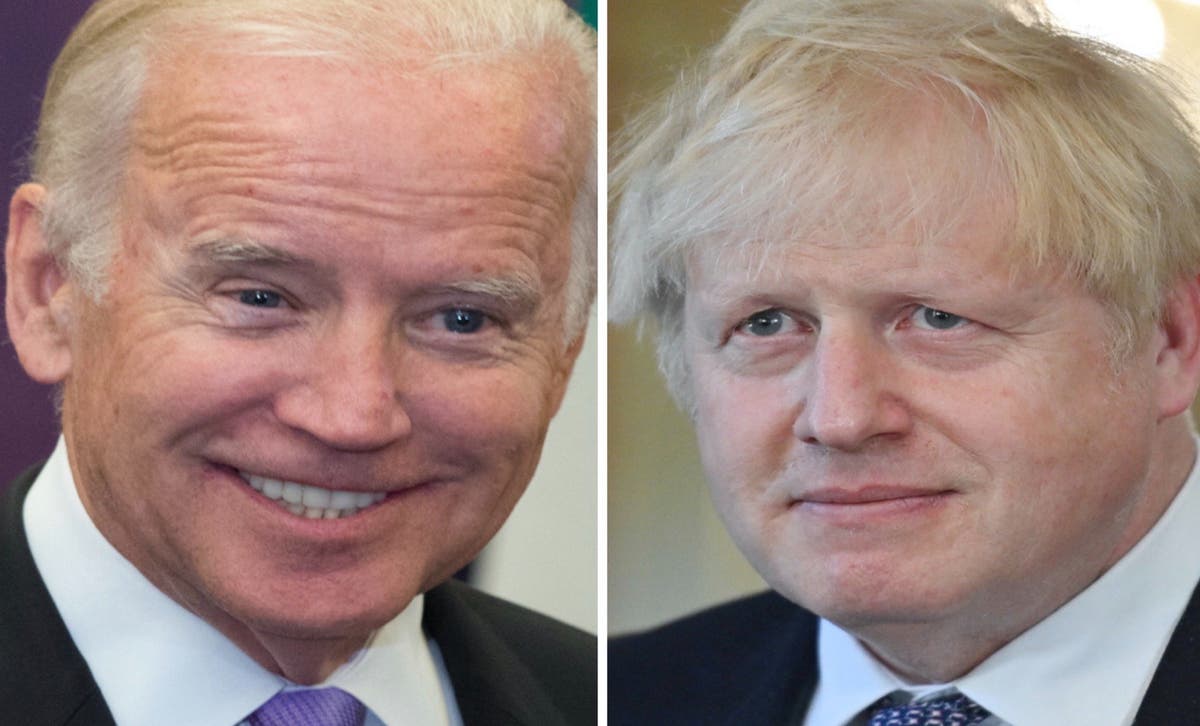 US president's intervention comes as minister admits No 10 'underestimated' Brexit problems
Tom Batchelor
7 June 2021 10:19
1623056771
Government 'missing in action' on issue of border controls in Northern Ireland
Lisa Nandy, the shadow foreign secretary, has said the government is "missing in action" on the issue of border controls in Northern Ireland.
"We've got to sort out the border in the Irish sea, not because Joe Biden has told us to but because it's causing absolute havoc in Northern Ireland and we've got a responsibility to get this right," she told Sky News.
"The prime minister made promises to the people of Northern Ireland that haven't been kept.
"I think the best way to resolve this is through decent relationships, investing in those relationships and through pragmatism.
"We need to make sure we minimise any kind of border checks or disruption, and we can do that with good will on both sides.
"But there's a feeling at the moment that the government is missing in action on this, particularly the prime minister.
"Boris Johnson has created this problem and yet he's nowhere to be seen, I think there's a real feeling of dismay about that, but he could turn that around."
Tom Batchelor
7 June 2021 10:06
1623055991
Gavin Williamson: A man of many blunders or a clear threat to Johnson?
Even his friends have to agree that Gavin Williamson is not one of the Johnson government's stand-out successes as a ministerm, writes Sean O'Grady.
Even in an unusually weak field, featuring inadequates such as Robert Jenrick, Matt Hancock and Priti Patel, as secretary of state for education, Mr Williamson has been a notable underperformer in the cabinet's remedial set.
So how does he survive? Read the full analysis here (Premium):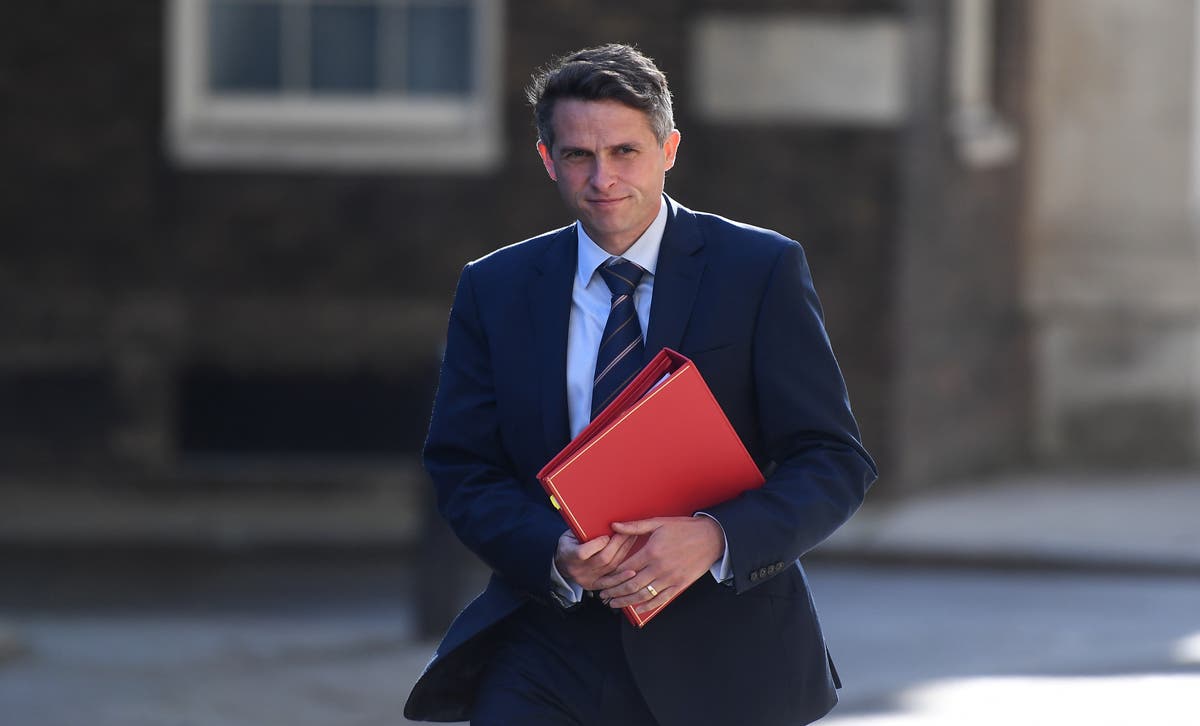 Despite the exam results fiasco or that time he was sacked for possibly leaking national secrets, Gavin Williamson still has his job. Sean O'Grady looks at why
Tom Batchelor
7 June 2021 09:53
1623055271
'Global Britain in tatters,' says Nandy
Lisa Nandy, the shadow foreign secretary, has said cuts to the foreign aid budget were "short-sighted" and not in Britain's interest.
"The government is making a real mistake, they're about to go into the most important week in many, many months, the G7, with a major plank of global Britain in tatters," she told Sky News.
"[Boris Johnson] could change his mind, he could reverse this, he could just admit that cutting global aid in the middle of a pandemic is the wrong thing to do.
"It's short-sighted, it's not in Britain's interest and he could solve this very quickly."
Tom Batchelor
7 June 2021 09:41
1623054671
'We're actually deciding who lives and who dies,' says Brown in warning against aid cut
Former prime minister Gordon Brown has said now is not the time to cut foreign aid.
Asked what kind of difference a reduction of almost £4 bn would make around the globe, he told BBC Breakfast: "It's a life-and-death issue, we're actually deciding who lives and who dies, particularly at this point where if we withdraw the money for vaccination it's the equivalent of pulling away the needle from a kid or from an adult who is sick who needs the vaccination, a 90 per cent cut, for example, in support for polio vaccination.
"You know, there has been an all-party consensus, all parties, for 25 years that we need 0.7 per cent, we need to play our role in the world by being one of the leaders in aid and, really, this is not the right time to pull things away because basically this is when the poorest countries need help most.
"I can see that it can be financed. We're about to get a huge payment from the International Monetary Fund of $23bn, that covers this cut six times over, so it makes absolutely no economic sense, but particularly no moral sense, and it's in our self-interest, of course, to see the others vaccinated because nobody is safe until everybody is safe."
Tom Batchelor
7 June 2021 09:31