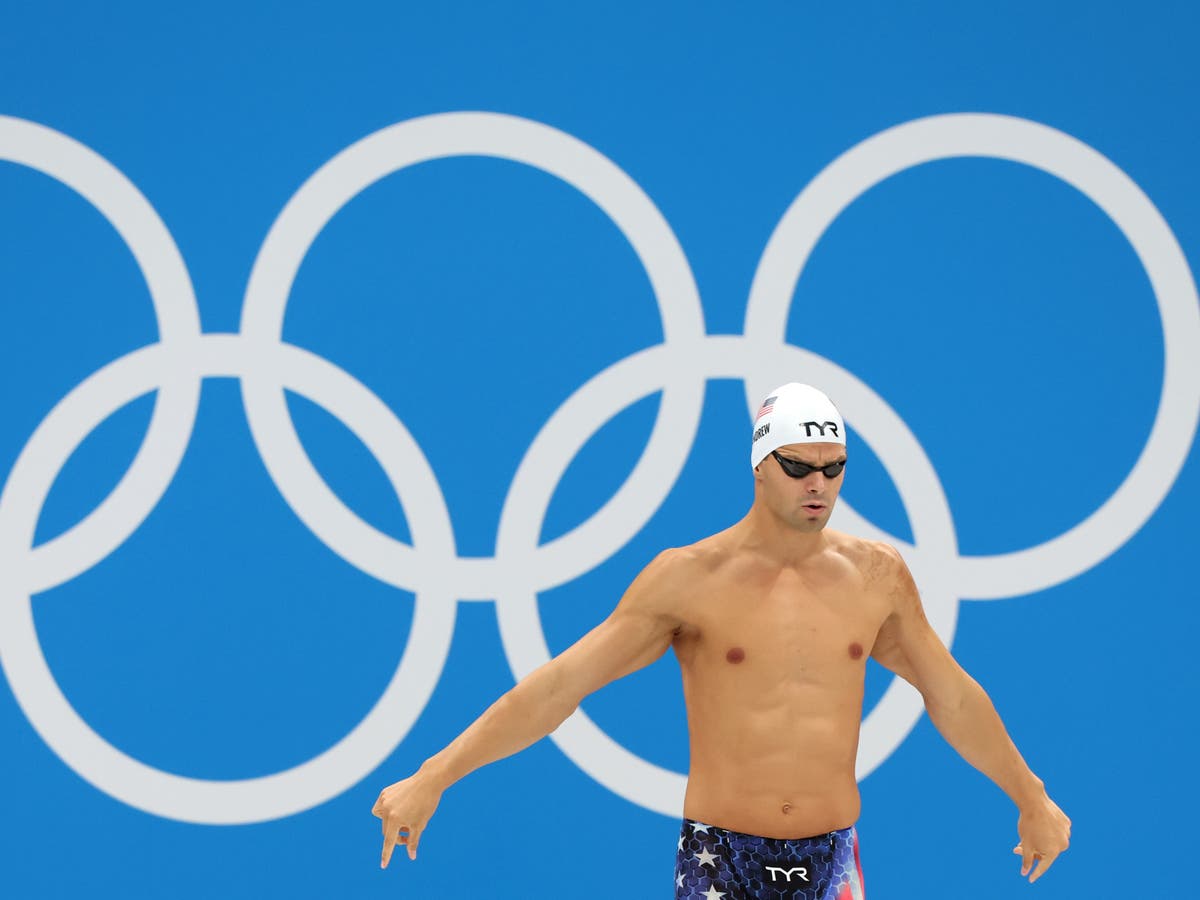 'Michael Andrew proved the worst American stereotype when he refused to wear a mask during interviews,' Op-Ed columnist tweets
Unvaccinated Olympic swimmer Michael Andrew has been blasted on social media for refusing to wear a mask.
The Team USA swimmer was seen not wearing a mask following his performance in one of the finals on Friday. Mr Andrew, 22, was mask-free when he paused in the mixed zone to speak with the media.
Reporters and other workers are required to wear face masks in the Tokyo Aquatics Centre and most swimmers wear masks when they're not in the pool.
The Olympic and Paralympic Committee did say that Mr Andrew didn't break any rules as athletes are allowed to be maskless when speaking to the media, even though most have kept them on.
"For me, it's pretty hard to breathe in after kind of sacrificing my body in the water, so I feel like my health is a little more tied to being able to breathe than protecting what's coming out of my mouth," Mr Andrew said when asked why he wasn't wearing a face covering.
He came fifth in the 200-metre individual medley and returned later on Friday to swim in the 50-metre freestyle preliminary heats.
When asked again by a reporter why he wasn't wearing a mask, he said: "No reason. I'll throw it on when I'm done here, but to speak, it's difficult, probably people can hear me."
Twitter users were quick to criticise him for his choice.
Dr Krutika Kuppalli tweeted that "not only did he decline vaccination which could not just protect him and his teammates, but now he is not following mitigation protocols as well. Michael Andrew may be an Olympian, but he doesn't seem like the most caring teammate".
Twitter user Scott Six wrote: "I don't relish in rooting against Americans at the Olympics" but after learning that Michael Andrew is unvaccinated "and refused to wear a mask in the interview zone, endangering other athletes, coaches, and media, makes me able to say: his final 50m collapse was hilarious".
Responding to a tweet by the United States Olympic & Paralympic Committee, Michael Goldman tweeted:" If health and safety is your top concern, why is Michael Andrew competing, and then not wearing a mask during his interview??? Shameful and dangerous behaviour from an athlete, and what is the committee thinking allowing this?"
USA Today opinion columnist Michael Stern wrote that "Michael Andrew proved the worst American stereotype when he refused to wear a mask (and refused to get vaccinated against Covid-19) during interviews".
Mr Andrew is the American record-holder on the 100-metre breaststroke but hasn't been able to grab a medal so far during the Tokyo Games. He won the 2016 World Championship gold in the 100-metre medley as well as four relay golds during the 2018 World Championship.
The swimmer has expressed anti-vaccine views in the past, saying in the YouTube series Inside With Brett Hawke that he didn't feel the need to get the Covid-19 shot because he had already had the virus. Medical experts say you should get the vaccine even if you have been infected.
"So my thought pattern is kind of like, if I've already got it, there's not as much health risk for me," Mr Andrew said.
About his family's opinion on the virus, he added: "We're kind of, I wouldn't say conspiracy theory type family, but we're definitely on the side where we look for what other methods are there. The same with the way we train. Just because everyone's heading in one direction, why do we have to follow that direction?"
According to The Washington Post, Mr Andrew's mother, Tina Andrew, said last month that her son "doesn't mind doing whatever it takes, whatever protocols they want, short of having to take the vaccine. He will do everything that is required, but he won't take the vaccine".
Mr Andrew was homeschooled as a child and is coached by his father. His family is "deeply religious," The Post writes.
Both of Mr Andrew's parents are from South Africa.
"People might think we're crazy," Ms Andrew told ESPN in 2015 when her son was 16. "What we are is very thoughtful."
Going pro at the age of 14 meant that Mr Andrew wouldn't be able to swim for a college team.
"Michael doesn't need to be inundated with sex and drugs and ideas from liberal professors," his mother told ESPN at the time.