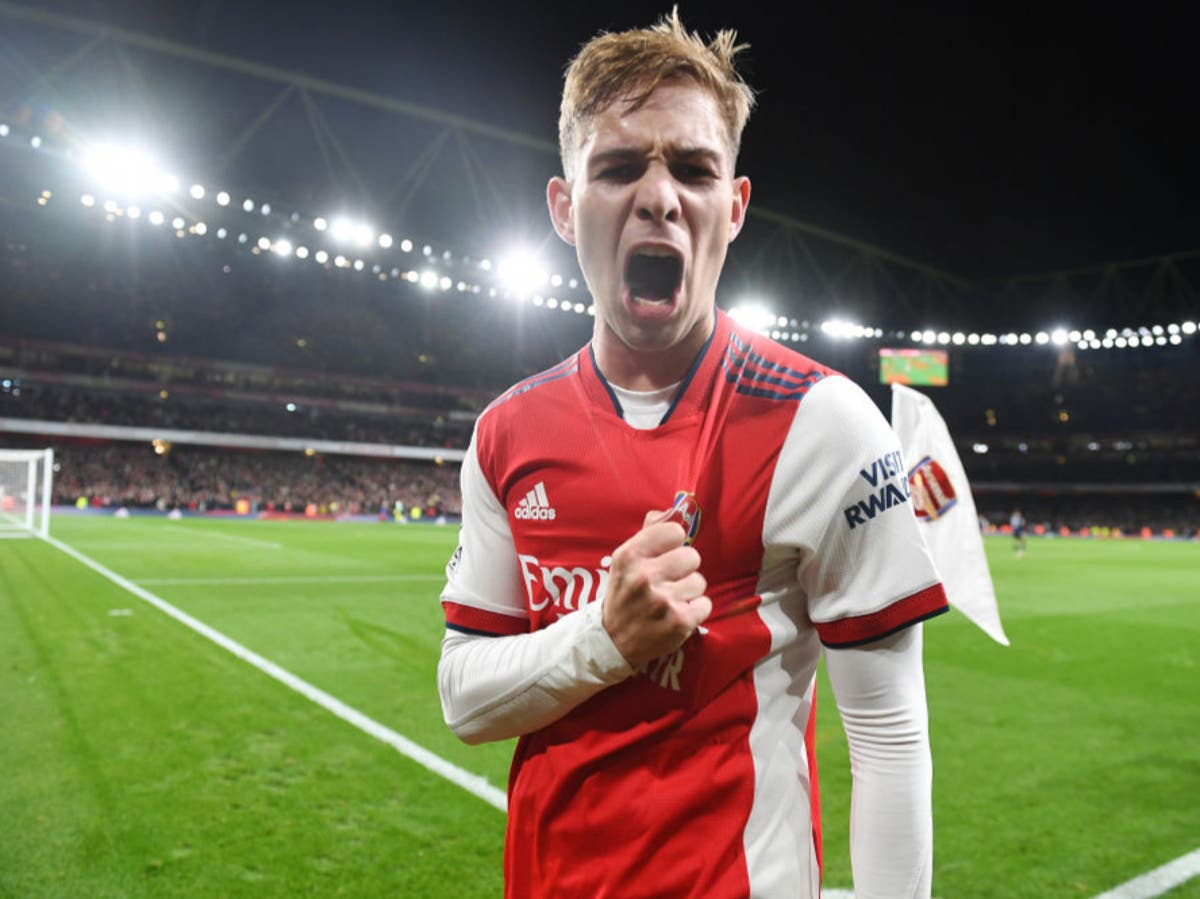 Follow all the latest updates from the Emirates as 12th-place Arsenal host 13th-place Aston Villa in the opening game of the Premier League weekend
Arsenal are hosting Aston Villa this evening at the Emirates as the Gunners looks to carry forwards the momentum from Monday's last-gasp equaliser against Crystal Palace. Alexandre Lacazette came off the bench to pinch a 2-2 draw, and although it was far from the Gunners' best performance, there were positives to take as Mikel Arteta's team extended their unbeaten run in the league to five games, having lost all of their opening three.
Villa have endured the opposite trend with back-to-back defeats, including a dramatic late goal which saw Wolves complete a thrilling comeback to win 3-2 against their West Midlands rivals. It means Dean Smith's side are now 13th coming into this fixture, one place and one point behind Arsenal in the Premier League table.
The build-up to the game saw Arteta asked about his young midfielder Emile Smith Rowe, who Aston Villa enquired about in the summer. "Any club has the right to make an inquiry about a player when they believe they have the financial power to get him, they're entitled to," Arteta said on Friday. "So there was a communication between the clubs and we made it really clear that Emile wasn't for sale. He's a big part of what we're trying to do and our future. He's really happy where he is and I'm delighted to have him."
Follow all the action from the Emirates below, live.
1634937492
Emile Smith Rowe stars as Arsenal dominate offbeat Aston Villa
An onslaught played out in acrimony featured heroes and villains, arguments and controversy, but its ending was rarely in serious doubt.
On a frenzied Friday night, Arsenal tore through Aston Villa with blistering and, at times, bitter intent, as Emile Smith Rowe produced a standout performance under the gaze of Gareth Southgate in a 3-1 victory that could be considered a serious statement, if only Arsenal's volatility under Mikel Arteta wasn't already such a storied tradition.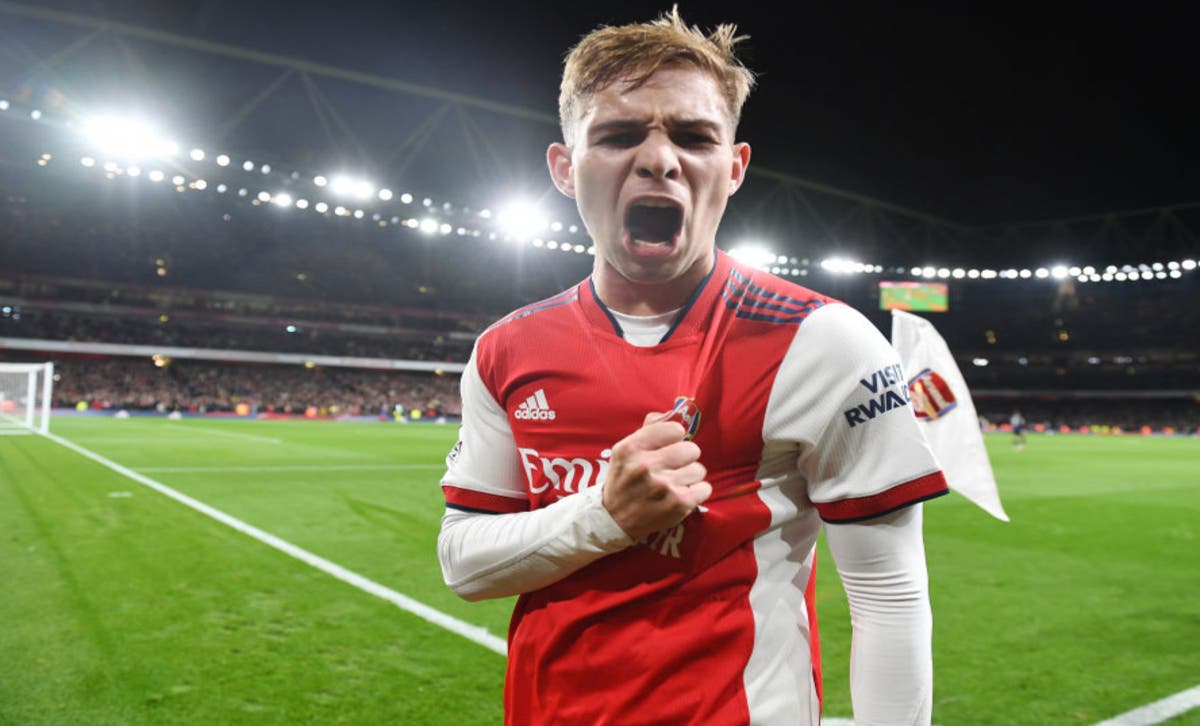 Arsenal 3-1 Aston Villa: Mikel Arteta's side produced an emphatic display to heap pressure on Dean Smith
Michael Jones
22 October 2021 22:18
1634937310
Arsenal hit top form to hammer sorry Aston Villa
Arsenal put in one of their best performances of the season to outclass Aston Villa at the Emirates Stadium on Friday night.
The Gunners were the better side throughout and thoroughly deserved their 3-1 victory, which sees them draw level on points with sixth-placed Manchester United having played a game more.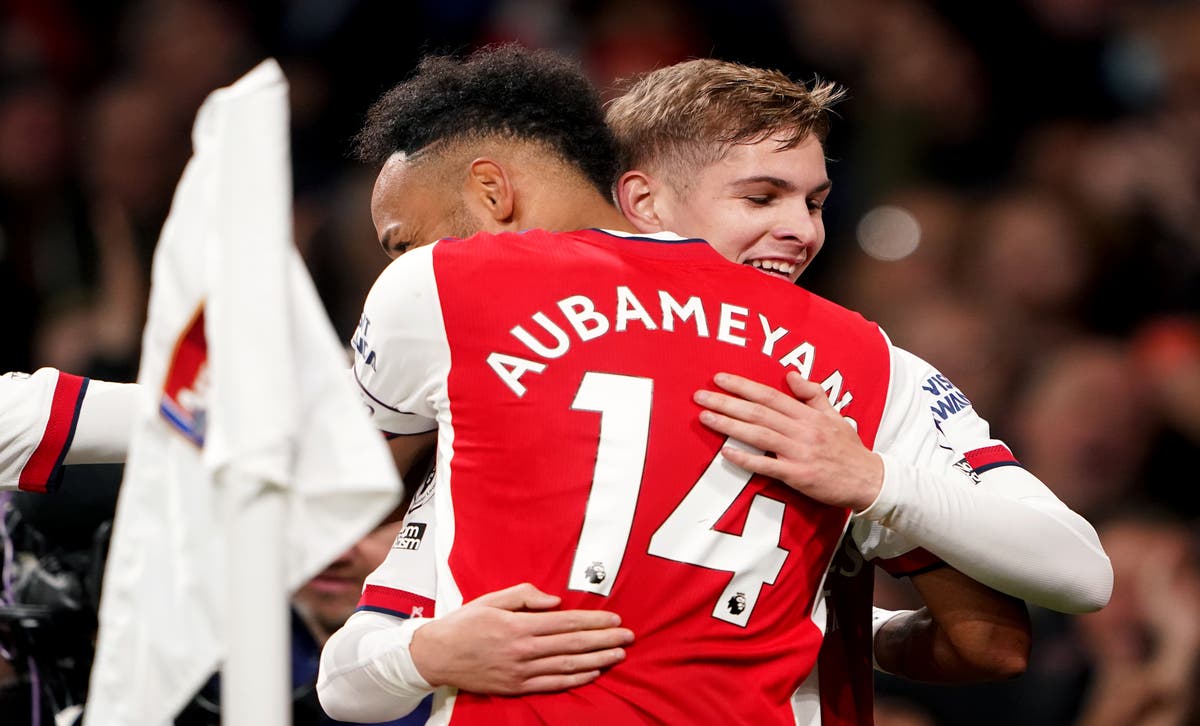 Thomas Partey, Pierre-Emerick Aubameyang and Emile Smith Rowe scored the Gunners' goals in a 3-1 success.
Michael Jones
22 October 2021 22:15
1634937173
Reaction from Thomas Partey
Arsenal's Thomas Partey spoke to Sky Sports after the game and praised his side's intensity and mentality as one of the reason's why Arsenal played so well tonight. He said:
Michael Jones
22 October 2021 22:12
1634936972
Smith Rowe adds to his tally
Emile Smith Rowe spoke to Jamie Carragher before the match about his desire to score more goals for Arsenal and influence matches more. He netted Arsenal's third in the second half.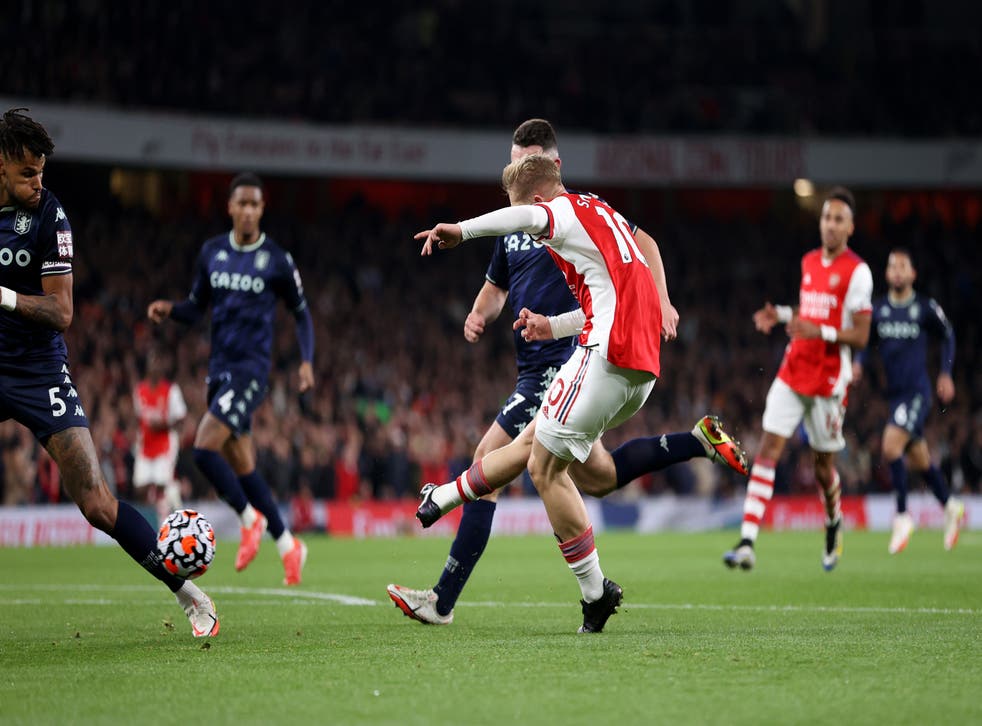 Michael Jones
22 October 2021 22:09
1634936771
Arsenal back to winning ways
Has Mikel Arteta turned it around for the Gunners? They've won five of their last seven home games with just one defeat in that run.
Michael Jones
22 October 2021 22:06
1634936354
Full-time: Arsenal 3 – 1 Aston Villa
90+5 mins: There goes the full-time whistle and Arsenal pick up a crucial three points. Aston Villa can be tricky customers but Arsenal blew them away in the first half and added a third in the second. Jacob Ramsey earned a consolation goal for the visitors to ruin Arsenal's perfect night but the Gunners won't be too bothered. They're back to winning ways.
Michael Jones
22 October 2021 21:59
1634936253
Arsenal 3 – 1 Aston Villa
90+3 mins: Aston Villa win a free kick just outside the Arsenal penalty area. Douglas Luiz and Bailey stand over the set piece. Ramsdale takes his time setting up the wall taking more time out of the game.
Bailey strikes it… but sends the shot over the crossbar. That's going to be it.
Michael Jones
22 October 2021 21:57
1634936059
Arsenal 3 – 1 Aston Villa
90 mins: Aubameyang is taken off and gets replaced with Gabriel Martinelli. There's four minutes of added time to play.
Michael Jones
22 October 2021 21:54
1634935916
Arsenal 3 – 1 Aston Villa
88 mins: Arsenal are still showing signs going forward. Tavares drives down the left side and slots the ball into the box towards Aubameyang. Mings steps across him and boots the ball out of play. Arsenal eke a few seconds out of the game. Time is running out for Villa.
Michael Jones
22 October 2021 21:51
1634935727
Arsenal 3 – 1 Aston Villa
85 mins: Aston Villa will be remembering the Wolves game. They'll know they're in this game until the final whistle goes. The visitors win a free kick deep in their own area and Douglas Luiz takes few liberties with where he puts the ball. The referee tells him to move back to the edge of his own box stopping him from playing it quickly. He throws a paddy and gets booked.
Michael Jones
22 October 2021 21:48