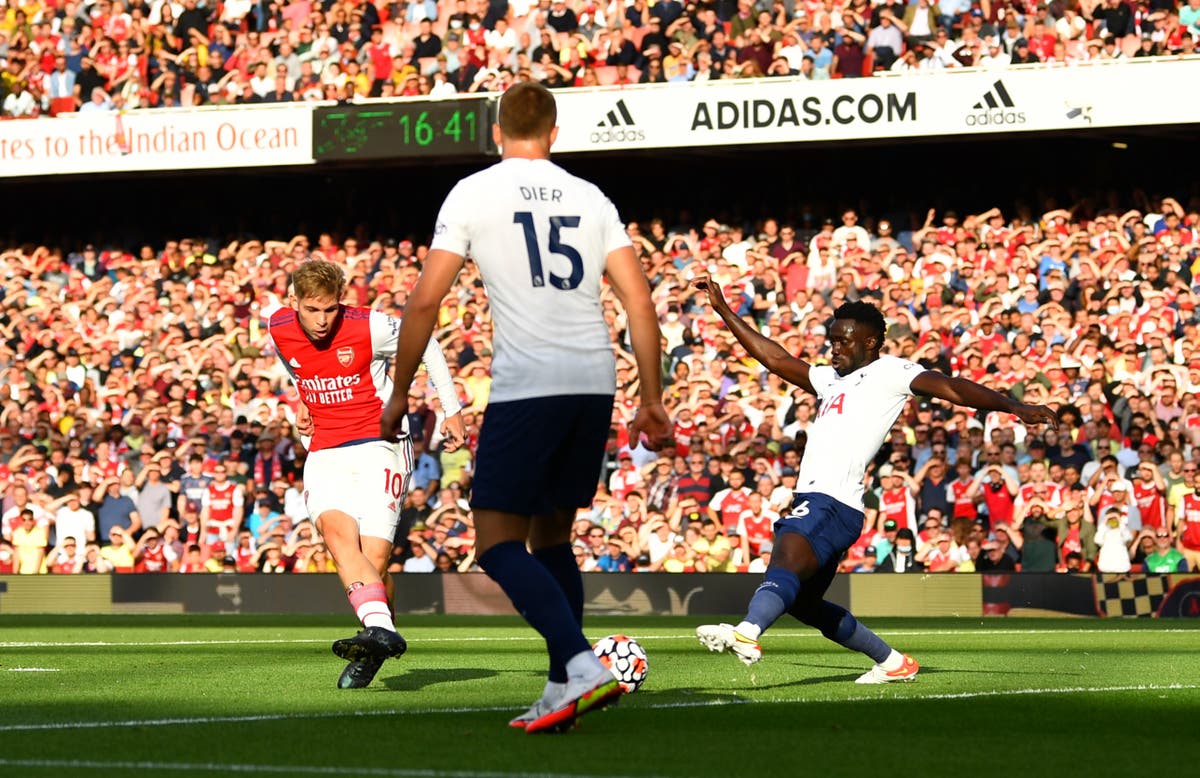 Follow all the latest updates from the North London derby
Arteta heaps praise on Arsenal fans ahead of North London derby
Arsenal are taking on Tottenham today in a north London derby where both sides are in need of a morale-boosting win over their neighbours.
The two teams have experienced contrasting starts to the season: Spurs won their opening three league games 1-0 to climb briefly to the top of the table while the Gunners lost their first three, but since then the tables have turned, with Tottenham losing twice and Arsenal winning back-to-back games.
Mikel Arteta's team could now climb above Spurs in the table with a win over two goals or more, something that would have seemed extremely unlikely just a few weeks ago. In the build-up, Arteta said he has emphasised the importance of the match to the club. "They (Arsenal's players) do (know the importance) and I will make sure they understand what it means. The history between the two teams and where it came from and what it means emotionally to our supporters," Arteta told reporters on Friday. "You have to play that game with a slightly different skin because there is a little bit more at stake."
Follow all the action live below, after the conclusion of Southampton vs Wolves.
1632672584
Arsenal 3-0 Tottenham
40 mins: Chance for Kane! The first chance the England captain has had. It's a corner swung in by Son and Kane is free without anyone marking him. He heads it down towards the bottom corner but it's a good yard wide.
Decent opportunity for Spurs.
Dylan Terry
26 September 2021 17:09
1632672523
Arsenal 3-0 Tottenham
Arteta went absolutely crazy when that third goal went in. Fair play to him, he's suffered enough.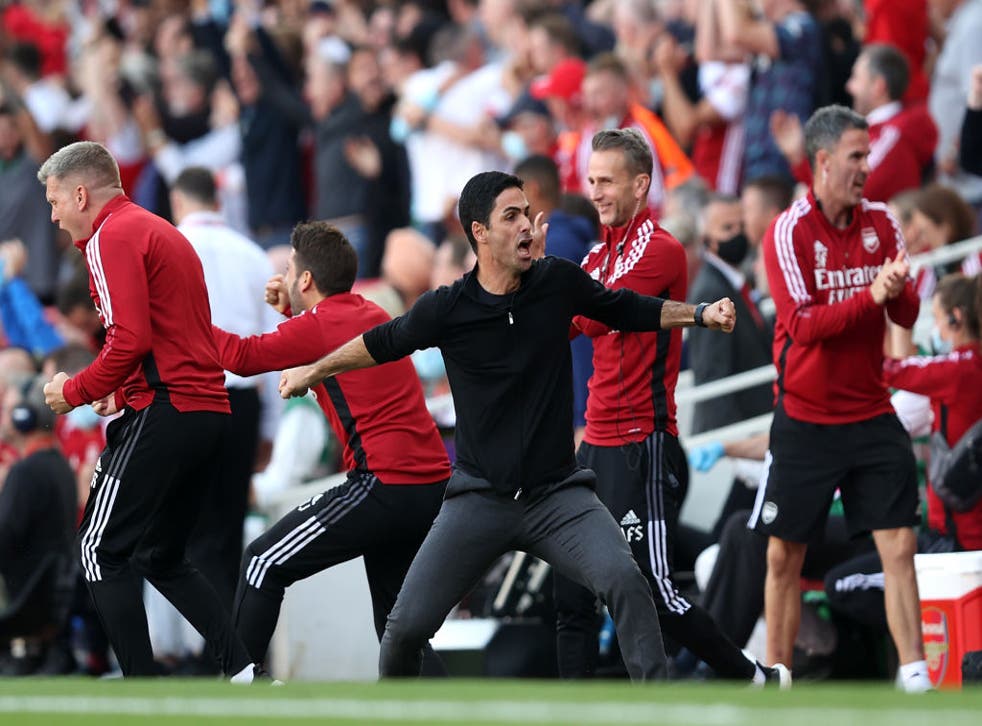 Dylan Terry
26 September 2021 17:08
1632672463
Arsenal 3-0 Tottenham
37 mins: This is quite remarkable, to be honest. The manner of this beating could leave Nuno Espirito Santo in all sorts of trouble.
Is the game done? It certainly looks that way at the moment.
Dylan Terry
26 September 2021 17:07
1632672290
GOAL! Arsenal 3-0 Tottenham (Saka, 34)
Oh dear, oh dear, oh dear.
Kane gives the ball away cheaply and Arsenal break. Saka runs at Dier, he tries to play a ball inside which is blocked by Kane. But the luck isn't with Spurs and so it shouldn't be. It bounces back to Saka and he tucks it away with his right foot.
Dylan Terry
26 September 2021 17:04
1632672251
Arsenal 2-0 Tottenham
34 mins: Arsenal flicking the ball around for fun now, they're really enjoying this. Some provocative songs being sung by the home support as well. I'll leave those up to your imagination.
Kane receives the ball with his back to goal 10 yards inside the Arsenal half but the flag goes up. Sums up Spurs' opening half hour so far.
Dylan Terry
26 September 2021 17:04
1632672077
Arsenal 2-0 Tottenham
31 mins: Sometimes it's not the result, it's the manner of the result. This has been shambolic so far from the away side.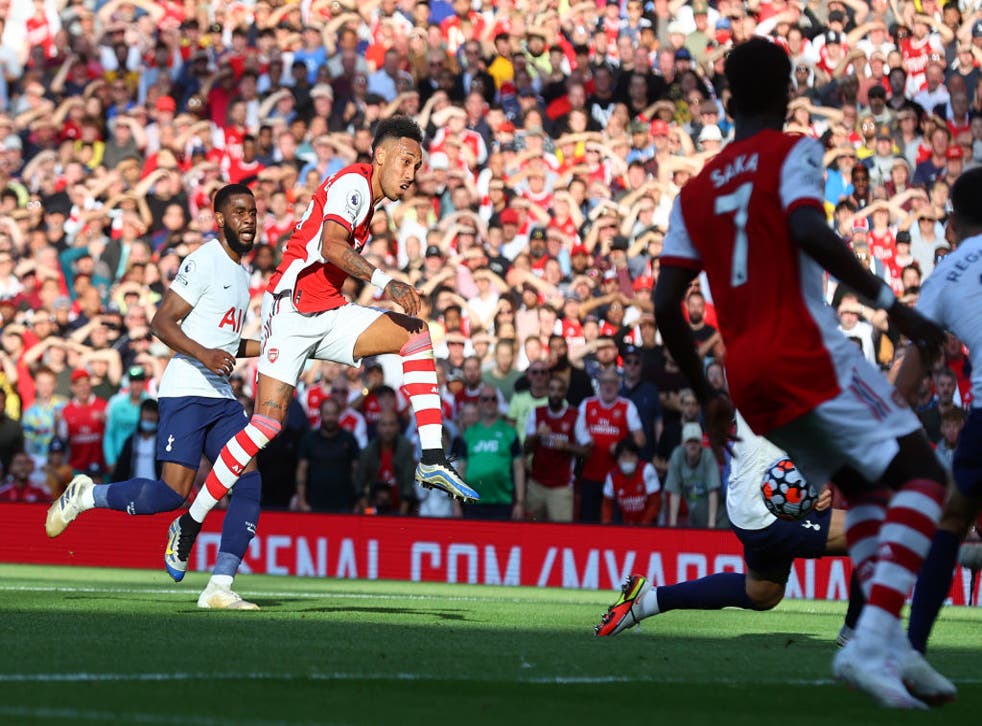 Dylan Terry
26 September 2021 17:01
1632671907
GOAL! Arsenal 2-0 Tottenham (Aubameyang, 28)
28 mins: Spurs were coming back into it… not anymore!
What a counter-attack from Arsenal. Tierney plays the ball into Aubameyang who flicks it around the corner for Smith Rowe. The youngster storms forward and cuts it back for the onrushing Aubameyang who turns it perfectly into the far corner.
Arsenal punish a lacklustre Spurs defence.
Dylan Terry
26 September 2021 16:58
1632671755
Arsenal 1-0 Tottenham
26 mins: There's a Harry Kane out of form. He turns 35 yards from goal and decides to put his foot through the ball. It could not be more wayward. A striker well and truly out of form.
That said, Spurs have been much-improved in the last five minutes. Arsenal being caught frequently in the middle of the park.
Dylan Terry
26 September 2021 16:55
1632671612
Arsenal 1-0 Tottenham
24 mins: Son with Spurs' first clear chance of the game. It's not the easiest of positions but he beats Ben White and fires towards the top corner from the left of the penalty area. Leno is equal to it though and pushes it around the post.
Son then swings in the corner but Tanganga's header sails over the top.
Better from the visitors.
Dylan Terry
26 September 2021 16:53
1632671509
Arsenal 1-0 Tottenham
21 mins: Lucas has been the only Spurs player who looks even remotely interested at this moment in time. Harry Kane has had two touches in the first 20 minutes – that says it all really.
In fairness to the England captain, he isn't getting much service.
Dylan Terry
26 September 2021 16:51