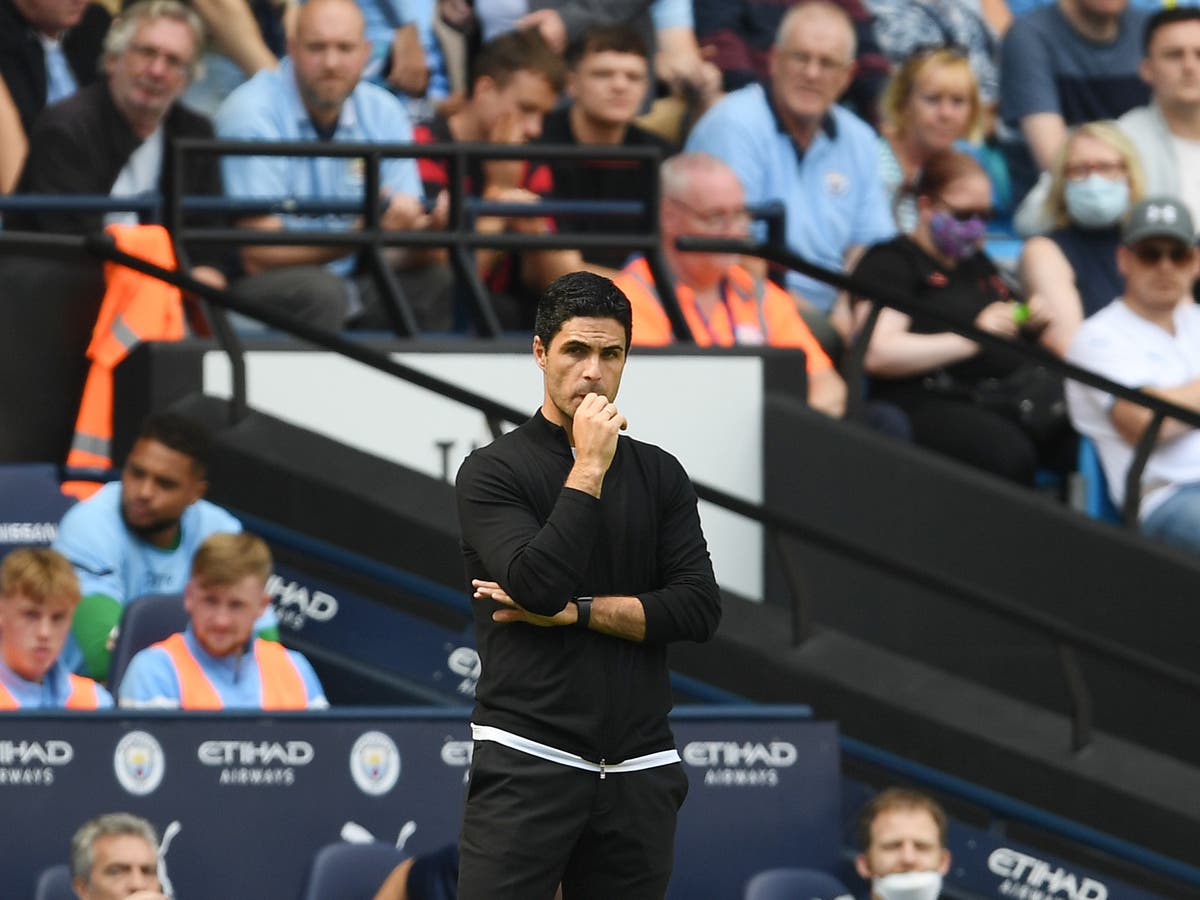 The Premier League's highest spenders this summer have started the season with three straight top-flight defeats, with a goal difference of -9
It was hard not to feel a degree of sympathy for Mikel Arteta in the aftermath of Arsenal'S thrashing at the hands of Manchester City, where his coaching career began only five years ago.
His time working under Pep Guardiola brought two league titles, secured with the highest and third-highest points totals of the Premier League era, and both were won in breathtaking style. Success did not come easy – it was planned and worked for every day, and ultimately well-earned – but did come quickly.
Nå, bottom of the table after three defeats from three games with no goals scored, Arteta is finding success much harder and much slower to come by.
Arsenal's worst start to a league campaign in 67 years is enough to make him question himself and his methods. "I always said I am more critical of myself and take the blame every single time, not only when we had defeats," Arteta said in a sombre post-match press conference.
"I question myself and I try to have the right people around me. I look at every decision I make and change it if I think we should have done something differently."
That was exactly what happened in the winter of last year, when he began to simplify the highly-structured, possession-oriented style he was failing to implement and also began to trust younger players. Results stabilised and perhaps did not truly reflect the much-improved performances.
In that case, does Arteta still believe he will go away, study the tapes, tinker, tweak and eventually turn things around again with this current crop of players? "Yes I do," he insisted. "If not, I wouldn't be sitting here."
Arteta is becoming infamous for this patient, gradual style of management and microdosed improvement. It has been immortalised in the phrase 'trust the process', hvilken Mesut Ozil appeared to mock minutes after the final whistle sounded on Saturday's defeat, with a heart and worried face emoji.
It is easy to make fun of, though Arteta's "trust the process" mantra is right in one sense: that all the circumstances surrounding this historically bad start will soon pass.
Nothing in football distorts narratives quite like the fixture computer. Arsenal's last two games have come against the champions of England and the champions of Europe – together, the two favourites for the title.
Their next engagement is at home to newly-promoted Norwich City, who they replaced at the bottom of the table this weekend. A win would change the complexion, making this dreadful start merely a poor-to-mediocre one.
The disruption to their early season preparations caused by Covid and injury should ease. The returns of Ben White, Thomas Partey and Gabriel will help. It is not long now until many of their rivals will be playing twice a week in European competition, while Arteta will have more time than ever with his players on the training ground.
Arsenal will be okay. They may only be okay, selv om. And the more pertinent question for Arteta is, for how much longer will okay be enough?
An eighth-place finish in Arteta's first half-season was followed by another last term and, for all the talk of process, there has been little actual progress. The intended style of play – gradual, possession-heavy build-up, then fast, dynamic interchanging in attack – is still not fully translating into performances.
It was not uncommon to see Arteta in his technical area at the Etihad, pulling players around the pitch to fill specific positions in relation to the ball, only to leave gaps that City were able to exploit. Ederson's 35-yard pass to Ferran Torres in the build-up to the third goal was completed with no pressure applied to either player.
And on Saturday, there were signs that even the players themselves are starting to doubt the direction. Pierre-Emerick Aubameyang, Arteta's captain, gave a revealing post-match interview in which he called for crisis talks between the squad and suggested he and his teammates were not playing with pride.
"We have to talk between us players, I think this is important because we are Arsenal," han sa. "We need pride and we need to say the truth, be honest and raise the level."
Arteta could not argue with that. "If he feels that, I completely agree. They are on the pitch and have feelings that no one else can have," han sa.
This present malaise is by no means all on Arteta, who presides over a squad that has been haphazardly assembled by those above him. Results should improve over the coming weeks, if only because players will return and opponents will not be as strong as City and Chelsea.
But even then, for a club with the fifth highest wage bill, that has spent more in transfer fees than any other in the Premier League this summer, that has become a byword for underachievement over the last 15 years or more, will they really be good enough?