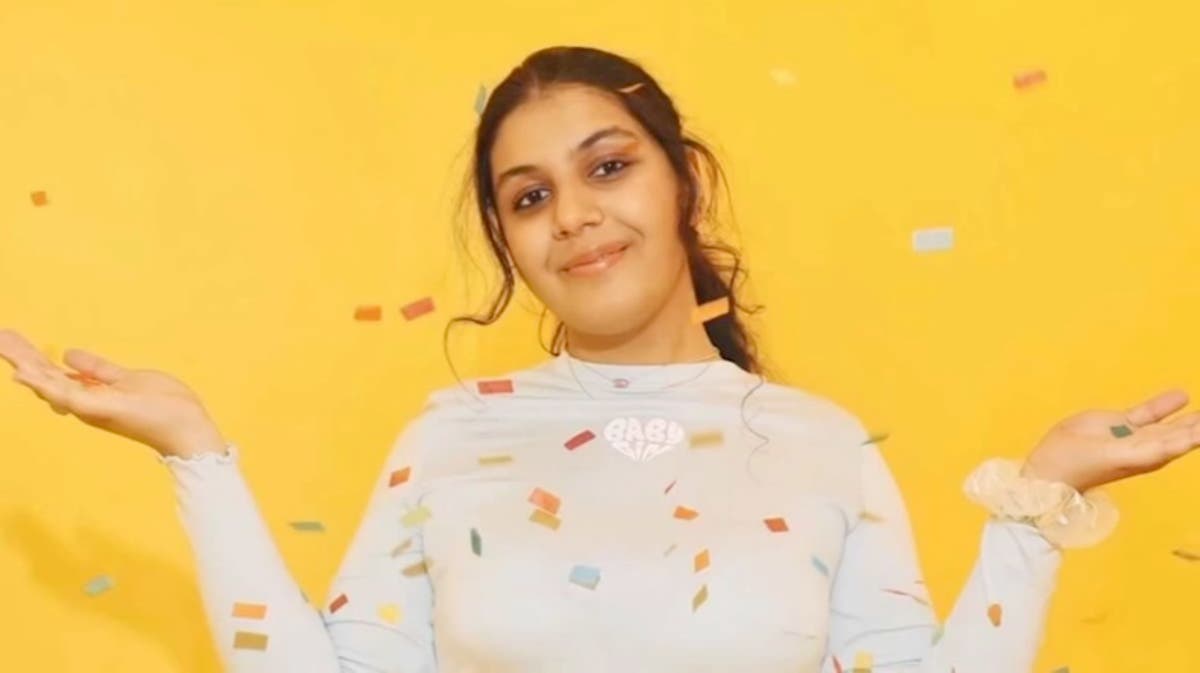 Bharti Shahani had been fighting for her life in ICU since Friday night after she was crushed in the deadly surge at Travis Scott's Astroworld
The death toll from the Astroworld Festival tragedy has now risen to nine after 22-year-old student Bharti Shahani has died after six days in ICU.
Ms Shahani's family confirmed her death in a heartbreaking press conference on Thursday where they called for "justice" and her mother sobbed uncontrollably crying "give me my baby back".
Karishma Shahani, Ms Shahani's mother, broke down in tears as she paid tribute to her daughter and said she doesn't know how she can live without her".
"What happened to my blessing now," she said. "I want my baby back. I won't be able to live without her. It's impossible."
Her mother said her daughter "didn't ask for anything" and was "always giving".
"The first thing she ever asked for in her life was 'mama can I go to this concert'?" she said.
"Why didn't I say no to her? Why? Because it was the first thing she asked me for herself."
She added: "This wasn't a concert because my baby didn't come back."
Ms Shahani's father told reporters he and his wife had sat by her bedside 24/7 this week so "whatever time was left we could spend with her".
"Please make sure she gets justice and I don't want somebody else's daughter to go like this," her father Sunny Shahani said.
"It was the wrong day and wrong time for her."
James Lassiter, the attorney for the Shahani family, confirmed that the 22-year-old victim was the woman seen being dropped from a stretcher in footage which has circulated online this week.
In the graphic footage, medics are seen trying to carry the unconscious woman out on a stretcher in the chaos before accidentally dropping the top of the gurney, causing her to land on her head.
Ms Shahani had been fighting for her life on a ventilator since Friday night after her brain was deprived of oxygen and she suffered multiple heart attacks in the deadly crush at Astroworld Festival.
The computer programming student at Texas A&M University had gone to Mr Scott's concert with her sister Namrata Shahani and her cousin Mohit Bellani but they all became separated from each other in the chaos.
While her sister and cousin both survived, Ms Shahani was rushed to hospital with medics performing CPR on her on the way.
She was declared brain dead on Wednesday before she passed away the following day.
At the press briefing, Mr Bellani hit out at the Astroworld organizers who he said "suffocated Bharti" that night as he said that the word "tragedy" does not represent "the act of pure brutality" that took place.
He said "there are no words to describe what really happened but that doesn't seem right seems cliche and seems wrong".
"There are words like nightmare, horror, barbarity and catastrophe," he said.
"The word I see most people using is actually tragedy but I think the connotation behind the word tragedy implies that this was unavoidable.
"I think this is wrong. I think the word that should be used is atrocity – that this was 100 per cent avoidable that this was an act of pure brutality."
Mr Bellani slammed "the producer, the venue, the organizer and Live Nation" saying that if they "had done their jobs" his cousin would be alive.
"They suffocated us. They did this to Bharti. They suffocated Bharti," he said.
"They did this to the nine-year-old boy in ICU fighting for his life. They did this to the other people who also lost their lives that night."
Ms Shahani's sister Namrata said "every day I wake up and hope it was all a dream".
"It hurts more because she was not only my sister, she was my best friend," she said.
Mr Shahani said at the press conference that he and his wife had been in contact with his daughter while she was at the festival. They last heard that she was having a good time and was waiting for the next show at 9pm.
"She called around 3pm and said they were leaving," he said.
"Around 6pm when they went in she called and said their phones may not work when we go inside and it may be too loud.
"At 7.45pm my wife text her 'is it going good? And she text saying 'yes it's good we're finished one concert and waiting for the next one at 9pm."
It was around 9pm that Mr Scott took to the stage for the headline performance and the crowd surged, crushing Ms Shahani in the masses.
"We thought our kids are enjoying the concert and enjoying all the music and all that," said Mr Shahani.
At around 10.45pm, he said he got a call from his other daughter Namrata who told him she had lost her phone and was using a security guard's phone.
She told her father "it's too crowded and I'm trying to look for Bharti", he said.
"Namrata was trying to call her sister but couldn't get through to her."
Mr Shahani said he managed to call Mr Bellani and then did a three-way call to connect Namrata and Mr Bellani so they could find each other.
He said he then told them to start looking for his other daughter while he and his wife traveled to NRG Stadium to try to find her.
He said he knew something was wrong because "she always picks up the phone right away".
The family went from hospital to hospital searching for her before they finally found her in critical condition in hospital suffering heart failure and on a ventilator.
Mr Shahani paid tribute to his daughter as "the head of the family, she was a very nice girl, always calm, always listened and she had a bright future".
Her father told reporters how the family moved to America for a better life.
Ms Shahni was born in New York before the family moved to Texas, said Sunny Shahani.
Sunny said her "dream" was first to become a chemical engineer so she went to A&M University, where she later changed her course to computer programming.
Mr Lassiter described the festival as a "a senseless, gross disregard for human life".
"The way that this festival was put on was a recipe for disaster that these people cooked up from the configuration," he said.
"They ran so many stop signs on the way… they put profits over safety and as a result we have this tragedy."