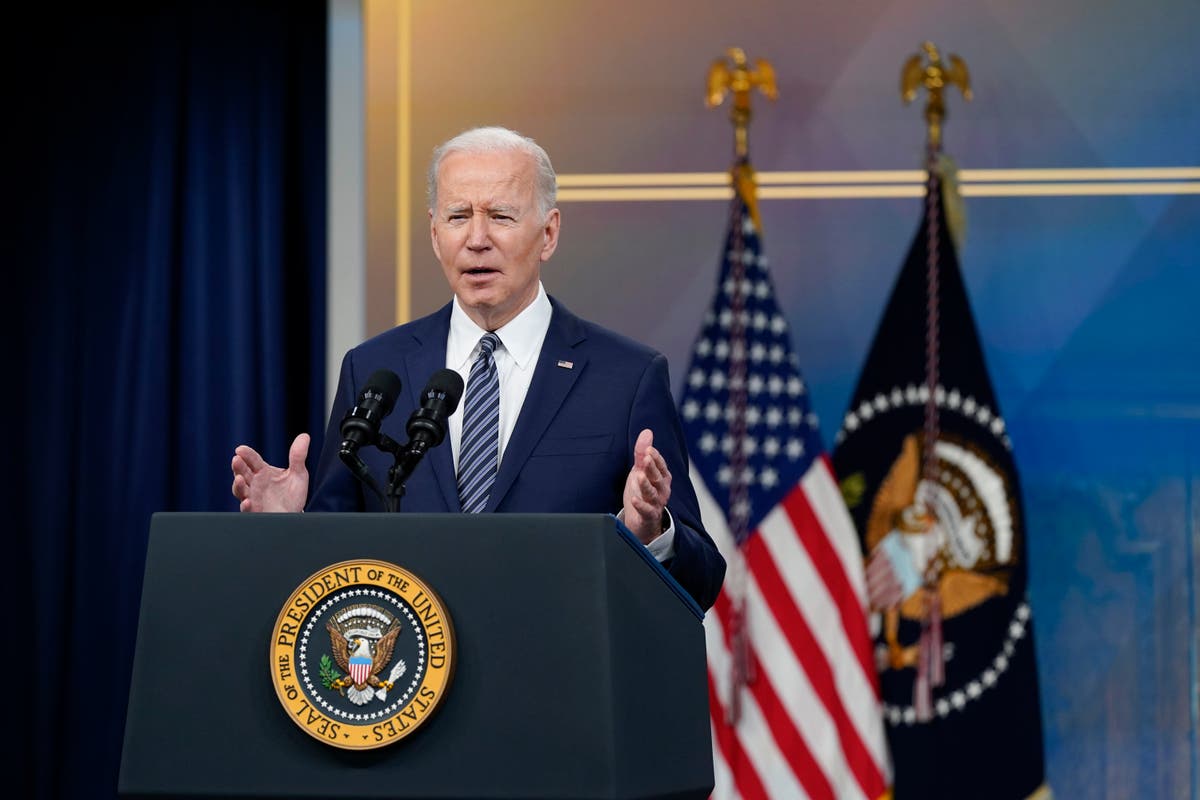 US president has previously called Russian leader a 'war criminal' for Ukraine invasion
Joe Biden has called for Russia's president, Vladimir Putin, to stand trial before international authorities as a war criminal.
Mr Biden made the remarks to reporters on the White House lawn.
"We have to gather all the details" in order to "actually have war crimes trial," Mr Biden said on Monday.
The move is not unexpected, and comes after Mr Biden publicly rebuked Mr Putin as a "war criminal" amid images and videos of horrific carnage in previously Russian-held areas of Ukraine.
Mr Biden reiterated his belief on Monday, adding to reporters while referring to the "brutal" Mr Putin: "He is a war criminal." And he added that his administration would continue adding pressure to the situation via sanctions targeting Moscow. Western-led sanctions have been blamed for a hard economic shock in Russia that has led many businesses to close and the Ruble to lose value.
"I'm going to continue to add more sanctions," said Mr Biden, while refusing to give specific details.
Mr Biden also addressed remarks from Ukraine's president, Volodymyr Zelensky, from over the weekend in which Mr Zelensky went a step further and accused Russian forces of committing "genocide" in Ukraine.
Criticism of Russia's military effort expanded greatly in recent days with the spread of images and videos of Ukrainian forces retaking Bucha, an area on the outskirts of Kyiv, from Russian troops. Horrific scenes of carnage were discovered across the town where it appeared that civilians had in some instances been executed, presumably by Russian troops, while their hands were tied.
Asked whether he would use the word "genocide" to describe the situation, Mr Biden replied: "No, I think it is a war crime."
"You may remember I got criticised for calling Putin a war criminal," the president continued. "Well, the truth of the matter – we saw it happen in Bucha – this warrants him – he is a war criminal."But we have to gather the information. We have to continue to provide Ukraine with the weapons they need to continue to fight and we have to get all the detail so this could be – actual have a war crimes trial. This guy is brutal and what's happening in Bucha is outrageous and everyone's seen it."
US officials have said separately that the Pentagon cannot independently confirm the atrocities reported in Bucha and some other areas, but were also not in a position to offer any contradictory evidence.
"We're seeing the same imagery that you are. We have no reason whatsoever to refute the Ukrainian claims about these atrocities — clearly, deeply, deeply troubling," a senior US defence official told Reuters in an interview.
"The Pentagon can't independently and single handedly confirm that, but we're also not in any position to refute those claims," they continued.
Russian forces attempted to strongly deny committing war crimes over the weekend amid a downpour of shocking images suggesting otherwise; Many civilian centers across Ukraine have reported non-military targets including hospitals being struck and apparently deliberately targeted by Russia's military.
The US has led the effort to isolate Moscow economically and diplomatically amid the invasion but has struggled to encourage some European countries including Germany, which is heavily reliant on Russian energy, to divest completely from Russian businesses amid the invasion.
Military experts largely agree that Russia's invasion has stalled across the country and shifted its goals from the capture of Kyiv and overthrow of Volodymyr Zelensky's government to the capture of some key cities including Kharkiv.
Those cities have seen intense fighting in recent weeks, leading to bleak situations where many civilians are still trapped in active combat zones.