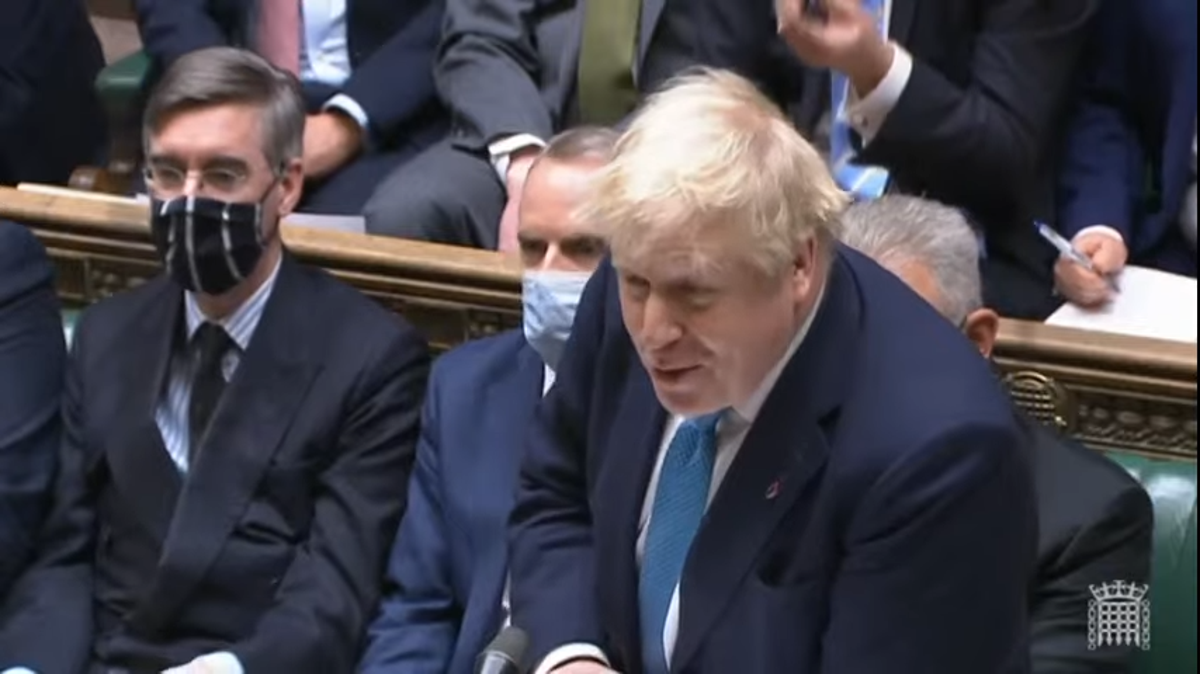 Findings of Cabinet Office inquiry yet to be presented to prime minister
Watch live as Boris Johnson takes on PMQs as he waits upon Sue Gray report
The highly-anticipated report into alleged lockdown-breaching parties at No 10 is yet to be handed to the prime minister, as Boris Johnson is grilled by MPs at this afternoon's PMQs.
Downing Street has said Mr Johnson wants to publish it – in full or in part – "as soon as possible", meaning its potentially explosive findings may be known in the coming hours.
Reports suggested Sue Gray, who is leading the Cabinet Office investigation, was in possession of photographs showing parties in Downing Street, including images of the PM, alcohol bottles and people stood close together. Sky News said it understood the photos had been "handed over to investigators" by government "officials".
Plans to bring the so-called partygate scandal to a swift conclusion this week were thrown into chaos on Tuesday after Metropolitan Police Commissioner Cressida Dick announced that the force was launching its own inquiry into possible criminal offences by government staff.
1643200343
'Show the prime minister the door,' Blackford tells Tory MPs
"The only route to restore public trust" in government "is for the prime minister to go", says the SNP Westminster leader, Ian Blackford.
"How much longer will Tory MPs let this go on for? How much more damage are they willing to do? It is time to get this over with, show the prime minister the door."
Tom Batchelor
26 January 2022 12:32
1643200185
Reaction from political pundits and writers to PMQs
Tom Batchelor
26 January 2022 12:29
1643199940
Johnson showing 'nothing but contempt for the decency, honesty and respect that define this country'
Sir Keir Starmer says the partygate saga is "all happening when petrol prices, the weekly shop and energy bills are going through the roof", and urges the government to back Labour's call to scrap VAT on energy bills.
He says Boris Johnson's administration has shown "nothing but contempt for the decency, honesty and respect that define this country".
The PM replies: "No, Mr Speaker, we love this country and we are doing everything in our power to help this country. Of course he wants me out of the way … many people may want me out of the way."
Tom Batchelor
26 January 2022 12:25
1643199594
Starmer demands Johnson release Sue Gray report in full
Keir Starmer says Boris Johnson "went into hiding for five days because of these allegations (of lockdown parties)".
The PM was seen scratching his head.
Mr Starmer then presses the PM for publication of the full Sue Gray report "as he receives it".
Mr Johnson repsonds: "What I can tell him is we have got to leave the report to the … investigator … of course I will do exactly as I said."
For background, the PM's spokesman has previously promised to publish the report:
Tom Batchelor
26 January 2022 12:19
1643199369
Focus on Ukraine not No 10 parties, PM tells Starmer
Boris Johnson suggests people should focus on Ukraine instead of lockdown breaches on Downing Street.
Keir Starmer asks: "Does the prime minister really not understand the damage his behaviour is doing to the country?"
Boris Johnson repsonds: "Although the issue he raises is important, there is simply no way that I can comment on the investigation that is currently taking place. He talks about the most serious issue before the public today, and before the world today, it is almost as if he is ignorant to the fact that we have a crisis on the borders of Ukraine."
Mr Johnson adds: "I think he needs to raise his game quite frankly."
Tom Batchelor
26 January 2022 12:16
1643199027
Starmer presses PM on whether he should resign if he misled parliament
Keir Starmer up now. He asks Boris Johnson whether he thinks that the ministerial code which states that PMs should resign if they mislead parliament applies to him.
Mr Johnson replies "of course", but adds that he "can't comment on" the investigation into No 10 parties.
Mr Starmer responds that if it is found that he did mislead parliament, he should resign.
Tom Batchelor
26 January 2022 12:10
1643198859
First question for PM on Covid fraud
Boris Johnson's first question, from Labour's Kate Osamor, is on the government writing off more than £bn in fraudulent Covid handouts.
The prime minister denies this is the case, and repeats his well worn criticism of Sir Keir Starmer as "captain hindsight".
Tom Batchelor
26 January 2022 12:07
1643198649
PMQs starting now
PMQs is now underway. You can watch it live here:
Watch live as Boris Johnson takes on PMQs as he waits upon Sue Gray report
Tom Batchelor
26 January 2022 12:04
1643198179
PMQs to start any minute
Boris Johnson is to face MPs at a potentially gruelling PMQs within minutes.
Tom Batchelor
26 January 2022 11:56
1643197347
Conservative MP rubbishes claim election would be needed if Johnson resigns
Conservative MP Sir Bob Neill has described comments from Jacob Rees-Mogg that an election would have to be called if Boris Johnson were to resign as "constitutional and legal nonsense".
Tom Batchelor
26 January 2022 11:42