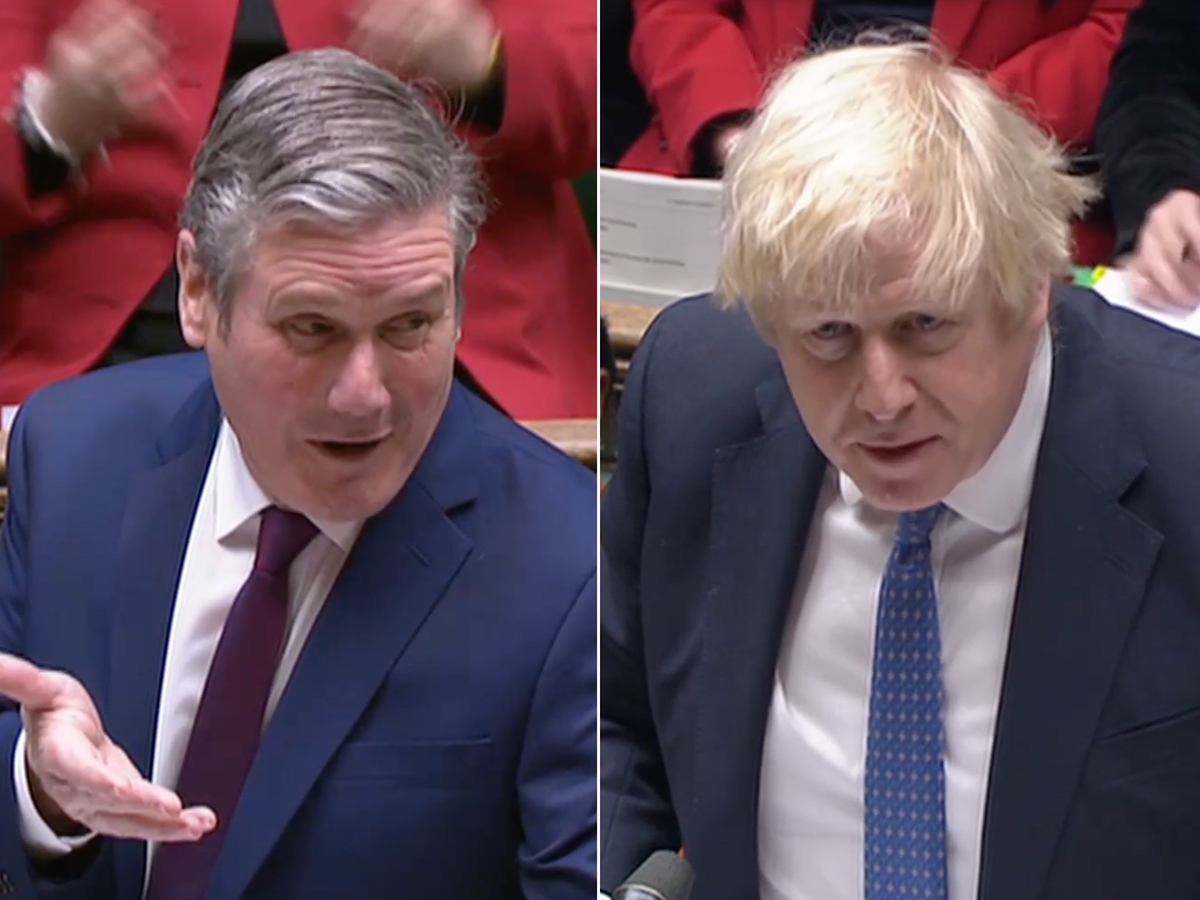 Justice secretary claims voters not interested in hearsay about Johnson's state of mind
Watch live as Boris Johnson faces Keir Starmer at PMQs
The prime minister and Sir Keir Starmer are going head-to-head in today's Prime Minister's Questions (PMQs), where it is thought Boris Johnson's performance will be under intense scrutiny following another week of blunders – including reports of a dozen Tory MPs sending letters of no confidence in their leader.
Dominic Raab earlier claimed the PM is "on great form" despite concerns following a speech he gave on Monday, in which Mr Johnson lost his place, went on a tangent about Peppa Pig and made car engine noises.
Branding reports claiming backbenchers had written to Sir Graham Brady, chair of the 1922 committee, as "Westminster tittle tattle", the deputy prime minister told the BBC and LBC respectively that his boss was a "Tiggerish" leader and went where previous leaders could not by breaking from the script.
Under Conservative Party rules, a leadership contest is only triggered if 15 per cent of sitting Tory MPs write a letter to Sir Graham demanding one – a figure which currently equates to 54 letters. A Tory source told The Telegraph: "It will not get anywhere near the [number of] letters you would need, but it does cause angst."
Follow our live coverage below
1637756798
Blackford asks PM if he has considered stepping down
Ian Blackford, the SNP leader at Westminster, describes the past few weeks as some of the worst in Tory history, listing a corruption scandal, broken promises, tax rises, and a cancelled bridge to Ireland. "Has the PM considered calling it a day before he is booted out?" Blackford asks.
Johnson says people want to know what the government is doing for the people of Scotland, not about "politics, politics, politics".
He says on Friday, or later this week, the union connectivity review will be published, showing what the government will do for rail links to Scotland.
Blackford repeats questioning about the PM's leadership, asking why he is clinging on.
Johnson, in turn, asks again why Blackford is asking about party politics when people want to know what the government is doing for Scotland.
Sam Hancock
24 November 2021 12:26
1637756531
'Is everything OK prime minister?' Starmer asks PM
Starmer finishes up his questions by saying it is "working people" who will have to "pay twice".
They are the ones paying national insurance when they work, and when they retire they will have to sell their homes, because they will not be protected. He says it is a classic Covent Garden pick-pocketing operation. "The PM entertains the crowd, while the chancellor picks their pocket," Starmer says, echoing a line he has used before.
He quotes from what Tories have said attacking Johnson's operating, that his leadership "just isn't working", and he ends with the words of the ITV reporter after the CBI speech – "is everything OK prime minister?"
Johnson claims the only thing that isn't working is Starmer's "line of attack". He claims the government is fixing problems no one else has tried to fix. And he ends by saying, again, if we had listened to Captain Hindsight [Starmer], the country would still be in lockdown.
Sam Hancock
24 November 2021 12:22
1637756334
PM delivery only high taxes and low growth, Labour leader says
Starmer continues on his attack, saying the only thing Johnson is delivering is high taxes, high prices and low growth. He says the social care plans will protect the wealthy. But everyone will have to pay for it.
How could he have possibly delivered a working class dementia tax? Starmer asks.
Johnson says the government is doing more for working people than Labour ever did.
(It seems pertinent to note there is an extremely loud show of support for the PM in today's session, which comes amid rumours of a dozen backbenchers sending letters of no confidence to the 1922 committee.)
Sam Hancock
24 November 2021 12:18
1637756197
Starmer wonders if PM will make it to next election
Starmer says people will still be forced to sell their homes to pay for care, "it's simple," he says. This is another broken promise, like his promise not to put up tax, his promise of 40 new hospitals, and his promise of a rail revolution in the north.
He says "who knows if [Johnson] will even make it to the next election" but if he does, "how will anyone take his promises seriously?"
Sam Hancock
24 November 2021 12:16
1637755947
PMQs begins with Starmer accusing Johnson of breaking election promise
PMQs has begun, with Keir Starmer kicking off proceedings by asking Boris Johnson if he has broken an election promise over his pledge to ensure no one would have to sell their home to pay for social care costs.
Johnson replies "no" and goes on to issue a rambling response about what his party is doing to fix the system, which he says the Labour Party has failed to do.
Starmer, in turn, responds the PM appears to have "described the very broken system he claims to be fixing".
He asks again if Johnson has stuck to his promise to ensure no one has to sell their home to pay for care costs – quoting the £86,000 cap figure, asking how many Britons can hope to afford that without selling their home.
The PM says he is doing his best to "explain this issue to the befuddled mind to the" opposition leader's mind. He again defends his plan.
Sam Hancock
24 November 2021 12:12
1637755412
Watch live as Boris Johnson faces Keir Starmer at PMQs
Watch live as Boris Johnson faces Keir Starmer at PMQs
Sam Hancock
24 November 2021 12:03
1637754113
Hoyle orders Commons procedure committee to look at baby rule
Following my last post, Sir Lindsay Hoyle has given his brief statement to the Commons.
The speaker said he understood there were conflicting views raised by Stella Creasy's case, and that he had considered all of them.
As a result, he says, he has asked the chair of the Commons procedure committee to bring forward "suggestions" for a resolution, which MPs will then be able to consider.
Making the announcement, he insisted the House must be able to conduct business "without disturbance" – referring to a baby's needs – but acknowledged "we must also move with the times".
He added "it's important that parents of babies and young children are able to participate fully in the work" of Westminster, pointing to the onsite nursery and creche as proof of this.
Ms Creasy's argument is that her child is to young to be placed in such care.
Sam Hancock
24 November 2021 11:41
1637753193
BREAKING: Speaker to give statement about babies in Commons
Sir Lindsay Hoyle, speaker of the Commons, will make an urgent statement to MPs at 11.30am on rules around babies being allowed in Westminster.
It follows backlash to Labour MP Stella Creasy being reprimanded on Monday for taking her three-month-old son to a Westminster Hall debate.
Ms Creasy was left baffled having previously taken her older daughter to the Commons in 2019, with no complaint.
It is thought Sir Lindsay will clarify whether the rule, which is an apparent ban on MPs being allowed to bring their children to parliament, is a longstanding or a new one.
Sam Hancock
24 November 2021 11:26
1637752863
Rayner shares graphic illustrating social care 'con' and its impact on north
Labour's deputy leader is back with another graphic, this one by the Labour Party, it seems, outlining the disproportionate costs placed on poorer families by the Conservative's changes to England's social car system.
"A family in a terraced house in my constituency will lose almost everything they own," Angela Rayner tweeted, adding: "A millionaire in a mansion will lose less than 9 per cent."
Sam Hancock
24 November 2021 11:21
1637752520
Starmer and Johnson to face off at PMQs in 45 minutes
It's less than an hour to go until Prime Minister's Questions (PMQs), where Boris Johnson will butt heads once more with Sir Keir Starmer.
The Labour leader is expected to continue taking advantage of the faltering PM, amid reports his MPs have begin submitting letters of no confidence.
More tory controversy in the form of the Windrush compensation scheme could become a key topic of Sir Keir's, as well as his opponent's rambling speech on Monday and ongoing allegations of Tory dissatisfaction with the PM's premiership.
Sam Hancock
24 November 2021 11:15