The gold medal match takes place at the International Stadium Yokohama
Megan Rapinoe silences her critics by scoring twice as USA wins bronze
Brazil face Spain in a mouthwatering final at Tokyo 2020 to decide who will claim the gold medal. The Selecao won a thrilling penalty shoot-out against Mexico in the semi-finals, while Real Madrid's Marco Asensio hit a stunner to deny Japan in extra-time.
El Tri rallied to down Japan in the bronze medal match, with goals from Sebastian Cordova, Johan Vasquez and Alexis Vega earning a 3-1 victory, but now Brazil will hope to defend their title from Rio 2016.
Led by 38-year-old Dani Alves, the Sao Paulo star and former Barcelona right-back admits he is on the brink of "achieving a dream": "Every high performance athlete wants to be here. Being here, being able to represent my people, at football, is an honour for me. Now we focus on the main chapter of this mission and of history.
"Those that know me know I have a youthful spirit and as it is my first time I will have the same sort of experience as the young lads. Even though I have enjoyed some big moments in my career, given this is my first time at the Olympics, I feel some butterflies in my stomach."
La Roja have carried over momentum from Euro 2020, where they reached the semi-finals and Barcelona's Pedri shone to prove himself as one of the finest young players in the world, with Luis de la Fuente's side looking to emulate the side that won gold at Barcelona 1992 – follow live minute-by-minute updates from the match below:
1628333865
Brazil vs Spain – Who will win gold?
Of the two teams in the final Spain have the stronger squad. Pau Torres, Pedri, Dani Olmo and Marco Asensio all featured in Euro 2020 last month and they have unearthed a gem in 24-year-old Rafa Mir whose hat-trick against Ivory Coast sent Spain into the semi-finals.
However, Brazil will fancy their chances. Everton's Richarlison has been in fine form, and he has been ably supported by Antony and Matheus Cunha. Brazil's attacking prowess is their strength and if they can stem Spain's possession of the ball they'll be confident of securing victory.
This is going to be a close one and a game that could go all the way to penalties, if it doesn't I think Brazil will edge it.
Michael Jones
7 August 2021 11:57
1628333363
A year to remember for Spain's Pedri
Spain's teenage superstar, Pedri, is having a year to remember. When he steps out onto the pitch at the Yokohama International Stadium in under an hour's time, he'll be playing in his 73rd game of the season.
No one has played more games in European football this term and this is only Pedri's first season as a professional.
It has been a season of remarkable hits for the 18-year-old. He made his first appearance for Barcelona, earned a spot in the starting XI alongside Lionel Messi and won the Copa del Rey.
Then he made his debut for the Spanish Under-21s before leaping into the senior team and reaching the semi-finals of Euro 2020 as well as being named the young player of the tournament.
Now he's in Japan competing for Olympic gold. It's enough of an emotional rollercoaster to derail some players but not Pedri. He's taking it all in his stride and loving every minute.
"I'm not one to stop and think about it," Pedri said. "But I try to enjoy every day that I'm living because it's amazing."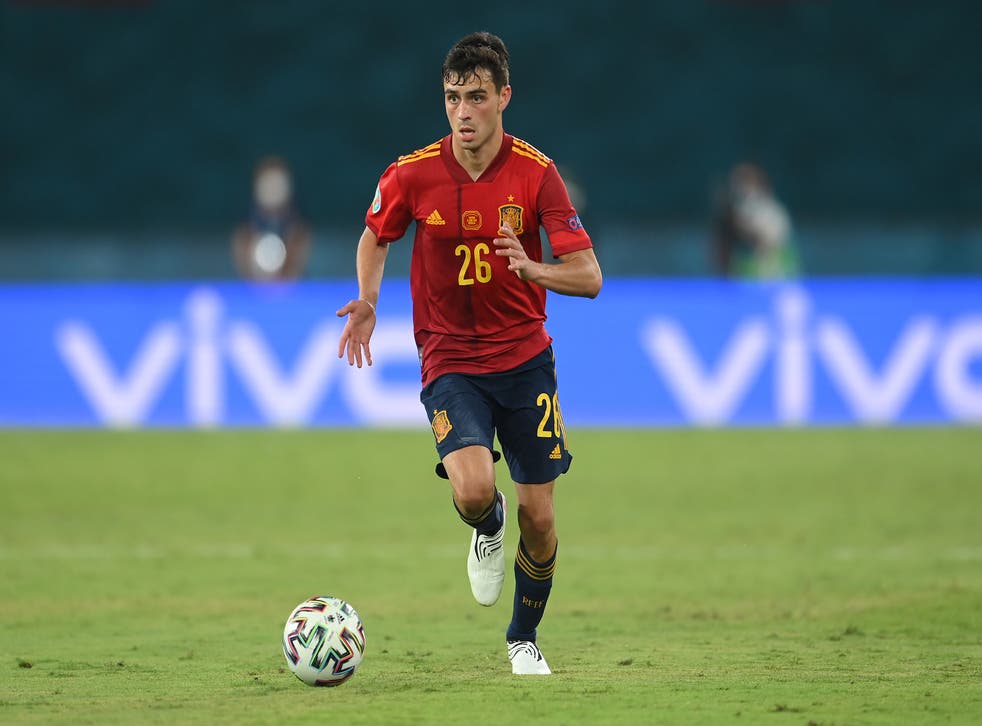 Michael Jones
7 August 2021 11:49
1628332958
Route to the final
Brazil are hoping to win back-to-back gold medals in the Men's Football after they reached the final of Tokyo 2020.
The 2016 Olympic champions have had a decent tournament so far with victories over Germany and Saudi Arabia in Group D, along with a 0-0 draw against Ivory Coast, enough to send them into the knockout stages.
Next came Egypt in the quarter-final and Brazil cruised to a 1-0 victory to put them within reach of a medal.
Mexico were tougher opponents and they held Brazil to a goalless draw over 120 minutes before the reigning champions defeated them 4-1 on penalties to reach the final.
There they'll face Spain who have had a rockier run but may be peaking at the right time.
Spain struggled for wins in Group C, beating only Australia, but they held Egypt and Argentina to draws to top the group and reach the quarter-finals.
In the quarters they needed extra time to see off Ivory Coast but eventually dominated with a 5-2 win.
A tough contest against hosts Japan followed in the semi-finals with extra-time called for once again before Spain broke the deadlock and won 1-0.
This sets up what should be a fantastic Olympic final but who will take the gold medals home?
Michael Jones
7 August 2021 11:42
1628332579
Brazil and Spain go for gold
Brazil and Spain will fight it out for the gold medal in the Men's football final at Tokyo 2020. The gold medal final kicks off at 12:30pm and will be played at the Nissan Stadium in Yokohama.
Brazil have made it to their third consecutive Olympic final and are hoping to emulate their victory from Rio 2016 when they defeated Germany in the final.
Spain meanwhile are attempting to win gold for the first time since the 1992 Olympics when they were held in Barcelona.
Michael Jones
7 August 2021 11:36
1628331953
Team news – Brazil vs Spain
Brazil XI: Santos; Alves, Nino, D Carlos, Arana; Antony, Guimaraes, Luiz, Claudinho; Richarlison, Cunha
Spain XI: Simon; Gil, Torres, Garcia, Cucurella; Zubimendi, Pedri, Merino; Asensio, Oyarzabal, Olmo
Michael Jones
7 August 2021 11:25
1628330607
Brazil and Spain squads
Brazil squad: Brenno, Lucao, Santos, Nino, Ricardo Graca, Guilherme Arana, Gabriel Menino, Dani Alves, Diego Carlos*, Abner, Bruno Fuchs, Matheus Henrique, Bruno Guimaraes, Douglas Luiz, Claudinho, Reinier, Gabriel Martinelli, Paulinho, Richarlison, Matheus Cunha, Antony, Malcom.
Spain squad: Alvaro Fernandez, Unai Simon, Eric Garcia, Juan Miranda, Oscar Mingueza, Oscar Gil, Pau Torres, Jesus Vallejo, Pedri Gonzalez, Bryan Gil, Martin Zubimendi, Marc Cucurella, Jon Moncayola, Dani Olmo, Carlos Soler, Dani Ceballos, Mikel Merino, Marco Asensio*, Javier Puado, Rafa Mir, Mikel Oyarzabal, Ivan Villar.
Jack Rathborn
7 August 2021 11:03
1628329785
Brazil vs Spain prediction
Spain have controlled games but Brazil have the attacking advantage. If they can repeatedly counter the Europeans and stay solid at the back, their superior cutting edge will win the gold. Brazil 2-1 Spain.
Jack Rathborn
7 August 2021 10:49
1628329756
Brazil vs Spain predicted line-ups
Brazil: Santos; Alves, D Carlos, Nino, Arana; Guimaraes, Luiz, Claudinho; Richarlison, Cunha, Antony
Spain: Simon; Gil, Torres, Garcia, Cucurella; Zubimendi, Pedri, Merino; Asensio, Oyarzabal, Olmo
Jack Rathborn
7 August 2021 10:49
1628329743
Brazil vs Spain team news
No injury worries or suspensions for either side likely mean they'll go with the most settled and used 11.
For Brazil, that's Richarlison supported by the likes of Antony and Matheus Cunha, while Spain will leave Dani Olmo and Marco Asensio in support of Mikel Oyarzabal – leaving Rafa Mir to perhaps produce heroics off the bench once more.
Jack Rathborn
7 August 2021 10:49