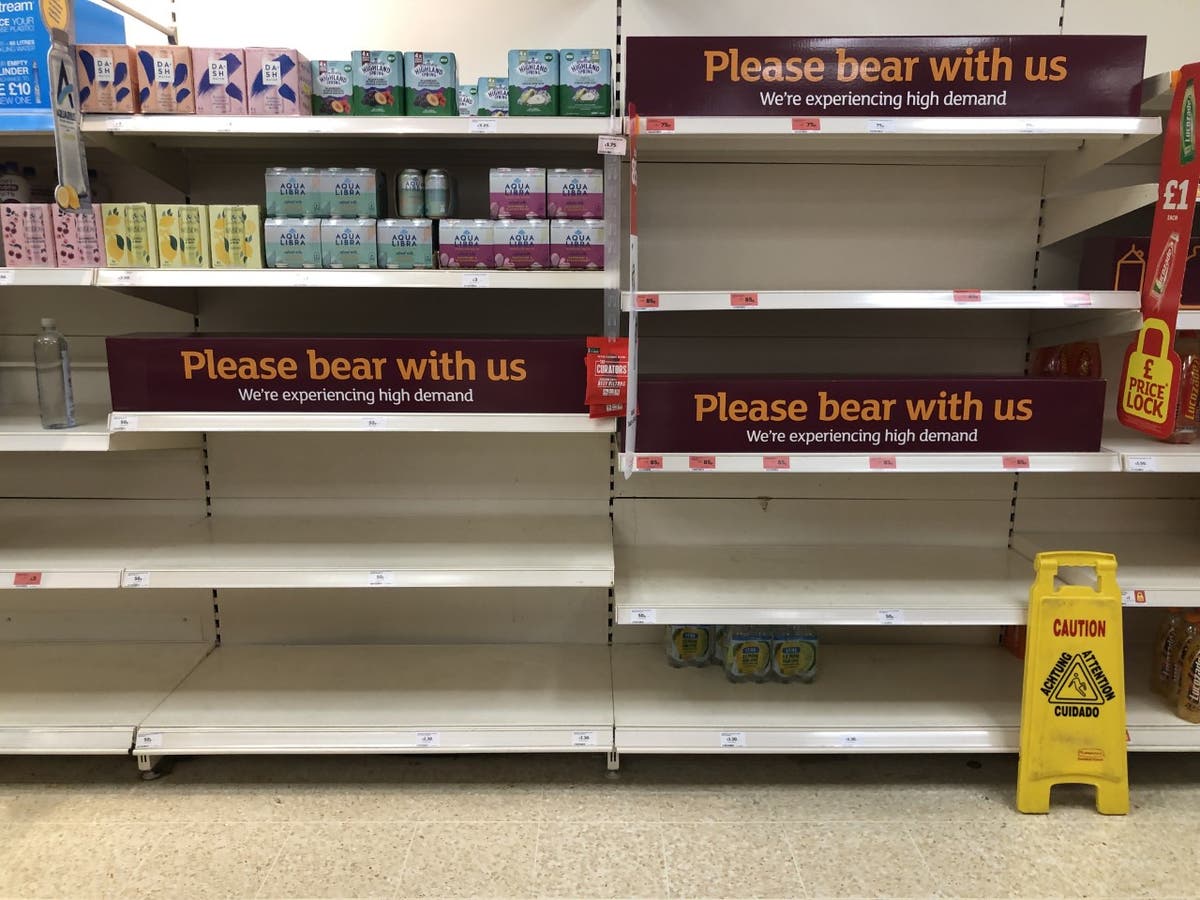 Government warned supply disruption could last 'at least 18 months'
Britain's post-Brexit supply chain crisis could "cancel Christmas" and continue to cause food shortages well into 2022, industry leaders have warned.
Boris Johnson's government has been urged to ease immigration rules so some EU citizens who left the UK during Brexit can return and help fill major gaps in the workforce.
The head of the Co-op supermarket said on Wednesday that current food shortages were the worst he had ever seen, while Iceland's boss warned that supply disruption could see Christmas "cancelled" for some families this year.
Other food sector chiefs told The Independent they expected food supply problems to continue well into next year unless urgent action was taken to address the shortage of skilled factory workers and lorry drivers.
Nick Allen, chief executive at the British Meat Processors Association (BMPA), which employs over 75,000 people, predicted disruption would continue in 2022 – accusing the government of being "in denial" about the workforce shortages.
He told The Independent: "The supermarket shelves are looking ragged. I think that's going to become the norm – fewer choices on the shelves for the foreseeable future. At the moment it looks like disruption in the sector will continue into next year."
Mr Allen said Christmas dinner favourite, pigs in blankets, could also be off the menu for many families since production of the beloved treat could be cut by a third. "The industry will also struggle to get enough turkeys produced for Christmas," he added.
Earlier this week The Independent revealed that McDonald's had run out of milkshakes, after chicken shortages caused Nando's to temporarily shut 50 stores last week because of supply problems linked to Brexit.
The crisis has now hit high street favourite Greggs. The company said on Wednesday it was suffering from a shortage of "some ingredients" which meant some stores had to pull product lines – though denied earlier reports it had run out of chicken bakes.
Supermarket bosses made clear empty shelves would continue in the months ahead. Richard Walker, the managing director of Iceland, said stores were experiencing daily shortages of some products due to the chronic lack of drivers. "Things like bread, fast-moving lines, are being cancelled in about 100 stores a day," he told the BBC.
The Iceland boss added: "The reason for sounding the alarm now is that we've already had one Christmas cancelled at the last minute and I'd hate this one to be problematic as well."
Steve Murrells, chief executive of the Co-operative Group, said that the food shortages were at "the worst level than at any time I have seen". He said the company was having to reduce some food ranges because of "Brexit and issues caused by Covid".
Duncan Buchanan, policy director at the Road Haulage Association (RHA), said the huge shortage of drivers will continue to cause major supply chain disruption for the rest this year and throughout 2022.
"It will continue next year," he told The Independent. "I can't see the problems being solved for at least 18 months. And things will get worse between now and Christmas unless action is taken. We desperately need to get more drivers into the system."
The RHA estimates that up to 20,000 heavy goods vehicle (HGV) drivers from the EU left during Brexit – adding to the crisis which has left the country short of 100,000 drivers in all.
The RHA wants the government to consider a temporary visa scheme to allow European HGV drivers come back to the UK, as well as removing re-certification barriers currently discouraging former drivers in Britain from returning to the job.
Tom Southall, policy officer at the Cold Chain Federation, said Brexit was partly to blame for recruitment problems across the food sector – predicting that it would be 2022 before the nation begins to get to grips with the backlog of vacancies for drivers, pickers and processors.
"We can expect these kind of disruptions – like we are seeing with McDonald's and Nando's – potentially to continue for the next six months, a year, possibly beyond," he said. "That is unless there is some major movement in the government stance on temporary visas and potentially allowing a temporary system for businesses to bring in overseas workers."
Norfolk food firm Alfred G Pearce, which grows and processes vegetables, is also struggling with labour shortages, having seen its workforce reduced 20 per cent to 30 per cent down after EU employees returned home during the Brexit process.
Jack Pearce, development manager, told The Independent that disruption could continue throughout next year into 2023. "I can see it taking 18 months to two years to sort out these workforce issues. We need some short-term realism to open up visas to the EU again."
Bryan Roberts, retail analyst at Shopfloor Insights, said it would take time to train new workers, even with a major recruitment drive.
"Sadly I think things are only going to get worse in the run-up to Christmas and we've got a whole load more regulations coming in from Brexit in October," he said. "I can see this lasting well into 2022, and I think Christmas is going to be quite a challenge for retailers and the hospitality sector."
Labour called on the government to forge an agreement with the EU to deal with delays in food imports before a new set of post-Brexit checks are introduced in October. Jenny Chapman, shadow Europe minister, told The Independent: "The British people are losing patience with these supply issues and want action from the government to sort them out."
The Liberal Democrats said the government must rethink its immigration policy and scrap its "arbitrary" threshold on salaries for skilled worker visas.
"The chaos and incompetence of this government is now causing food shortages on supermarket shelves," said Alistair Carmichael, the party's home affairs spokesperson. "Priti Patel needs to admit she got this wrong and change the rules so British businesses can recruit the workers they need."
He added: "The government should scrap its arbitrary salary threshold and end the ludicrous system that rejects carers and other key workers as 'unskilled'. It's time for Tory ministers to put the needs of the British economy above their anti-immigration ideology."
The government's points-based immigration system introduced in January means foreign workers need to earn at least £25,600 to get a skilled worker visa. Home secretary Ms Patel said last month the post-Brexit rules "would encourage employers to invest in the domestic UK workforce, rather than simply relying on labour from abroad".