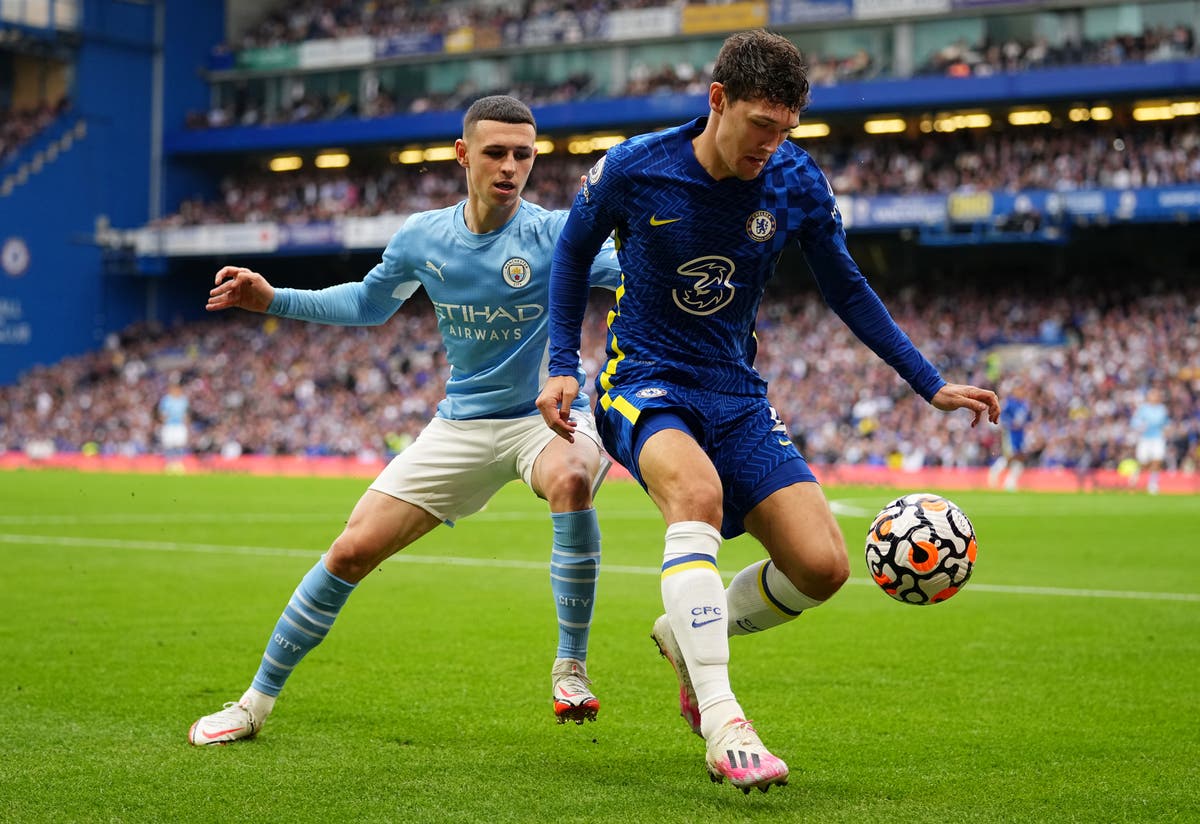 Pep Guardiola's side travel to the European champions, who beat the Citizens three successive times towards the end of last season
'What a player!' Pep believes Lukaku has made Chelsea a 'stronger' team
Follow live coverage as Chelsea host Manchester City in a pivotal match in this season's Premier League title race.
Thomas Tuchel is ignoring his rivalry with Pep Guardiola, after beating the Spaniard three straight times, including the iconic 1-0 victory in the Champions League final.
City will be keen to reestablish their dominance as they defend their title, having slipped off the pace further last weekend with the goalless draw with Southampton, but the Blues now have a newfound cutting edge in attack, following the acquisition of Romelu Lukaku. City sit three points behind the Blues, who are joint-top alongside Liverpool and Manchester United, with a fascinating title race in store.
The game is likely to fall into the category of a "six-pointer", with Tuchel claiming the match is a 50-50 contest: "It is a six-pointer between two teams who are clearly rivals for the top four, but it's too early (for the title race). The last three games, I see three 50-50 matches… Little details decide, small situations can give you an advantage, you need a little bit of luck. I expect another 50-50 match tomorrow. It does not take a miracle to win but we need our best performance… it will be one of the biggest tests in European football." Follow live updates from Stamford Bridge below:
1632571245
Chelsea 0 – 0 Man City
30 mins: Nope. Thomas Tuchel takes no chances on his young England star. He replaces him with Thiago Silva. Azpilicueta will push up to the right wingback role with Thiago slotting into the central defence and Christensen moving to the right side of the back three.
Michael Jones
25 September 2021 13:00
1632571148
Chelsea 0 – 0 Man City
27 mins: City surround Edouard Mendy as De Bruyne whips a corner into the six-yard box. The Chelsea goalkeeper is pretty confident though and he reaches out to punch the ball clear of the box.
Reece James went over on his ankle earlier in the game and stays down after the corner. Michael Oliver calls on the medical staff and it doesn't look like he'll be able to continue.
Michael Jones
25 September 2021 12:59
1632570939
Chelsea 0 – 0 Man City
24 mins: Mateo Kovacic sends a loose ball across to N'Golo Kante who can't bring it under control. It skips past him and Jack Grealish takes over. Sensing the danger Kante is onto him in a flash and he wins the ball before Grealish can shoot from just outside the box.
Michael Jones
25 September 2021 12:55
1632570826
Chelsea 0 – 0 Man City
21 mins: Bernardo Silva and Antonio Rudiger get into a contest of words after a bit of argy-bargy off the ball. Referee Michael Oliver tells them to cut it out and get on with the game.
Like clockwork Cancelo swings a ball into the far side of the box where Bernardo makes his run and Rudiger nips in front of him to make a headed clearance.
Michael Jones
25 September 2021 12:53
1632570575
Chelsea 0 – 0 Man City
18 mins: Close! A clearance from Azpilicueta comes up to Romelu Lukaku. He holds up the ball before giving it to Alonso. Werner makes a run in behind the City centre-backs and Alonso finds him with a decent through ball. Werner carries the ball into the box, shimmies around Dias and squares it into the middle where Laporte just beats Lukaku to the ball and tips it away from the striker.
Michael Jones
25 September 2021 12:49
1632570426
Chelsea 0 – 0 Man City
15 mins: Joao Cancelo tries something different with a sharp pass into the box as Kevin De Bruyne makes a run from deep. The Man City midfielder gets past the Chelsea back line, picks up the ball and cuts it back but the pass is behind Phil Foden and Chelsea deal with it. Better from City.
Michael Jones
25 September 2021 12:47
1632570308
Chelsea 0 – 0 Man City
12 mins: The game has started in the we expected. Lots of possession for Man City. Solid defensive work form Chelsea. Very few chances created other than from a couple of Gabriel Jesus crosses.
Bit of a stalemate at the minute.
Michael Jones
25 September 2021 12:45
1632570036
Chelsea 0 – 0 Man City
9 mins: A little bit of possession from Chelsea sees Jorginho knock a pass round the corner into Timo Werner. The striker flicks the ball past Ruben Dias and looks to turn the defender but Dias holds his gorund and ends up giving away a foul.
Michael Jones
25 September 2021 12:40
1632569893
Chelsea 0 – 0 Man City
6 mins: Jesus has started strongly on the right side for Man City. He takes on Marcos Alonso and manages to get a low cross into the box. Andreas Christensen clears it but Walker regains possession quickly. He slots a pass into the right side of the box where Jesus collects the ball. He looks for another cross into the middle but is hit with a strong, sliding tackle from Antonio Rudiger.
Michael Jones
25 September 2021 12:38
1632569655
Chelsea 0 – 0 Man City
3 mins: Man City have flown up the pitch to press Chelsea high. They've got five men in the final third and have twice forced the Blues to give the ball away.
Gabriel Jesus flicks a lovely ball into the box from the right side but Cesar Azpilicueta gets to it first and heads it behind for the first corner of the game.
Michael Jones
25 September 2021 12:34