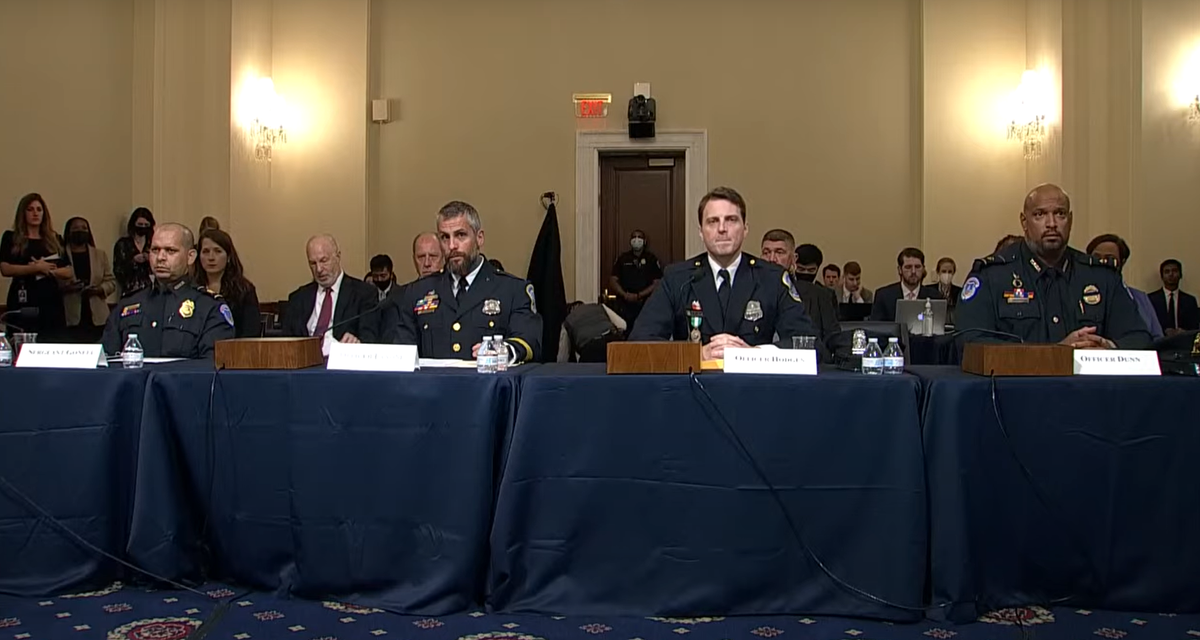 Follow live updates here
The 6 January Select Committee is holding its first hearing
After months of buildup, today marked the first public hearing of the Select Committee to Investigate the 6 January riot at the US Capitol.
The panel heard from law officers from the US Capitol Police and Washington's Metropolitan Police Department. "Hero" officer Harry Dunn, who led the mob away during the 6 Capitol riot, described how he and his fellow officers were subjected to a torrent of racial abuse, including the "n-word".
Liz Cheney, one of two Republicans selected by Nancy Pelosi on the committee, called her colleagues including Marjorie Taylor Greene and Matt Gaetz a "disgrace" for holding a counter-event to support rioters still held in prison.
The other Republican on the committee, Adam Kinzinger, broke down in tears after hearing the officers recount their experience of the day while Jamie Raskin, who lead the unsuccessful impeachment of Donald Trump, called his supporters "fascist traitors".
While Joe Biden was too busy to watch proceedings (according to Jen Psaki), Donald Trump wasted no time in bemoaning the "fake" hearing as a waste of time.
1627408972
Liz Cheney calls MTG and Gaetz 'a disgrace' for protesting for rioters
The Republican on the 6th January commission said she was disappointed that some GOP members went from recognizing what happened at the Capitol riot to questioning the Department of Justice's handling of the investigation.
"The fact that they've gone from recognizing what happened on the 6th to protesting in front of the Justice Department on behalf of those who were part of the insurrection is something that I can't explain. I think it's a disgrace," she said.
"This committee will be focused on getting to the truth of what happened in a non-political, non-partisan way. This is not a political campaign, this is deadly serious, and we will investigate every aspect."
Justin Vallejo
27 July 2021 19:02
1627408066
Joe Biden too busy to watch Capitol riot commission, says White House
Press secretary Jen Psaki said the president was too busy to tune into the 6 January commission today.
"The president has had a range of meetings and briefings and engagements this morning," she said.
"I know he's intending to catch updates and clips, and certainly staff will share with him what they have seen as we watched the briefings, but he has not been in a position, given his schedule, to watch the hearings this morning."
Justin Vallejo
27 July 2021 18:47
1627407048
ICYMI: 'You guys won, you guys held,' Kinzinger tearfully tells Capitol police
Republican representative Adam Kinzinger fought back tears as he spoke to officers who protected the Capitol during the first public hearing to investigate the 6 January riot.
Mr Kinzinger, who is one of just two Republicans to take a seat on the select committee, told the officers that despite feeling broken, they had "won".
The GOP representative's comment came after Sergeant Aquilino Gonell told the committee he was "still recovering" from the assault – which former President Donald Trump claimed involved many rioters giving police officers "hugs and kisses".
Jade Bremner has more from today's earlier story.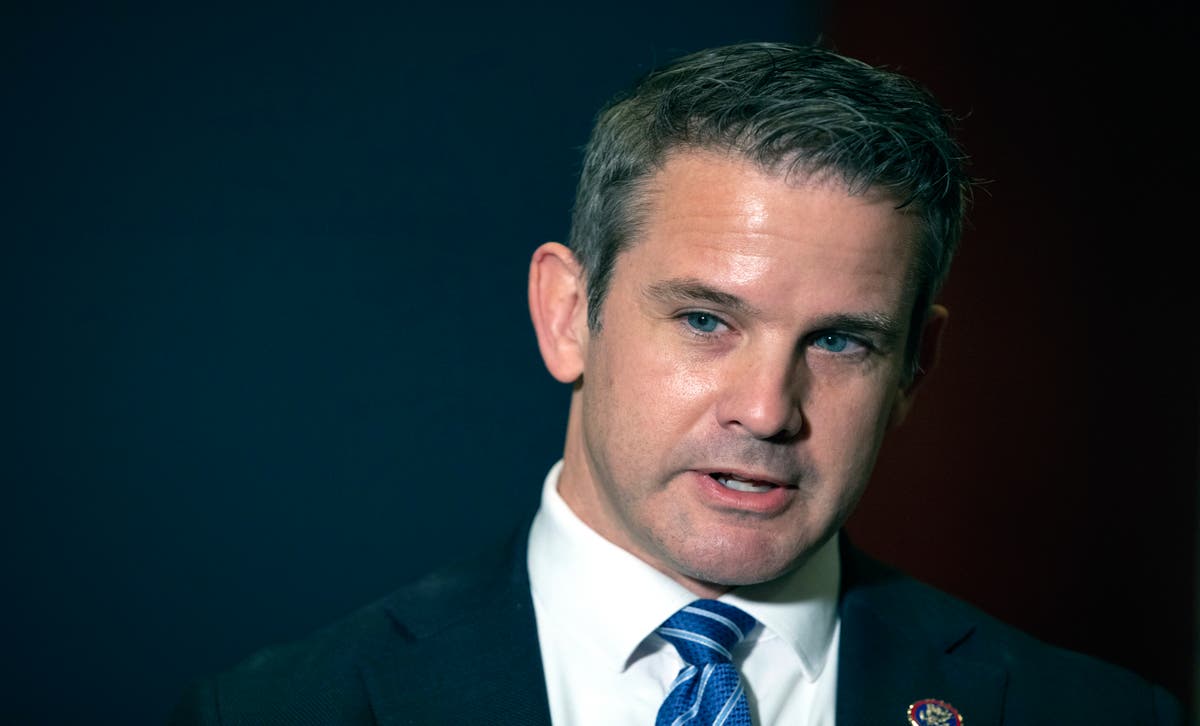 Republican representative Adam Kinzinger fought back tears as he spoke to officers who protected the Capitol during the first public hearing to investigate the 6 January riot.
Justin Vallejo
27 July 2021 18:30
1627405955
Protestors shut down Gaetz-MTG press conference
Continued whistleblowing and encroachment from activists protesting the press conference from Marjorie Taylor Greene and Matt Gaetz on the Capitol attack.
"First of all, to the guy blowing the whistle. We are not deterred. And so anyone that's here being an activist and yelling today here's the statement I need everyone to understand," said Taylor Greene.
"We will not back down," she added moments before the press conference backed down.
"We will not stop asking questions, we are looking for the truth, and we believe the truth can be found by reaching out, and answering and asking the right questions to the right people."
Justin Vallejo
27 July 2021 18:12
1627405277
Matt Gaetz and Marjorie Taylor Greene begin counter-event to "demand answers" on the treatment of Capitol riot prisoners
The press conference outside the Department of Justice is being disrupted by a protestor blowing a whistle.
The two House representatives, fresh off their fundraising tour of the country, join Louie Gohmert and Paul Gosar at the Department of Justice in Washington as Nancy Pelosi's select committee continues.
MTG is asking why the Capitol wasn't taken seriously and why didn't Nancy Pelosi agree to requests for the National Guard.
"Why did the National Guard not come in to protect the Capitol police and all of us inside," Taylor Greene said.
"Currently there's a January 6 committee happening with Nancy Pelosi leading it in some sort of manner where she doesn't want Republicans picked by the minority leader placed on the committee. These are all good questions we should be asking."
Pelosi rejected Kevin McCarthy's picks in favour of Liz Cheney and Adam Kinzinger, both of who voted to impeach Donald Trump.
Justin Vallejo
27 July 2021 18:01
1627403857
Democrat Jamie Raskin calls rioters 'fascist traitors'
Congressman Jamie Raskin, who lead the impeachment of Donald Trump over the riot, told the hearing that the mob who attacked Capitol officers were "fascist traitors".
"You are great Americans and you are heroes to all of America, and long after you are gone you will be remembered as heroes to our country. Along with your fellow officers," he said.
"And those who attacked you, and those who beat you, are fascist traitors to our country and will be remembered forever as fascist traitors."
Justin Vallejo
27 July 2021 17:37
1627401393
Trump 'egged on' supporters to keep fighting, says Capitol officer
Sergeant Aquilino Gonell told the hearing he's still recovering from the so-called "hugs and kisses" Donald Trump said his supporters gave during the Capitol riot as the ex-president "egged on" the mob to keep fighting.
"I'm still recovering from those 'hugs and kisses' that day that he claimed that so many rioters, terrorists, were assaulting us that day. If that was hugs and kisses, we should all go to his house and do the same thing to him," he said.
"What he was doing, instead of sending the military, instead of sending the support or telling his people, his supporters to stop this nonsense, he egged them to continue fighting."
Justin Vallejo
27 July 2021 16:56
1627400962
Donald Trump calls on 6 January commission to investigate Nancy Pelosi
The ex-president has come out with his response to the start of the US Capitol riot commission saying it "fake" and a waste of time and effort while asking it to investigate Nancy Pelosi.
"Will Nancy investigate herself and those on Capitol Hill who didn't want additional protection, including more police and National Guard, therefore being unprepared despite the large crowd of people that everyone knew was coming?" he said in a statement posted to his blog.
"Will Nancy release the thousands of hours of tapes so we can see the extent to which ANTIFA and Black Lives Matter played a role, while also revealing "who killed Ashli Babbitt?"
He also asked her to investigate his unproven claims of voter fraud in the election. Plus the Russia probe. Plus the New York prosecutors looking into his taxes. Plus the Antifa violence in Democrat-run cities.
In summary. Don't investigate the Capitol riot because it's a waste of time, but do investigate all these other things.
Justin Vallejo
27 July 2021 16:49
1627400404
Republican Adam Kinzinger cries at Capitol hearing
The second Republican on the committee held back tears thanking the officers for their service.
"You guys may like individually feel a little broken, you guys all talk about the effects you have to deal with and you talk about the impact of that day, but you guys won. You guys held," he said choking up.
"You know democracies are not defined by our bad days, we're defined by how we come back from bad days."
Justin Vallejo
27 July 2021 16:40
1627400242
Capitol officers watch hearings in halls of Capitol, report
NBC News reporter Jake Sherman reports that several officers are watching the proceedings on their phones.
Justin Vallejo
27 July 2021 16:37