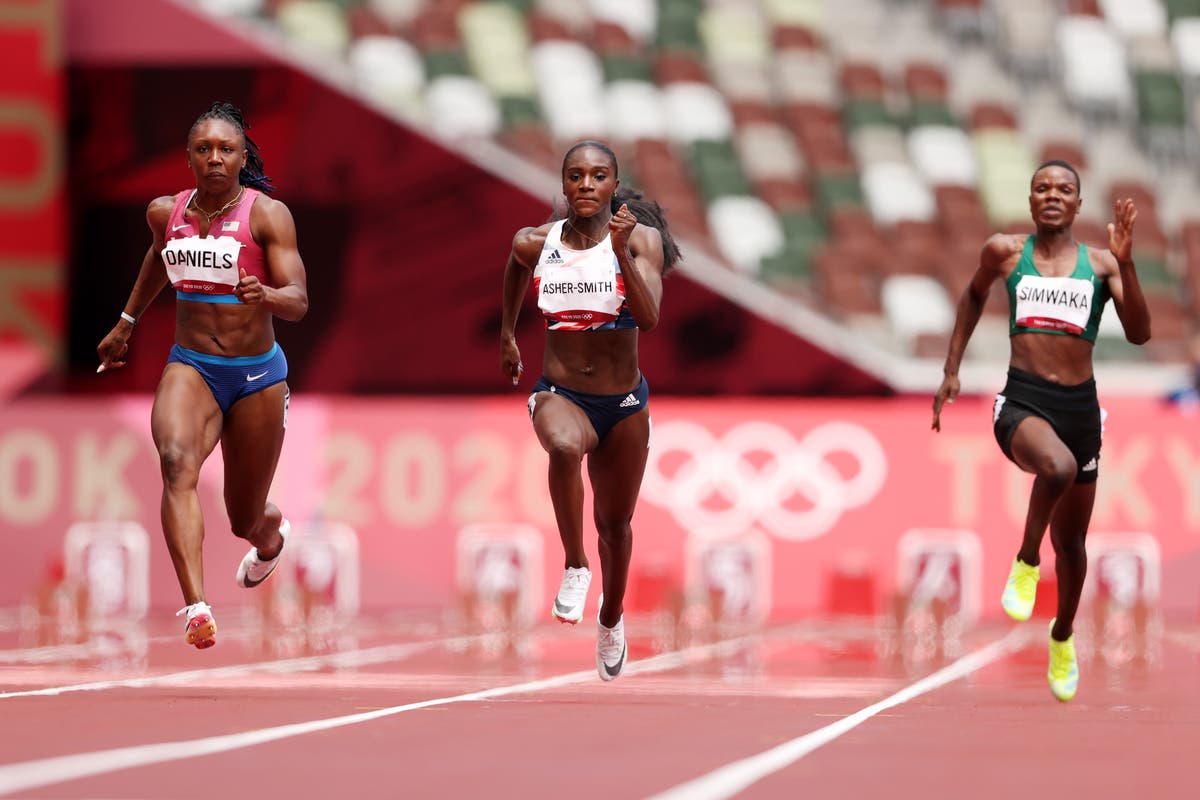 Asher-Smith insists her hamstring has not hampered Olympic preparations but seemed a little off her usual searing pace in the heats as the athletics began in Tokyo
Dina Asher Smith insisted she still has "another level" to reach after failing to find her best form in the 100m heats at the Olympic Stadium in Tokyo.
She had insisted this week that her "grumpy" hamstring had cheered up since pulling out of the British Grand Prix at Gateshead earlier this month, but Britain's athletics team captain seemed to run within herself here as she finished second to America's Teahna Daniels.
In fairness Asher-Smith did ease up at the finish, but by then she was already trailing as she clocked 11.07sec. It was in stark contrast to her opening performance in the 2019 World Championships in Doha, when she dominated her heat to win in 10.96 and went on to collect a silver medal.
"It felt good to be out here and to finally get going," elle a dit. "To be honest today was just about making it through to the next round safely at the same time as knowing I've got another level to give tomorrow so I'm really happy. And I do have another level – of course I do, it's an Olympics."
Her British teammates Asha Philip and Daryll Neita both progressed to the semi-finals. Philip finished second in heat six in 11.31, while Neita was particularly impressive, setting a personal best 10.96 in a fast race won by the woman Asher-Smith pushed back to bronze in Doha, Marie-Josee Ta Lou.
"I don't want to say it, but it felt like it could have been better," said the 24-year-old Neita, part of the team who won relay bronze in Rio. "Obviously I'm really grateful and really happy for that first round, executing and getting a PB. Under 11 seconds is where you need to be heading into the final. I actually came here telling myself I have to be in that final. I don't see any way other than that, franchement, so this is a great stepping stone to that and this shows I can do it, I'm more than capable."
The Ivorian Ta Lou set the fastest time of the session in 10.78, while the reigning Olympic champion Elaine Thompson-Herah won heat two in 10.82. But most impressive was the favourite Shelly-Ann Fraser-Pryce, out to wrestle back the the 100m crown she won in Beijing and London. The 34-year-old is in the form of her life having run the second fastest women's 100m of all time earlier this year in 10.63, and she seemed to put on cruise control as she glided to victory in heat five, easing up to finish in 10.84. The Jamaican certainly has another level in her legs waiting to be sprung.
Asher-Smith remains a serious medal prospect and there are plenty of reasons to believe there is much more to come. She arrived in form after crushing 100m rivals in Gateshead before her withdrawal, and the timing in her career aged 25 means this could be her peak Games, even if Fraser-Pryce's autumn bloom is a reminder that sprinting isn't always a young athlete's game.
But there remains doubt about whether she is feeling any injury bother, or at least whether it disturbed her preparation enough to disrupt her performance here. She has laughed off worries all week, a naturally bullish reaction when rivals are searching for weakness, but the best statements are made on the track. Saturday's semi-final is a fresh chance to make one.