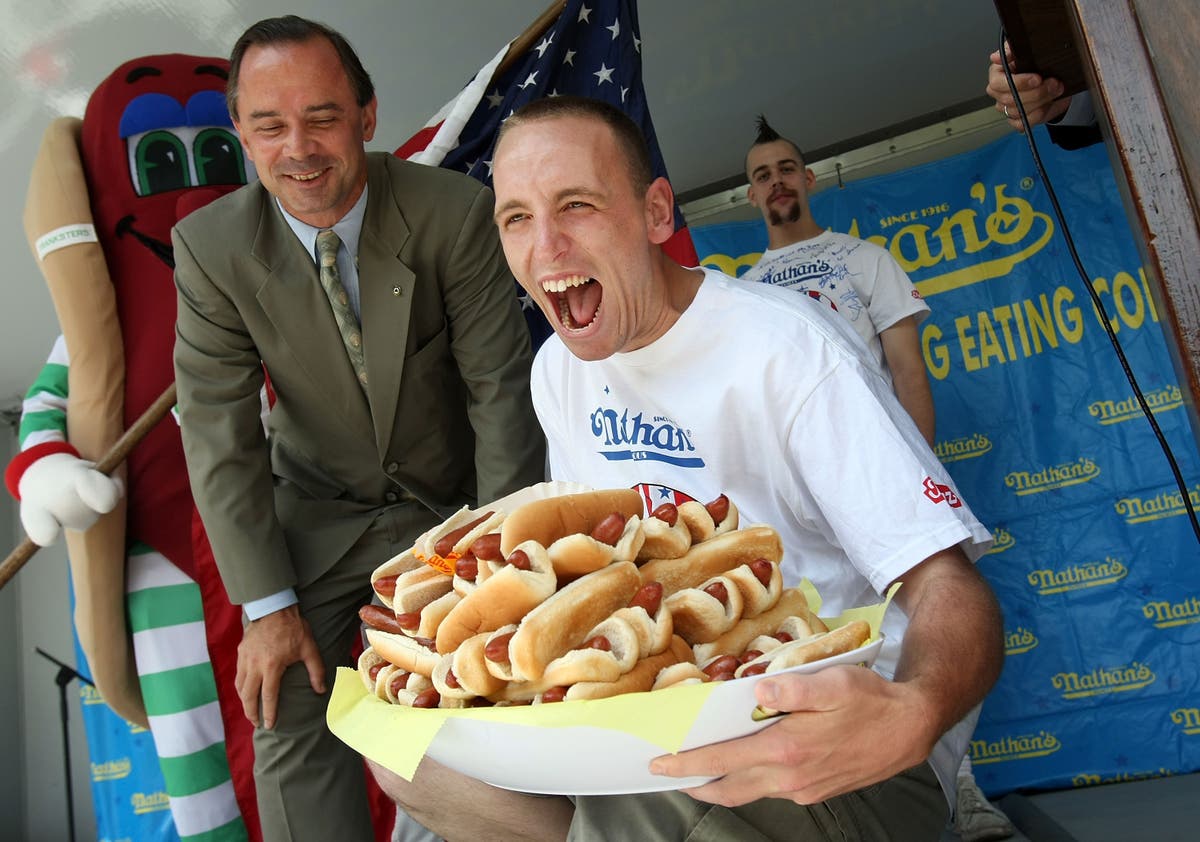 Study findings sparked concern for competitive eater Joey Chestnut, who holds record with 76 hot dogs
A new study has found that eating just one hot dog can shave 36 minutes off your life, prompting concern for competitive eater Joey Chestnut.
The impact of hot dog consumption, and of other foods, was determined by researchers at the University of Michigan, who evaluated more than 5,800 foods by the minutes gained or lost upon eating, as well as their environmental impact.
To analyse each food, researchers relied on a Health Nutritional Index, an adaption of the 2016 Global Burden of Disease study, which allowed them to calculate the "net beneficial or detrimental health burden in minutes of healthy life associated with a serving of food consumed," according to the study, published in the journal Nature Food.
After breaking down the foods by "dietary risk factors and disease burdens," with each ranging from 74 minutes lost to 80 minutes gained per serving, researchers then evaluated the environmental impact of these foods by assessing the life cycle impact.
The thousands of food items were then broken down into three groups, green, yellow, and red, "based on their combined nutritional and environmental performances".
According to the findings, foods such as processed meats, sugary drinks and breakfast sandwiches, most of which were found in the red zone, can take minutes off one's life, while choices such as nuts, fruits and some fish can add minutes.
When eating a hot dog specifically, the negative impact is "largely due to the detrimental effect of processed meat," researchers said.
Alternatively, ingesting a peanut butter and jelly sandwich was associated with a gain of 33 minutes, while a serving of nuts could help you gain 26 extra minutes of life.
Interestingly, the study suggests that small changes can have a large impact on health and environmental impact, with researchers stating that "substituting 10 per cent of daily caloric intake from beef and processed meats for a mix of fruits, vegetables, nuts, legumes and select seafood could reduce your dietary carbon footprint by one-third and allow people to gain 48 minutes of healthy minutes per day".
To do so, researchers suggest decreasing foods with the most "negative health and environmental impacts," which include "high processed meat, beef, shrimp, followed by pork, lamb and greenhouse-grown vegetables".
These options can then be replaced with the most nutritionally beneficial foods, which include field-grown fruits and vegetables, legumes, nuts and "low-environmental impact seafood," researchers suggest.
"The urgency of dietary changes to improve human health and the environment is clear," said Olivier Jolliet, professor of Environmental Health Sciences at Michigan Public Health and senior author of the paper. "Our findings demonstrate that small targeted substitutions offer a feasible and powerful strategy to achieve significant health and environmental benefits without requiring dramatic dietary shifts."
However, on social media, the findings worried fans of Chestnut, a competitive eater who recently set a new record when he ate 76 hot dogs during Nathan's Famous Hot Dog Eating Contest in July 2021.
"In the past 15 Nathan's Famous Hot Dog competitions, Joey Chestnut has eaten 1,005 hot dogs. That means, from contest days alone, he has cost himself 24 and a half days of his life," one person tweeted.
Another said: "If true, Joey Chestnut should maybe reconsider a few things…"
Others found humour in the findings, with someone else tweeting: "Joey Chestnut would be -27 years old."
Despite the health risks, Chestnut told ESPN after the competition that it "felt good".
"Even if I was uncomfortable, having everybody cheer me and push me, it made me feel good," he said.