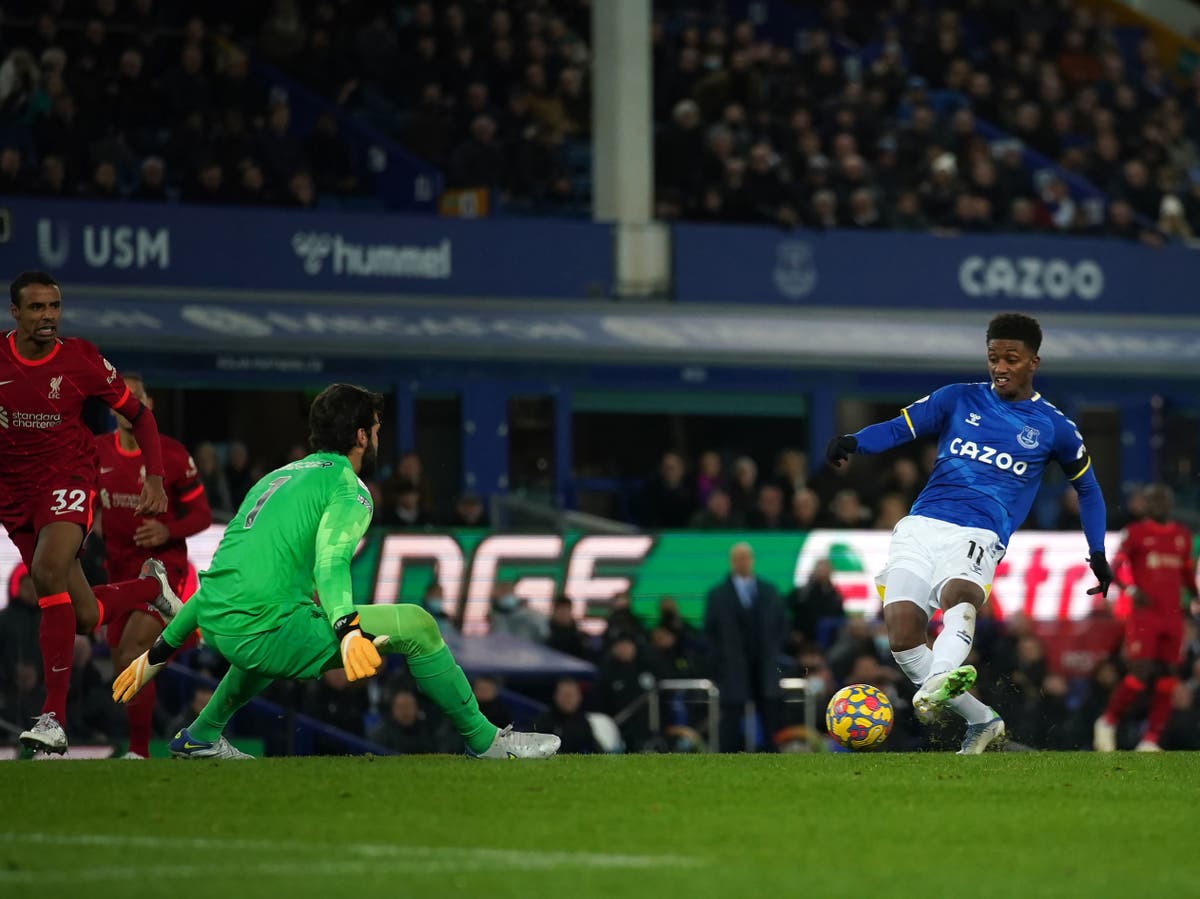 Follow all the action as Rafael Benitez faces his former club in the Merseyside derby
Klopp insists Merseyside derby is not Liverpool's most important game
Follow all the action as Everton face Liverpool in the Merseyside derby this evening.
Rafael Benitez's short-lived tenure at Goodison Park is coming under increasing strain, with the club having now lost five of their last six Premier League games. The travelling fans began to turn on the Spaniard after a miserable 1-0 at Brentford last weekend and Everton urgently need to produce a meaningful performance in order to alleviate the pressure, with the club currently languishing in 14th. They will benefit from the return of Richarlison up front, who can enliven the Toffees' blunt attack after serving a suspension.
Meanwhile, Liverpool are in far higher spirits and could even finish the evening top of the table if they are victorious over their rivals and Manchester City slip-up at Aston Villa. Jurgen Klopp's side have scored 10 goals in their last three games, with thrashings of Arsenal and Southampton sandwiching a comfortable Champions League victory over Porto. That has left the Reds just two points adrift of league leaders Chelsea, with Mohamed Salah, Diogo Jota and Sadio Mane all in tremendous form. Follow all the latest updates live below:
1638394045
Everton 1 – 2 Liverpool
53 mins: Demarai Gray takes the ball down the Everton left, he drops a shoulder and cuts back inside before whipping a cross into the middle of the box. Richarlison is there but Matip nips in front of him and heads the ball out for an Everton corner.
The corner is delviered into the box but Liverpool boot it away.
Michael Jones
1 December 2021 21:27
1638393899
Everton 1 – 2 Liverpool
51 mins: Chance! Liverpool come close to a third after winning the ball in the middle of the park. Alexander-Arnold bursts through the middle of the pitch before slotting the ball to Mane in the box. It's very close to being offside but the flag stays down and Mane belts a right-footed effort at goal only to be denied by Godfrey throwing himself in front of the shot to make the block.
Michael Jones
1 December 2021 21:24
1638393762
Everton 1 – 2 Liverpool
48 mins: Everton win a throw on on the right side. It comes to Richarlison in the box and he flicks it over to Rondon who is tackled by Van Dijk. The ball loops into the air as Rondon goes down but Alisson comes out and claims it. There's a slight appeal to the referee for a penalty but nothing comes of it.
Michael Jones
1 December 2021 21:22
1638393631
Second half: Everton 1 – 2 Liverpool
Kick off: There hasn't been changes in personnel at half-time as Everton get the game back underway. The ball is booted long down the left wing but Liverpool work it clear.
Michael Jones
1 December 2021 21:20
1638393308
Sign up to The Independent's free weekly sports newsletters
To sign up to our free sport newsletters for regular updates straight to your inbox.
Whether you would like a weekly rundown direct from our chief football writer Miguel Delaney or you want weekly sport digest from our sport editor Ben Burrows you can sign up by clicking here and scrolling to the sport section.
The latest breaking news, comment and features from The Independent.
Michael Jones
1 December 2021 21:15
1638393125
Salah's brilliant form continues
Mo Salah has been directly involved in at least one goal in each of his last 12 Premier League appearances (11 goals, 7 assists), the third player to achieve that feat after Stan Collymore (12, March – August 1995) and Jamie Vardy (15, August – December 2015).
Michael Jones
1 December 2021 21:12
1638392976
Everton 1 – 2 Liverpool
Goals from Jordan Henderson, Mo Salah and Demarai Gray mean this match is delicately poised at half-time. The next goal could be a big one, if Everton score it they're back in the game but a third for Liverpool may just take the match away from the Toffees.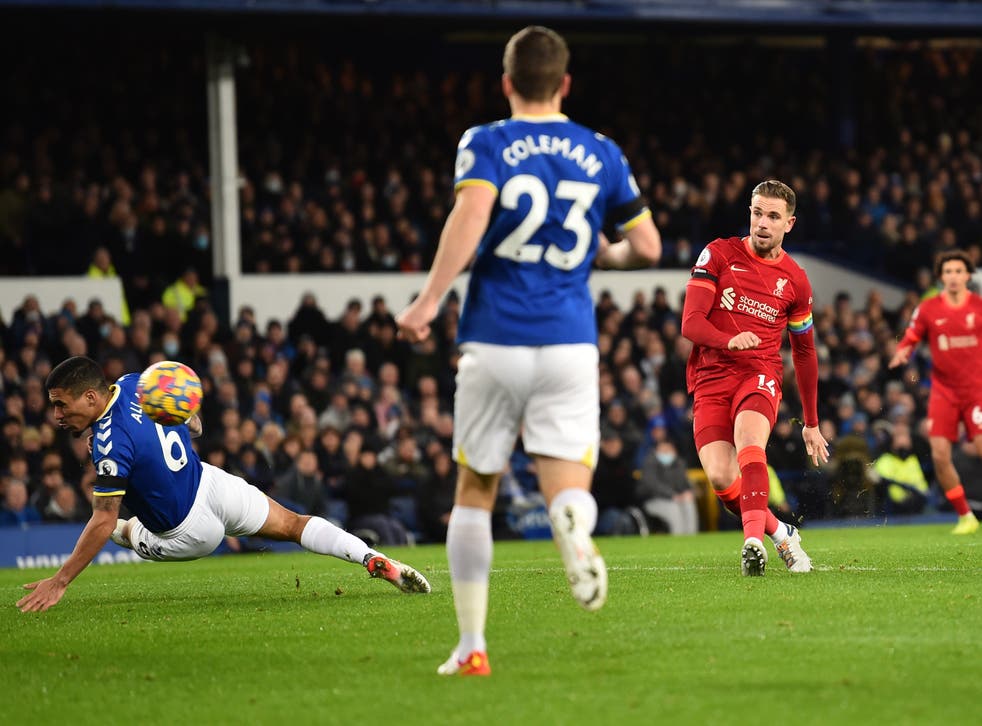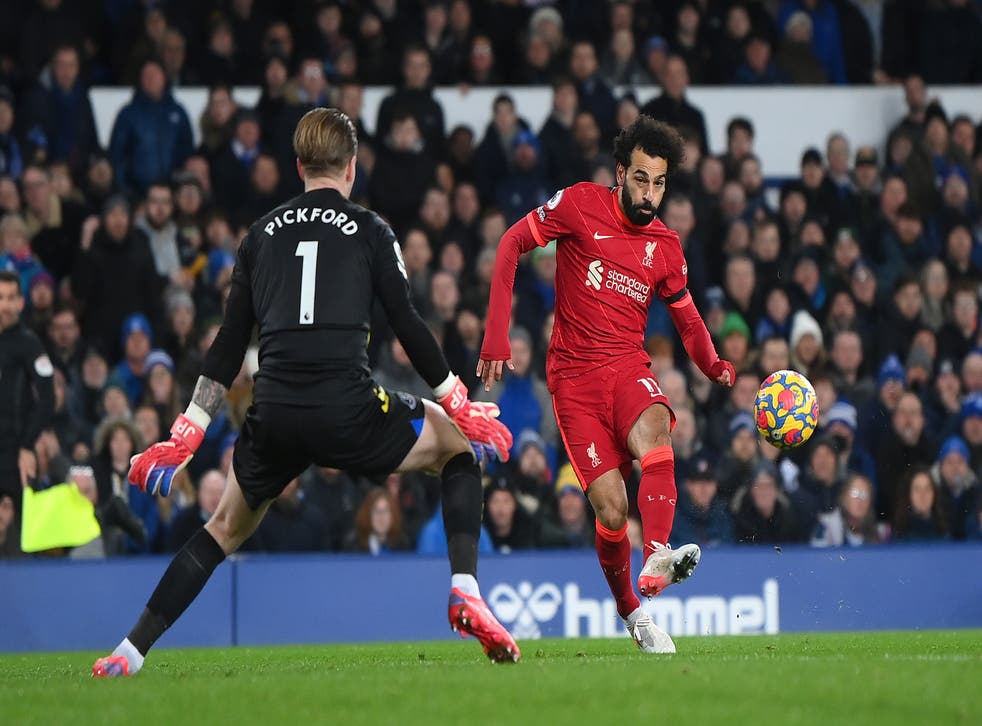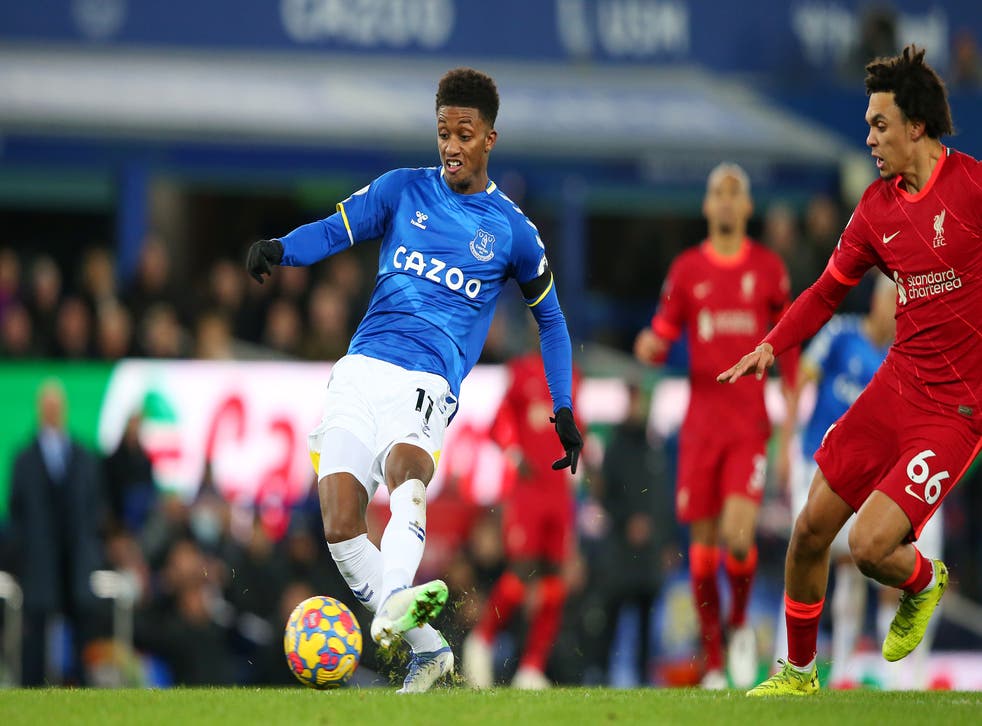 Michael Jones
1 December 2021 21:09
1638392784
Half-time: Everton 1 – 2 Liverpool
45+3 mins: Liverpool take a slender lead into the break. They dominated for most of that half but Everton's goal has sparked life back into the contest. Jordan Henderson and Mo Salah gave the Reds a comfortable lead but a chance fell to Demarai Gray and he took it.
Michael Jones
1 December 2021 21:06
1638392549
Everton 1 – 2 Liverpool
45 mins: Three minutes of added time to play at the end of the first half. Both teams will want to get in and regroup. Salah brings the ball to the right side of the Everton box and lays it off to Henderson. He floats a cross in towards Mane who fires a header at the goal but Pickford is there to palm the effort away!
Michael Jones
1 December 2021 21:02
1638392458
Everton 1 – 2 Liverpool
41 mins: We've suddenly got a game on at Goodison Park. Liverpool may be a bit at fault for slowing their tempo but Everton have hung in their and took their chance.
Doucoure pokes a pass into Gray who looks to take on Alexander-Arnold and Fabinho. He steps over the ball and goes to ground on the edge of the box. Fabinho raises his hands in bewilderment and the referee pulls out another yellow card, booking Gray for diving.
Michael Jones
1 December 2021 21:00