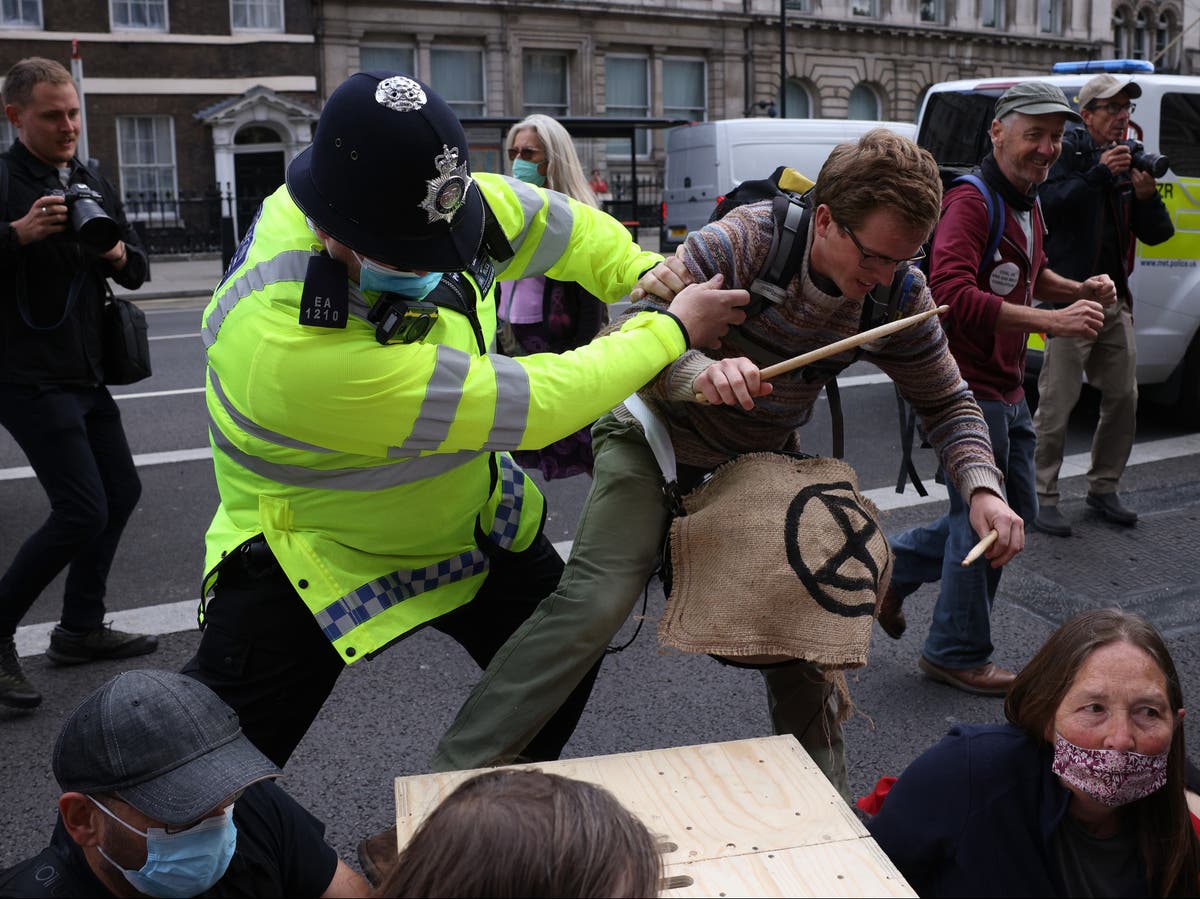 Follow the latest updates from the group's latest mass protest
XR Protests: 'We ruined the world, so we have to fix it' says 11-year-old
The second day of Extinction Rebellion's mass protest in London is underway, as police issued a warning over occupied roads in Westminster.
"Protesters are blocking roads around Parliament Street and Whitehall," Metropolitan Police said in a tweet, adding they had "officers on scene" working to minimise the disruption to traffic.
Overnight, officers continued efforts to clear demonstrators from Covent Garden's Long Acre junction, where a giant pink 4m-high 'crisis talks' table was erected on on Monday. Roads are beginning to be reopened now, and the structure has been dismantled, despite XR members locking their arms inside it.
Some 52 arrests were made yesterday, police confirmed, in addition to the 10 arrests made at pre-launch festivities on Sunday night.
The newly-launched Impossible Rebellion protest will see XR protesters take over central London for almost two weeks.
1629807336
XR block roads outside HMRC
Extinction Rebellion has shared a tweet claiming that the Welsh contingent of the climate activist group have blocked the road outside HMRC.
Pictures from the scene show a number of protesters congregating in that part of Whitehall on the second day of the group's "Impossible Rebellion".
The climate justice group are calling for HMRC to end their relationship with Barclays, who they accuse of financing fossil fuels.
Joe Middleton
24 August 2021 13:15
1629805528
Extinction Rebellion activists protest against climate inaction in the streets of London
Joe Middleton
24 August 2021 12:45
1629804963
A few pictures from today's XR protest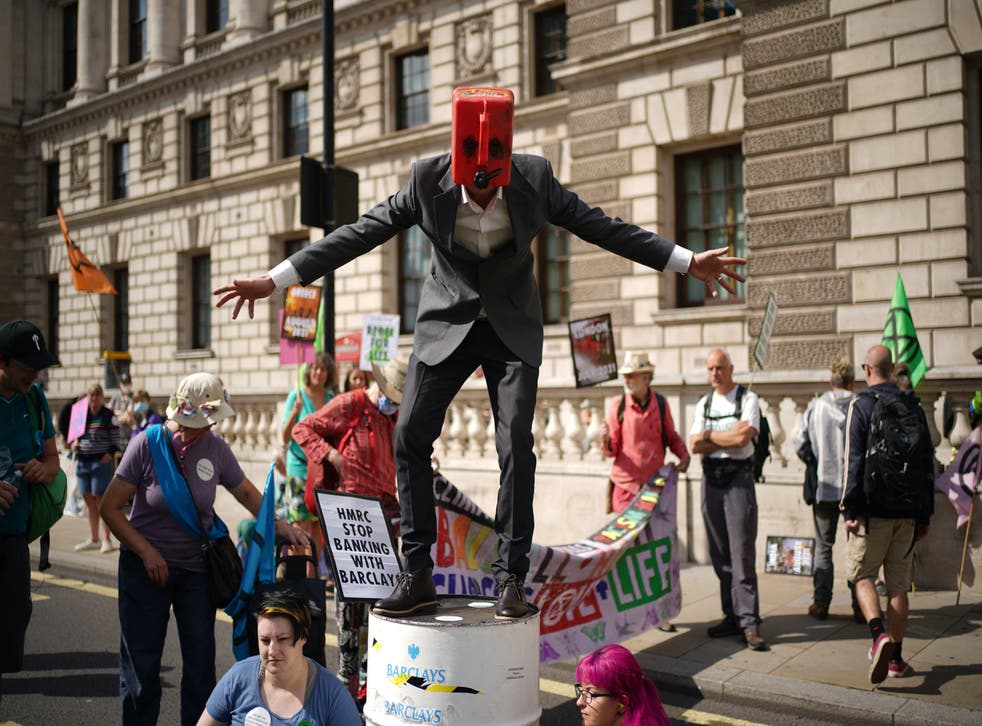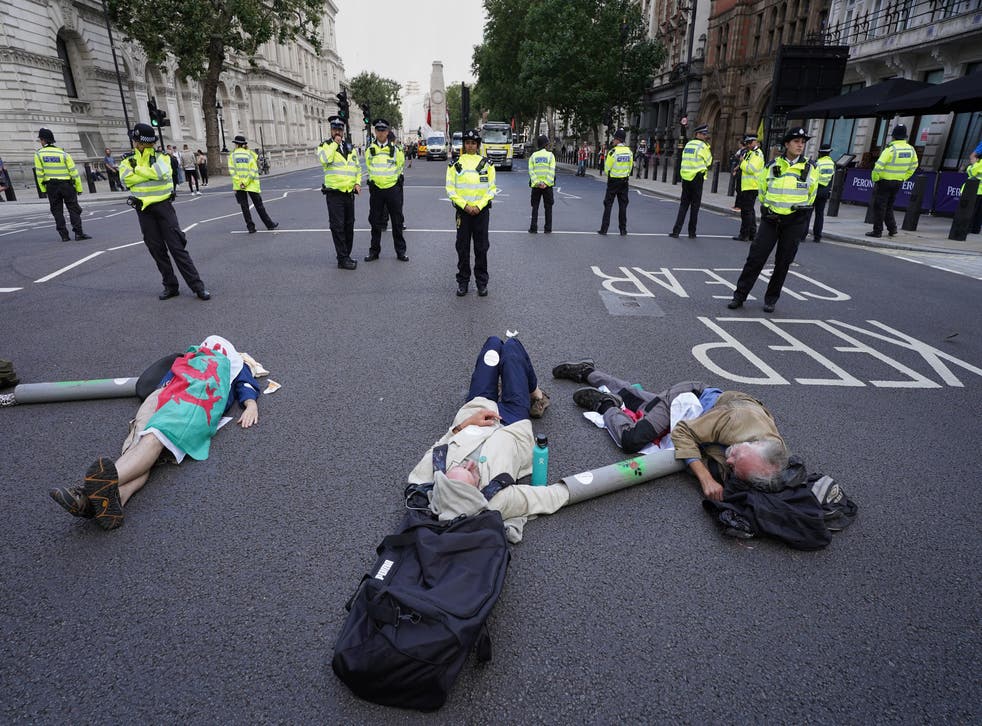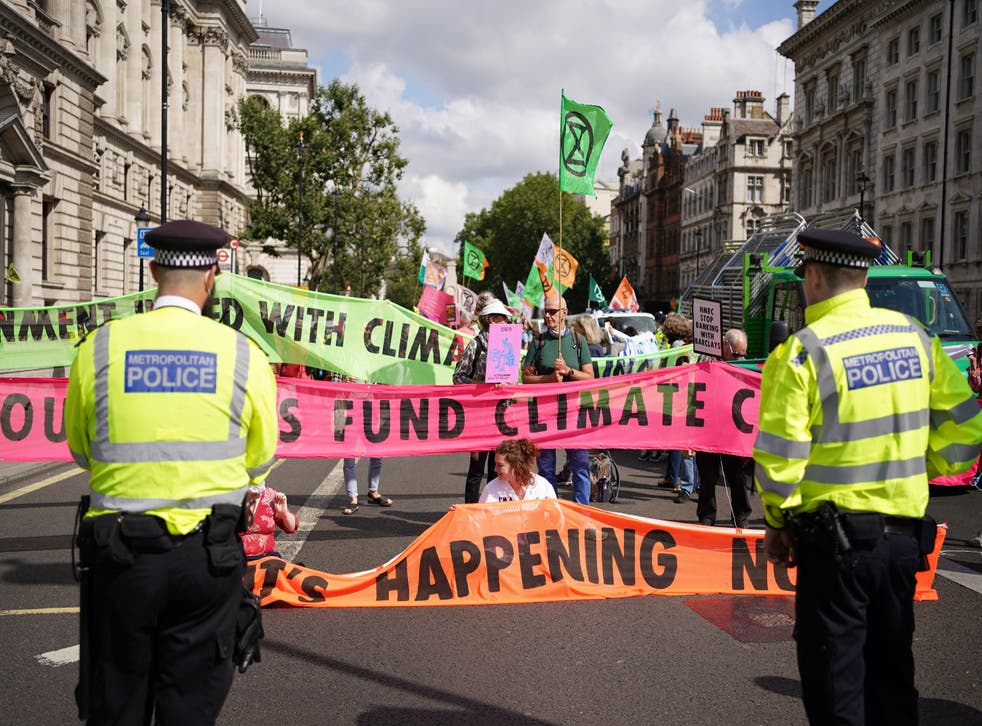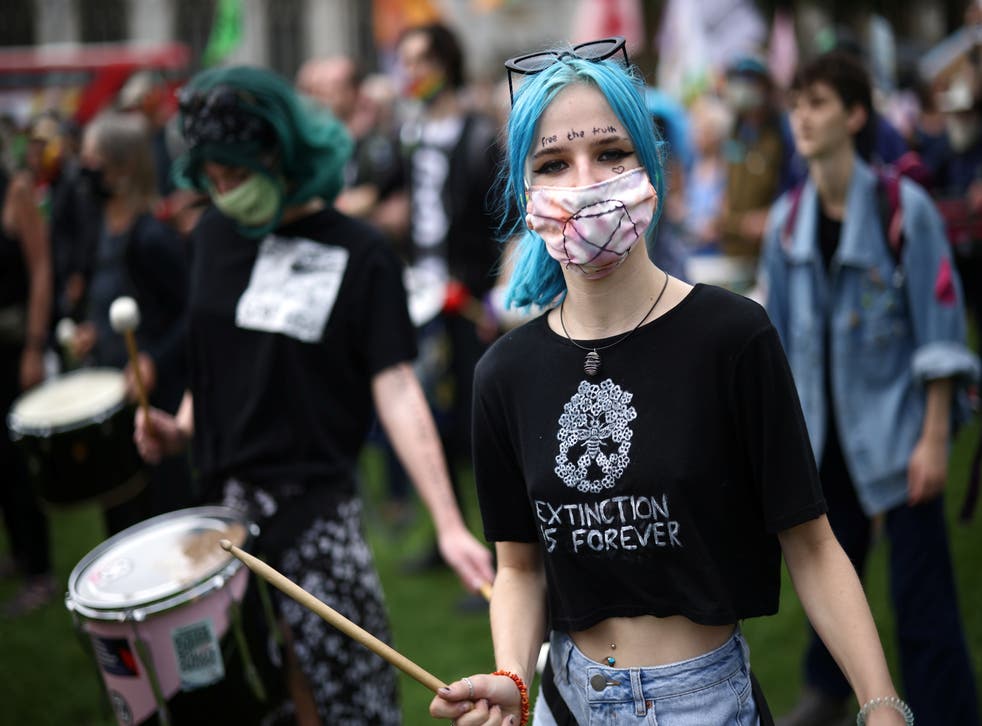 Joe Middleton
24 August 2021 12:36
1629803732
XR protesters stage death demo on streets of Westminster
Members of XR's Cymru branch, who are currently leading today's action, have begun a demonstration on the streets around Downing Street.
Dozens lay on roads, with white sheets draped over them, to resemble dead bodies.
Some causes of death listed were: famine, drought, flood, skin cancer, wildfire.
"All the things scientists and doctors have warned us are going to start happening more often as a result of climate change," a woman, leading the group's live feed, said.
Others began to join those laying on the floor, some without sheets, as police stood by.
Elsewhere, protesters dressed as cleaners began scrubbing the doors of HMRC to signal it being scrubbed clean of its connections to "dirty Barclays". The bank has long been accused of funding billions of pounds worth of fossil fuels.
Sam Hancock
24 August 2021 12:15
1629802287
Police watch as workers dismantle XR's giant pink crisis-talks table
A giant pink table erected in the middle of a central London street by Extinction Rebellion protesters has been dismantled by police.
Segments of the four-metre structure were seen being carried off by men in hard hats and blue overalls on Tuesday as the activist group gathered in the capital for the second day of its planned 12-day mass protest.day.
A cordon had been put in place in the tourist hotspot of Covent Garden, blocking off parts of the Long Acre junction with Upper St Martin's Lane.
Activists set up the large pink structure, which featured the words "come to the table", on Monday and it contained built-in lock-ons where protesters could attach themselves to make their removal difficult for police. It also had sleeping quarters and a stereo system.
Some demonstrators were pictured standing on top waving pink-coloured flares on Monday.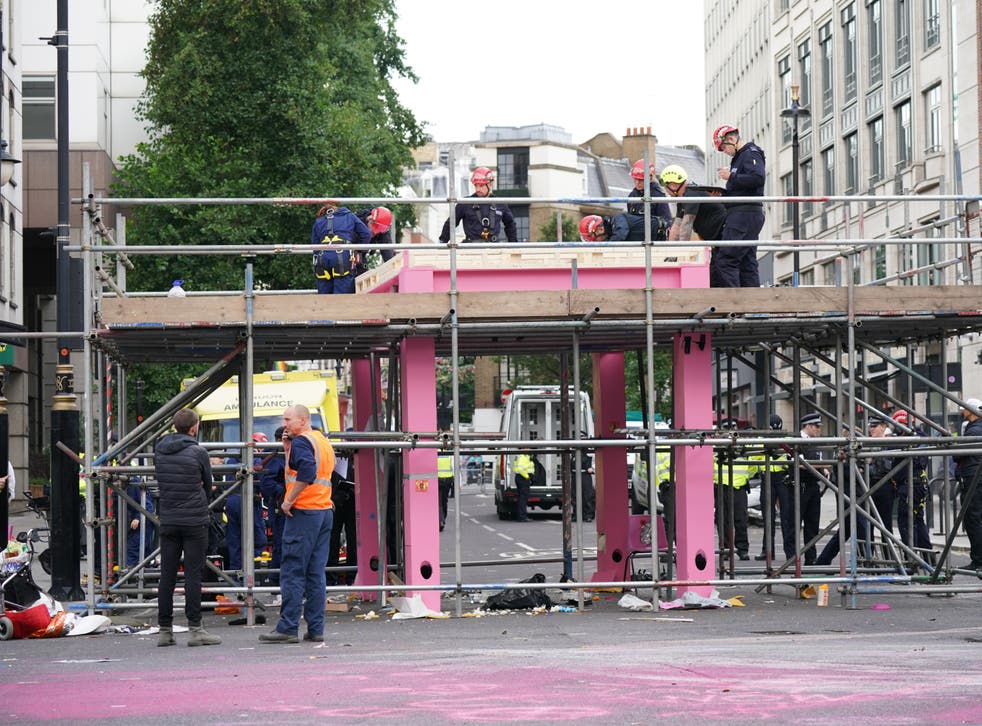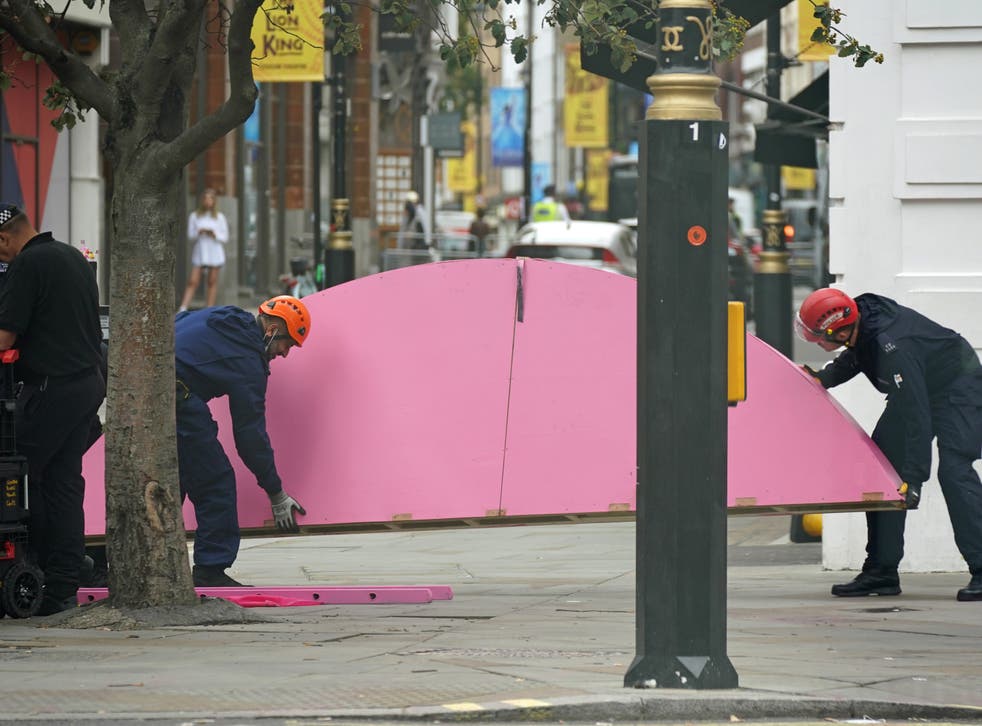 Sam Hancock
24 August 2021 11:51
1629800163
Day two kicks off with protestors blocking roads around Westminster
Police have warned that XR protesters are blocking roads around Parliament Street and Whitehall in Westminster.
"We have officers on scene," Metropolitan Police said on Twitter, adding they were working to minimise the disruoption to traffic.
Sam Hancock
24 August 2021 11:16
1629799436
Opinion: 'So what if XR are hypocrites – stop being petty, think big'
Author Niko Vorobyov tells critics of Extinction Rebellion to stop distracting from the real issue: the climate crisis.
"What with the floods in Germany and raging wildfires ripping through forests in Turkey, Greece and Siberia, now seems as good a time as any to think about what we're doing to the planet.
Extinction Rebellion has taken to the streets again and no doubt we'll be dismissed with the usual complaints. Why don't we protest in China (as if we have any influence there)? We're dancing too much. We're clogging up traffic. And most of all, we're HYPOCRITES. Why don't we start fighting the climate crisis ourselves? How did we arrive here – did we drive? What about that holiday we took to Spain, eh? EH?
Hypocrisy is a distraction, and a lazy way to delegitimise the movement without addressing its actual concerns. It's very difficult to live in the modern world without having some sort of negative impact on the environment. If you don't own the house or pay the bills, how much say do you even have over where your energy comes from? Can you afford solar panels? What about the building you work in?"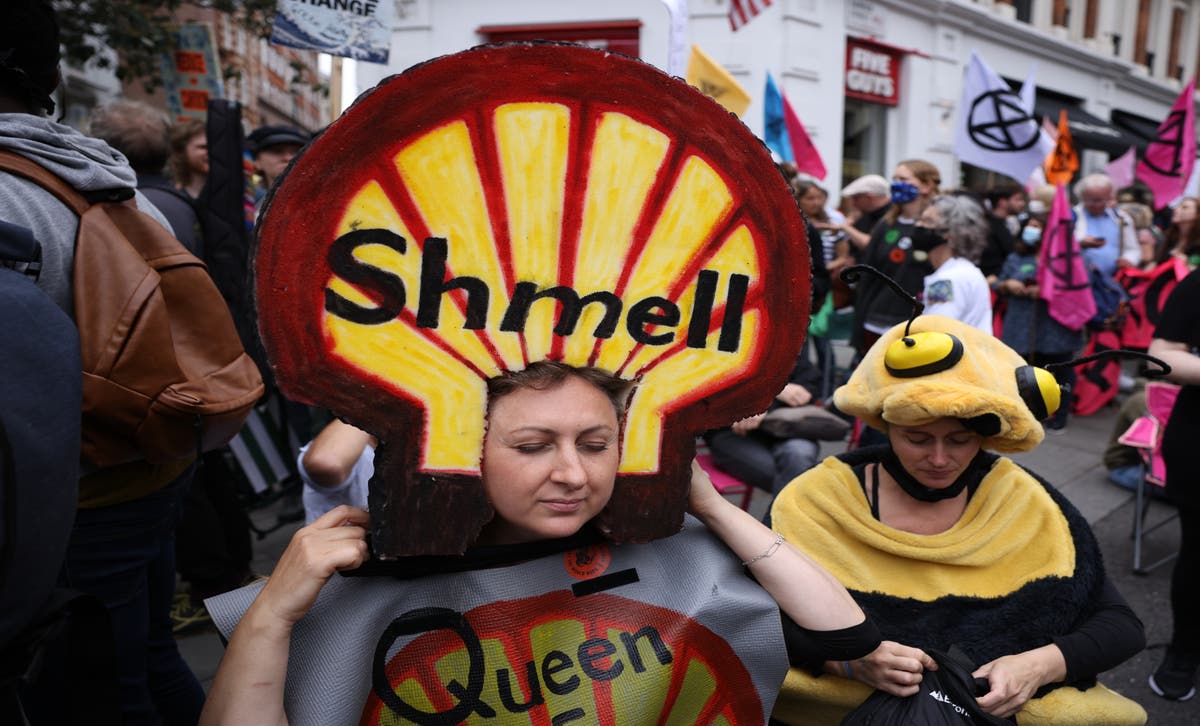 Hypocrisy is a distraction, and a lazy way to delegitimise the movement without addressing its actual concerns, writes Niko Vorobyov
Sam Hancock
24 August 2021 11:03
1629797776
Images from Day 1 of the 'Impossible Rebellion'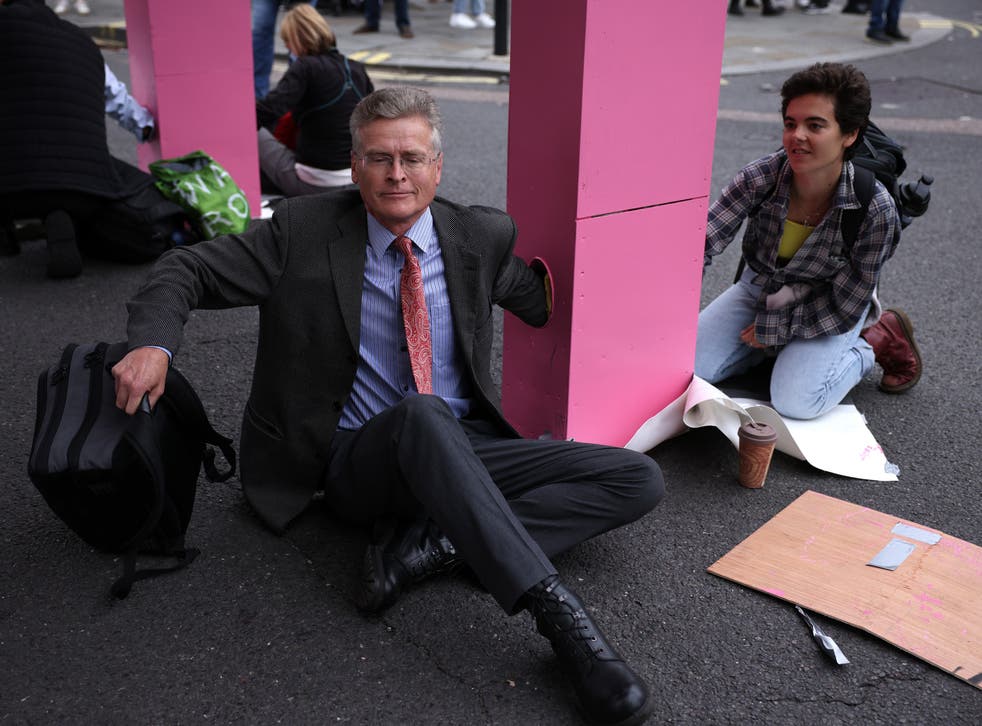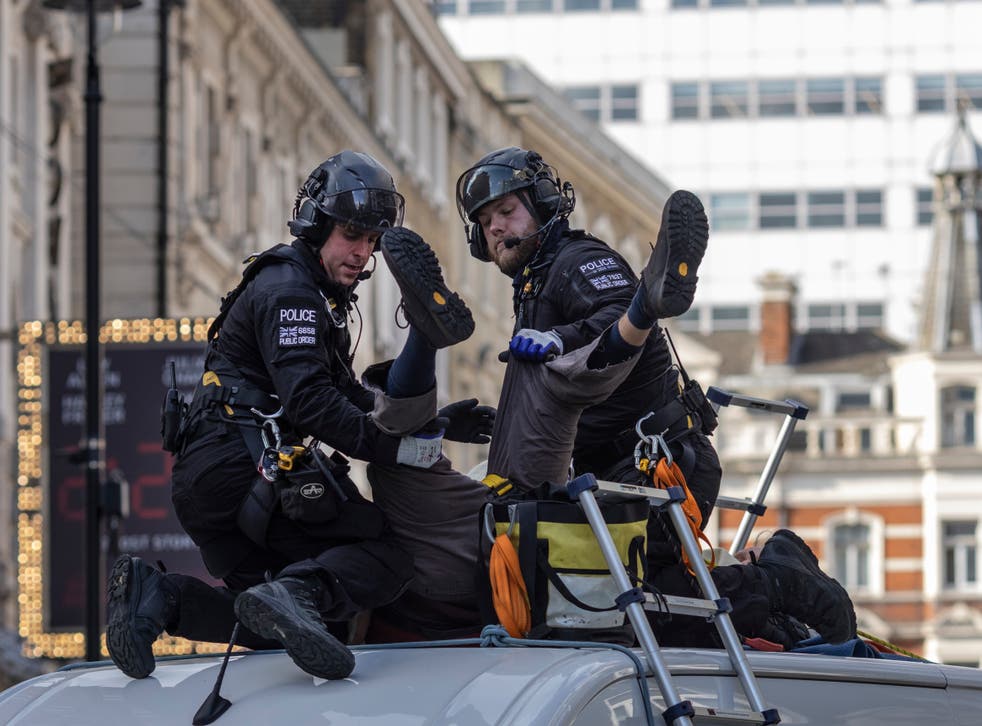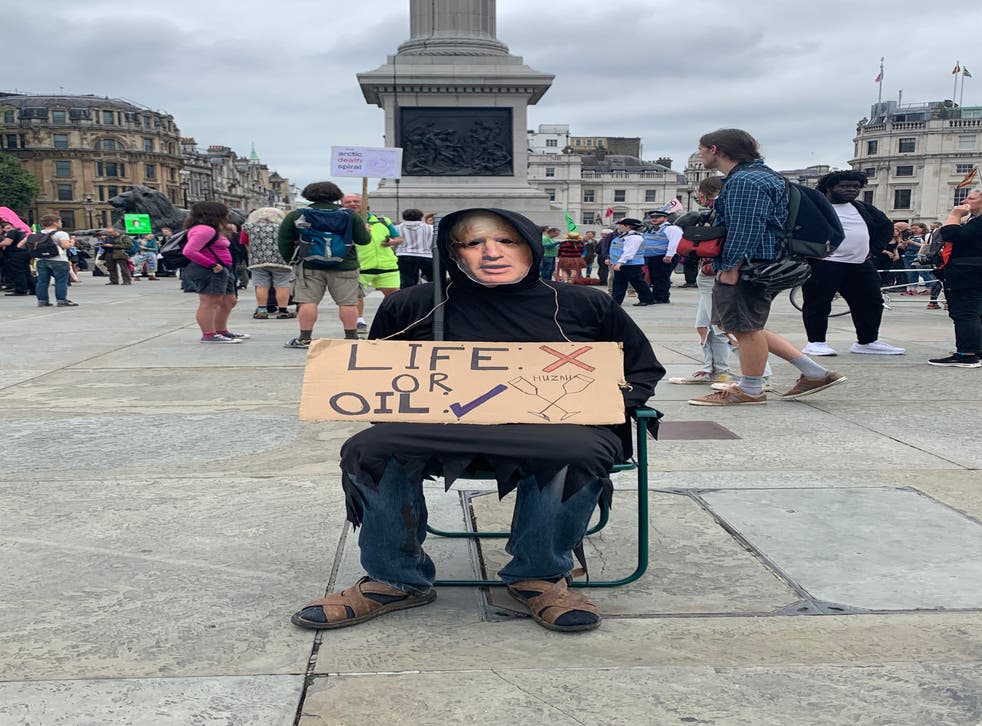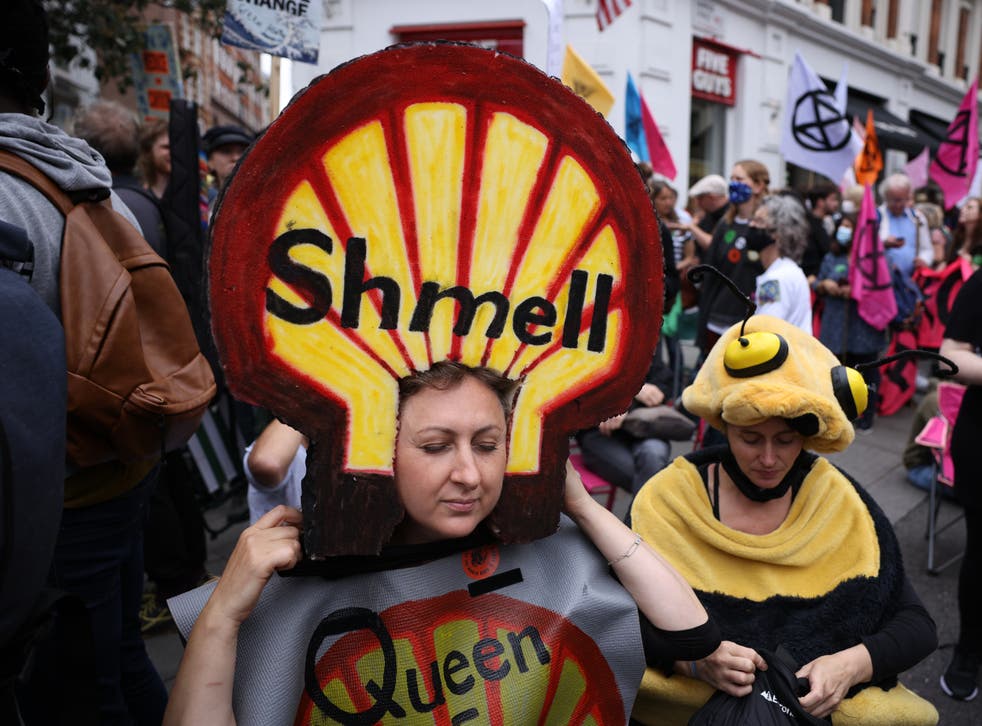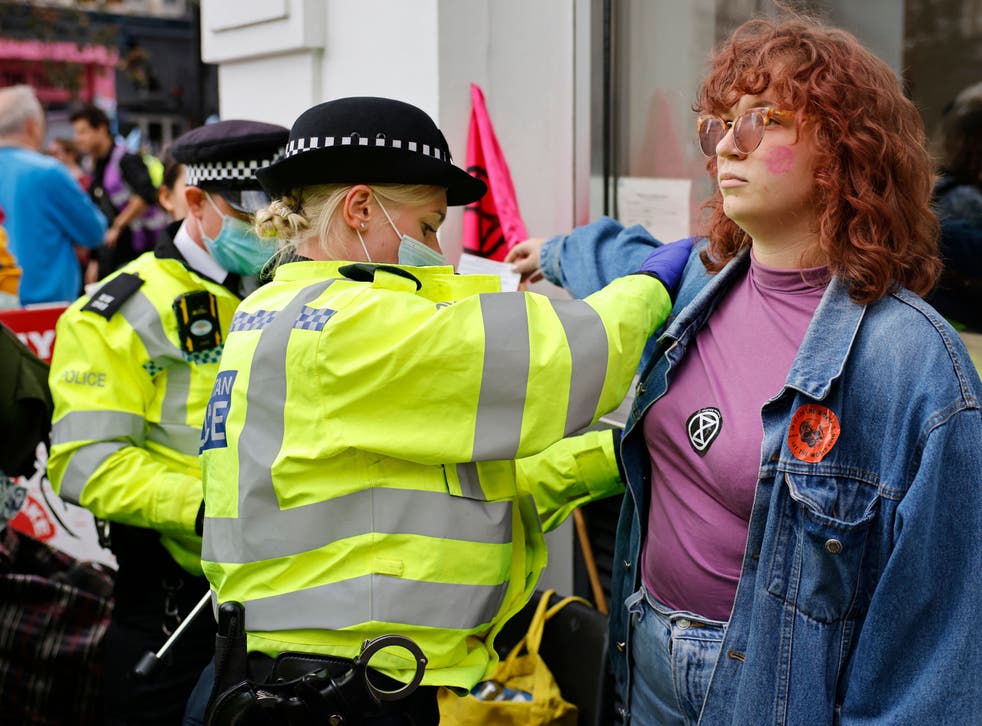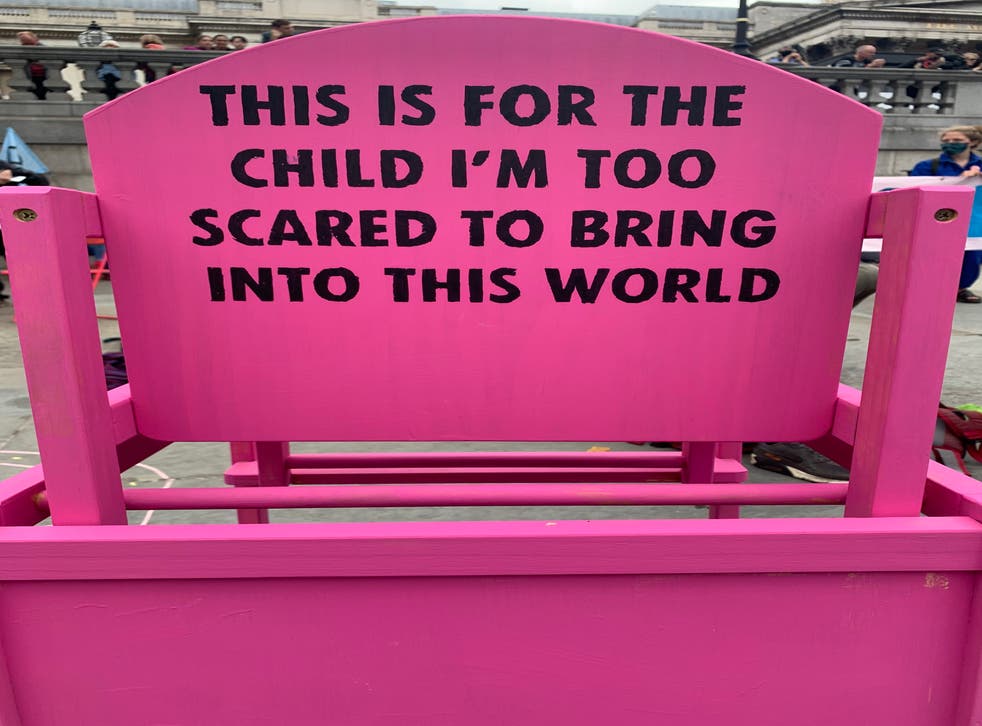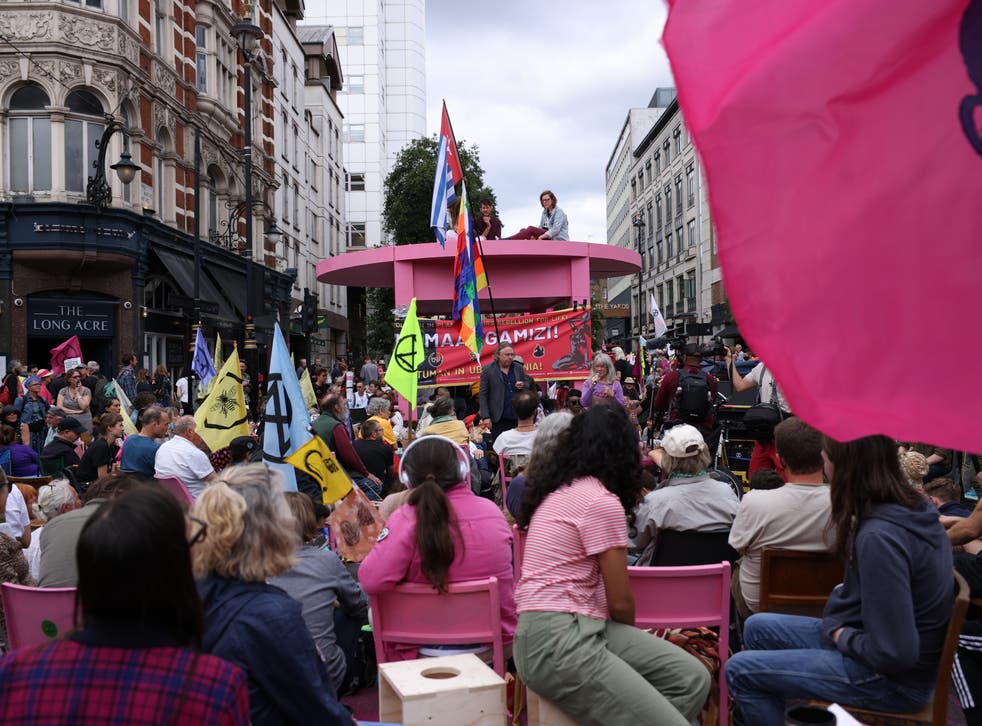 Sam Hancock
24 August 2021 10:36
1629796139
XR's Tuesday schedule covers London Bridge and St James' Park
According to XR's website, this is Tuesday's Impossible Rebellion schedule:
10am St James' Park: "Not In Our Name", an XR Cymru action.
Those attending have been advised to meet near a cafe at the park's Storey's Gate.
11am London Bridge: "Make Pensions Green – Get Out Of Oil & Gas", an XR Grandparents & Elders action.
Those attending have been advised to meet at Tooley Street.
4.30pm Cavendish Square Gardens: "Code Red For Fossil Fuel Fashion".
Sam Hancock
24 August 2021 10:08
1629795650
Recap: Police form barriers as XR launches latest mass protest
In case you missed yesterday's action, here's a recap. Central London was taken over by hundreds of colour-adorned and drum-banging activists on Monday, as Extinction Rebellion kicked off its fifth mass protest in Trafalgar Square.
Those attending came from all corners of the UK – and the world – united by one demand: that the UK government immediately stop investing in fossil fuels.
Speaking to The Independent at the scene of the protest, former Olympian Laura Baldwin, who is now a spokesperson for XR, said the group was only doing what leaders were refusing to.
"The government seems paralysed from making the right decisions – or any decision at all – so this year we are inviting everybody to the table, to tell us what the crisis is for them, how it affects their community, and what we should do to tackle the crisis," she said.
As roads closed and drummers marched between the two locations, dozens of Metropolitan and City of London Police officers swarmed to form six separate human barriers – each one to block a connecting road's entrance to the intersection – and operated a strict no entry or re-entry policy.
Read our full report here: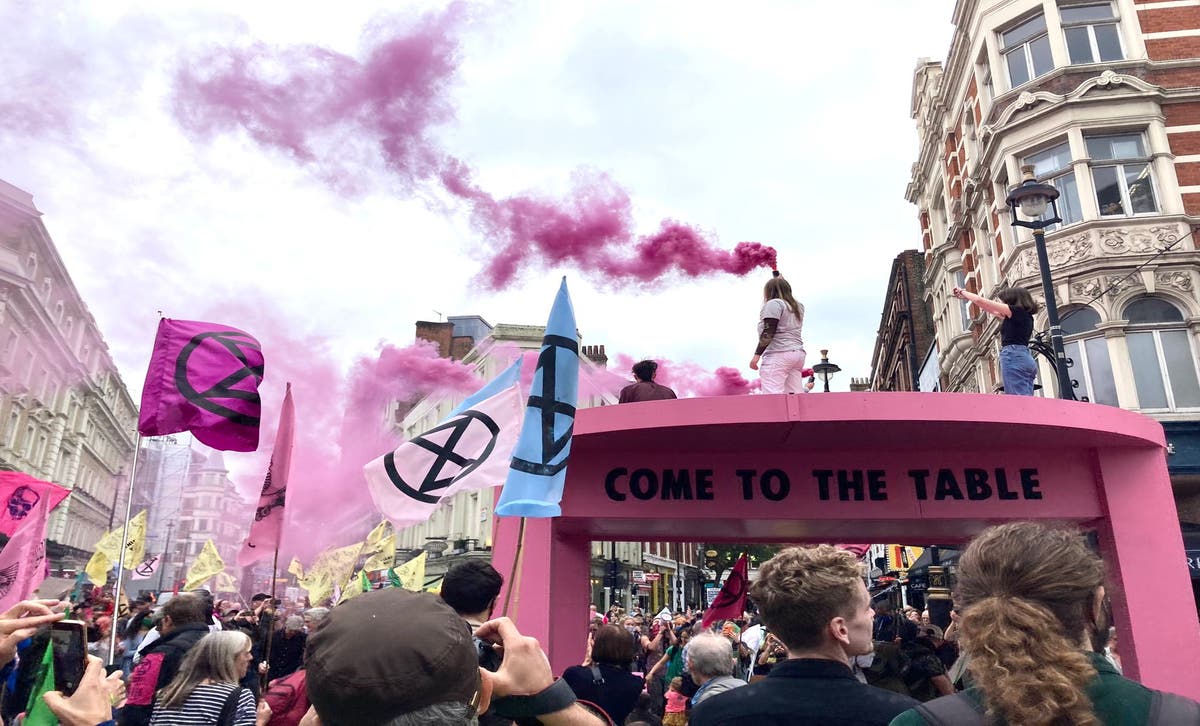 Hundreds marched and gathered underneath the group's newly launched giant pink crisis-talks table
Sam Hancock
24 August 2021 10:00