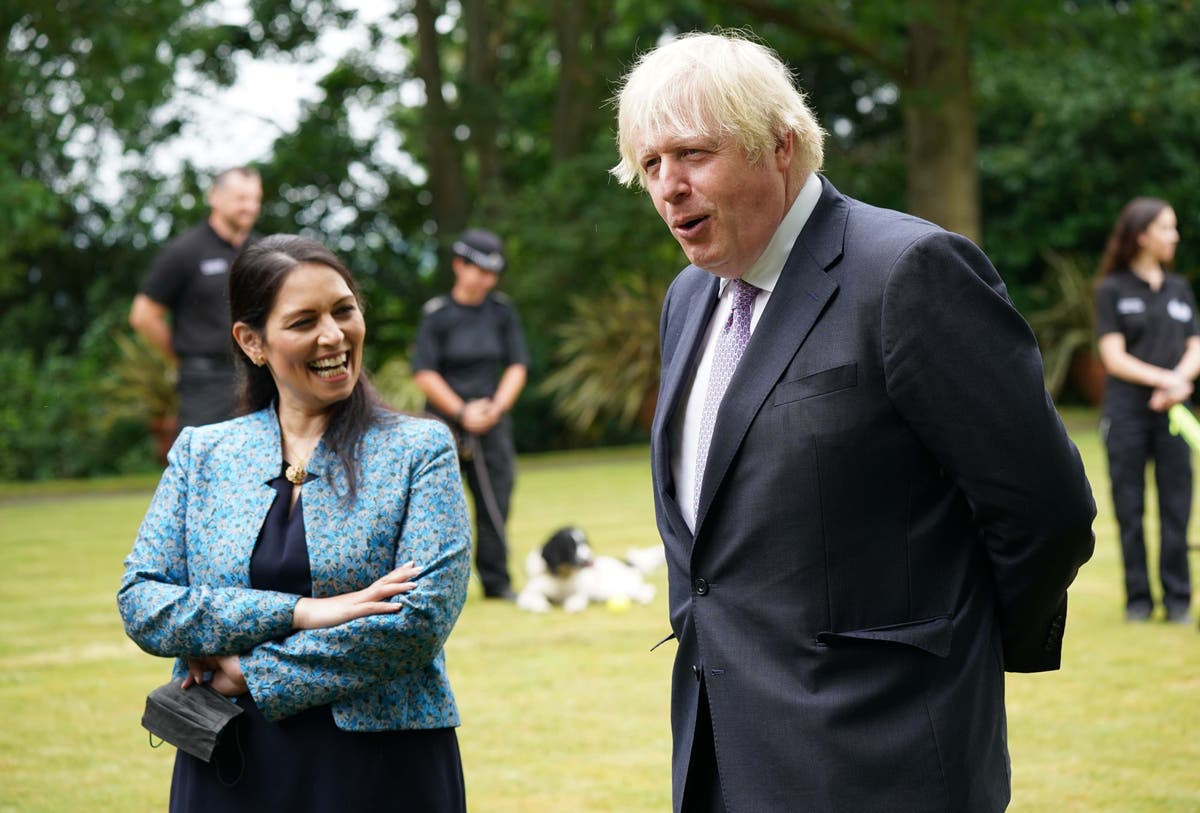 Policing and crime is the latest issue to see nothing but weak, rehashed policy from the prime minister
So often the reality of people's lives bears no relation to the rhetoric spun by our prime minister and his willing Cabinet.
This week we have been treated to Boris Johnson en Priti Patel looking all jolly having their pictures taken next to police officers during their launch of their new misdaad plan. In reality, out here in the towns and cities their new plan feels very weak with just rehashed policies.
I'm stunned that Johnson didn't ask for a special police hat to don with "Prime Minister" emblazoned on it – as our country's leader seems only to understand ordinary jobs by playing dress up like a four-year-old.
Also this week, the Police Federation were forced to express no confidence in the Patel, the home secretary, who loves to stand on a platform and say she supports the police but has in fact decided that supporting this vital workforce is best done by giving them no pay increases. Add that to the fact that she has spent years supporting the reduction of 21,000 police officers. With friends like her who needs enemies.
It is no surprise to police officers and police chiefs all over the country that Patel, their great supporter, didn't bother to talk to them about their weak crime plan suggestions. Just like all those of us at home who have seen just how stretched our police force is, senior police bosses from around the country found out about the government's policing plans from Johnson – who appeared under a brolly talking about chain gangs. The headline will always trump the frontline with this government.
What is it actually like out here for our law enforcement and the victims of crime who rely on them. This year alone police recorded more than two million incidents of anti-social behaviour – the highest in seven years. The gaping hole Patel and this government have left in our police numbers is showing – and that is before we even look at how well we are protected by the rest of the criminal justice system which is crumbling under the watchful eye of our costume-loving prime minister.
As Johnson outlined his gimmicky crime plans I was on the phone to man whose sister had been killed – by a man who was released from a twelve-year prison sentence 11 months prior. In that time he had breached the conditions of his release twice.
The case took more than a year to come to trial and was delayed twice thanks to our degraded and depleted courts.
A year-long delay by current standards is quicker than most cases I handle. In a case where a man threatened and harassed me, from incident until we were due in court was two and a half years. Thankfully he pleaded guilty at the 18 month mark. Lucky me, only a year and half wait.
Johnson and Patel – and 11 years of Conservative government – have left our police, prison service and probation service in tatters. The prime minister can talk up headlines about chain gangs, but the majority of crimes go unsolved and rape prosecutions fall ever lower.
There is one group very much benefiting from the Johnson and Patel tenure, but not the police, probation services or victims. Instead it is criminals.
When court delays and misstarts happen police are taken needlessly off our streets to sit in court rooms for nothing. When probation services are stretched, it is police resources that are expected to pick up the pieces of breaches. When mental health facilities can no longer offer an emergency call out service for people at risk of self-harm, it is the police who are called out to deal with it.
When landlords get rich offering allegedly "supportive accommodation" to vulnerable people which is almost entirely unregulated by our government, it is the police who have to respond to call-outs when very vulnerable people end up in crisis. When I was on police response for the day, every other call we responded to was to vulnerable people living in squalid conditions where someone was making tonnes of cash off their misery while the government looks the other way.
The Tory crime plan does absolutely nothing to rebuild a totally degraded system that Patel and Johnson now oversee – and I can guarantee that this time next year despite all the talk absolutely nothing will have changed. Talk is cheap and their crime plan is weak.
Jess Phillips is the shadow minister for domestic violence and safeguarding and Labour MP for Birmingham Yardley. She is also the author of 'Everything You Really Need to Know About Politics: My Life as an MP'