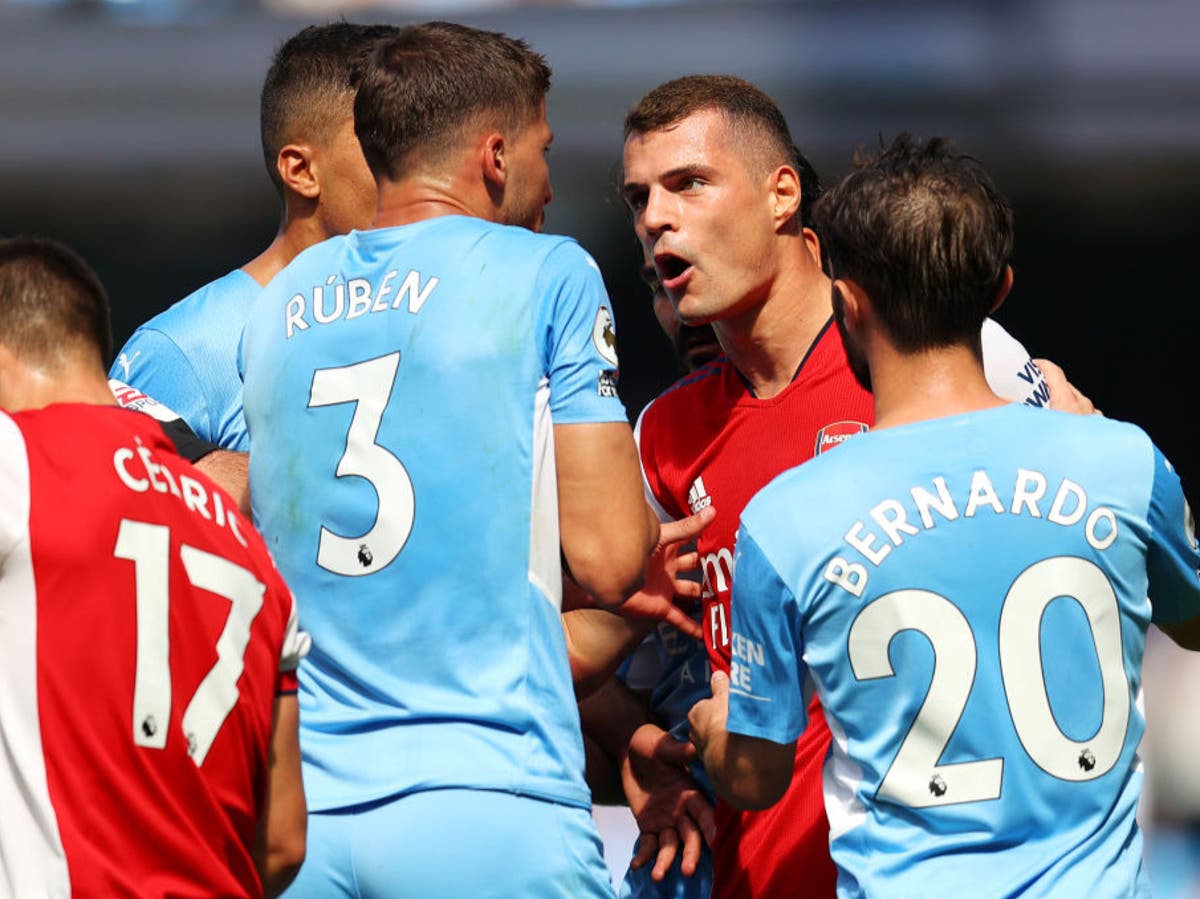 A 5-0 defeat highlighted all the flaws that have left Mikel Arteta's side in a desperate nosedive
It did not require Harry Kane or Cristiano Ronaldo. In truth, it barely even warranted the most casual flourishes of Manchester City's quality. That should come as no slight against their domination, but simply serve to highlight the dismal and desperate nature of Arsenal's kamikaze flight, a squad whose only sense of purpose at present seems to be crashing and burning.
There have been many lows to Arsenal's alarming descent, but few have been quite so plainly embarrassing as the manner in which they surrendered at the Etihad. This was a spectacular showcase of their flaws, a comedy circus of errors capable of inducing only laughter or tears. Mikel Arteta might preach to pale excuses of illness and injuries within his squad, but nothing can disguise the depths to which the club are sinking under his stewardship. His project is leading Arsenal down a dark alley of oblivion, and never will there have been such deafening questions over how much further it can be allowed to continue.
If there was a moment that epitomised Arsenal's addiction to tragedy, it came in the 35th minute. It wasn't the brittle defence that had shattered at the first sign of danger, the questionable tactics that succeeded only to confound, or even the dying remnants of confidence that Manchester City trampled at will. Instead, already two goals behind, with defeat inevitable, it was the sight of Granit Xhaka lunging into a two-footed slide tackle on Joao Cancelo. The gracious would describe it as a moment of reckless anger, the cynical as a total desertion of his teammates. But then, at least it actually exhibited a sense of shame and fury. The most damning indictment is that, all too often, these shortcomings are now embraced as par for the course, an air of defeatism that prevailed over Arsenal long before kick-off.
Xhaka's sending off might have rendered the remainder of this match obsolete, but for what preceded it there can be no excuses. At least, for six fleeting minutes, Arsenal had actually started well, sparking a faint hope that supporters would have done well to ignore. In the seventh, though, the cold hands of their reality quickly strangled whatever foolish optimism had slipped away from common sense. It was the most depressingly simple of goals, a floated cross that stranded all three of Arsenal's centre-backs. Like clumsy retrievers, they watched the ball sail over their heads and stood desolately as Ilkay Gundogan swooped in at the back post like a vulture with their carcass at his mercy.
It was only the beginning of what became close to a massacre. Before long, another elementary cross sent Cedric Soares' feet into a confused dance and Ferran Torres stole in for the most routine of tap-ins. There was a hint of a foul in the build-up, but it would be rendered immaterial. It was little wonder that Xhaka was consumed by rage, so entirely self-inflicted was his side's sabotage, but it was his implosion that was most fatal.
It would not have changed the result, but it might have at least staved off the barrage. The final score read 5-0, and it might have been far worse if City hadn't shown flickers of mercy, their task reduced to nothing more than a training exercise. The final statistics illustrated as much, with 81% possession and 25 shots to Arsenal's one. Their supremacy, aided by several standout individual performances, including Torres who scored twice in the absence of a traditional number nine, was absolute.
When the full-time whistle blew, Arsenal's players immediately headed to the away end to apologise and thank their travelling supporters, who had sung valiantly throughout to the tune of their own demise. There can be no doubt that they deserve better and, of that, nobody will be more aware than Arteta. He has been backed heavily in this transfer window but seems more beleaguered and at a loss than ever before. Three defeats in a row without a goal scored represent a disastrous start and beckon an unforgiving post-mortem, but the fear is that this may not even be rock bottom. Arsenal are trapped in a downward spiral, and while the capitulation may be evident at every level of their nosedive, the manager will always be the face of the chaos. Soon, someone will have to answer to it.