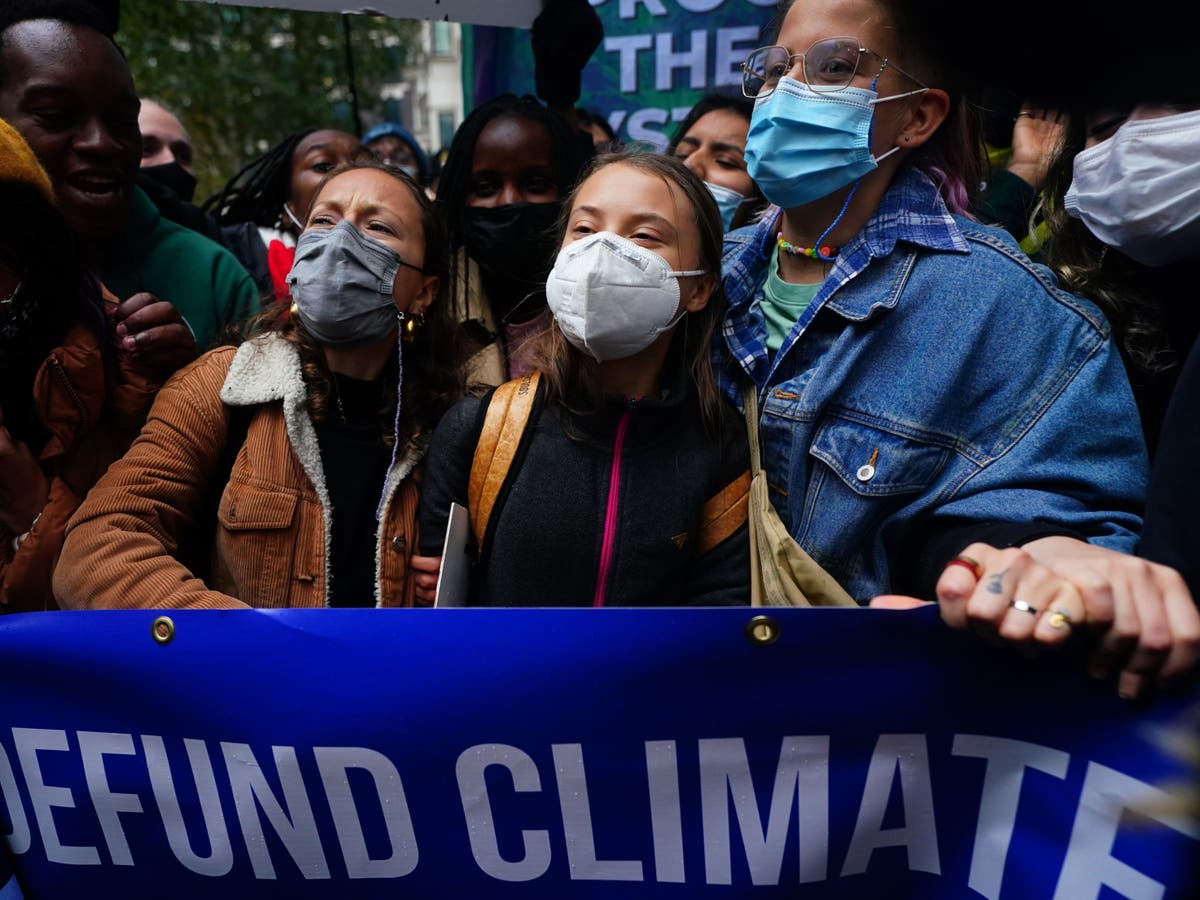 Activist says she has not officially been invited to next week's UN talks
グレタ・トゥーンバーグ has been mobbed by climate change activists and television crews at a noisy demonstration against banks in London.
The 18-year-old activist met campaigners outside the headquarters of スタンダードチャータード bank as they lobbied against the global financial system supporting the use of 化石燃料.
Ms Thunberg led the protest with chants of "We are unstoppable – another world is possible" and "What do we want? Climate justice. When do we want it? Now".
She is expected to attend the UN Cop26 climate summit that begins on Monday in Glasgow, although she says she has not officially been invited.
アンドリューマー, in a preview for his BBC One programme on Sunday, asked her whether she had been invited, and she responded: "わからない. 非常に不明確です. 公式ではありません.
「過激な若者をあまりにも多く招待すると、多くの人が恐れているのではないかと思います。, そうすれば、見栄えが悪くなる可能性があります。」
She was joined by around 20 climate activists from countries including Namibia, Philippines and Samoa who are due to travel with her to the climate summit.
Ms Thunberg said more countries affected by climate change should be at the conference.
"We need more representation from the so-called global south, from the most affected people and areas," 彼女は言いました.
"It's not fair when, 例えば, one country send lots and lots of delegates, and then another country is very under-represented. That already creates an imbalance, and climate justice is at the very heart of this crisis.
"As long as we keep ignoring the historical responsibility of the countries of the global north and as long as we continue to ignore it, the negotiations will not have a successful outcome."
Protesters had already lobbied outside Lloyd's of London and Macquarie Capital before being joined by Ms Thunberg.
They want banks to stop funding companies such as oil groups.
Ms Thunberg recently berated politicians for 30 years of "blah, 何とか, blah" rather than acting to curb global warming.
機関による追加の報告