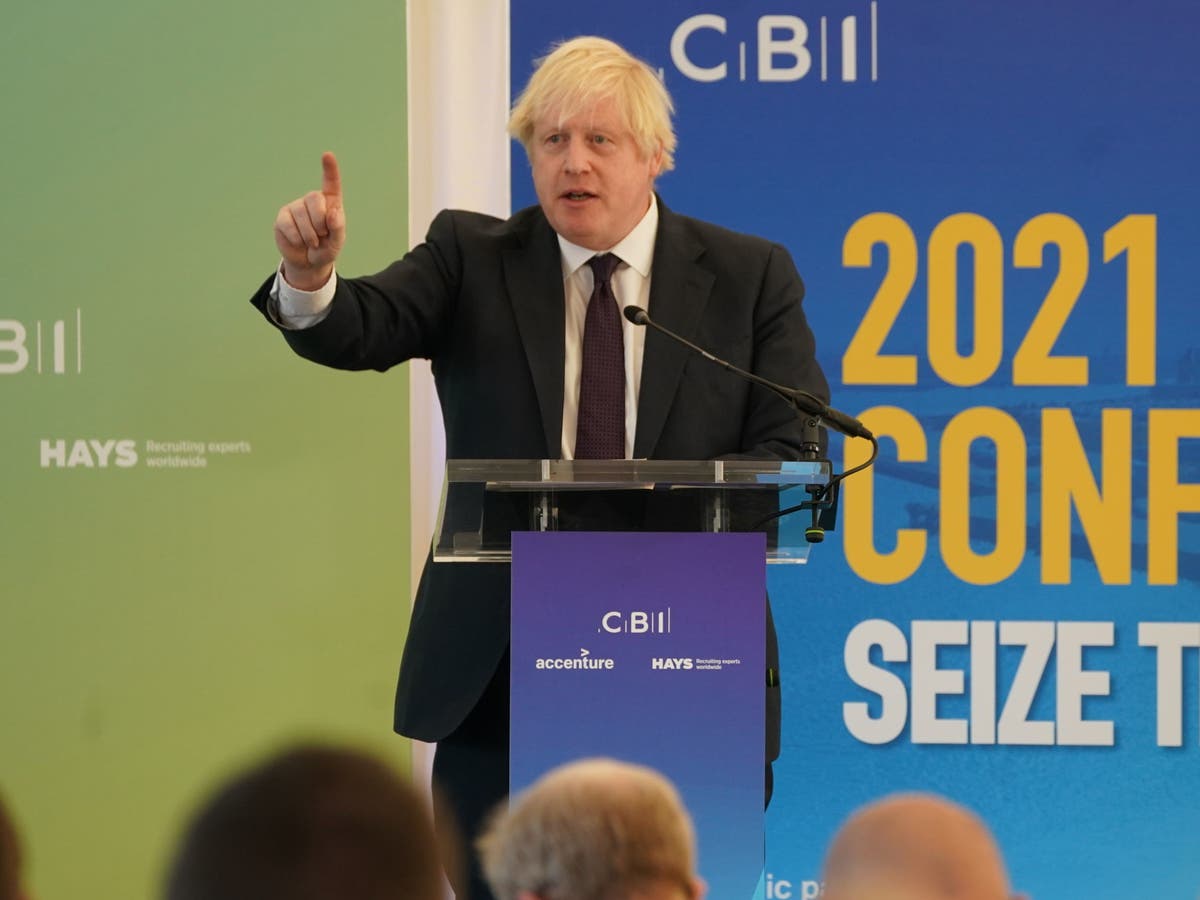 Labour MPs accuse government of creating not 'a care plan' but 'a care con'
Shadow health secretary Jonathan Ashworth brands health and care bill 'care con'
Boris Johnson faces a potential backbench rebellion on Monday as MPs prepare to vote on changes made to the controversial health and care bill, including leaving poorer pensioners to pick up the rocketing cost of care.
Concerns were raised last week when the government quietly slipped out changes to its initial proposals – first published in September – which revealed that the means-tested support provided to some pensioners by local authorities would not count towards the £86,000 lifetime cap.
It came after the PM pledged that his social care reforms would mean nobody had to sell their home to pay for care.
Pressed on whether this remained the case today, though, business minister Paul Scully said only he hoped nobody would have to resort to selling their house but that the number of people having to would certainly be "fewer" than now.
Shadow health secretary Jonathan Ashworth, accusing the Tories of "daylight robbery", called on cross-party MPs to "reject" the plans and force ministers to "come up with something fairer".
Follow our live coverage below
1637583496
Watch: Portsmouth zebra crossing first to use new lighting system
Portsmouth zebra crossing becomes UK's first to use innovative new lighting system
Sam Hancock
22 November 2021 12:18
1637582532
People could still lose homes under PM's social care plan – minister
Small business minister Paul Scully said this morning he hoped nobody would have to sell their house to pay for care bills but that the number would certainly be "fewer" than now, writes our policy correspondent Jon Stone.
It comes after Boris Johnson pledged that the change to the social care system would mean nobody would have to sell their houses to pay for care.
However, last week while MPs were focused on the Westminster sleaze scandal the government slipped out changes to its proposals – including no longer letting poorer pensioners count means-tested payments by the state for their care towards a total cap of £86,000.
Government slipped out changes to proposals to save money
Sam Hancock
22 November 2021 12:02
1637581944
G7 foreign ministers to meet in Liverpool for summit next month
Liz Truss is hoping to build a "worldwide network of liberty that advances freedom, democracy and enterprise" as she welcomes counterparts from around the world to Liverpool next month.
The foreign secretary will host a summit of foreign and development ministers from the G7 countries in Liverpool, from 10 to 12 December.
And as well as representatives from the US, France, Germany, Italy, Canada, Japan and the EU, countries from the Association of Southeast Asian Countries will also attend for the first time, a move the Foreign Office said was a sign of the UK's growing Indo-Pacific tilt.
The group is expected to discuss a range of global issues, including economic resilience post-Covid, global health and human rights.
Sam Hancock
22 November 2021 11:52
1637581281
Rayner calls PM a 'national embarrassment' after CBI speech
Labour's deputy leader tweets her verdict on Boris Johnson's speech this morning, calling him a "national and international embarrassment".
Sam Hancock
22 November 2021 11:41
1637580312
Ministers 'broke down' over Amess murder, says PM
The memorial service of murdered Tory MP Sir David Amess will take place today, which the prime minister was asked about earlier. He revealed Cabinet ministers "broke down in tears" upon hearing of the death of their colleague while in a meeting last month.
A horse-drawn hearse carrying the father-of-five's body will pass through his constituency of Southend West before Monday afternoon's service, reports Thomas Kingsley.
His friend and party colleague Mark Francois is to deliver a eulogy at the private ecumenical service at St Mary's Church in Prittlewell, before a second service at Westminster Cathedral on Tuesday.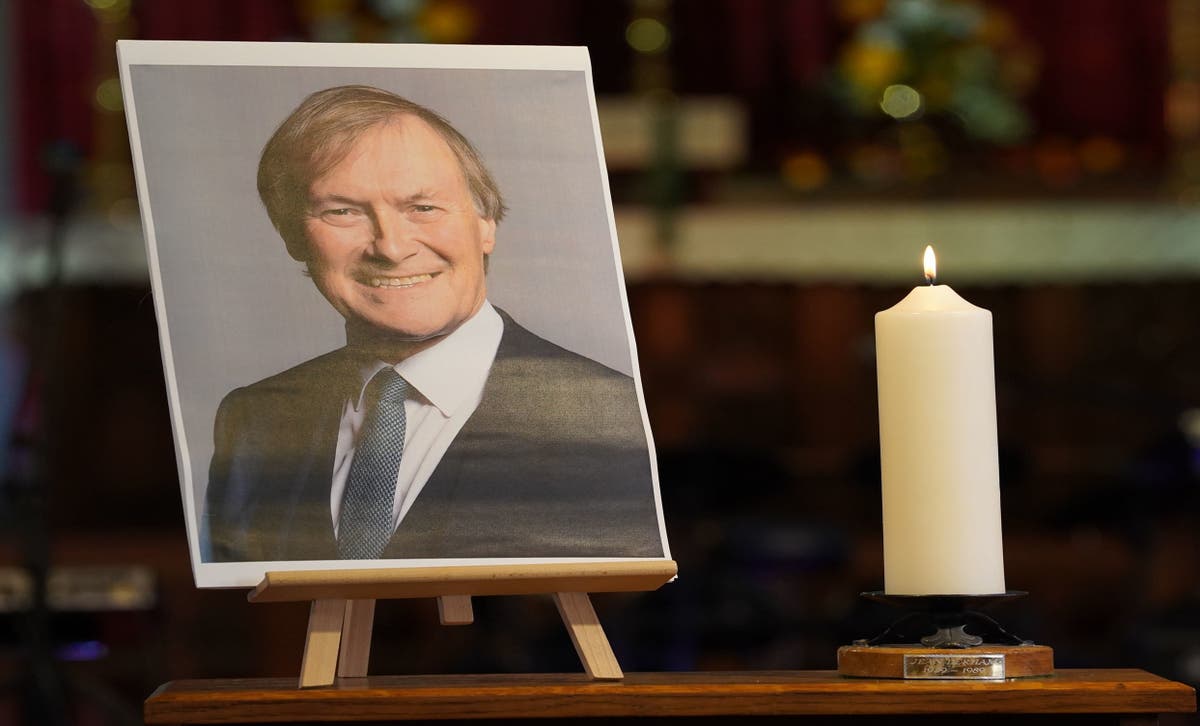 A private funeral service will be held for the veteran Conserative MP, stabbed to in Southend on Monday
Sam Hancock
22 November 2021 11:25
1637579832
Johnson claims new care plan 'better than existing system'
Last bit from Johnson's speech now, where the PM was asked a question about the government's proposals for reform of the adult social care system in England.
He described them as "incredibly generous" and "better than the existing system", despite speculation he could face a backbench revolt amid claims the plan is now less generous than it appeared when it was first published in September.
"Under the existing system nobody gets any support if they have assets of £23,000 or more. Now you get support if you have £100,000 or less, so we are helping people," Johnson told the CBI conference today. "It is in fact more generous than some of the original proposals of Andrew Dilnot because it helps people not just who are in residential care but also people who benefit from domiciliary care as well."
Repeating previous claims that his government is "tacking a problem that has bedevilled this country for decades", the PM continued to defend the plans.
"We are addressing a long-standing social injustice and it will benefit the people of this country," he said confidently.
Sam Hancock
22 November 2021 11:17
1637579105
PM uses business speech to defend panned northern rail cuts
Boris Johnson is using question time, in response to his CBI speech, to defend the government's scaled-back plans for railway investment in the north of England, insisting the schemes would still be "transformatory".
"It is fantastic, another £96bn on improving rail services in this country, that is three new chunks of high-speed line," the PM told CBI conference delegates in South Shields.
The plans unveiled last week saw the HS2 leg from Birmingham to Leeds axed and the Northern Powerhouse Rail route from Liverpool to Leeds amended to run partly on existing lines rather than new ones.
However, Mr Johnson said of the plans: "It's a fantastic thing, it's transformatory, nothing seen like it for a century."
Sam Hancock
22 November 2021 11:05
1637578632
Watch: PM loses his place in rambling speech
Boris Johnson lost for words in bizarre speech to business leaders
Sam Hancock
22 November 2021 10:57
1637578023
Johnson lost for words in bizarre speech to businesses
And here's our political editor Andrew Woodcock with his verdict on Johnson's "bizarre" address.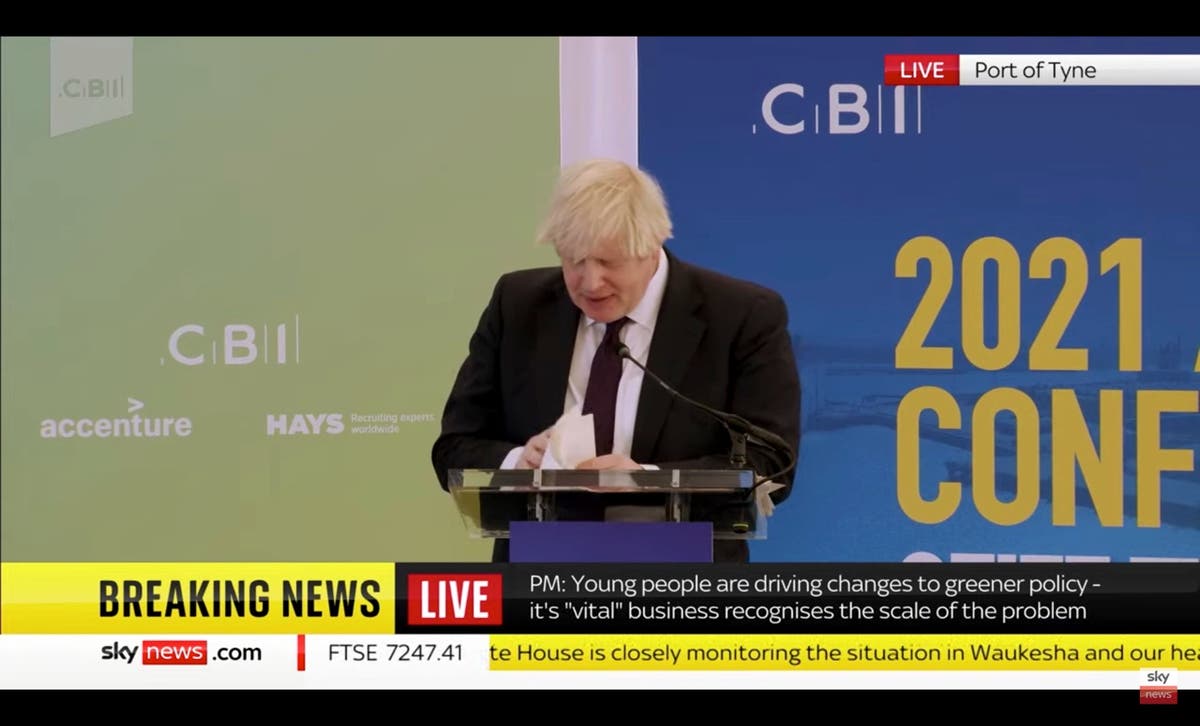 Prime minister makes 'Vroom! Vroom!' car noises and asks CBI bosses about Peppa Pig
Sam Hancock
22 November 2021 10:47
1637577786
Questions to PM focus on tax reassurance and govt support
Our policy correspondent Jon Stone has this on the questions being put to the PM after his speech:
Sam Hancock
22 November 2021 10:43