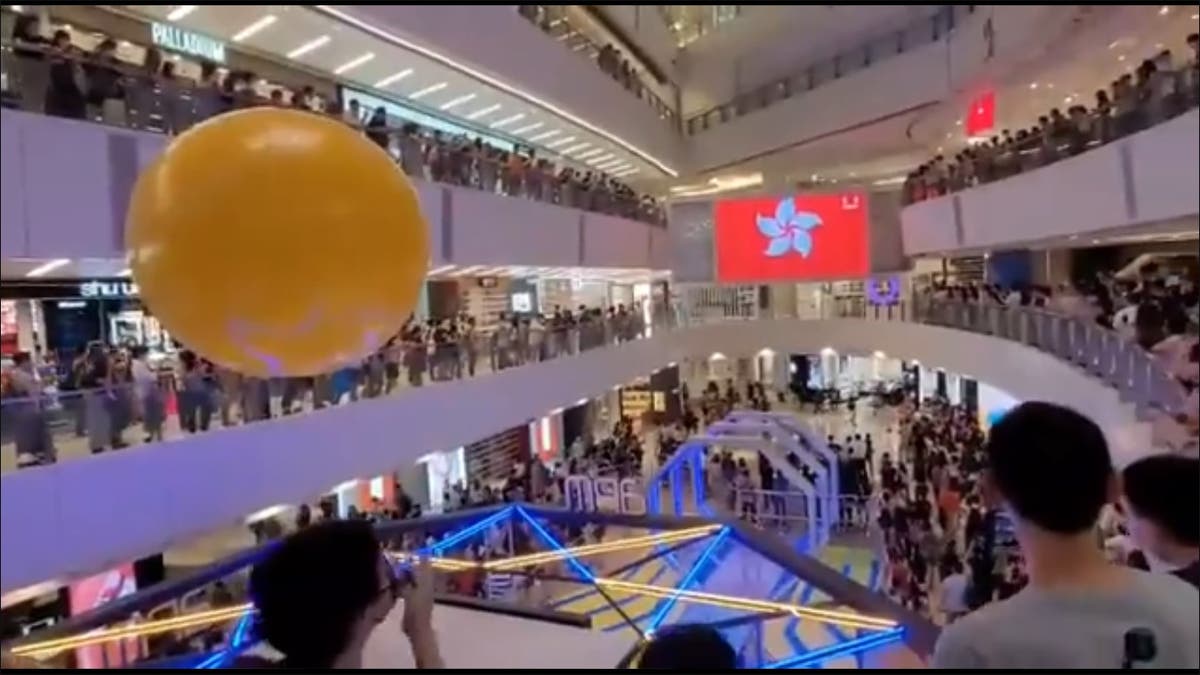 Crowed shouted 'We are Hong Kong' as the territory's flag was raised
香港 police are investigating the booing of 中国's national 国歌 by a massive crowd at a shopping mall during a live broadcast of a medal ceremony of the Tokyo Olympics.
A massive crowd gathered around a huge screen broadcasting the ceremony when Hong Kong fencer Edgar Cheung won gold, the territory's first gold since 1996 during the Tokyo Olympics.
Some people from the crowd booed as the Chinese national anthem, March of the Volunteers, was played on the screen and soon loud echoes of "We are Hong Kong" filled the mall as Hong Kong's district flag was raised, the video going viral on social media showed.
The booing by a crowd of more than a hundred people was in apparent violation of the new law passed by Beijing in Hong Kong in June 2020 that criminalised disrespect of China's national anthem.
Those found guilty under the law could be jailed for up to three years and fined HK$50,000 (£4,600).
"The police have launched an investigation into the incident and will collect relevant evidence," police told ロイター in a statement without giving further details.
It is not the first time this has happened. "We are Hong Kong" is often chanted by Hong Kong football fans when China's national anthem is played but came under scrutiny as tensions increased with Beijing's increased control on the former British colony.
The incident came in the same week as the first person was convicted under Hong Kong's controversial 国家安全保障法.
Several prominent pro-democracy politicians and activists have been charged and some have been jailed under the law, while many have fled the city and are in self-exile.
Beijing says the laws are necessary to necessary to preserve peace and patriotism in Hong Kong.
Hong Kong was handed back to China in 1997 by Britain on the promise that it would be ruled under the "one country, two systems" principle to ensure a high degree of autonomy to the region.