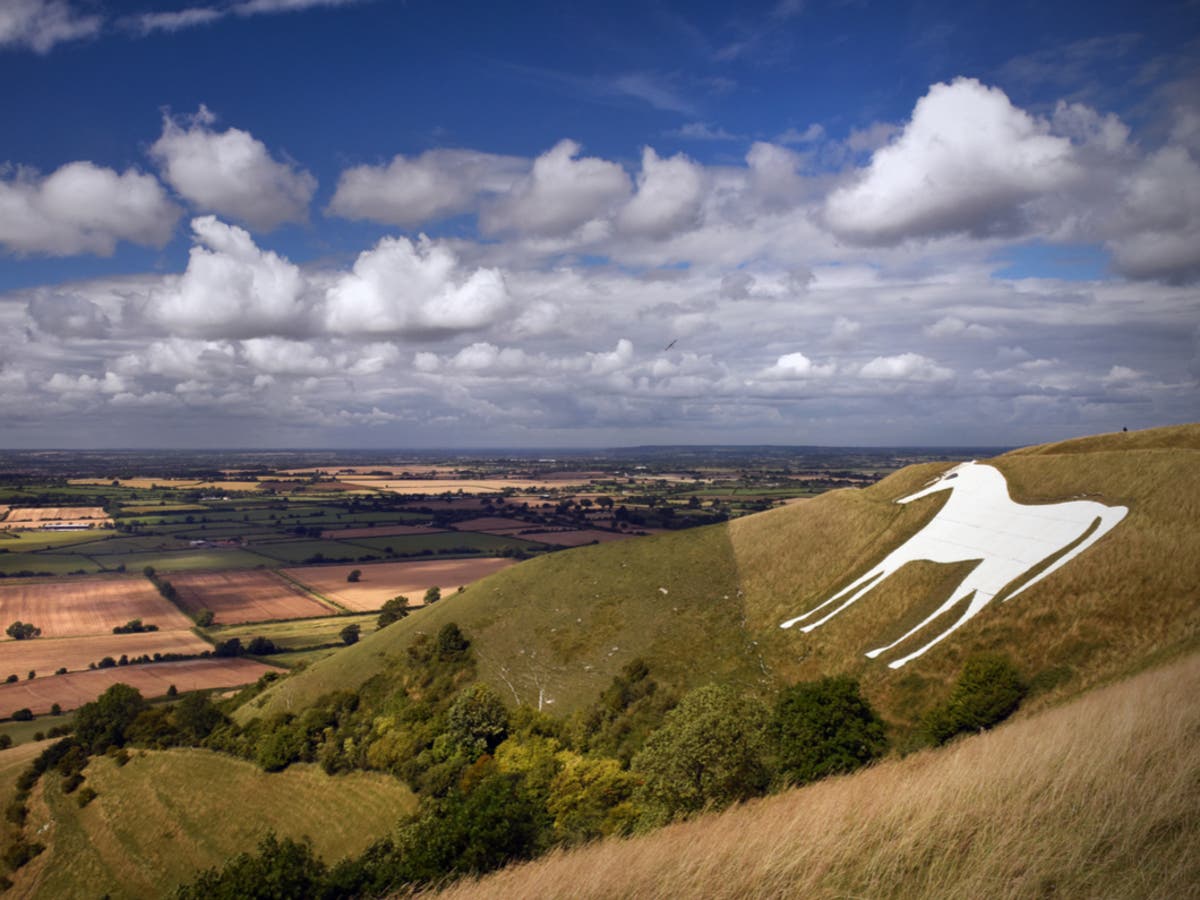 With layers of history and a chalk horse second to none, this quaint Wiltshire town is the ideal adopted home, writes Swagata Ghosh
Pendant le confinement, many of us made the pilgrimage back to our family homes – and rediscovered them through fresh eyes. Part guide, part love letter, "Home towns" is a series in which we celebrate where we're from.
It was a hot summer afternoon in 2012 when I found myself squinting at a faded picture of a motley group: un garçon, an elderly couple and two young men in flat caps staring down at me from a high ceilinged wall. We were weary and house hunting; it was the weekend and we had just driven for four hours down three motorways. The picture itself was small and unremarkable but it had a handsome frame. A little puzzled, I asked, "Family?" "Oh no! Those are the mill workers outside our front door in the courtyard. That was just after the war in 1919, so the workforce was very mixed. The one with the bushy moustache and the fancy pocket watch was probably the Timekeeper."
That winter we moved in, into an old woollen mill in Westbury, Wiltshire, where for centuries before we arrived, wool was scoured and thickened into cloth by beating and washing. In the exact place where I now unpacked my mother's hastily scribbled journal of quick curry recipes, a fulling mill had stood since 1573. And since the mid-15th century, Westbury clothiers were famed and favoured all the way to Germany.
If you haven't heard of Westbury except for our white chalk steed that towers over the township at a thumping 55 mètres, tu n'es pas seul. Et encore, this modest town where apparently nothing much happens retains a footprint of history from the Iron Age to the Industrial Revolution. Its problem is, it's just too shy to shout about it.
Ici, at the Battle of Ethandun in 878 AD, the great King Alfred defeated the Danes and sowed the seeds of what we know as England today. Legend has it that Gunthrum, the Danish king, had taken refuge with his men high above Westbury at Iron Age fort at Bratton Camp. Là, besieged and having run out of water, Gunthrum surrendered, made peace and became Christian. The victorious Alfred came down the hill and passed through our town by a road that still bears his name. Quelque 900 des années plus tard, the locals got up the hill and carved a huge white horse on the soft chalk downland to commemorate Alfred's victory; to this day it remains the largest of all the Wiltshire horses and the darling of the town.
Growing up half-way across the world in busy, belching metropolises, I had never heard of Westbury. I had no family nor any rebellious teen memories of the town to bring me here. What attracted me in the first place was its excellent network of direct trains to London and the South West, alongside its proximity to Bath, where both my husband and I had found jobs. A humdrum decision taken nine years ago was to transform our lives during lockdown in ways we had barely imagined. I had never lived in the countryside before. À présent, I can scarcely imagine living anywhere else.
Within weeks of moving in, my living room at Bitham Mill became a springboard to a newfound zeal to dig deeper into my adopted home town. I realised that my courtyard garden, where I now nursed tomatoes and fought slugs off strawberry beds, was the beating heart of Westbury for nearly six centuries. The town revolutionised the fulling process and stoked the fortunes of generations of Phipps, Matravers and Lavertons. They in turn gave back to the town, building handsome bathhouses, institutes and almshouses, all of which have found new purposes within a growing community. The Lavertons were also mad about cricket, and in May 1890, WG Grace and six other England players donned their caps for Laverton's XI against the Australians to a thunderous home win.
pourtant, fortunes can be fickle. After centuries of adapting and evolving, the town's mills finally fell to cheaper products from the North. But Westbury's story was to take another astonishing turn in 1848, when the Great Western Railway rolled in. And riding on its success came another unexpected bonus. Discovered quite by accident while laying out the rail tracks, workers struck iron ore near the railway station. Smelting began soon after in 1857. The trains brought in coal and a direct railway line from London to Taunton in 1901, turning the fortunes of this historic market town.
Lately, a quiet shift is sweeping across the town. Westbury is witnessing a housing boom quite unparalleled in its chequered history. Desperate to swap city lights with cycle paths, hundreds of new houses have attracted a varied and vibrant community of new settlers. "But new communities need matching infrastructure, écoles, roads and an attractive high street. That's the vision of Westbury we are after. That's the challenge," says Ward Jones, Deputy Mayor of Town Council. Like me, Ward too is a recent resident. Now neighbours, we share notes on our home town across the street.
Walking is what Westbury does best since the Romans walked this way, traded in our town, and buried some coins in old pots that were only discovered some 20 il y a des années. With miles of green rolling chalklands stretching as far as the eye can see, my favourite is a moderate ramble around Bratton Camp and the White Horse. On clear summer days, a swarm of hang gliders take off from the top of the Horse. You can finish with a picnic on a sea of golden trefoil overlooking the red-brick town. If you're lucky, the Chalk Hill Blue butterfly might even drop in to give you company.
There's also a Blue Plaque Trail that winds its way around Bitham Mill picking through most of the town's myths, mills and malting heritage. Download the trail on your phone and enjoy tall tales of town elections some 200 years ago when the winning candidate was carried around in a chair decked in ivy as he lined the streets with silver coins. Finish at the Horse and Groom – today, it's a traditional country inn serving breakfasts, lunches and ales, but during the Second World War its stable was prepped to receive the dead.
Bed down and a bite to eat
Capitalising on trendy staycations, easy access to Bath, Longleat, Stonehenge, Salisbury, Avebury, Glastonbury and Cheddar Gorge, a bevy of B&Bs and cottages have popped up that provide a great alternative to traditional hotels.
The Three Daggers in neighbouring Edington has more than just rooms in the inn. Alongside a spa barn, a farm shop, a woodshed pizza and bar and a traditional country pub, it also offers Hillside Cottage, sleeping 12. Rooms start from £160 a night, including breakfast and a three-course meal at £35.
On the edge of town, just beyond where once the Romans settled in The Ham, lies Brokerswood Holiday Park, where you can glamp in style. From archery to axe throwing and kayaking to fishing, there are activities for the whole family.