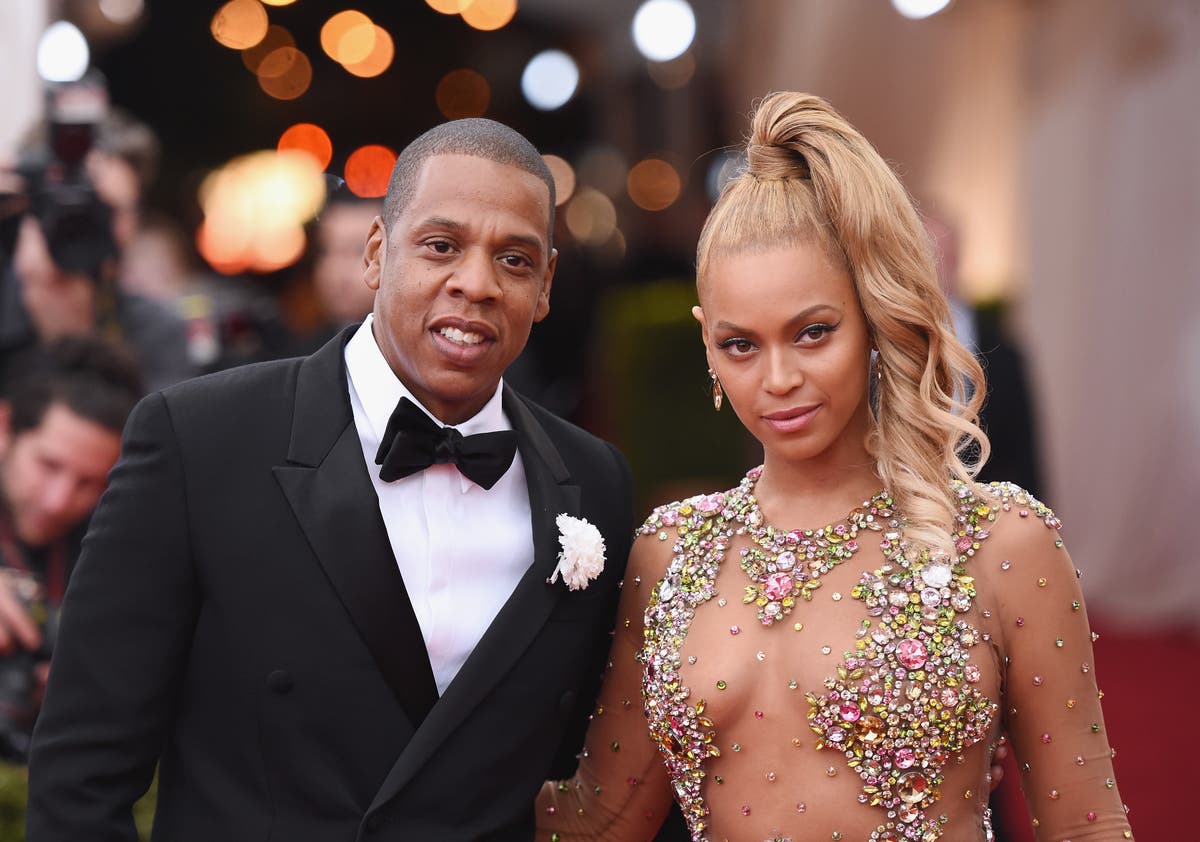 'Insane to me that rich people can just buy art from artists who have passed and no one else gets to see it,' one person tweeted
Beyoncé​​ and Jay-Z are facing criticism after posing alongside a never-before-seen painting by Jean-Michel Basquiat in their new Tiffany & Co campaign.
On Monday, the luxury jewellery brand offered the first glimpse at the new global About Love campaign, which features the Halo singer dressed in a black floor-length gown, elbow-length sheer black gloves and the yellow 128-carat Tiffany Diamond, while her husband appears in a classic black tuxedo.
In the photos, the celebrity couple can also be seen posing in front of a painting from Jean-Michel Basquiat's private collection called Equals Pi, which is made in the luxury brand's iconic Tiffany Blue.
According to WWD, the never-before-seen piece was purchased by Tiffany & Co from a private collector who had owned it since the early 1980s, with a press release from the jewellery brand noting that the painting was included because it art is a "common thread throughout the Carter's love story".
However, on social media, many found issues with the inclusion of the rare piece of artwork from the Brooklyn-born artist's private collection, as the jewellery advertisement campaign marks the first time it has been shown to the public.
"They been hiding a Basquiat for decades just to use it for a Tiffany's ad?" one person tweeted.
Another described the use of the painting by rich people as "gross," writing: "Insane to me that rich people can just buy art from artists who have passed and no one else gets to see it, kinda gross [in my opinion] like these pieces should be able to be seen by everyone, that's literally what Basquiat would have wanted."
"The fact that they showed off this never-before-seen piece of art from Jean-Michel Basquiat for an ADVERTISEMENT doesn't sit well with my spirits…" someone else tweeted.
The use of the painting was also declared "tone-deaf" by another person, who added: "Basquiat wasn't the type of person or artist to approve of his pieces being used in an ad from multiple billionaires (uncontextualised, at that). His art was all about pain and beauty in low places, so, it comes across as a tone-deaf and flippant flex on his legacy."
Others accused Jay-Z of "wanting to be Basquiat," with one person tweeting: "I just know Basquiat is in his grave WISHING Jay-Z would leave him alone."
Someone else added: "Jay Z cosplaying as Basquiat is hilarious to me."
However, despite the criticisms, the rapper's love of the artist is well-documented, as he reportedly owns a $4.5m Basquiat painting and has referenced the late painter in multiple songs such as PicassoBaby.
As for the colour of the rare piece of artwork, Alexandre Arnault, Tiffany's executive vice president of products and communications, told WWD that they believe the use of Tiffany Blue is not a coincidence.
"We don't have any literature that says [Basquiat] made the painting for Tiffany," he said before adding "my guess is that the [blue painting] is not by chance".
"The colour is so specific that it has to be some kind of homage," he continued.