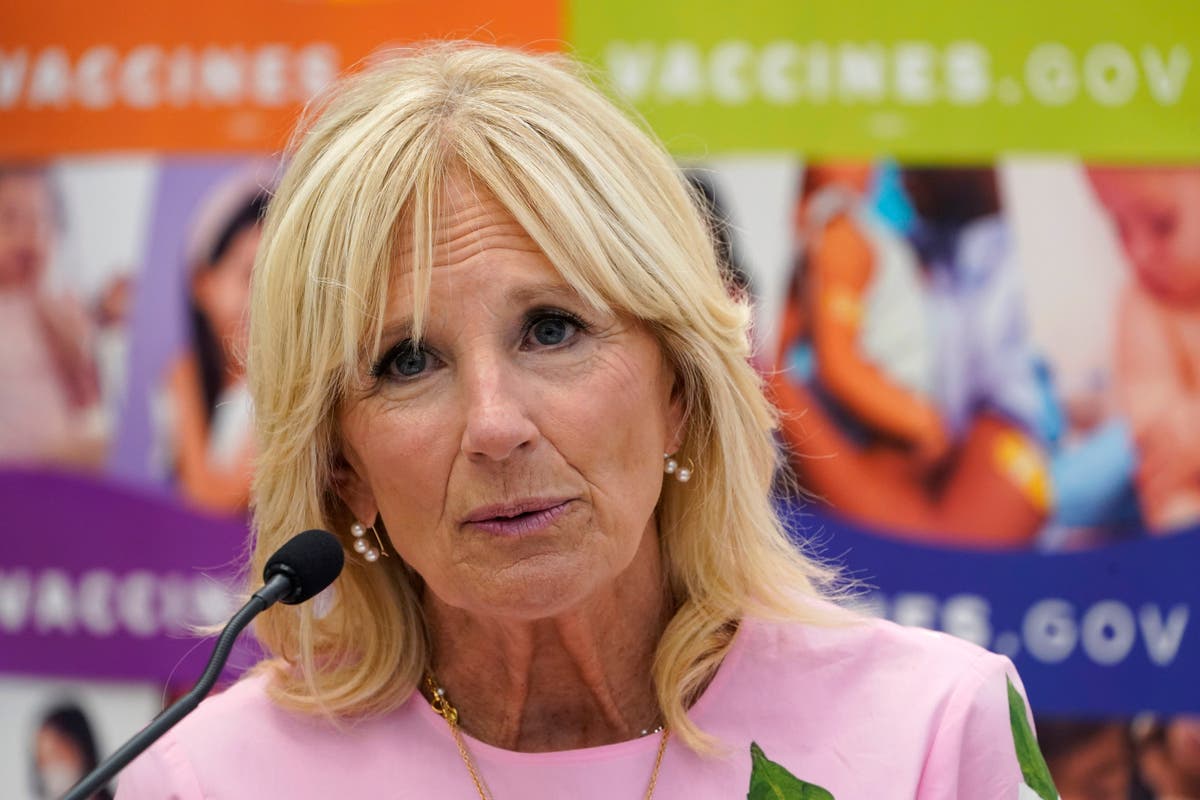 The first lady had been heavily criticised for the comments to a civil rights group in San Antonio
First lady Jill Biden has apologised for telling Hispanic voters in Texas they were as "unique" as "breakfast tacos".
Dr Biden had been heavily criticised for the remarks to civil rights organisation UnidosUS in San Antonio on Monday.
During the speech, she attempted to praise Latin diversity by saying the community in the United States was "as distinct as the bodegas of the Bronx, as beautiful as the blossoms of Miami, and as unique as the breakfast tacos here in San Antonio".
On Tuesday, her press secretary Michael LaRosa tweeted: "The First Lady apologises that her words conveyed anything but pure admiration and love for the Latino community."
In the speech, Dr Biden also badly mispronounced "bodegas", small stores in urban areas typically specialising in Hispanic groceries.
Prior to the apology, the comments drew widespread outrage and scorn on social media.
The National Association of Hispanic Journalists tweeted: "We are not tacos."
NAHJ encourages @FLOTUS & her communications team to take time to better understand the complexities of our people & communities.

We are not tacos.

Our heritage as Latinos is shaped by various diasporas, cultures & food traditions.

Do not reduce us to stereotypes. pic.twitter.com/KQIq5gwsht

— NAHJ (@NAHJ) July 12, 2022
"Using breakfast tacos to try to demonstrate the uniqueness of Latinos in San Antonio demonstrates a lack of cultural knowledge and sensitivity to the diversity of Latinos in the region," NAHJ said.
"Do not reduce us to stereotypes."
Texas senator Ted Cruz tweeted along with three taco emojis: "Personally, I'm a chorizo, egg & cheese".
"Happy TacoTuesday to everyone except Jill Biden", Newsmax host Jenn Pellegrino tweeted with a meme depicting Dr Biden holding two tacos.
Some compared the apparent gaffe to Donald Trump's celebration of Cinco de Mayo while Republican presidential nominee in 2016 when he posed with a taco bowl and wrote on Facebook that he "loved Hispanics".
Mr Trump also frequently disparaged the Hispanic community and Mexicans during his time in office, which saw him build a border wall with Mexico while claiming that those arriving from the country were "rapists" and "criminals".
Dr Biden's visit to Texas comes ahead of this year midterm elections and concerns among Democrats that Latino voters are increasingly turning away from the party.
Last month, Mayra Flores won a special House race for Texas's 34th congressional district after Democrat Rep Filemon Vela resigned from Congress to work for a lobbying company.
Her victory has been hailed by Republicans as another symbol of Latino communities swinging away from the Democratic Party, with greater proportions of Latinos backing Republican candidates in local and state elections.
Last week, President Joe Biden awarded the the Presidential Medal of Freedom to the former longtime leader of UnidosUS, Raul Yzaguirre.