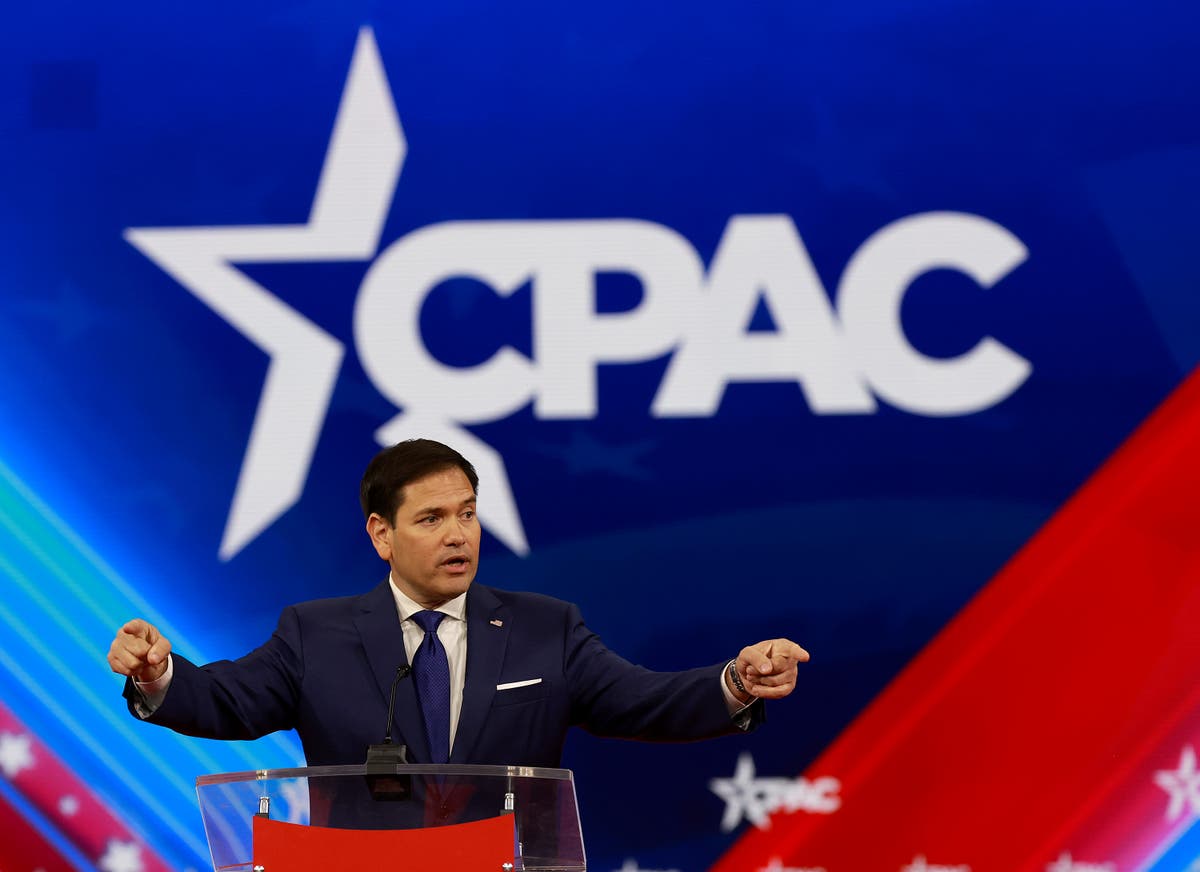 Follow the latest CPAC news live
Trump claims 10 million illegal immigrants are 'bum-rushing' the US
High-profile Republicans are converging in Orlando, Florida for the annual Conservative Political Action Conference this week, with former President Donald Trump headlining the event.
The conservative confab attracts a who's who of GOP luminaries. Typically held just outside of Washington DC, this year's conference is being held in Orlando, Florida, likely due to its proximity to the former president's Mar-a-Lago residence in Palm Beach in the "free state".
High-profile speakers this year include Donald Trump Jr, former Secretary of State Mike Pompeo, Sen Ted Cruz, Florida Gov Ron DeSantis, Nigel Farage, and Rep Jim Jordan.
During his remarks on Thursday evening, Mr Cruz railed against Big Tech and praised crypto.
"Big is bad," the Texas senator told the crowd. "Across the board. Big government sucks. Big business sucks. Big tech, big Hollywood, big university. Any accumulation of power that is centralised is fundamentally dangerous for individual liberty."
Ron DeSantis, meanwhile, gave a barnstorming speech to a standing ovation in a clear pitch to be the GOP candidate in 2024 to take on the "Brandon administration", citing his record with Covid-19 preventing his state becoming a "Faucian dystopia".
Missouri's GOP Senator Josh Hawley also slammed the Biden administration, claiming it "emboldened" Vladimir Putin to invade Ukraine by holding off on sanctioning the Nord Stream 2 pipeline until this week.
1645806651
Pompeo asked about previous Putin comments
NBC's Vaughn Hillyard managed to ask Mike Pompeo about his previous comments regarding Putin when he called the Russian leader "shrewd" and "capable" and said he had "enormous respect" for him.
Pompeo: I've been fighting communism since I was a teenager. I'm going to keep fighting communism.
Oliver O'Connell
25 February 2022 16:30
1645806047
Pompeo: 'No threat greater' to US than that 'which emanates inside our republic'
Former Secretary of State Mike Pompeo takes to the stage and immediately joke about his impressive weight loss.
He says he misses being in office and wishes he was still at the helm instead of the Biden administration.
"I miss every single minute of it. I wish we were back there leading America."
Immediately touching on CPAC's talking points, he mentions masks, trans athletes, Russia, civil disorder, the border, and the botched Afghanistan withdrawal.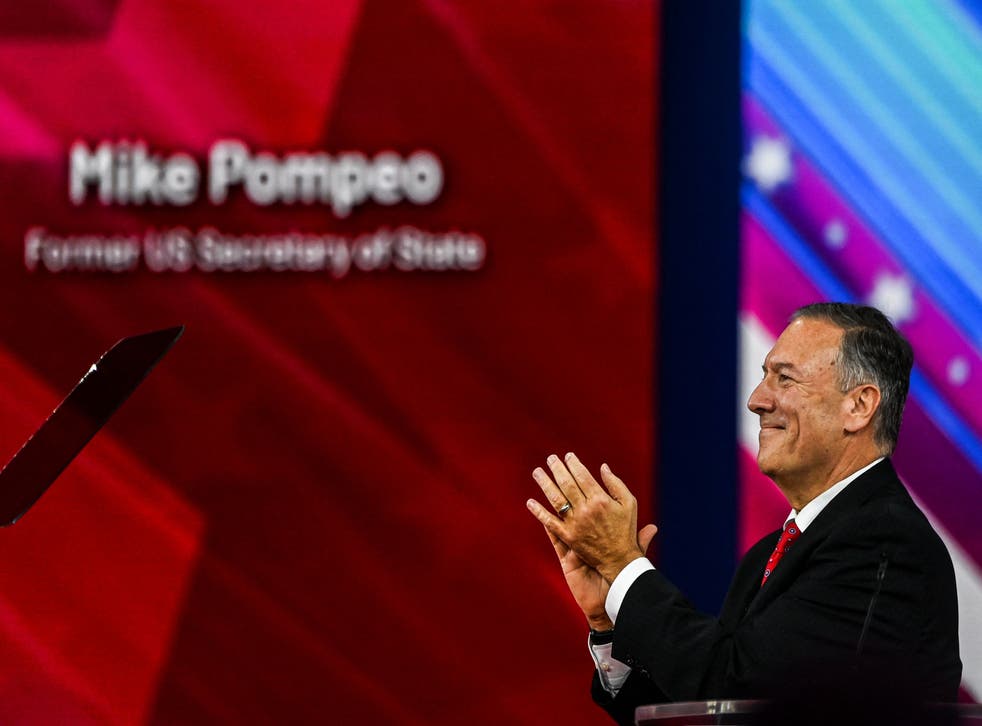 Responding to Biden's rhetorical question: What are Republicans for?, Mr Pompeo starts by saying the list begins with getting Democrats out of office in every branch of government.
Of his time in office, he says: "We were disrupters. We were prepared to break glass when the way the establishment did it made no sense."
On foreign policy "America demands good leadership and the world is depending upon it."
He adds: "We put America first and we told people around the world: you cannot tread on us."
In a portion focussed on China, he says: "I could see that the greatest threat from abroad was the Chinese Communist Party," and talks about closing the Chinese consulate in Houston to the dismay of the State Department.
After saying that conservatives must protect the country's Judeo-Christian footing he moves onto schools, anti-CRT, and anti-wokeness, saying: "There is no threat greater to the United States than that which emanates inside our republic."
"If we don't teach them [children] that we are not a racist nation, then surely the bad guys will tell them they're right about America in decline."
Concluding his remarks, he says: "Let's be in the fight. Let's never give an inch… This is the greatest nation in civilisation."
Oliver O'Connell
25 February 2022 16:20
1645804395
Cheering and booing Democrats
Florida Rep Byron Donalds is speaking now and got a big cheer from the crowd when he mentioned obstructionist Democratic senators Joe Manchin and Kyrsten Sinema.
This was paired with a loud boo from the audience when he mentioned Rep Alexandria Ocasio-Cortez.
"Oh, so you're heard of her?"
Oliver O'Connell
25 February 2022 15:53
1645803204
Cawthorn: 'What I want in a president is for the rest of world to be terrified of him'
Rep Madison Cawthorn attacked Mark Elias and "lawfare" for a coordinated effort to knock him off the ballot in the coming election.
He framed it as a spiritual battle and asked the crowd to "pray for the judges involved, the lawyers involved" in the lawsuit trying to disqualify him as a candidate for supporting the January 6 insurrection.
If the effort succeeds, he says, they will come for anyone who questioned 2020.
Mr Cawthorn was joined on stage by former Governor Scott Walker who is now running the Young America Foundation.
The pair were asked about Ukraine.
Mr Walker said: "Woke weakness leads to what we're seeing… this president seems to be more like Neville Chamberlain than Jimmy Carter."
To which Rep Cawthorn added that he wanted the American people to love the president, but: "What I want in a president is for the rest of the world to be terrified of them."
He then added: "This president has been corrupted by the radicals across this country, by Putin, by Xi Jinping."
It's unclear what he meant by that.
Oliver O'Connell
25 February 2022 15:33
1645801539
Rep Jim Banks says historic moment for America to lead but Biden is no leader
Indiana congressman Jim Banks in conversation with Mercedes Chlapp says he won't stop apologising for objecting to what he calls "an unconstitutional election" and calls President Joe Biden the "worst president we've ever had".
Using a familiar Trump line, he also blames Speaker Nancy Pelosi for the January 6 security lapse and praises "hero" Ohio congressman Jim Jordan.
On Ukraine, Mr Banks says Vladimir Putin seized upon President Biden's handling of Afghanistan to attack.
"He knew he could get away with it because he had Joe Biden figured out when he came into office."
Asked what his message to US troops stationed in Poland is, he replies: "This is a historic moment for America to lead. And right now we have a while we have a president a commander in chief who is not a leader."
Oliver O'Connell
25 February 2022 15:05
1645801242
Marco Rubio commends 'inspiring' Ukrainian people
Senator Marco Rubio took a moment in his speech to praise the people of Ukraine.
If you haven't heard the audio from Snake Island you can find it here.
Oliver O'Connell
25 February 2022 15:00
1645799691
Speaking today: Kristi Noem
Taking the stage at 14:10 ET is South Dakota Governor Kristi Noem, one of various state leaders working hard to raise her profile ahead of the 2024 election.
Ms Noem's broadly anti-restrictions approach to the Covid-19 pandemic is a highly politically polarizing matter, but has shored up her among some conservatives. She has lately pushed hard on conservative red-meat issues like abortion – and in a telltale sign of high ambition, she recently announced she would be publishing a book about herself, a memoir titled "Not My First Time At The Rodeo".
Andrew Naughtie
25 February 2022 14:34
1645796631
Speaking today: Marco Rubio
Day two of CPAC sees a particularly intriguing moment: the appearance of Marco Rubio, a Florida Senator and Russia hawk who has taken quite a different line on the unfolding Ukraine invasion than many in his party.
Where others have questioned why the US should care or sought to blame Joe Biden solely for what's happening, Mr Rubio has focused on raising the alarm about the seriousness of Russia's attack and the urgency of countering it. How (and whether) he conveys that message from the stage this morning remains to be seen.
Andrew Naughtie
25 February 2022 13:43
1645794051
ICYMI: Jen Psaki shrugs off Ted Cruz's insult
White House Press Secretary Jen Psaki was asked at her briefing yesterday for a response to Ted Cruz after he called her "Peppermint Patty" during his CPAC speech. She was clearly untroubled by the Senator's words.
Andrew Naughtie
25 February 2022 13:00
1645790978
Speaking today: Mike Pompeo
One of today's highest-profile CPAC speakers is Mike Pompeo, Donald Trump's Secretary of State, who has lately taken his former boss's line when it comes to the Russian invasion of Ukraine.
Last week, as it became increasingly clear that Mr Putin was prepared to make a full-on military assault on his neighbouring country, Mr Pompeo told an interviewer the Russian autocrat was "savvy" and "shrewd".
"I consider him an elegantly sophisticated counterpart," he said, "and one who is not reckless but has always done the math. And we might disagree with his priorities, we may disagree with his math, we certainly disagree that the interests that he seeks are reasonable for his country, in many cases, but we should never underestimate that he is doing this in a way where he is exhibiting his capacity to control."
Asked for comment at a press conference, a State Department spokesman said he had "no words".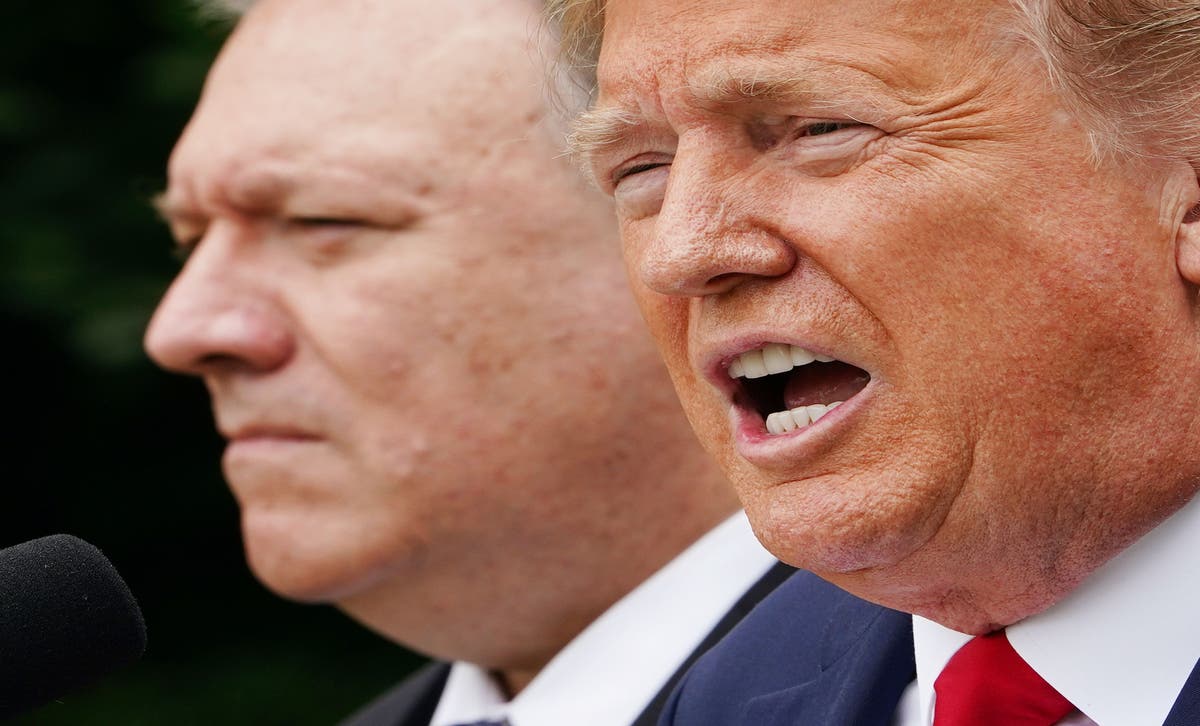 'Putin is now saying, 'It's independent,' a large section of Ukraine. I said, 'How smart is that?' gushed former president Donald Trump
Andrew Naughtie
25 February 2022 12:09