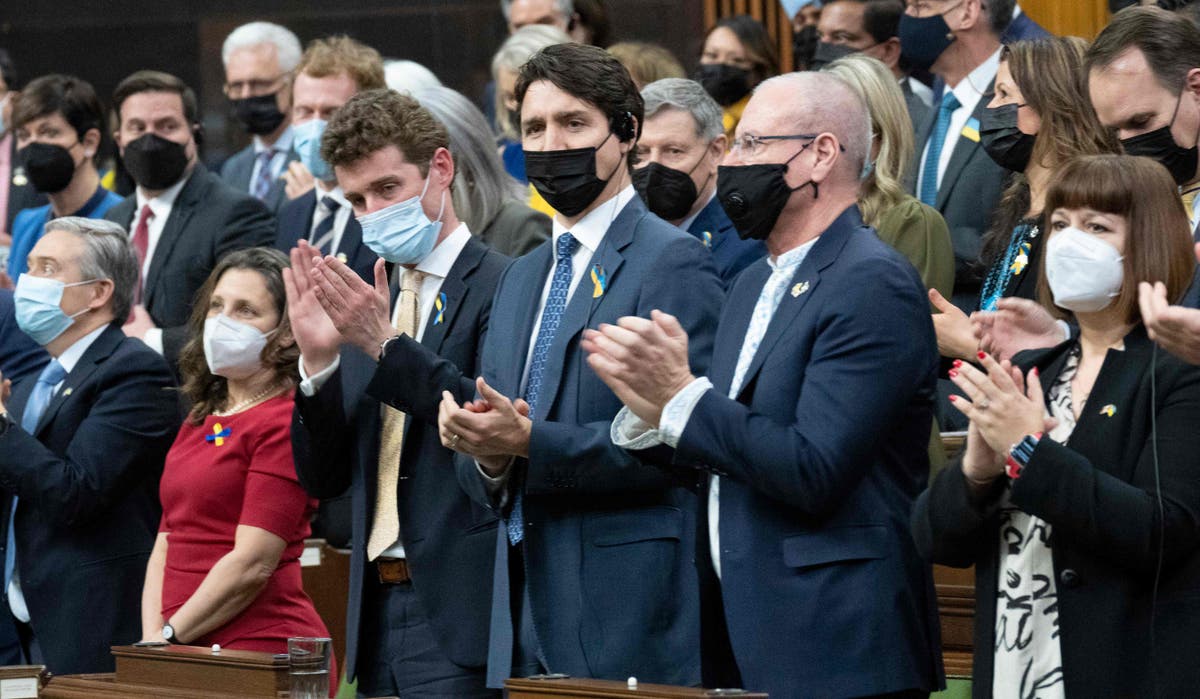 Canada is on Russia's list of "unfriendly" countries that have sanctioned Vladimir Putin and his inner circle
Canada's prime minister Justin Trudeau and senior members of his cabinet have been banned from entering Russia.
It came after Ukraine president Volodymyr Zelensky addressed Canada's Parliament on Tuesday morning to call for a Nato no-fly zone over his country. Mr Zelensky will address the US Congress on Wednesday.
The Russian Foreign Ministry said in a statement on its website that the "black list" was in response to sanctions from the "Russophobic" Canadian regime.
The black list of 313 Canadians included Foreign Affairs Minister Melanie Joly, Defence Minister Anita Anand and almost every member of the Canadian parliament.
"Every Russophobic scumbag, whether it comes to attacks on Russian diplomatic missions, the closure of airspace, or Ottawa's de facto severance of bilateral economic ties – to the detriment of Canadian interests – will inevitably receive a decisive and not necessarily symmetrical rebuff," the statement said.
Canada was among several countries Russia placed on its official "unfriendly" list last week over its Ukraine sanctions, alongside the United Kingdom, Australia, New Zealand and others.
The timing of the black list came as Mr Zelensky was delivering an emotional address to Canada's House of Commons to request further help in the conflict.
"Dear Justin … can you imagine every day you receive memorandums about the number of casualties including women and children? You heard about the bombings. Currently, we have 97 children that died during this war," Mr Zelensky said in a direct plea to the prime minister.
"Imagine someone taking down your Canadian flags in Montreal and other Canadian cities," he added.
He stressed that the most important assistance that could be taken was closing Ukraine's airspace off from Russian aircraft, a move which Nato has so far ruled out in an effort to avoid the outbreak of a world war.
Moscow also announced sanctions against US president Joe Biden and his administration on Tuesday ahead of Mr Zelensky's scheduled address to Congress on Wednesday.