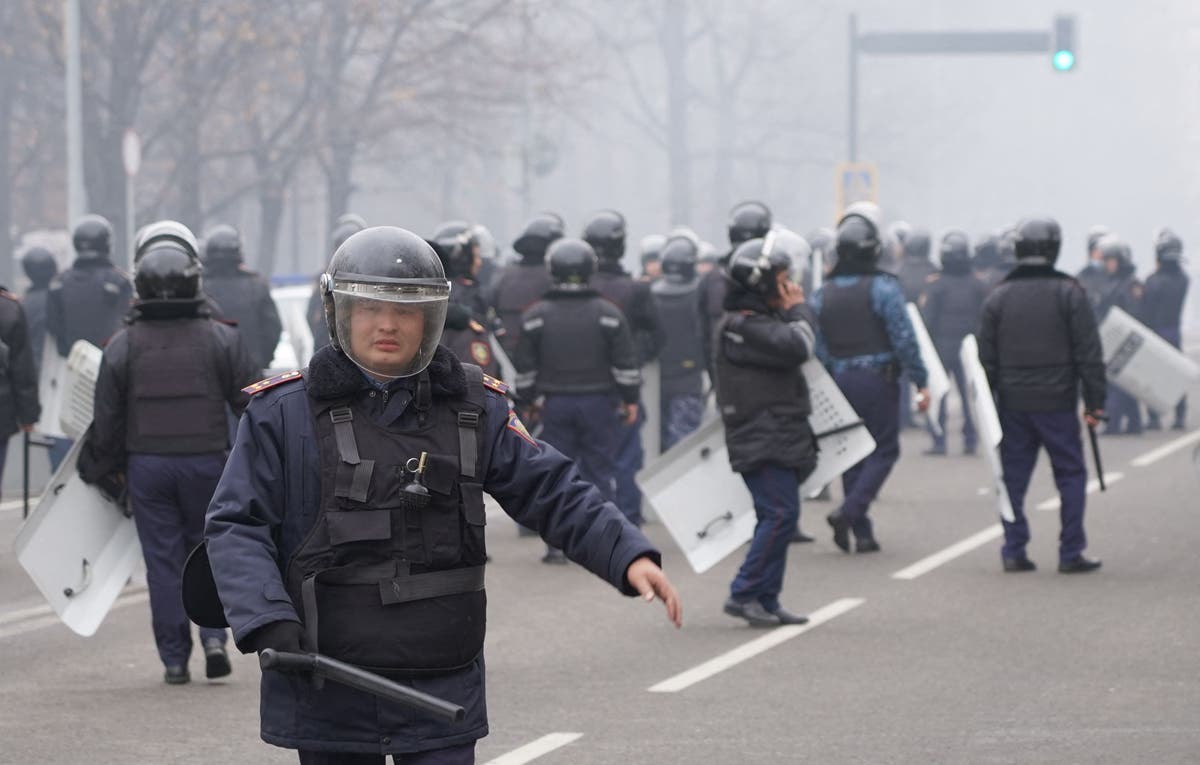 Kazakhstan news – latest: Almaty airport seized by demonstrators
Kazakhstan government resigns after violent fuel protests
Protests across Kazakhstan have left at least eight dead and hundreds injured, officials claimed, after the presidential residence was engulfed in flames and armed protesters stormed another government building.
Demonstrations in the central Asian country turned violent on Wednesday amid anger at a rise in fuel prices.
Almaty airport was seized earlier in the day and a state of emergency declared following the worst unrest for more than a decade. The White House has said it is monitoring the unrest.
The protests began on Sunday in Zhanaozen, a city in the west, spreading across the country and on Tuesday large demonstrations broke out in the capital, Nur-Sultan.
Although they started over a near-doubling of prices for a type of liquefied gas that is widely used as vehicle fuel, the size and rapid spread of the unrest suggest they reflect wider discontent in the country that has been under the rule of the same party since independence from the Soviet Union in 1991. 
1641399807
Hello and welcome to The Independent's rolling coverage of the continuing unrest in Kazakhstan triggered by anger at rising fuel prices and wider resentment at the country's government.
Tom Batchelor
5 January 2022 16:23
1641400122
Presidential residence in Kazakhstan's largest city 'engulfed in flames'
Protests in Kazakhstan began on 2 January and have since boiled over into violence across the country.
Here is the Associated Press report:
The presidential residence in Kazakhstan's largest city has been engulfed in flames and armed protesters have stormed another government building, according to news reports, as demonstrations sparked by a rise in fuel prices escalated sharply.
In response to the protests, the government resigned and the president vowed to take harsh measures to quell the unrest. Late in the day on Wednesday, Kazakh news sites became inaccessible, and the global watchdog organisation NetBlocks said the country was experiencing a pervasive internet blackout.
But Russia's Tass news agency reported from Kazakhstan that the presidential residence in Almaty, where thousands of demonstrators had gathered outside, was on fire and that the city's main administration building, which includes the mayor's office, was burning from top to bottom hours after demonstrators broke in.
Many of the demonstrators who converged on the mayoral office carried clubs and shields, according to earlier reports in Kazakh media.
Tom Batchelor
5 January 2022 16:28
1641400485
State of emergency declared as president vows to act with 'maximum severity'
Kazakhstan has declared states of emergency in the capital, the main city and provinces.
In a televised statement to the nation on Wednesday, President Kassym-Jomart Tokayev said that "we intend to act with maximum severity regarding law-breakers".
Police have tried to turn back demonstrators with water cannon, tear gas and concussion grenades.
Mr Tokayev said police had been killed in clashes with demonstrators, but there were no immediate casualty figures for police or civilians. 
In the statement, he also promised to make political reforms and announced that he was assuming the leadership of the national security council.
Tom Batchelor
5 January 2022 16:34
1641400824
Almaty airport seized and flights suspended
Protesters seized control of the airport of Kazakhstan's biggest city Almaty on Wednesday, a source familiar with the matter told Reuters.
All flights to and from Almaty are temporary cancelled, the source said.
Reports said at least 45 people were at the airport and that staff had left as the site was taken over by protesters.
Tom Batchelor
5 January 2022 16:40
1641401210
Full story: Kazakhstan unrest over fuel price rise
Here is my colleague Rory O'Sullivan with the full, developing story on Kazakhstan's rapid descent towards unrest.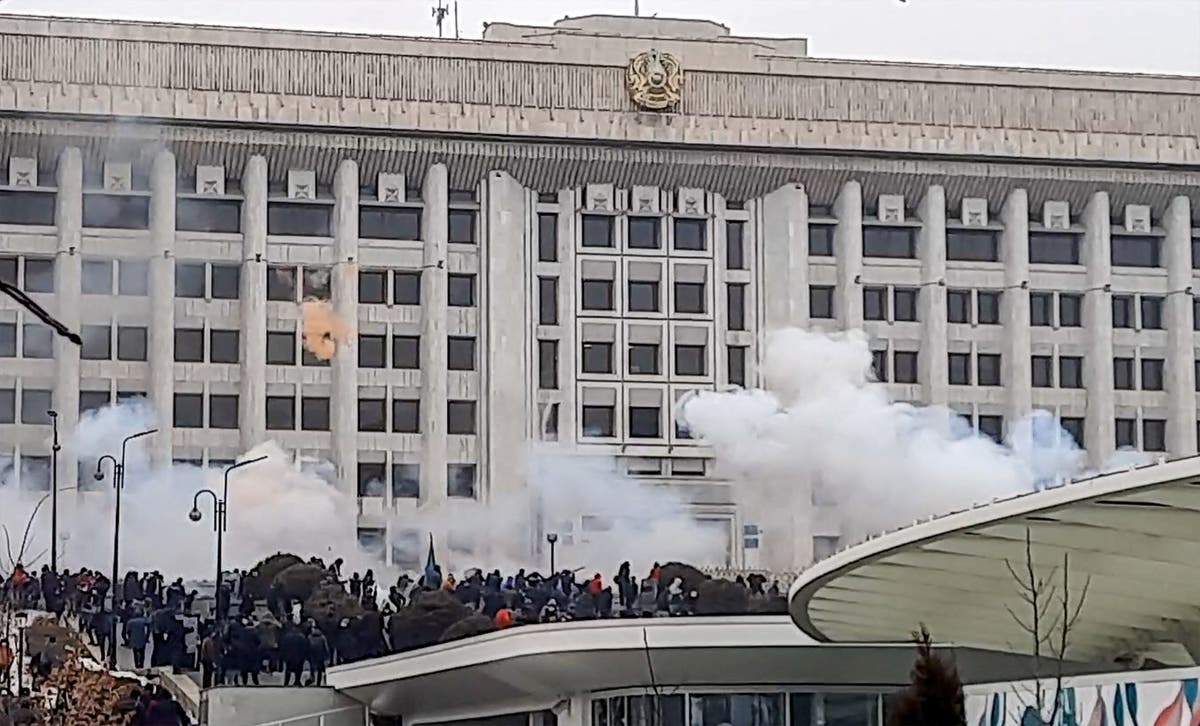 State of emergency declared as unrest continues for a fourth day in the central Asian nation
Tom Batchelor
5 January 2022 16:46
1641401570
Jazeera Airways becomes first to cancel flights to Almaty
Kuwaiti budget carrier Jazeera Airways on Wednesday suspended flights to Kazakhstan's biggest city Almaty as violent protests against the government there continued across the country.
"We will provide an update on our operations when we have further information," an airline spokesperson said by email.
The Gulf carrier typically operates weekly flights to Almaty, its only destination in the Central Asian country.
Lufthansa, Qatar Airways and flydubai, which operate regular flights to Kazakhstan, separately said they were monitoring events in the country.
Tracking app FlightRadar24 showed there were no airborne aircraft en route to or from Almaty airport on Wednesday afternoon (close to midnight local time).
Tom Batchelor
5 January 2022 16:52
1641402922
Powerful ex-leader Nazarbayev is main target of Kazakhs' anger
Nursultan Nazarbayev, stripped on Wednesday of his role as head of Kazakhstan's powerful Security Council amid violent street protests, has dominated his vast oil-producing Central Asian nation since before the breakup of the Soviet Union in 1991, Reuters reports.
Some protesters have chanted slogans against the 81-year-old former president during days of unrest triggered by a fuel price rise that on Wednesday brought the Cabinet's resignation.
Despite quitting the presidency in 2019 and bequeathing power to a hand-picked successor, Mr Nazarbayev remained the real power in the land.
President Kassym-Jomart Tokayev announced in a televised address on Wednesday that he would now head the State Security Committee but made no mention of Mr Nazarbayev, who has not been seen or heard from for days.
Mr Nazarbayev ruled Kazakhstan with an iron hand for nearly three decades, attracting hundreds of billions of dollars of foreign investment in the energy and metal sectors and skilfully balancing ties with powerful neighbours Russia and China.
But the former steelworker brooked no dissent and drew criticism from Western countries and human rights groups who accused him of rolling back post-Soviet democratic freedoms. His family is believed to control much of the Kazakh economy.
Tom Batchelor
5 January 2022 17:15
1641403385
Kazakhstan unrest in photos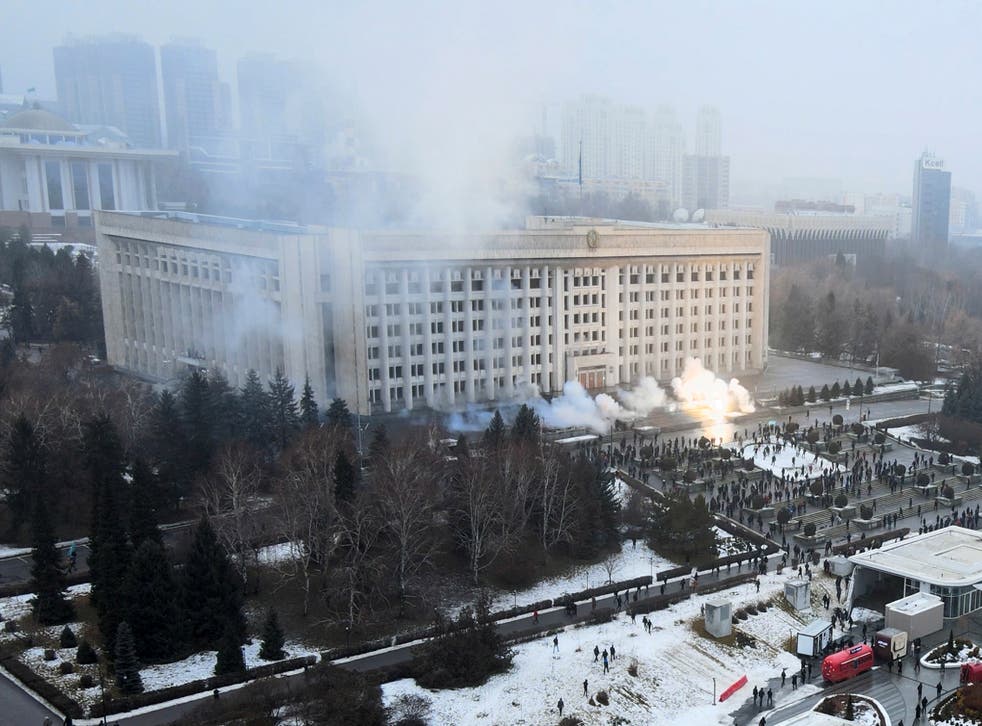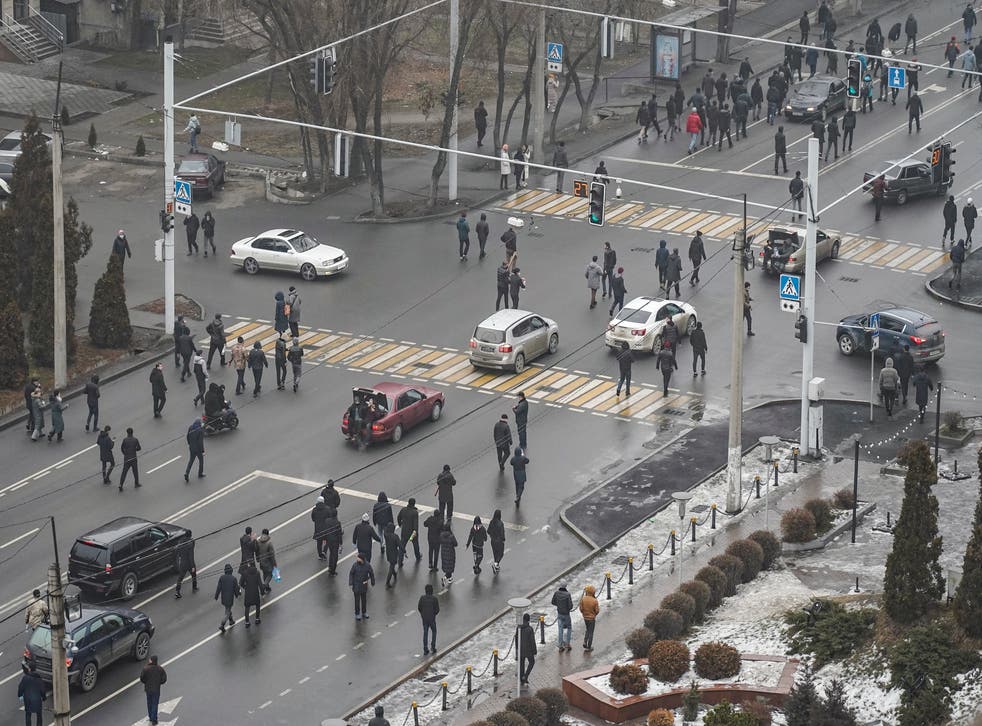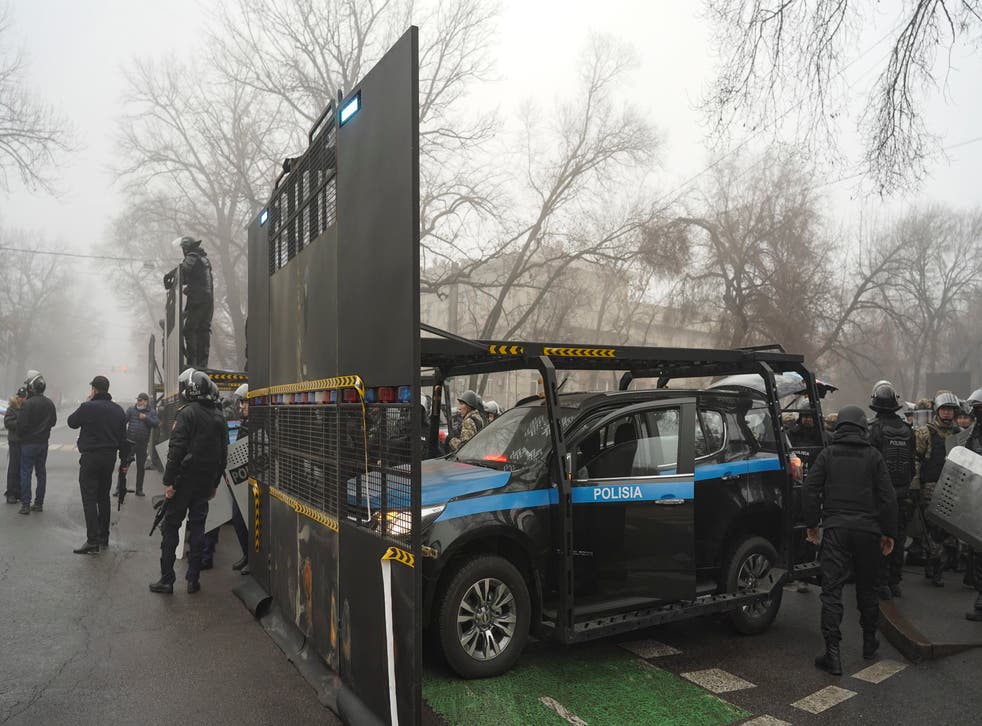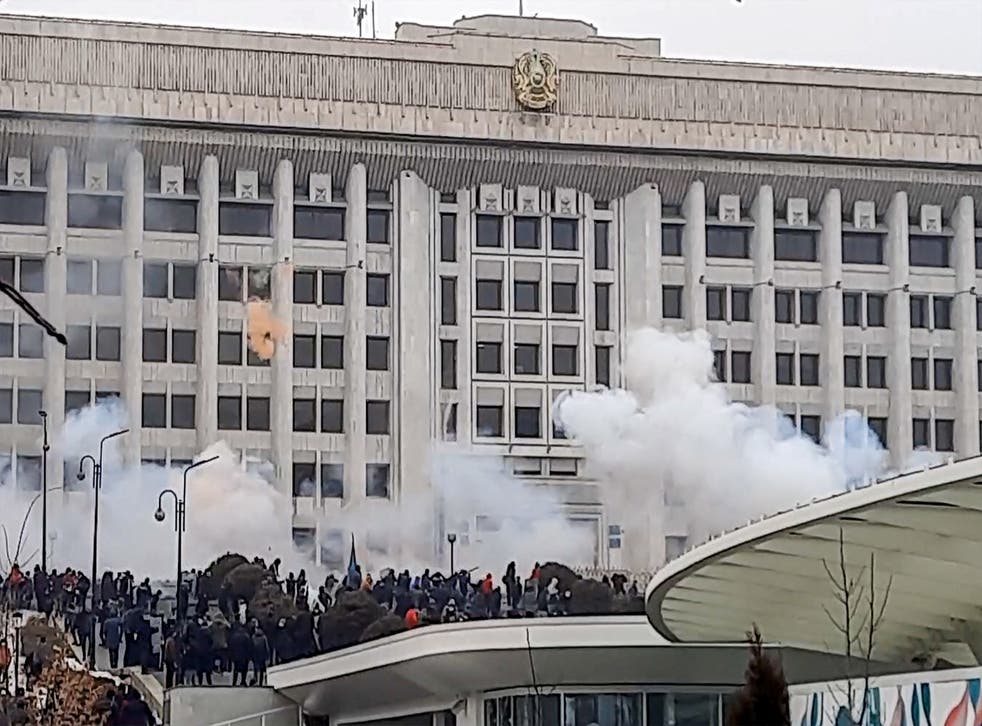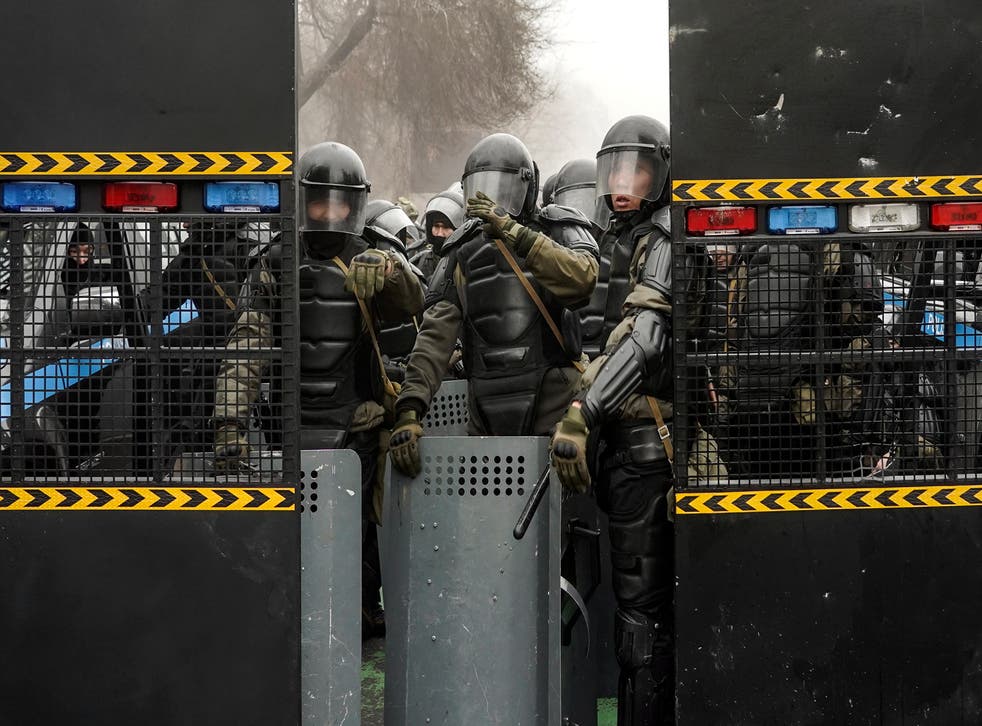 Tom Batchelor
5 January 2022 17:23
1641404554
Putin discusses unrest with Kazakh and Belarusian presidents
Vladimir Putin has discussed the unrest in Kazakhstan with the country's president, Kassym-Jomart Tokayev.
The Russian president has also spoken with Belarus President Alexander Lukashenko about the situation the Belarusian news agency Belta said.
Belarus is separated from Kazakhstan by more than 1,00km of Russian territory.
Tom Batchelor
5 January 2022 17:42
1641405147
White House monitoring unrest as US urges calm
The White House has urged calm and restraint in reaction to protests in Kazakhstan, which it said officials were monitoring.
White House press secretary Jen Psaki also said Russian accusations that the United States had instigated the unrest was "absolutely false".
Tom Batchelor
5 January 2022 17:52