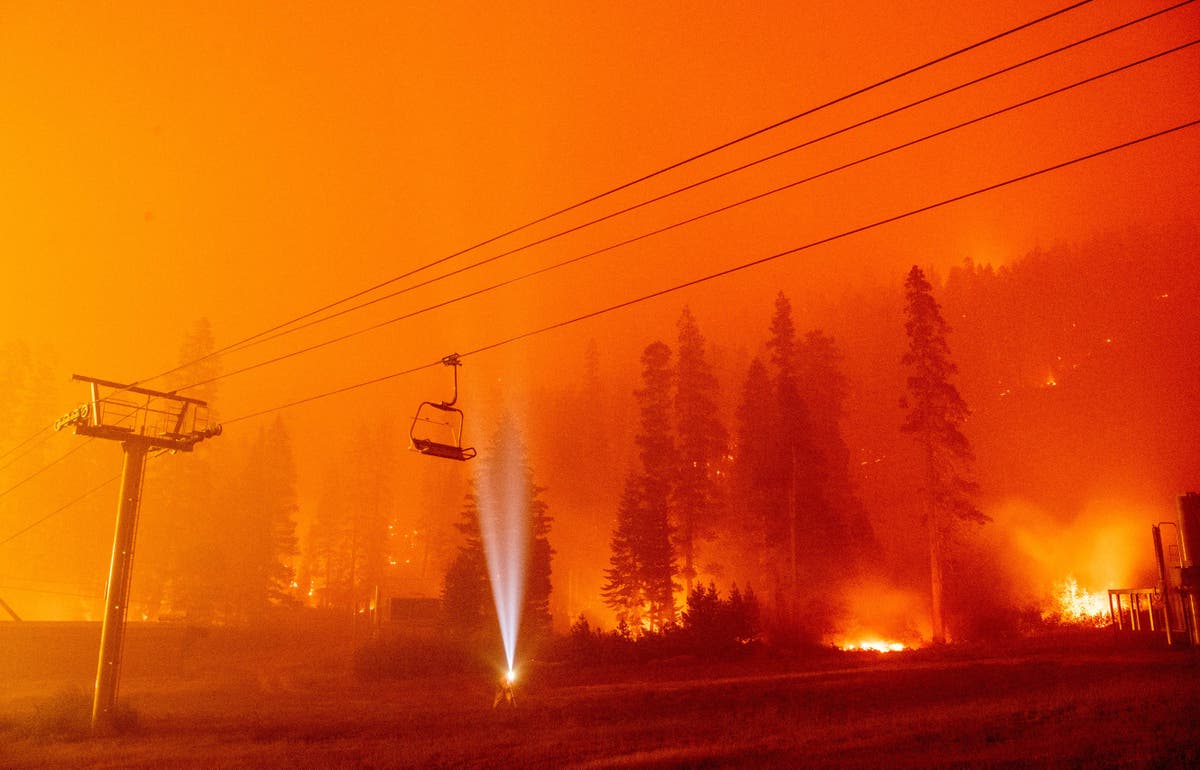 The Caldor Fire has consumed 270 square miles in northern California
The governors of California and Nevada have declared a state of emergency over the Caldor Fire as reports emerged of fire crews using chair lifts in Lake Tahoe's ski resort to survey the raging blaze.
The fire has consumed 270 square miles since it ignited two weeks ago near Omo Ranch in El Dorado County, east of Sacramento, and is just 15 per cent contained.
The Caldor Fire is one of 13 active wildfires in California, according to the National Interagency Fire Center. So far this year, 6,913 fires have burned through 1.76 million acres of land in the state.
The state, and others in the US West, are suffering an unprecedented fire season driven by high-temperatures and historic drought linked to the climate crisis.
The counties of Alpine, Amador, and Placer surrounding Lake Tahoe, a popular tourist destination, were placed under the emergency declaration on Monday. The declaration frees up resources from local, state, and federal levels to help with needs during the fire.
According to the San Francisco Gate, fire crews are using chair lifts meant for skiers to help in fighting fires in the resort town of South Lake Tahoe.
Some 53,000 residents in South Lake and surrounding El Dorado county were placed under a mandatory evacuation order on Monday.
"It is imperative that residents in the impacted areas stay safe and prepare to evacuate immediately if called for by local authorities," Governor Gavin Newsom said in a statement.
Along with residents, inmates of the South Lake Tahoe Jail were evacuated from the area and Barton Memorial Hospital patients.
In neighboring Nevada, Governor Steve Sisolak made the declaration in anticipation that the wildfire will jump the state line.
The Caldor Fire has destroyed 664 structures and left five people have been injured, the state fire agency Cal Fire reported.
Around 65 miles away, the Dixie fire has burned through 777,741 acres in the past month to become the second-largest wildfire in California history.
Due to the major fires dotted across the state, the US Forest Service has closed national forests in California to prevent tourists from visiting ahead of the Labor Day weekend.
"We do not take this decision lightly but this is the best choice for public safety," Jennifer Eberlien, regional forester, said in a statement.
The climate crisis is driving hotter temperatures and a mega-drought in California, making fire seasons longer and more severe.
On top of the drought, 30mph winds are expected in the Lake Tahoe area Tuesday and Wednesday afternoon, according to the National Weather Service.