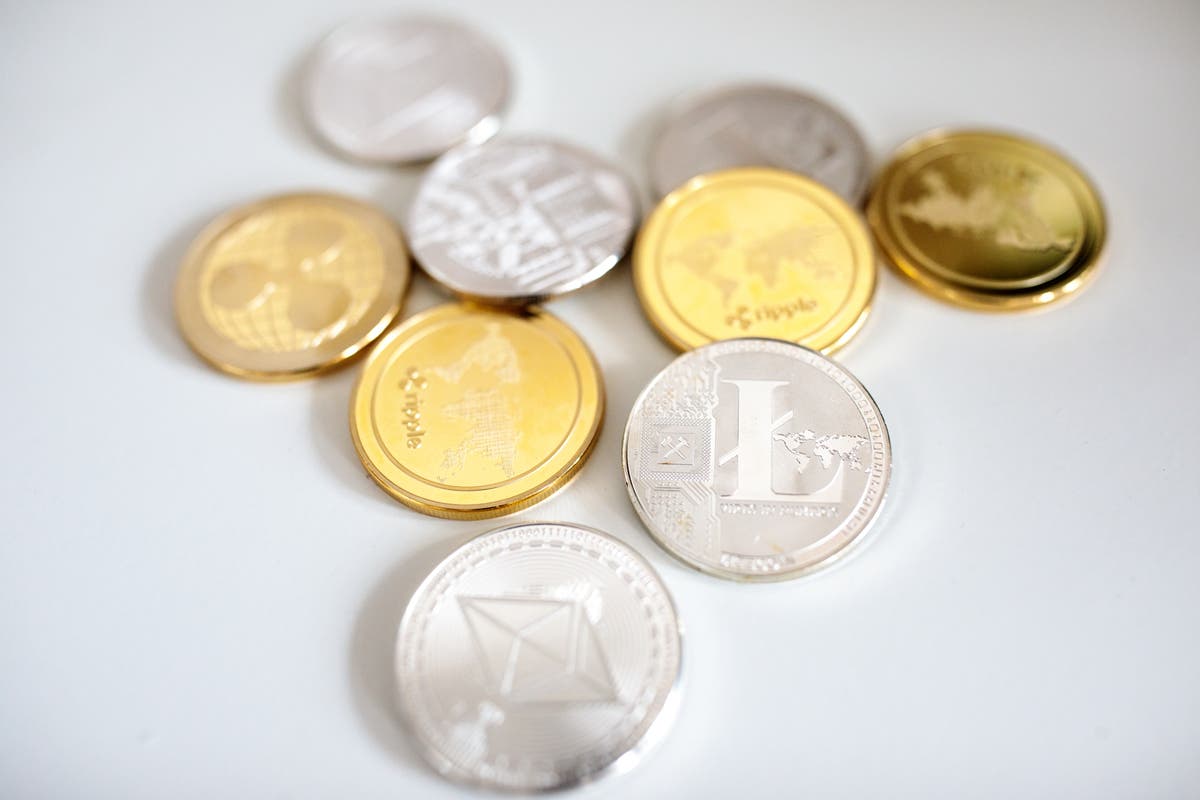 Bitcoin and the rest of the cryptocurrency market are continuing to swing after a good – and then bad – week.
Bitcoin and the rest of the cryptocurrency market are continuing to swing after a good – and then bad – week.
The value of digital currencies was sent soaring last week, amid reports that Amazon was planning to introduce bitcoin payments to its store. First a job ad showed that it was hiring crypto experts, and then another report said that the company was planning to support the technology before the end of the year.
But it has since made clear that those reports were overstated and that, while it is interested in cryptocurrency, support for the technology is not likely this year.
The price has settled around both $30,000 and $40,000 in recent days, as the market continued to vacillate up and down.
The fluctuations in price also came after figures including Elon Musk continued to help push the technology and its value.
He has recently reiterated that Tesla does one day plan to take bitcoin for its cars again – and research shows that his criteria for introducing it could soon be met.
1628255078
YouTuber KSI says Bitcoin is the future
Andrew Griffin
6 August 2021 14:04
1628241958
Google fails to act against bitcoin scams, campaigners say
Google has been accused of failing to act for months against cryptocurrency scams using fake articles purporting to be published by a national newspaper.
Campaigners said the search giant had not stopped fraudsters from advertising non-existent investments in bitcoin and other cryptocurrencies, despite repeated warnings about the scams.
One advert, which showed up at the top of the page when users search Google for investment-related queries, links to a fake Daily Mirror article, claiming to be an interview with Britain's youngest millionaire detailing how he made his fortune.
Andrew Griffin
6 August 2021 10:25
1628241922
Crypto market makes dramatic comeback
After many days of trading that has been both bland volatile, the crypto market seems to be making a decisive comeback. It is up almost 5 per cent toda, and bitcoin and ethereum are both up even more, having gained about 6.8 per cent each.
Andrew Griffin
6 August 2021 10:25
1628173372
ETH rises in wake of upgrade
Most coins are flat or down today, and bitcoin has dropped 1.7 per cent. But ether is doing very well after it's new upgrade: it's up 6.2 per cent today, meaning that it's gain almost 21 per cent over the week.
(Those gains are helping to keep the overall market up – the global crypto market cap is up 1.12 per cent over the last day, according to CoinMarketCap.)
Andrew Griffin
5 August 2021 15:22
1628173298
Ethereum's 'London' upgrade goes live
Ethereum's 'London' upgrade is live. It's nothing to do with the city and everything to do with the way transaction fees are worked out.
It's not only a major change for the blockchain, but could affect the price of the cryptocurrency as well.
Andrew Griffin
5 August 2021 15:21
1628151986
Crypto market recovers – and ethereum surges ahead
Things are looking up again today, for once. They're looking especially good in ETH, which has done very well this morning and very well over the week: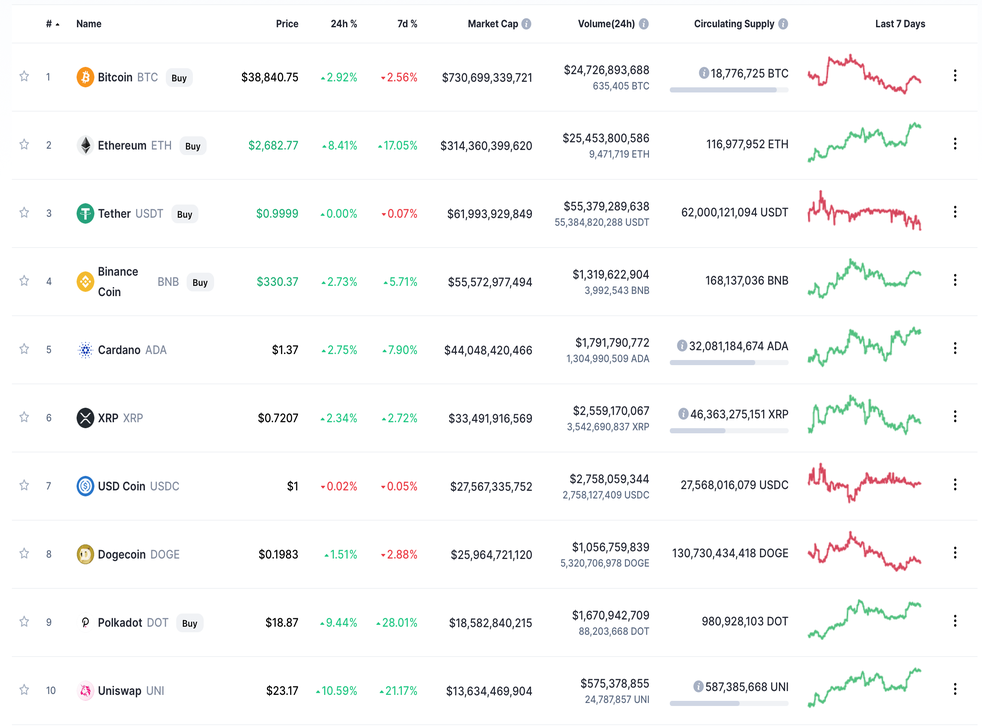 Andrew Griffin
5 August 2021 09:26
1628063525
Securities and Exchange Commission says crypto investors need better protection
Gary Gensler, the chairman of the Securities and Exchange Commission, has said investors need more protection in the cryptocurrency market, which he said is "rife with fraud, scams and abuse."
Andrew Griffin
4 August 2021 08:52
1628063479
Another middling-to-bad day in the crypto makret
It's not very dramatic out there this morning, but what movement there is is mostly downwards. Bitcoin is down almost 2 per cent, the market as a whole is down 1.2 per cent, and only one of the major coins – Cardano, or Ada – is up today.
Andrew Griffin
4 August 2021 08:51
1628001205
Difficult day for crypto
Everything is down, as this graph from CoinMarketCap shows.
But it is testament to the unusual week we've had that – despite poor performance today, and many other days this week – the price of bitcoin is still up significantly higher than it was seven days ago.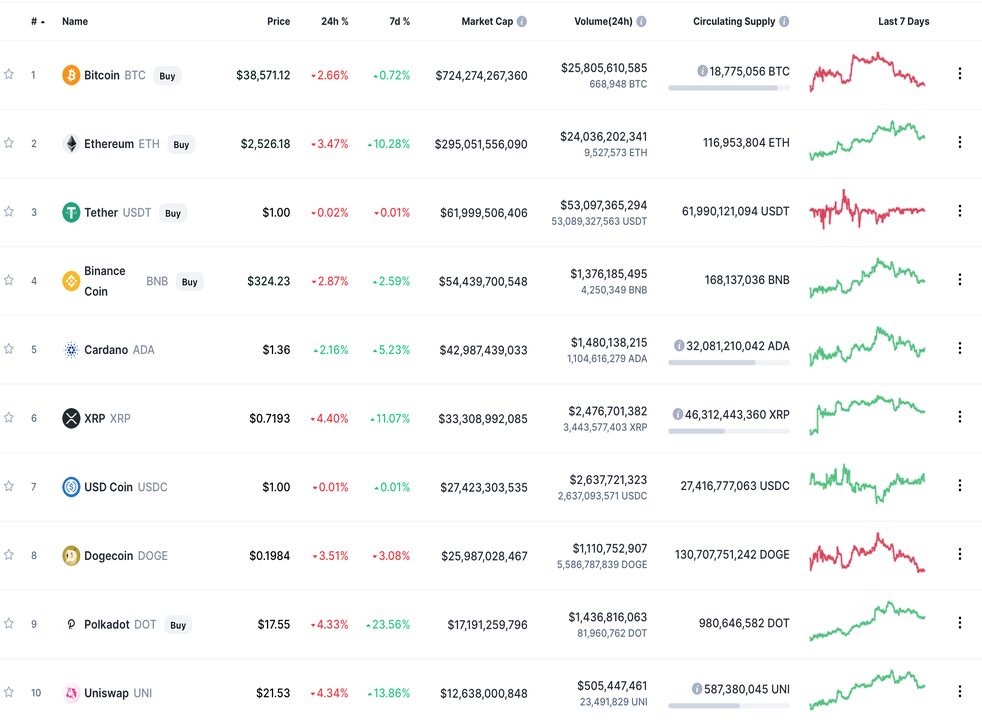 Andrew Griffin
3 August 2021 15:33
1627999420
Hello and welcome
… to The Independent's live coverage of the cryptocurrency market.
Andrew Griffin
3 August 2021 15:03