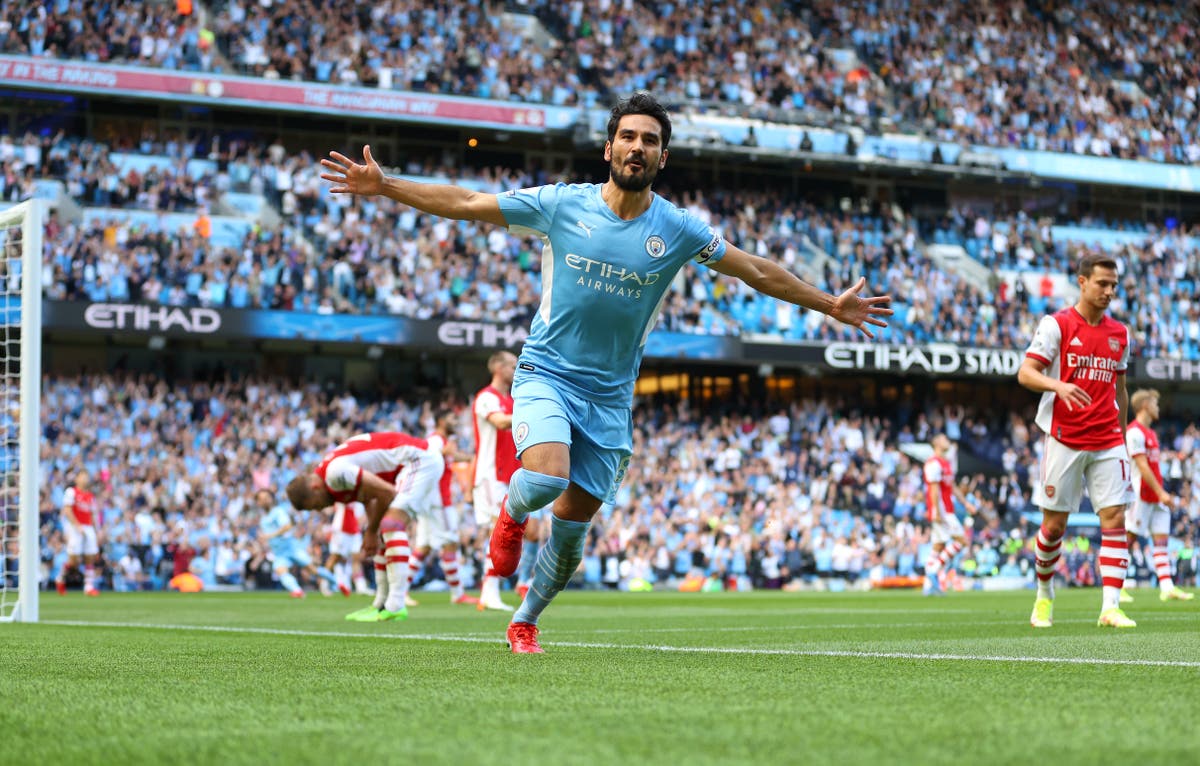 Follow all the action live from the Etihad Stadium as the champions look to pile on more pressure on Mikel Arteta's Gunners
Guardiola: We won't let our guard down against Arsenal
Follow live coverage as Manchester City host Arsenal at the Etihad Stadium in the lunchtime kick-off in the Premier League.
Pep Guardiola's side ignited their title defence with a 5-0 win over Norwich last weekend, and the Cityzens will hope to pick up three more points against the Gunners, who appear disjointed and vulnerable after being outclassed by Chelsea last weekend.
There was encouragement for Mikel Arteta midweek with Pierre-Emerick Aubameyang's return to help thrash Championship side West Brom in the Carabao Cup, though the Spaniard remains under pressure given the potential to start the Premier League season with three successive losses and the need to break their duck after Brentford and the Blues shut them out.
City walked away from the chance to sign Cristiano Ronaldo from Juventus, with the Portuguese superstar agreeing to rejoin Manchester United, leaving Guardiola upset at the club's failure to prize Harry Kane away from Tottenham, while they discovered their Champions League group this season will include Lionel Messi and Paris Saint-Germain.
It should be an entertaining game with Arsenal in desperate need of at least a performance and Guardiola eager to showcase a solution to the club's inability to sign a striker to replace Sergio Aguero. Follow all the action live below from the Etihad here:
1630152627
Man City 2 – 0 Arsenal
39 mins: The resultant VAR check does nothing to redeem Xhaka who protests his innocence to no avail. It's a red card tackle and he has to leave the field. Silly from the Arsenal man. His side are deep in the mire now.
Michael Jones
28 August 2021 13:10
1630152533
RED CARD! Xhaka is off!
36 mins: Things are going from bad to worse for Arsenal! The ball comes to Cancelo on the left wing again but this time Granit Xhaka has had enough. He jumps into a challenge with two feet. He gets a glancing touch on Cancelo as he wins the ball but Martin Atkinson had a good view of the tackle and pulls out a red card!
Michael Jones
28 August 2021 13:08
1630152411
Man City 2 – 0 Arsenal
33 mins: Cancelo is seeing a fair bit of joy on the left side. He weaves into the box, nutmegs Cedric Soares and then fires a shot into the side-netting. Lovely skill.
Michael Jones
28 August 2021 13:06
1630152033
Man City 2 – 0 Arsenal
30 mins: Kolasinac joins Cedric in the book. He tussles with Jesus on the Arsenal left as both men try to win a bouncing ball. Kolasinac gets up to the ball first but a stray elbow comes across Jesus' face and the Arsenal defender is penalised.
Michael Jones
28 August 2021 13:00
1630151938
Man City 2 – 0 Arsenal
27 mins: Save! Pep Guardiola isn't happy at all that Ederson is repeatedly being put under pressure on the ball. The Man City goalkeeper gives the ball away with a wayward pass to Odegaard, I think. He sends it quickly into Granit Xhaka on the edge of the box. Xhaka shoots on the turn and forces Ederson into low save before the offside flag goes up against Xhaka.
Michael Jones
28 August 2021 12:58
1630151790
Man City 2 – 0 Arsenal
24 mins: Yellow card for Cedric! Grealish goes on one of his typical runs through the inside left channel. Cedric is forced to back track as Grealish glides past him. He grabs the Man City midfielder and yanks him back. It's an easy decision for referee Martin Atkinson.
Michael Jones
28 August 2021 12:56
1630151672
Man City 2 – 0 Arsenal
21 mins: Kolasinac stops Cancelo as he brings the ball into the box. He clears the danger with a pass out to Saka who is pressed by Jack Grealish. Grealish sticks in a leg and clips Saka's ankle knocking him to ground and giving away a free kick.
Michael Jones
28 August 2021 12:54
1630151514
Man City 2 – 0 Arsenal
18 mins: How do Arsenal respond to this? Manchester City haven't left second gear yet and they're two goals up. Arsenal's defence for both of those goals was shockingly bad. Mikel Arteta needs to come up with something or else his job may be on the line.
What a chance! City look it total control as they knock the ball around the defence. It comes back to Ederson who takes too long on the ball. He's caught by Emile Smith Rowe who blocks Ederson's attempted pass and the ricochet almost finishes in the back of the net but goes agonisingly wide of the far post.
Michael Jones
28 August 2021 12:51
1630151430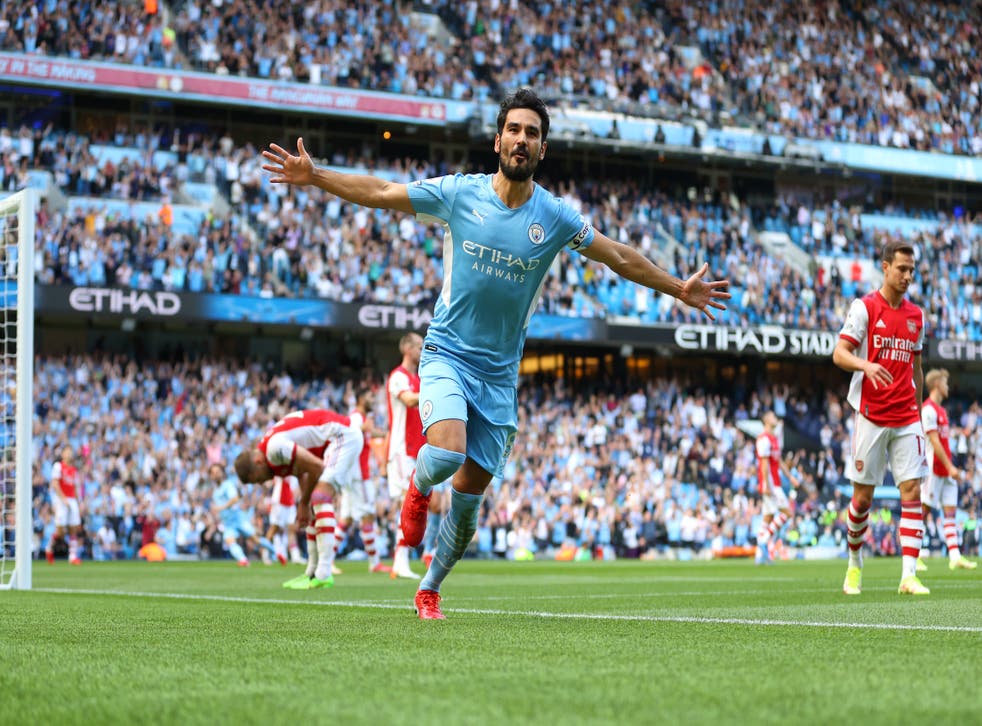 Jack Rathborn
28 August 2021 12:50
1630151273
Man City 2 – 0 Arsenal
15 mins: There was a VAR check for a potential foul in the box. Calum Chambers went down after a tussle with Aymeric Laporte. VAR was looking at potential violent conduct but there's nothing in it and the goal stands.
Michael Jones
28 August 2021 12:47