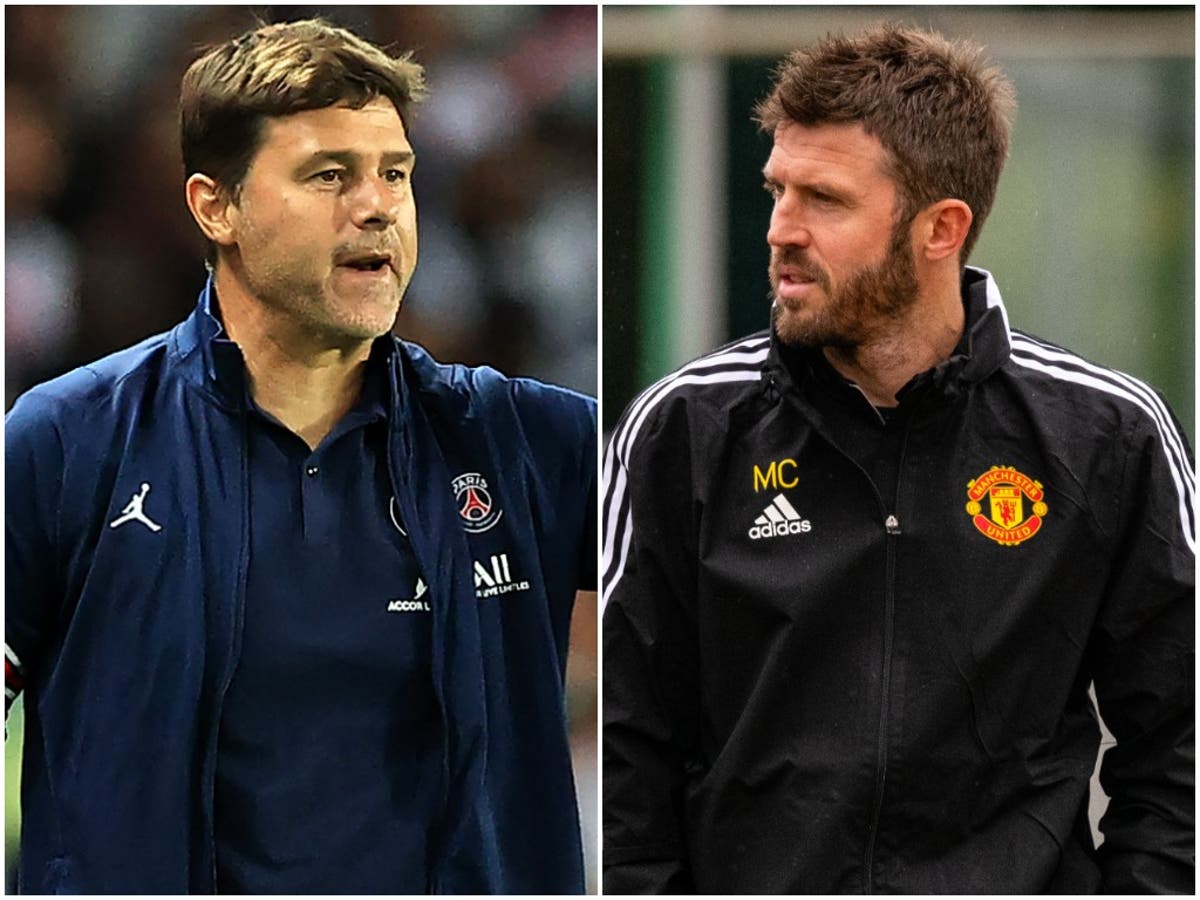 Michael Carrick guided the Red Devils to victory in Spain over Villarreal as interim manager, securing a place in the last 16 of the Champions League
Carrick takes training as Utd prepare for Villarreal in UCL
Manchester United won their first match of the post-Ole Gunnar Solskjaer era on Tuesday night as Cristiano Ronaldo and Jadon Sancho scored in a 2-0 victory at Villarreal.
Michael Carrick made a few tweaks to the starting line-up but saw his side frustrated for the first hour, with David de Gea making a vital save. However, the introduction of Bruno Fernandes and Marcus Rashford from the bench sparked United into life and the victory ensured they will advance to the knockout stages.
Meanwhile, in the background, United's manager search rumbles on. Mauricio Pochettino is reported to be at the head of that queue though, with The Independent learning that the former Tottenham and Southampton boss is keen to take over at Old Trafford – and could even do so mid-season.
If it can't happen until summer and United follow the interim boss route until then as they announced, Ernesto Valverde is one of the leading candidates for the post.
Follow all the latest updates and reaction from El Madrigal, plus United's search for both an interim boss and a long-term solution:
1637756510
Michael Carrick: Jadon Sancho goal shows Manchester United DNA
"The intercepting for the second goal is what we've got in the team," Carrick said on Jadon Sancho's goal. "To be able to hit teams on the break and to have those little moments has always been in the DNA of this club and that's still within the players we have got.
"I'm delighted with both goals, I'm not going to take any credit for that, it's not about my ideas that one, it's about the lads working hard together and pulling it off. The efforts, endeavours and application tonight, when they put that together, we're a good team."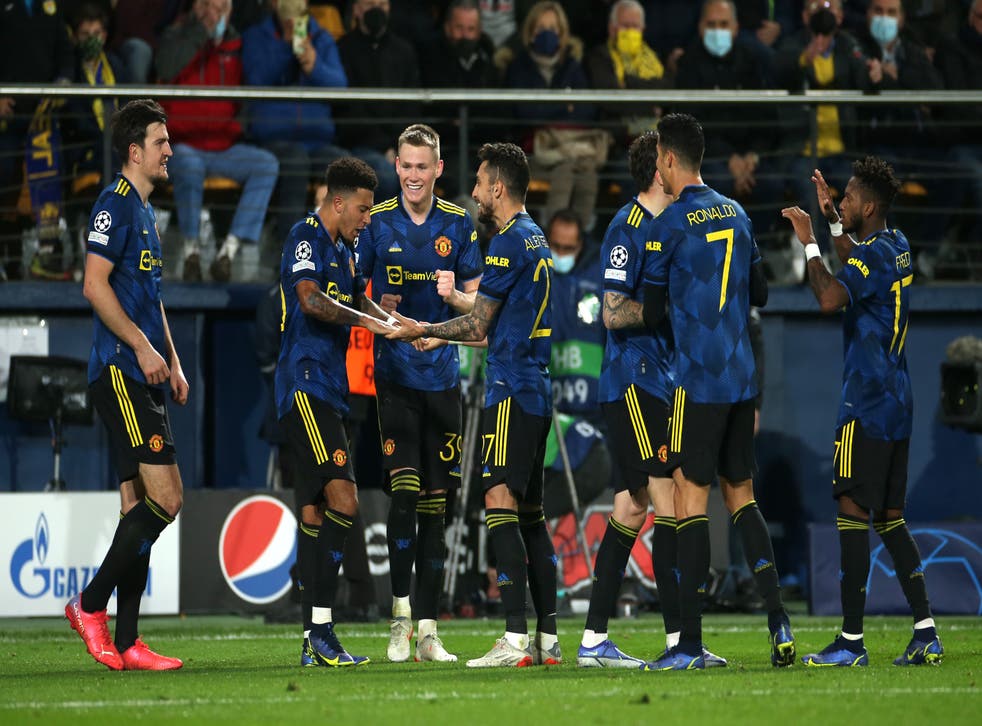 Jack Rathborn
24 November 2021 12:21
1637755850
Michael Carrick impressed with Manchester United's press
"Yeah of course it did impress me, the pressing one," Michael Carrick said of the Cristiano Ronaldo goal. "If you look back over time, we have pressed as a team, especially on goal kicks and when the goalkeeper got the ball, we do try to press.
"Sometimes, it hasn't worked and we haven't been good enough to do it, but certainly the intention is to do that. When we have changed our approach and, certainly over the last few years, we have tried to implement that the best we can.
"Fred is one of the best around at doing it and I thought he played a massive part in the first goal. Cristiano finishes it off but Fred has done terrific."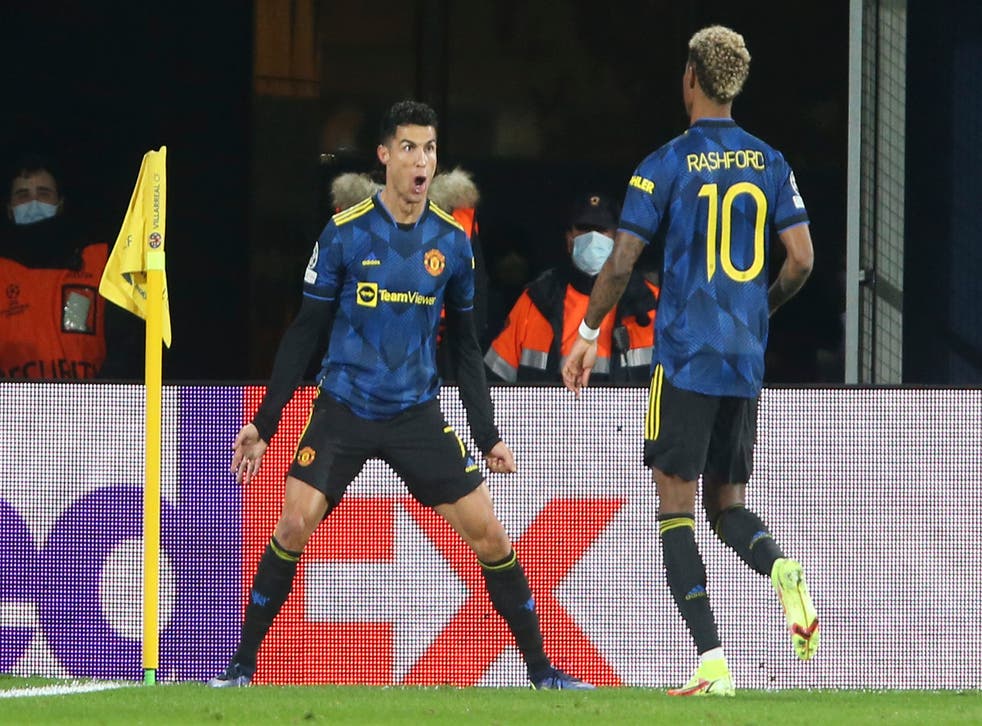 Jack Rathborn
24 November 2021 12:10
1637755370
Villarreal vs Manchester United: Bruno Fernandes enhances European numbers
Bruno Fernandes was dropped at Villarreal, but the Portuguese made an impact off the bench, assisting Jadon Sancho for the second goal in the 2-0 win.
It is now 25 appearances in Europe in a Manchester United shirt with 12 assists and 12 goals.
Jack Rathborn
24 November 2021 12:02
1637754770
Next Manchester United manager: Steve Bruce backed by Peter Schmeichel
"You have to take small steps, you can't just jump straight in and say we are going to play a pressing game," Peter Schmeichel said.
"You can't do that, the first thing you have to do is give confidence to everybody in the team.
"I just like the idea, if it is an interim, get somebody who knows the club.
"Get somebody who is known by the club as well.
"Get somebody like Steve Bruce, that would be fantastic."
Jack Rathborn
24 November 2021 11:52
1637754290
Jadon Sancho praised by Owen Hargreaves after debut Manchester United goal
"The thing I like about this is Jadon's [Sancho] effort to get up and join. Bruno [Fernandes] come on and had a big impact on the game, his quality in these areas," Owen Hargreaves
"But I love the fact, Jadon's getting into an area. That was the Jadon Sancho we saw at Borussia Dortmund, that's why they paid that money to make the difference and it was great to see Jadon play in that position, get a bit of confidence to go into the game against Chelsea at the weekend."
Jack Rathborn
24 November 2021 11:44
1637753810
Jamie Carragher jokes that Michael Carrick deserves Manchester United contract
Jamie Carragher has mocked Manchester United by insisting Michael Carrick should be handed a contract.
Carrick guided the Red Devils to a 2-0 win over Villarreal, securing a last 16 place in the Champions League.
Jack Rathborn
24 November 2021 11:36
1637753330
Harry Redknapp claims 'you can't turn Manchester United down'
"Pochettino I'm sure would love the job," Harry Redknapp told Sky Sports.
"But you know, Poch had five good years at Tottenham and he didn't win a trophy either as good as he was.
"But I'm sure it's like every one, I'm sure that it would be a job that anybody would jump at, to manage Man United, one of, the biggest clubs in the world and there'll be plenty of people who love that job for sure."
Jack Rathborn
24 November 2021 11:28
1637752910
Next Manchester United manager: Luke Shaw opens up on Mauricio Pochettino experience
"He used to call me his son," Shaw said in Guillem Ballugue's book Brave New World: Inside Pochettino's Spurs.
"That's how good our relationship was. I've had lots of ups and downs, but when I was with Pochettino it was only ever up, up, up.
"He made me feel that I was the best. He'd show me clips of my games and say, 'You could do this better'. Not in a horrible way. Not I could have done better, but I should have done better, because he knows I can be better.
"I think with Southampton he achieved the impossible. We were one of the best footballing teams in the league… I do hope that I can play for him again one day. And I think he really wants me to play under him again."
Jack Rathborn
24 November 2021 11:21
1637752447
Rudi Garcia emerges as interim Manchester United manager option
Rudi Garcia is reportedly an option to become the Manchester United interim manager, report The National.
The 57-year-old is said to have already interviewed for the role before the 2-0 Champions League win over Villarreal.
The reort claims that Garcia spoke to United's football director John Murtough and technical director Darren Fletcher.
Garcia most recently guided Lyon to the Champions League semi-finals in 2020, including a memorable quarter-final win over Manchester City, only to fall short to Bayern Munich in the semi-finals.
Jack Rathborn
24 November 2021 11:14
1637745508
Michael Carrick: 'Manchester United win is for Ole'
"It's not been an easy couple of days for anyone at the club and that result almost feels like it's for Ole," Carrick said after 2-0 win.
"We had a job to do and things needed to be taken care of. I was happy to do it and thankfully it all went to plan.
"When you've suffered results-wise and aren't in good form, individually and as a team, it's not easy to come out and let everything click. We had to show some character and fight."
Jack Rathborn
24 November 2021 09:18