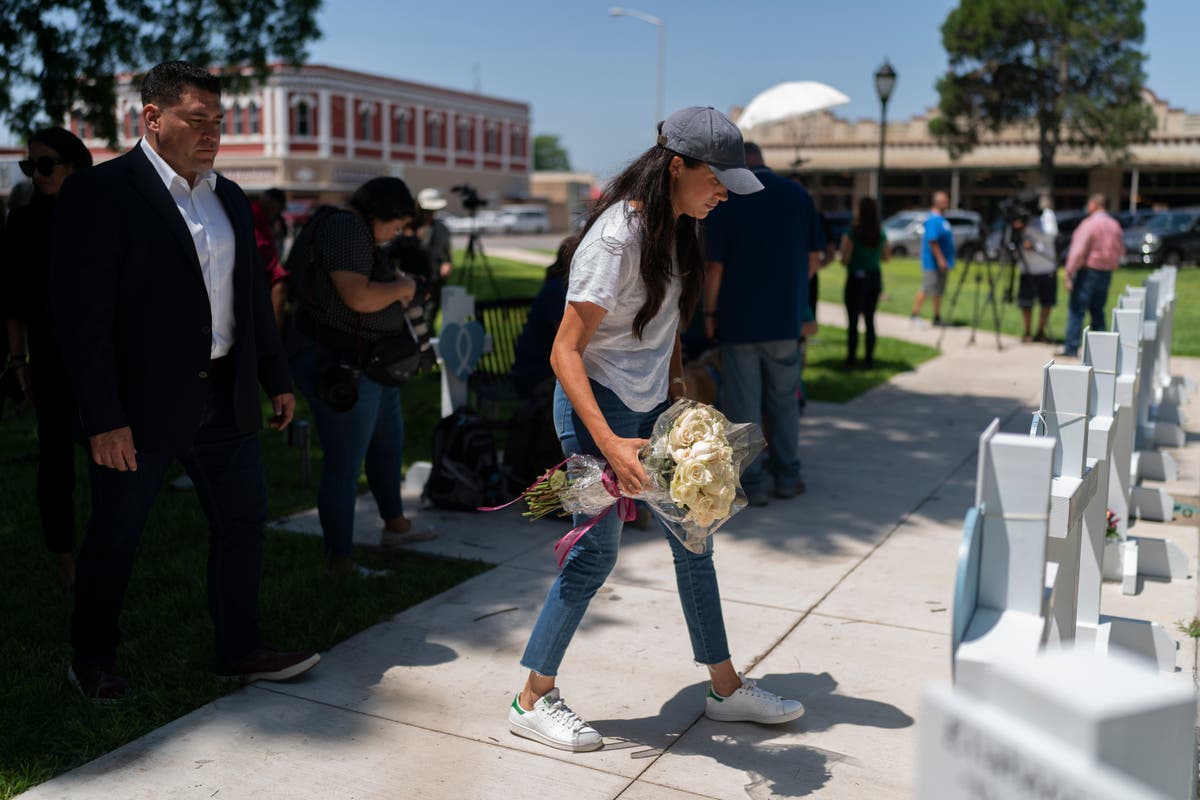 Meghan Markle put flowers on cross marking victim Uziyah Garcia
Meghan Markle made a surprise visit to Uvalde, Texas, on Thursday, to honour the 21 victims of Tuesday's mass shooting at an elementary school.
She was pictured laying a bundle of flowers with a purple ribbon at a memorial outside the Uvalde County Courthouse.
She knelt next to a cross marking the death of 10-year-old victim Uziyah Garcia, one of 19 students killed in the massacre.
The Duchess of Sussex made the trip in a personal capacity as a mother to offer her condolences, a spokesperson told People.
In addition to visiting the memorial, Ms Markle stopped by a community centre that's hosting a blood drive, where residents have lined up for days to offer blood to strained hospital authorities in the wake of the shooting, which killed 21 and injured at least 17 more people.
"I had no idea who she was. She just was carrying on a conversation like her and I knew each other for years," community volunteer Gloria Contreras, 40, told BuzzFeed News. "We were just talking about, you know, the situation and what happened what we were doing here. I told her about us giving out water to the people and feeding them."
"I even talked about my personal life, telling her about my son and my family and, you know, coming to Texas because she told me she was from Santa Barbara and I said, 'Well, you need to come to Texas!'" she continued. "We were talking about Texas and Uvalde and how it is to be in a small town and how everybody is so kind and warm-hearted and know we know each other and stuff and how the faith is deep-rooted."
It's not the first time the Duchess has reached out to victims of a horrific shooting.
In 2019, she and Prince Harry left flowers outside New Zealand House in Londong after terrorist attacks against mosques in Christchurch killed 50 people.
"Our deepest condolences. We are with you," she reportedly wrote on a note with the flowers. Harry signed onto the message with "Arohanui," Maori for "best wishes."