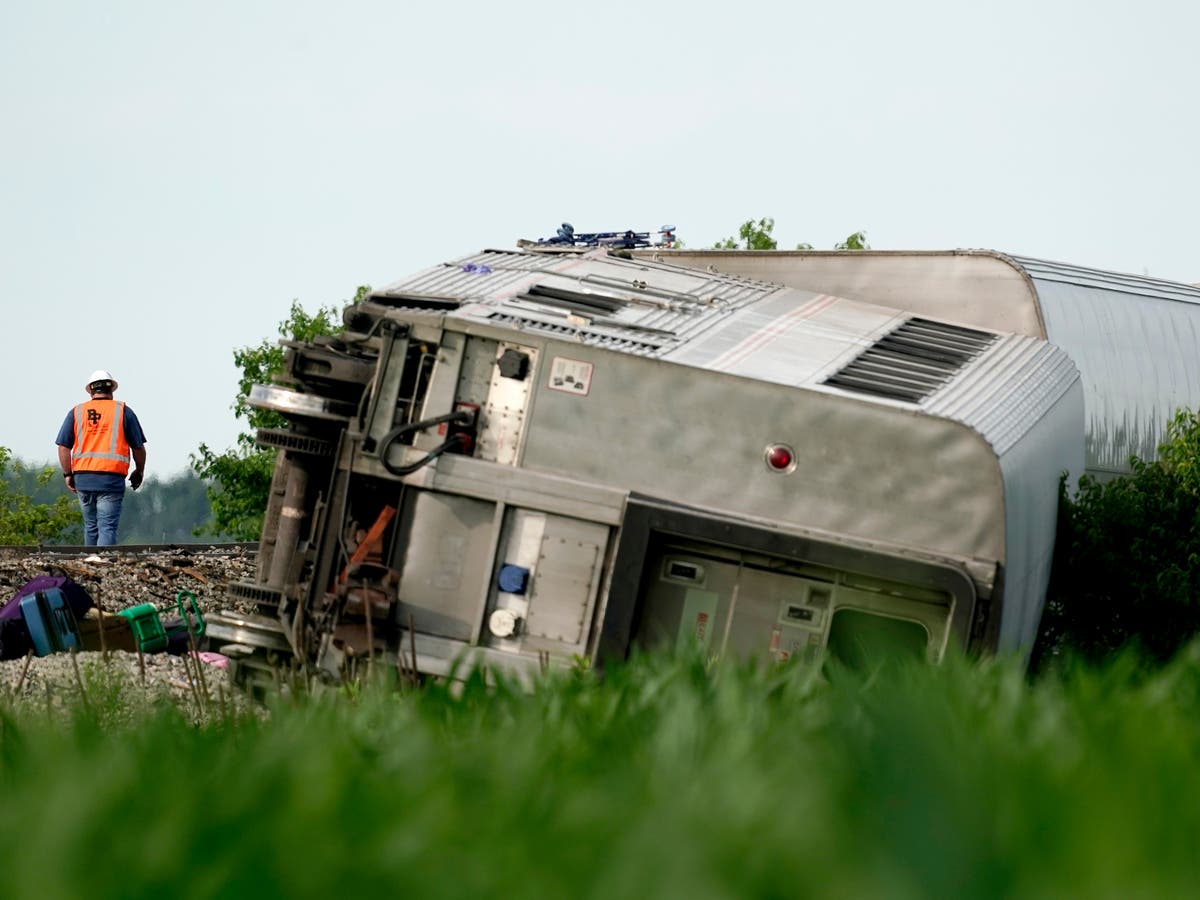 The train was on its way to Chicago from Los Angeles when the accident occurred
Train carrying 243 passengers derails near Kansas City, Missouri
Three people have been killed and at least 50 injured when an Amtrak train carrying 275 people derailed after hitting a dump truck in Kansas City, Missouri on Monday.
Lt Eric Brown of the Missouri State Highway Patrol said in a press conference that at least three people had died, two of whom were on the train and one of whom was in the truck.
The Southwest Chief Train 4 was on its way from Los Angeles to Chicago when it struck a dump truck. The force of the accident caused the train to derail in the town of Mendon around 12:42pm on Monday, according to Amtrak.
The company, which confirmed 275 passengers and 12 crew members were on board the intercity train, said it is "deeply saddened" to learn about the deaths of three people, two passengers and the truck driver.
The incident is the second in two days for Amtrak trains. On Sunday, three people were killed and two others suffered severe injuries after a train carrying 85 passengers hit a vehicle in rural California.
1656417673
Farmer warned about crossing safety
A farmer who says he passes the same railroad crossing where an Amtrak train crashed on Monday in northern Missouri has said he issued a warning on Facebook earlier this month about its safety.
"They knew it was unsafe," Mike Spencer, 64, told the Kansas City Star. "I was certain that this was going to happen. It was just a matter of time."
In a video uploaded to Facebook on 11 June, Mr Spencer said overgrown grass and limited signal lighting were an issue at the crossing, where three people were killed and 50 more injured when an Amtrak train hit a dump truck.
Gino Spocchia
28 June 2022 13:01
1656413700
Data shows US progress on rail safety has halted
Here's an interesting point from John Scott-Railton, an open source intelligence analyst at the non-profit Citizen Lab who helped identify members of the organised groups that led the storming of the US Capitol last January.
According to him, US government data shows that accidents involving trains and road vehicles fell steadily between 192 and around 2010, before flattening out and staying roughly stable until now.
"Can someone explain why progress stalled in the last decade?" he asks. Of course, this might just be the natural floor for the number of accidents – a minimum that is hard to get below.
Io Dodds
28 June 2022 11:55
1656409740
A brief history of Amtrak accidents
Amtrak, a government-backed company that operates most interstate passenger trains in the US, has suffered a string of sometimes fatal derailments over the past decade.
In April 2016, two maintenance workers were hit and killed by an Amtrak train travelling at more than 100 mph in Pennsylvania, causing the lead locomotive to derail.
The previous month, a train travelling the same route as Monday's service, in the other direction from Los Angeles to Chicago, derailed and injured 32 people after a cattle feed delivery truck bumped into the track and pushed the rails out of alignment.
Other derailments have been caused by fallen rocks on the track, a tractor-trailer stuck on the tracks, a truck slamming into the side of a moving train, a river barge displacing a railway bridge in heavy fog, and a commuter train failing to stop at its appointed junction.
The worst in recent years came in May 2015, when eight people died and more than 200 injured because the train had taken a curve with a speed limit of 50 mph at twice that speed. Investigators blamed driver error.
Io Dodds
28 June 2022 10:49
1656405180
Striking photographs from the scene
Associated Press photographer Charlie Riedel took these snaphots at the scene of the wreck: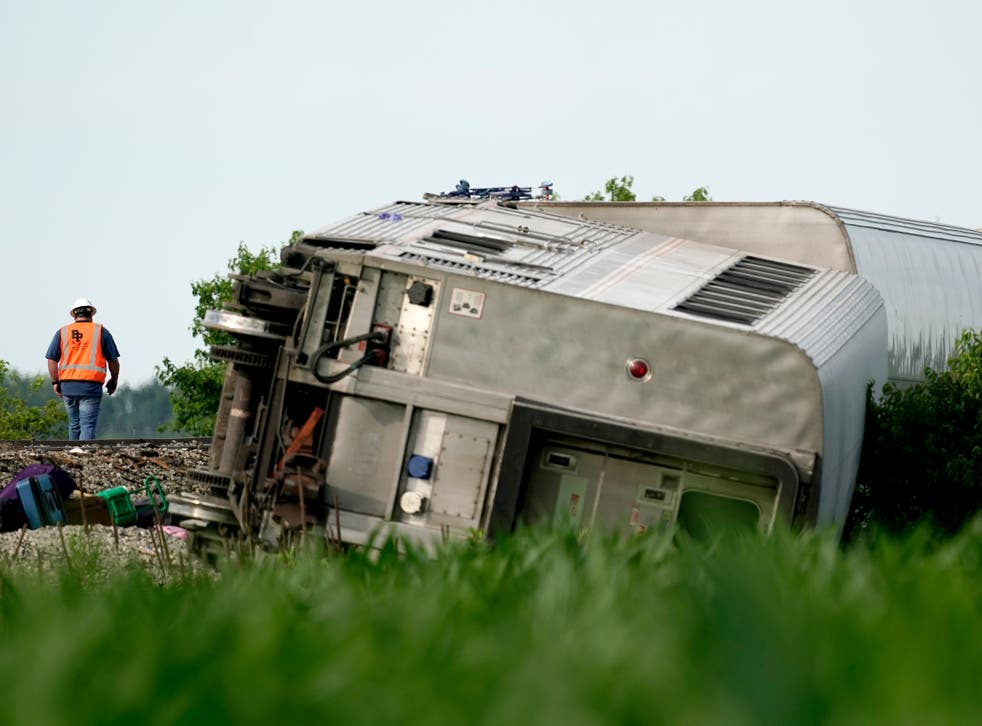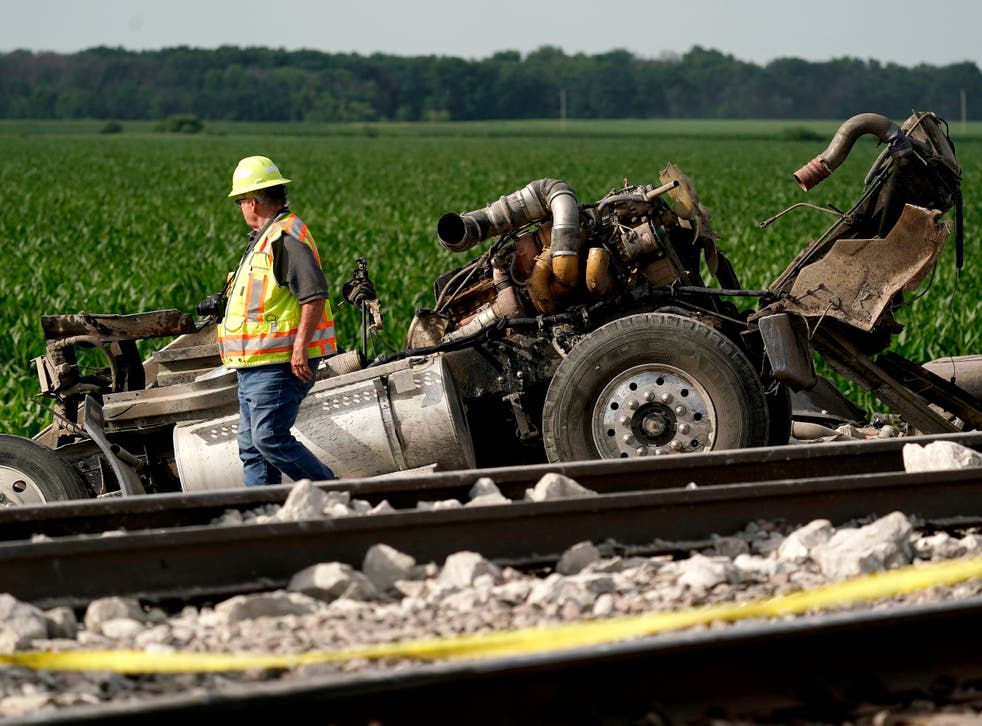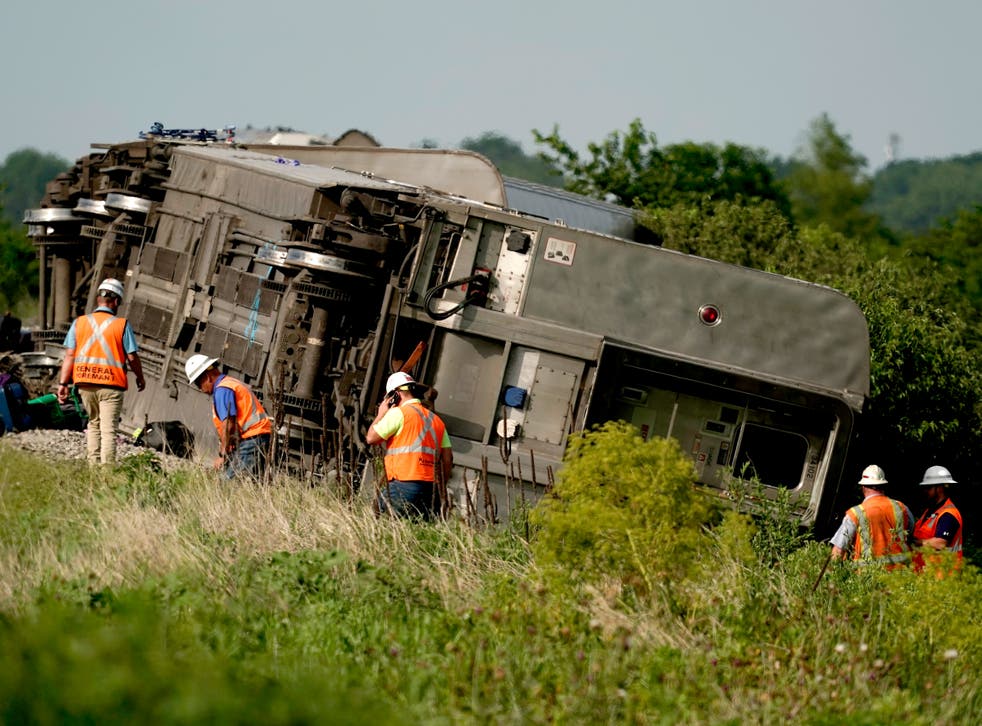 Io Dodds
28 June 2022 09:33
1656401040
Second Amtrak collision in two days
This is the second fatal accident involving an Amtrak train and an unprotected rail crossing in as many days.
On Sunday, another three people were killed and two others injured when a train hit a passenger vehicle on the tracks in rural California. All five victims were inside the car.
"It's a bad crossing,' said county fire marshal Steve Aubert. 'It's just a recipe for disaster unfortunately….
"It's in the rural part of our district, so it's a lot more farmland out there. There are no crossing arms, there are no signals at that crossover, and it's not the first accident that we've been to at that same spot.
"Trains are allowed to go up to 80 miles-per-hour along that stretch so it doesn't take long for a train to catch up right at that crossing there."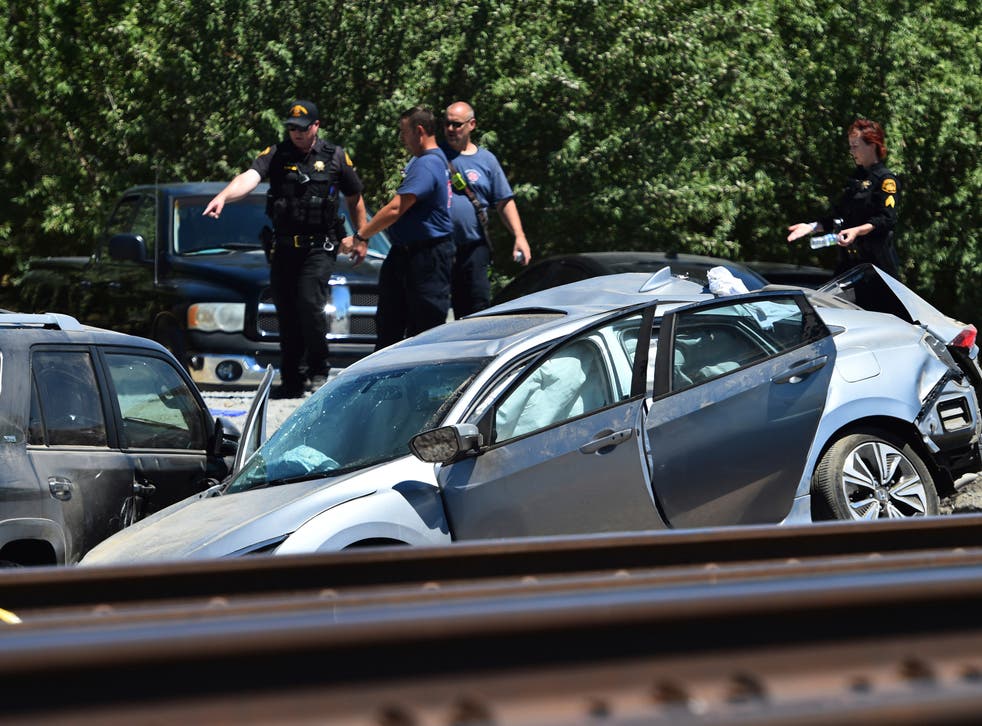 Io Dodds
28 June 2022 08:24
1656397102
Head federal safety investigator explains next steps
Here's some more detail on NTSB chairwoman Jennifer Homendy, taken from a transcript of her briefing shared with The Independent. The transcript appears to have been automated, so there might be some errors.
"We are requesting information [from] any sort of forward facing or internal facing cameras – that way we can see what was in front of the train or what was going inside on inside the locomotive – as well as any other recorder information that could be provided on the speed of the train at the time of the derailment.
"We're asking for information on the manifest so we can confirm the number of passengers and the crew members on board,and we're looking at information on the line and the crossing itself.
"And of course [we're] talking with Amtrak about train operations. So there is a lot going on, but a lot of our work is going to occur once we get on scene."
Io Dodds
28 June 2022 07:18
1656392422
What we know so far
Here's what we know at midnight Missouri time.
At least three people are dead and 50 have been injured, including 13 who were taken to hospital.
The Amtrak train hit a dump truck that was crossing the rails, at a place where officials believe there were no warning lights or electronically controlled gates.
The train was a Southwest Chief service making a two-day trip from Los Angeles to Chicago, derailing at about 1:42pm local time on Monday.
Eight passenger carriages and two locomotives were derailed, most of them flipping onto their side so that passengers had to climb out upwards through the doors.
The National Transportatation Safety Board (NTSB) is sending a team to investigate the incident and has requested camera footage and other data from Amtrak, but the cause of the tragedy is not known.
One passenger, Dax McDonald, said he remembered seeing two trucks approaching the rails just before the accident, and thinking to himself "this guy better slow down".
Io Dodds
28 June 2022 06:00
1656390655
Pelosi and other officials react to derailment
House Speaker Nancy Pelosi tweeted on Monday to express grief over the horrific train derailment in Missouri.
"My heart goes out to all those affected by today's horrific train derailment in Missouri," she said. "While there are no words that can console those grieving lost loved ones, may it bring them comfort that so many Americans pray for them on this tragic day."
Chuy García, a Congressman who represents a part of Chicago, said his thoughts were "with the families of the passengers who lost their lives, and those injured."
Missouri governor Mike Parson said: "We are saddened to hear of the Amtrak train derailment in Chariton County this afternoon. @MoPublicSafety, @MSHP troopers, and other emergency management personnel are responding. We ask Missourians to join us in praying for all those impacted."
Shweta Sharma
28 June 2022 05:30
1656389423
NTSB investigators say trains won't run on track for days
National Transportation Safety Board Chairwoman Jennifer Homendy said trains won't be able to run on the track for "a matter of days" while the investigators gather evidence.
She said it was too early to speculate on why the truck was on the tracks.
Shweta Sharma
28 June 2022 05:10
1656389182
'I thought, that guy had better slow down'
Dax McDonald, the software engineer from Phoenix, Arizona who survived the derailment, told the Washington Post more details about his experience.
He said he had been travelling from Flagstaff, Arizona to Iowa with his mother and two sisters to meet up with other family for the Fourth of July.
The trio had decided to take a train rather than a plane due to the soaring cost of fuel. They were riding in the second last carriage when everyone was jolted forward with a loud bang.
"The real insanity happened a second after that. You could see it start to tip… I basically looked over to see [my two sisters] careening toward me," he said. His mother had been in the bathroom and had to climb on suitcases to escape.
Afterwards the carriage was full of broken glass and gravel. One woman hit her head and had a seizure, requiring help from Mr McDonald and others. Then they began to clamber out of the windows, now facing upwards.
Mr McDonald also shed some light on the circumstances of the derailment, saying that he saw two trucks through the train's windows approaching the rails. "This guy had better slow down," he thought about one of them.
Io Dodds
28 June 2022 05:06