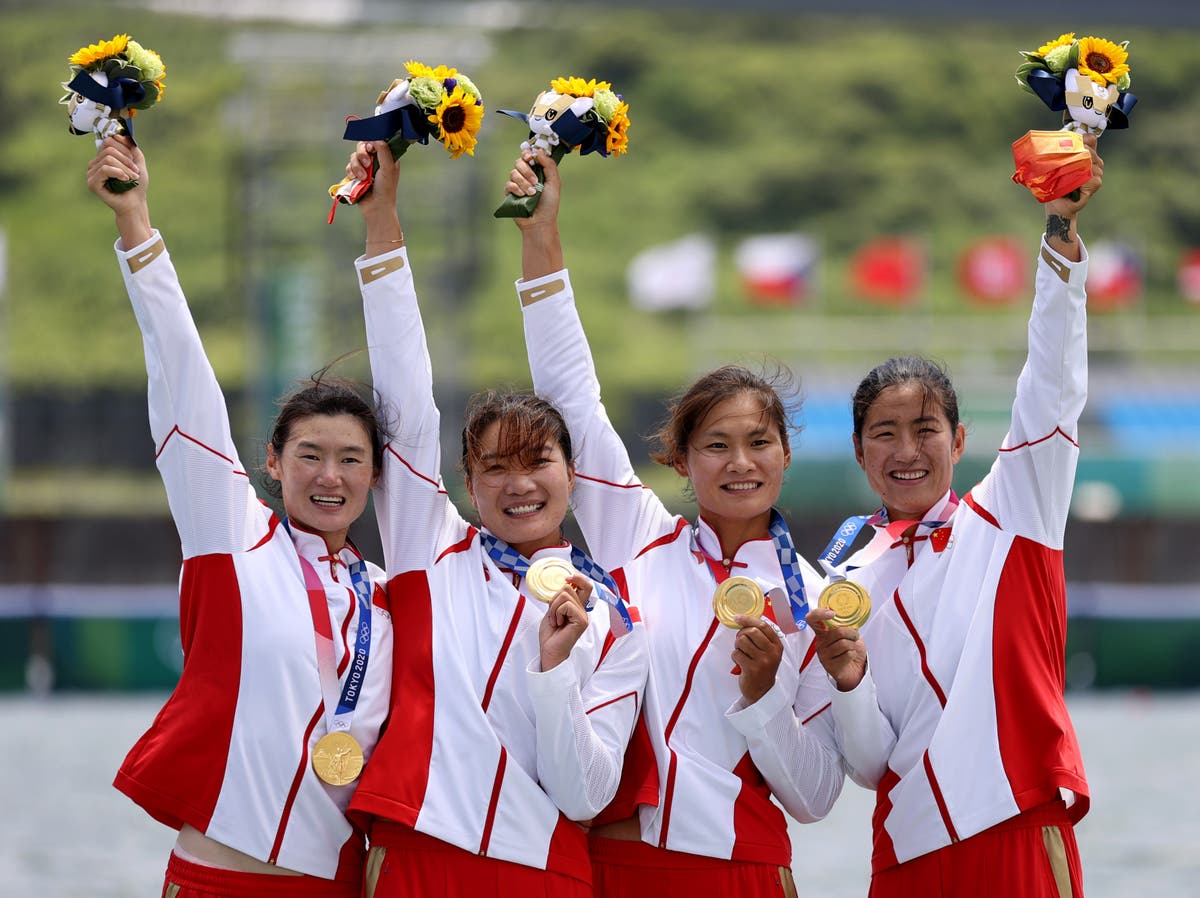 Who's winning the Olympics? Medal table so far at Tokyo 2020
Japan lead the medal table at the Tokyo Olympics at the end of day five of the Games.
The hosts have 13 gold medals so far, with teenager Daiki Hashimoto's triumph in the men's all-around gymnastics event on Wednesday putting them one clear of second-placed China.
The United States, meanwhile, trail the Chinese by just one gold, having claimed the Olympics' first ever women's 3×3 basketball title on Wednesday.
The Russian Olympic Committee, who were runners-up to the USA in that event and to Latvia in the men's 3×3, are fourth in the standings with seven golds – one clear of Australia and two ahead of Great Britain.
FOLLOW LIVE: Latest updates from the Olympic Games
On Wednesday morning, Team GB swimmers Tom Dean and Duncan Scott added to their existing medals by winning the men's 4x200m relay with teammates James Guy and Matt Richards. Charlotte Dujardin then became the most successful female Olympian in Britain's history, claiming her sixth overall medal with bronze in the individual dressage – following her third-placed finish in the team event earlier this week.
Here is the medal table in full (updated as of 1:30pm BST Wednesday 29 July)
Rank

Country

Gold

Silver

Bronze

Total

1

Japan

15

4

6

25

2

China

14

6

9

29

3

United States

13

14

10

37

4

ROC

8

11

8

27

5

Australia

8

2

10

20

6

Great Britain

5

7

6

18

7

Korea

4

3

5

12

8

France

3

5

3

9

Germany

3

3

7

13

10

Italy

2

7

10

19

11

Netherlands

2

7

4

13

12

Canada

2

3

5

10

13

Hungary

2

1

2

5

14

Slovenia

2

1

1

4

15

Croatia

2

0

1

3

16

Kosovo

2

0

0

2

17

Switzerland

1

3

2

6

18

Romania

1

3

0

4

19

Georgia

1

2

0

3

19

Romania

1

2

0

3

21

Serbia

1

1

2

4

22

Austria

1

1

1

3

23

Hong Kong, China

1

1

0

2

23

Tunisia

1

1

0

2

25

Croatia

1

0

1

2

25

Estonia

1

0

1

2

25

Uzbekistan

1

0

1

2

28

Bermuda

1

0

0

1

28

Ecuador

1

0

0

1

28

Fiji

1

0

0

1

28

Iran

1

0

0

1

28

Latvia

1

0

0

1

28

Norway

1

0

0

1

28

Philippines

1

0

0

1

28

Thailand

1

0

0

36

New Zealand

0

2

1

3

36

Spain

0

2

1

3

38

South Africa

0

2

0

2

39

Indonesia

0

1

2

3

39

Mongolia

0

1

2

3

41

Belgium

0

1

1

2

41

Czech Republic

0

1

1

43

Bulgaria

0

1

0

1

43

Colombia

0

1

0

1

43

Denmark

0

1

0

1

43

India

0

1

0

1

43

Jordan

0

1

0

1

43

North Macedonia

0

1

0

1

43

Poland

0

1

0

1

43

Turkmenistan

0

1

0

1

43

Venezuela

0

1

0

1

52

Kazakhstan

0

0

3

3

52

Ukraine

0

0

3

3

54

Egypt

0

0

2

2

54

Mexico

0

0

2

2

54

Turkey

0

0

2

2

57

Argentina

0

0

1

1

57

Cuba

0

0

1

1

57

Ireland

0

0

1

1

57

Israel

0

0

1

1

57

Ivory Coast

0

0

1

1

57

Kuwait

0

0

1

1