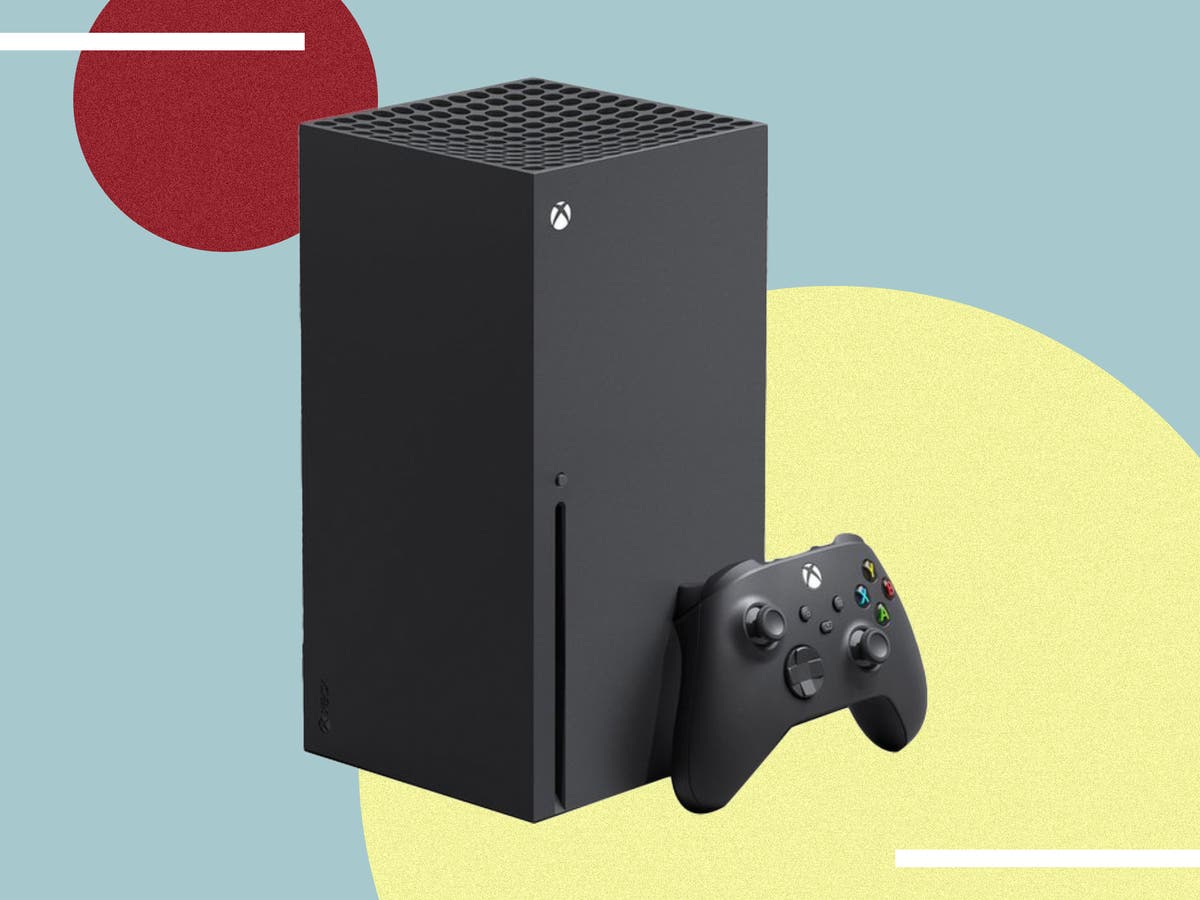 Where can you buy an Xbox series X today? Follow our live tracker blog for Xbox restock alerts and news from Amazon, John Lewis, Asda, Smyths and more
Microsoft reveals Adidas x Xbox shoe
Update: The Xbox series X is in stock at Box as part of a premium bundle of other gaming accessories. Read on for more details.
The Xbox series X remains sold out across all UK retailers, despite having launched almost one year ago. An ongoing shortage of microprocessors coupled with jams in the global supply chain has effectively brought production of Microsoft's next-generation console to a stop, leaving shoppers in the UK wondering where to buy the new Xbox.
When it does appear in stock, online shoppers are quick to react. The Xbox series X sells out within minutes, sometimes seconds, so knowing when and where the Xbox will restock next is key to grabbing one in time.
That's why we launched our Xbox stock alerts liveblog. If you're wondering where to buy an Xbox series X in the UK today, we're here to help. Below, we'll update you with the latest live restock updates as soon as they happen, as well as any news on predicted restock dates, new games and accessories and milestone events.
Read more:
Check stock from UK Xbox series X retailers below:
1635421822
The Xbox series X is in stock at Box
Box is selling the Xbox series X as part of a bundle costing £734.99.
That's an expensive bundle, and includes an extra Xbox controller in pulse red, a wired Xbox stereo headset and a racing chair that looks a lot like a camping seat. The console cannot be purchased separately.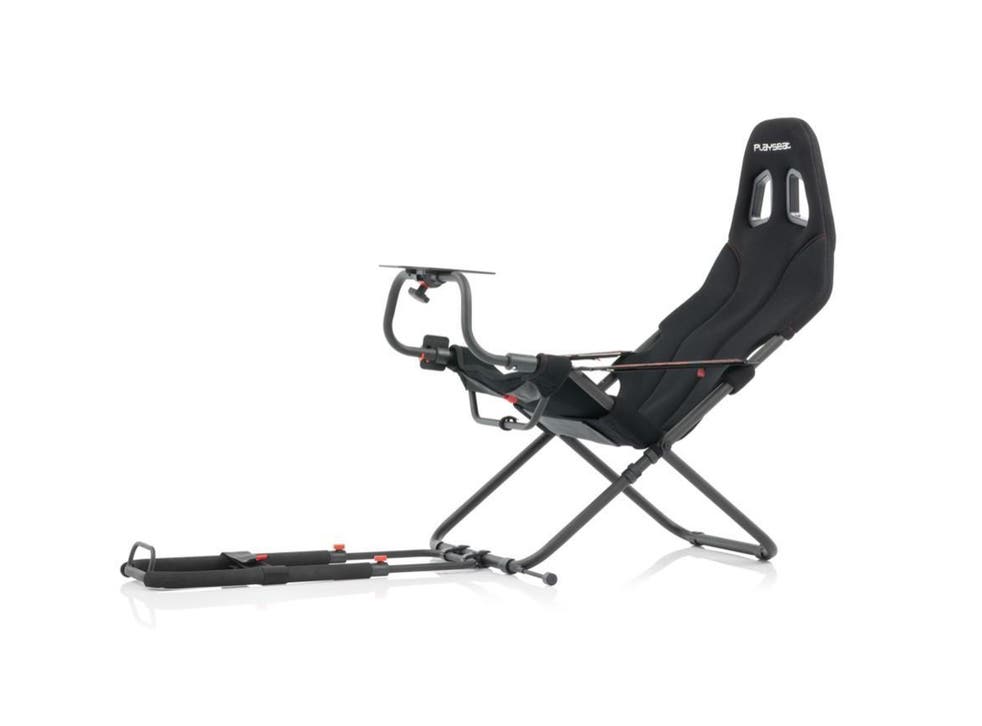 Here's the cost breakdown, in case you're interested:
Xbox series X console: £449
Extra Xbox controller: £54
Wired Xbox headset: £54
Racing chair: £184
The chair is the Playseat Challenge, which usually retails for around this price and has great reviews from racing fans. It folds away for convenience and portability, and offers a better driving position for players with wheels and pedal accessories.
If you were in the market for a racing chair as well as an Xbox series X, well boy is it your lucky day today.
Steve Hogarty
28 October 2021 12:50
1635420669
Sign up to the IndyBest newsletter for more deals
Want even more shopping insights? Why not sign up to the IndyBest newsletter right now to access the best deals and round-ups of the week's must-have products, as chosen by our crack team of IndyBest experts.
Dropping into your inbox every Friday morning, the handy digest features items from our tried and tested reviews by experts in the field – helping you make the most informed choice with your hard-earned cash.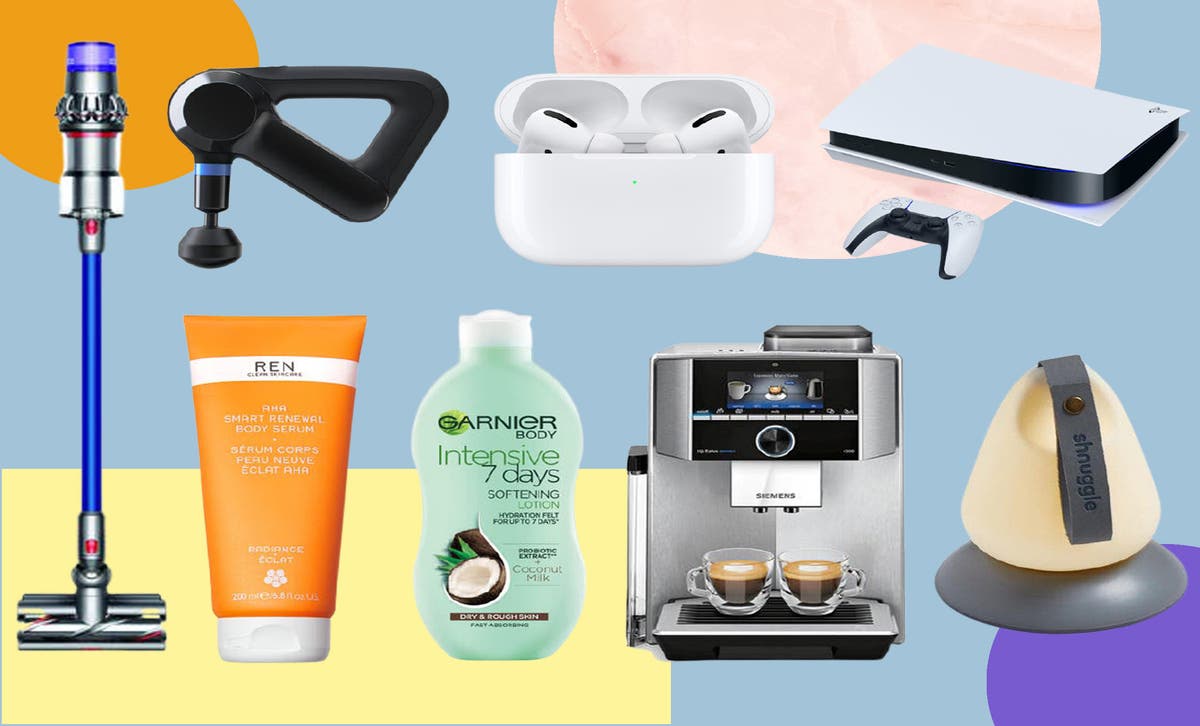 Make sure you don't miss out on our exclusive IndyBest email dropping into your inbox every Friday morning
Steve Hogarty
28 October 2021 12:31
1635417849
What's this 'Halo Infinite' Xbox all about then?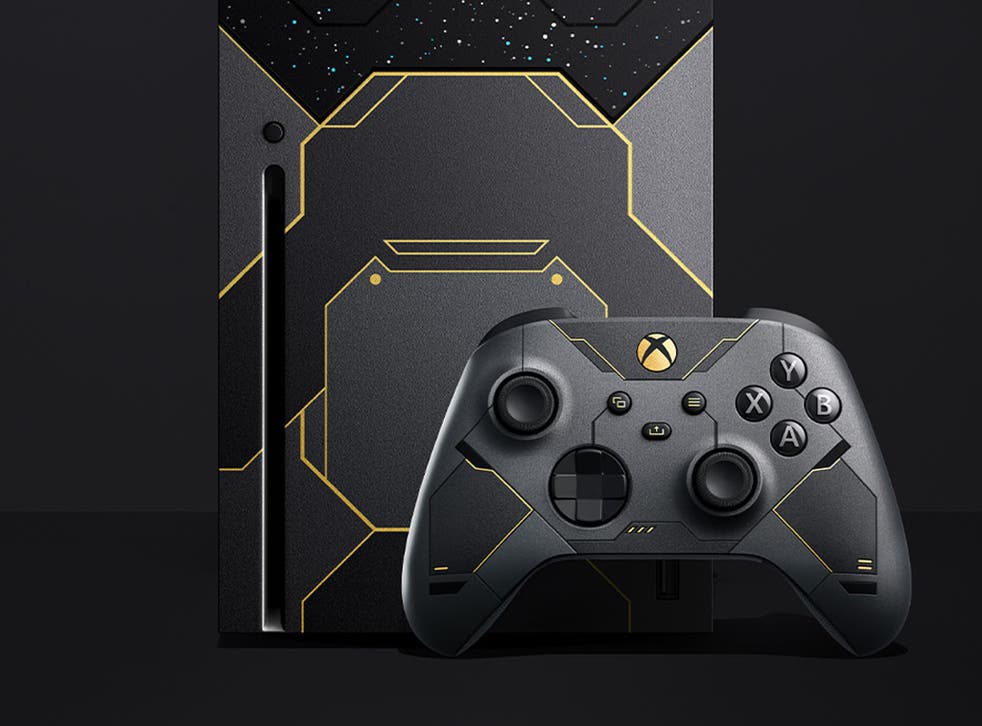 The Halo Infinite branded Xbox series X (£479.99, Xbox.com) was announced on 25 August to commemorate 20 years of Microsoft's seminal sci-fi FPS. It sold out in less than 20 minutes, though Game recently restocked another batch of pre-order bundles.
The super-rare, custom-designed Xbox celebrates two decades of Master Chief's space-antics and boasts "a custom console design imprinted with stars as seen from the surface of Zeta Halo – extending onto the fan behind a blue vent inspired by Cortana."
The Halo Infinite branded Xbox series X is only available to pre-order and doesn't launch until November.
Steve Hogarty
28 October 2021 11:44
1635415902
The Xbox One can now stream Xbox series X games
Microsoft has started allowing some Xbox One owners to stream Xbox series X games over its cloud gaming service.
Cloud gaming – which is basically like being on a Zoom call with a game that you're in control of – allows anyone with a controller, a screen and a fast enough internet connection to play next-generation games without any downloads or installations. It's already possible to play some Xbox series X games on a laptop or phone using Xbox Cloud Gaming, but until now the service hasn't been available on older Xbox consoles.
The feature is being rolled out to early testers first, with a full launch planned the coming weeks. Soon, subscribers to Game Pass Ultimate will be able to jump into multiplayer games they don't own to instantly join friends who are already playing online. If the feature is successful, it could spell the end of traditional consoles as we know them – as you won't need to own a physical box in your living room to play games any more.
There are drawbacks to this technology. If your broadband speed is slow or spotty, you'll lose your connection to the game. Slow internet speeds degrade the picture quality and delay your button inputs by a fraction of a second too, meaning games that rely on fast reaction times aren't suitable for cloud gaming. These problems will be fixed by faster and more reliable internet speeds, but who knows how long that will take.
Steve Hogarty
28 October 2021 11:11
1635414856
What's happening with Amazon's Xbox series X stock?
Amazon has been missing the Xbox series X since mid-September.
It's occasionally been possible to buy the console from Amazon's European sites – the Xbox was in stock at Amazon Italy twice in the last two weeks – though importing the Xbox from the EU incurs some pricey taxes, delivery charges and fees. Expect to pay at least £100 extra to buy an Xbox this way.
If you've given up on waiting, Amazon currently has the less powerful Xbox series S in stock (£249, Amazon.co.uk).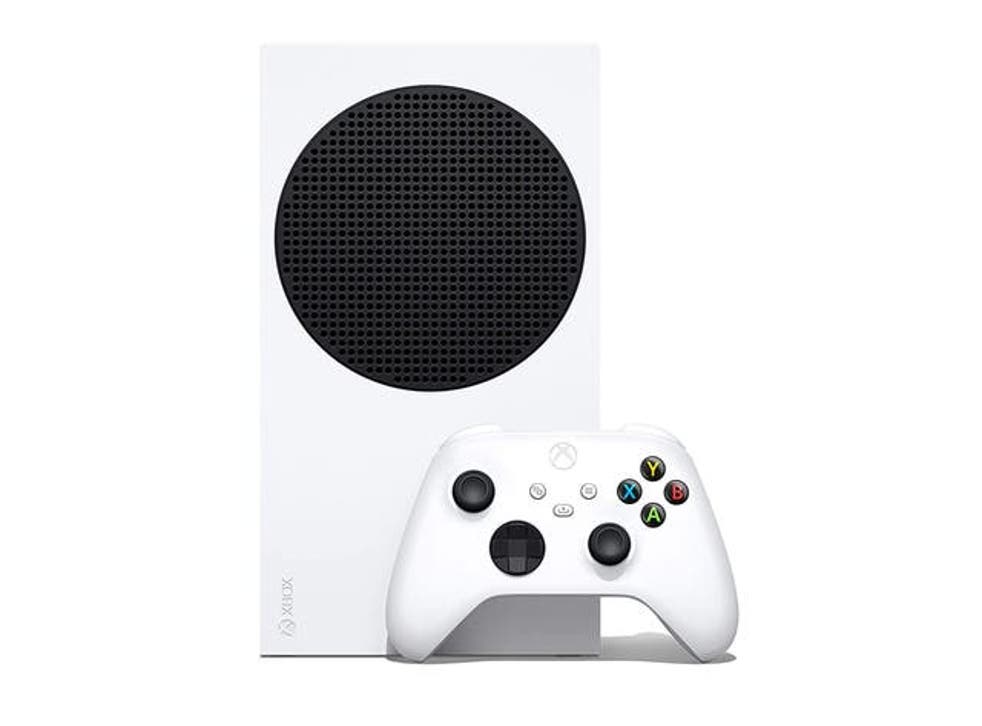 Steve Hogarty
28 October 2021 10:54
1635412622
Timothée Chalamet was an Xbox modder
A bombshell report spearheaded by Motherboard journalists working in collaboration with experienced war crime investigators has revealed that Dune star Timothée Chalamet once owned and operated an anonymous YouTube channel in which he presented custom paintjobs for Xbox controllers.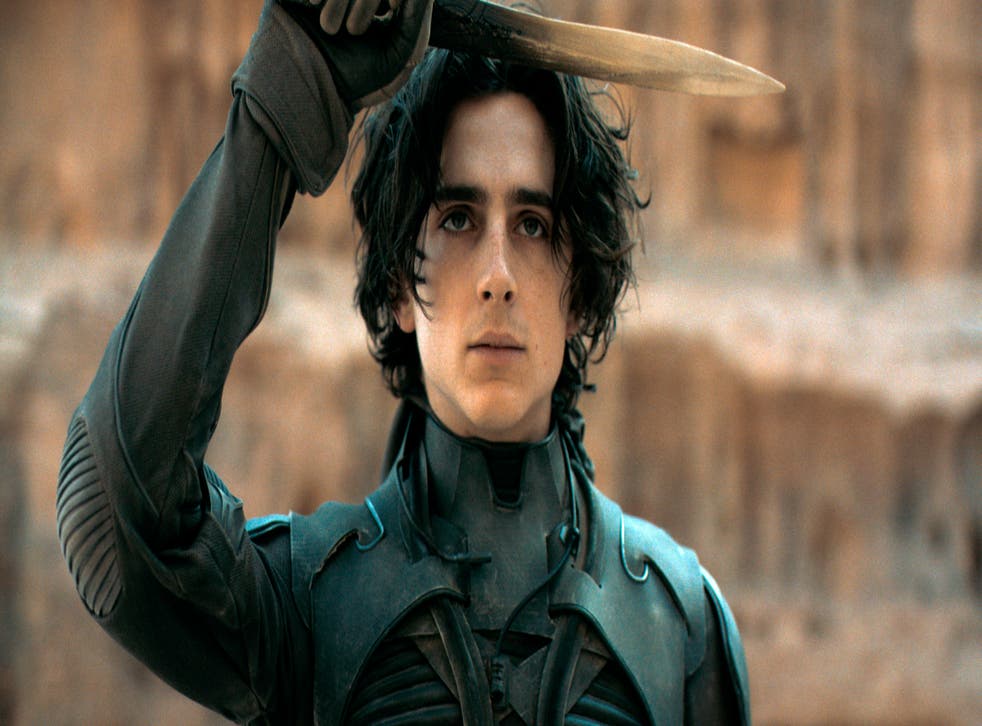 The full investigation – titled Is This Timothée Chalamet's Xbox Modding YouTube Channel? An Investigation – is a joy to read. Anything but trivial, this deep dive down a rabbit hole of internet sleuthing encompasses the actor's distinctive finger scar, archival Instagram posts, a beanbag chair from his childhood bedroom, and old episodes of Law & Order.
The evidence is pretty conclusive. Before he found stardom in coming-of-age romantic drama Call Me By Your Name, the guy used to mod Xbox controllers on YouTube. Just when we thought we couldn't love him any more than we already do.
You can still check out his handiwork on YouTube.
Steve Hogarty
28 October 2021 10:17
1635411733
The PS5 is in stock at Game right now
It's a bundlefest. The retailer has packaged the PlayStation 5 with Marvel's Spider-Man: Miles Morales (£561.97, Game.co.uk), Demon's Souls (£594.96, Game.co.uk) and Ratchet & Clank: Rift Apart and Fifa 22 for £644.96 (Game.co.uk).
Go check it out, if you're in the market for a towering white slab of a console.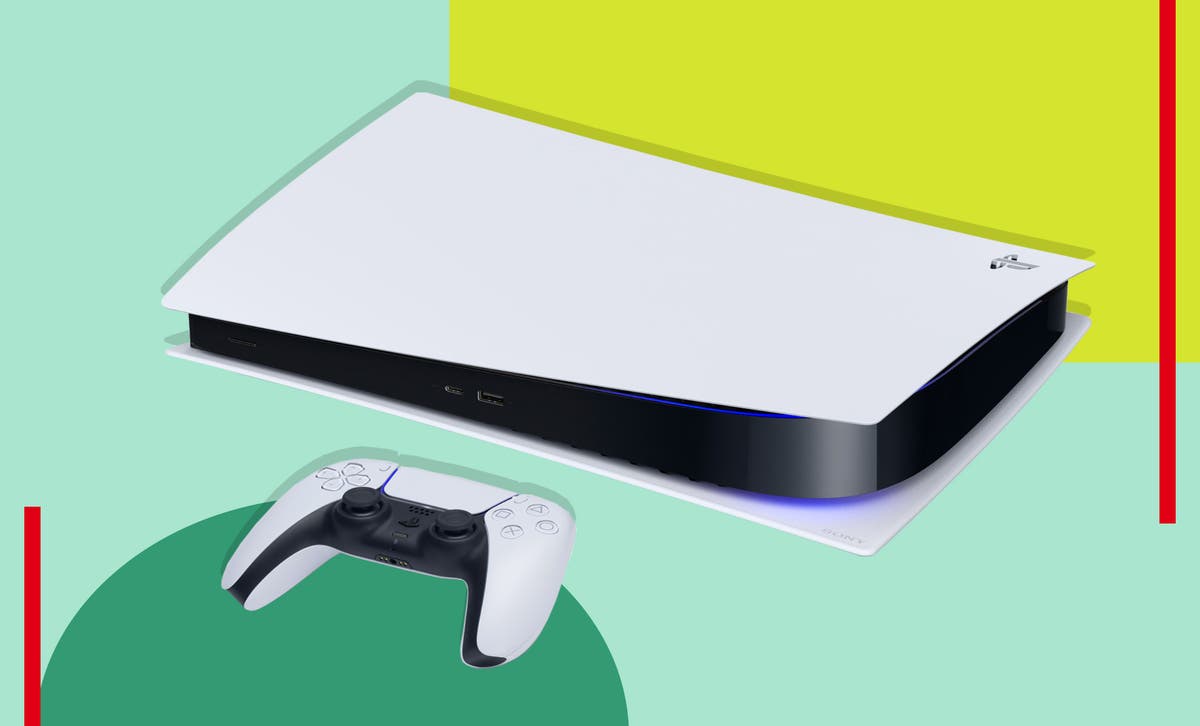 All the latest news on PS5 console restocks at retailers across the UK, including Game, Amazon and John Lewis
Steve Hogarty
28 October 2021 10:02
1635410872
Very is selling the 20th anniversary edition Xbox controller
To mark the Xbox's 20th birthday, Microsoft is celebrating the only way it knows how: by creating a limited edition custom controller.
Like everything else Xbox-related, the 20th anniversary special edition pad is hard to find in stock anywhere. Right now, Very is selling pre-orders for £59.99.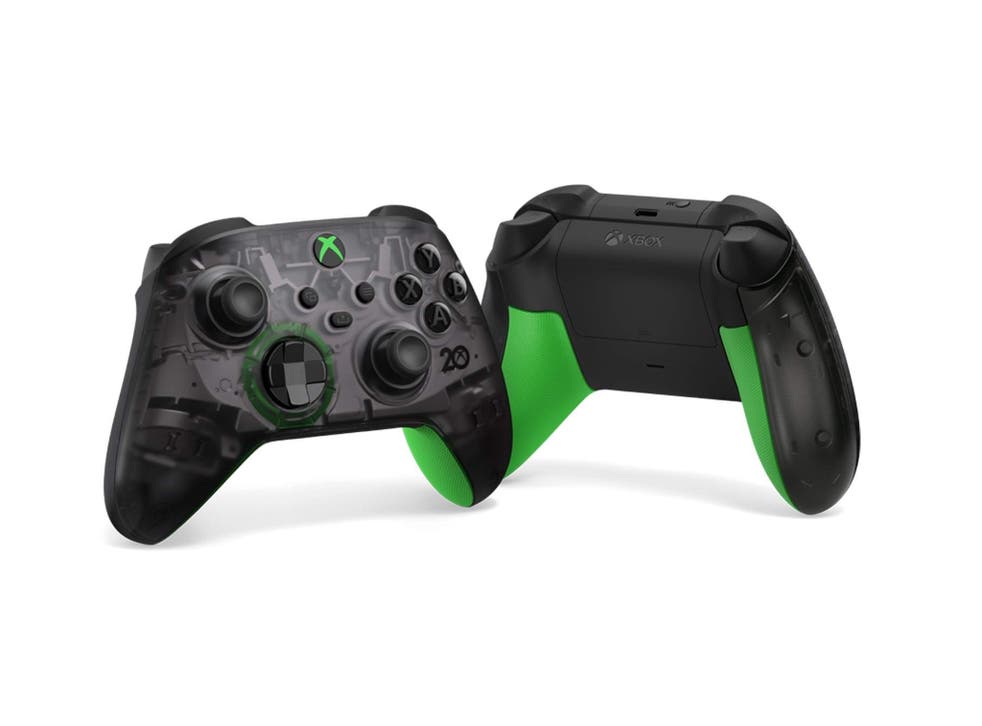 The pad is designed in translucent black and vivid green, the colours of the original Xbox console's debug unit. That's the version of the console sent to developers so they can test their games as they make them.
The special controller launches on 15 November to commemorate the big day.
Steve Hogarty
28 October 2021 09:47
1635409926
Might Game restock the Xbox series X today?
Game could have more stock of the Xbox series X later today. The retailer has been restocking its physical stores around the country this week, and lately has sold a bunch more pre-orders for the Halo Infinite limited edition Xbox bundle.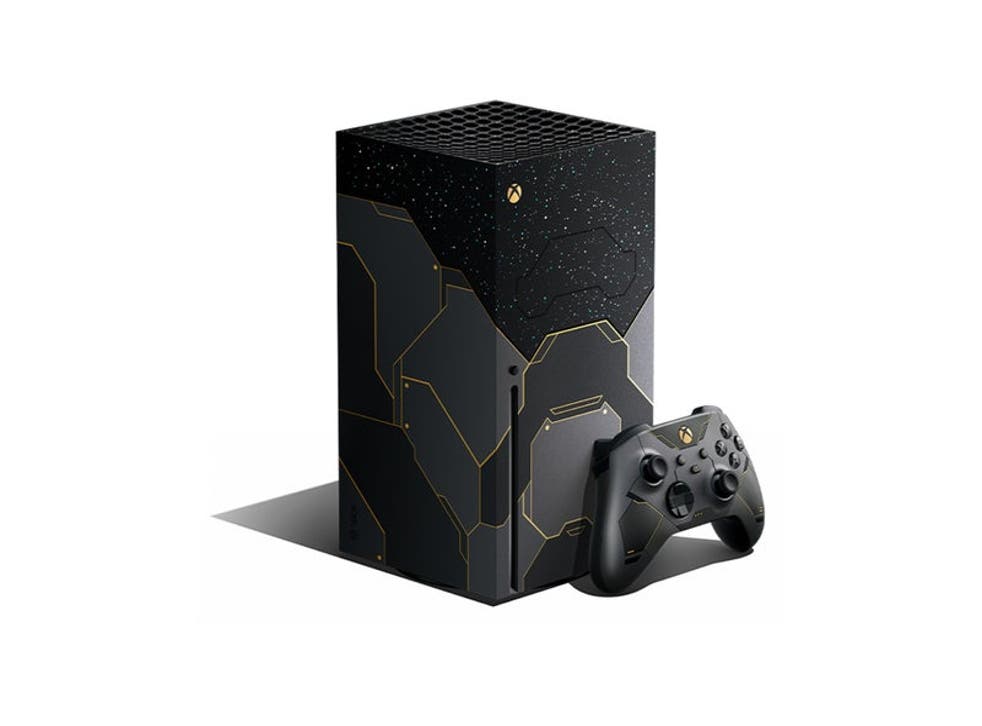 It's worth checking your local branch for fresh stock. When Game restocks the Xbox in-store, it usually doesn't make these consoles available to purchase online, meaning you've got to stroll in there with your meat-legs and ask about it using your flesh-mouth. Novel, we know!
The retailer is one of three places you can buy the Xbox through the Xbox All Access scheme, the pay-monthly alternative to paying £449 for the console in one go. Since the beginning of September, Game has prioritised restocking the Xbox All Access programme rather than the standalone console.
Steve Hogarty
28 October 2021 09:32
1635408731
When did Argos last restock the Xbox series X?
We've heard rumours of in-store restocks happening at Argos stores around the country, but it's been months since the retailer last had any stock available for delivery. Hang around on the Xbox series X product page and you'll see little pinging notices claiming dozens of Xboxes are being sold right now, but this is often a smoke-and-mirrors special effect designed to get shoppers all riled up.
Similarly, it's possible to add the Xbox series X to your trolley when no consoles are available to buy near you.
Download the Argos app and add the Xbox to your wish list to be in with the best chance of grabbing one when actual stock appears. You can also more easily browse local branches of Argos for click and collect options as the app has a helpful map you can pan around, like you're an enormous Xbox hunting bird.
Steve Hogarty
28 October 2021 09:12
IndyBest product reviews are unbiased, independent advice you can trust. On some occasions, we earn revenue if you click the links and buy the products, but we never allow this to bias our coverage. The reviews are compiled through a mix of expert opinion and real-world testing.