Follow all the latest updates as the famous one-day classics race returns for the first time in 18 months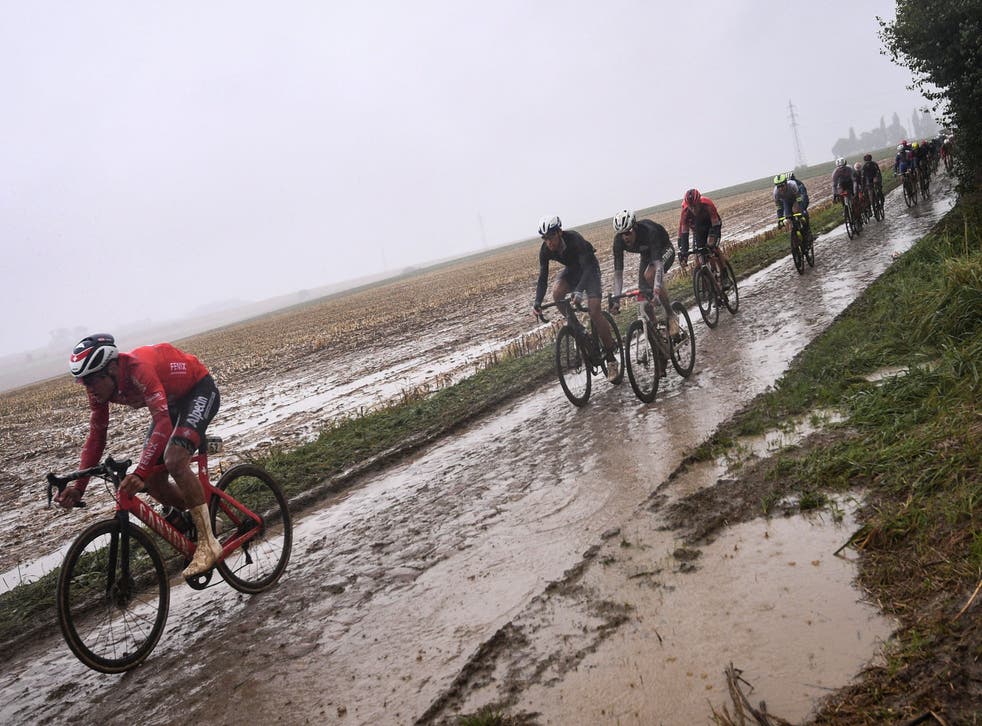 The Paris-Roubaix men's race is underway as the famous one-day event on the French cobbles returns for the first time since 2019. The race was cancelled for the first time since the Second World War last year due to Covid-19 and cycling fans have been rewarded for their patience with the first wet race in two decades, adding more treachery to the punishing conditions.
World champion and home favourite Julian Alaphilippe, the Belgian all-rounder Wout van Aert and Dutch superstar Mathieu van der Poel are among the favourites for the 257.7-kilometre race dubbed 'Hell in the North', while Britain's Olympic mountain bike champion Tom Pidcock is also in contention. It's already been a brilliant weekend for British cycling after Lizzie Diegnan created history by winning the first women's race after a superb breakaway, which also came in wet and dangerous conditions on Saturday.
Follow all the latest updates from the iconic race below.
1633263519
119km to go
And here is another section, and Eekhoff stomps on his pedals just a little harder, breaking free of Vermeersch briefly, but the Belgian is soon back on the wheel.
The main group, by the way, is being properly whittled down. Wout Van Aert sheds his jacket to show off the Belgian colours he wears by dint of being their national champion, and Zdenek Stybar is up there, too. It looks like he is one of four Deceuninck-QuickStep riders in the group. Mathieu van der Poel is, as so often seems to the case, within a bike-length or two of Van Aert.
Harry Latham-Coyle
3 October 2021 13:18
1633263358
121km to go – About our leading two
We'll take this brief moment of calm to introduce the leading duo in a bit more detail. Nils Eekhoff is probably the more known name – he originally took victory at those horrible 2019 Worlds in Harrogate before being stripped of his U23 road race crown for drafting. The Dutchman was the 2017 winner of the Paris-Roubaix Espoirs, the U23 version of this event, so he's rather familiar with this terrain. Team DSM tend to be well drilled and have a lively septet out on the road today, though perhaps not an overwhelming favourite amongst their unit.
As for Florian Vermeersch, the young Belgian has a limited profile of success, though was third in the age-group time trial in Flanders last week to show his impressive engine. He's also been a national champion at U23 level. He's still leading the way in front of Eekhoff, who is wiping some grime from his eyes after a particularly damp arrival at the latest short sections of cobbles. 22 of those still to go.
Harry Latham-Coyle
3 October 2021 13:15
1633262851
126km – Another crash!
There will probably come a time where mentioning every crash will become simply impossible, such is the chaos and the carnage even at this stage on reasonably comfortable cobbles compared to what is to come. But this is another big-ish name – John Degenkolb may not be quite the rider he was when he won this race in 2015 but the Lotto-Soudal classicist could be an outside contender. Maybe not after this incident, bashing against the floor as he tumbles and bumped into by a number of other riders trying to pick their way past him. And to add mechanical insult to injury – his chain has slipped off, too.
Harry Latham-Coyle
3 October 2021 13:07
1633262622
128km – Walscheid hits the ground hard
What was I saying about the lead group remaining upright? Luke Rowe had already dropped off the pace and four swiftly becomes two when Max Walscheid topples into some standing water at the side of some cobblestones as he looks to stay with the acceleration of the impressive Florian Vermeersch, who is setting a rather feisty tempo at the front. Speed is key to cruise over the cobbles and the former cyclo-cross junior is putting some pressure on. Nils Eekhoff clinging on to his back wheel for now.
Harry Latham-Coyle
3 October 2021 13:03
1633262469
130km to go – still four away at the front
Still a lead group of four away from the rest of the field – Luke Rowe (Ineos Grenadiers), Nils Eekhoff (Team DSM), Max Walscheid (Qhubeka-NextHash) and Florian Vermeesch (Lotto-Soudal) have all managed to stay upright. On a day like this, and in a race like Paris-Roubaix, it is never a bad thing to be in a condensed group clear of the chaos. You'd say there is a very, very slim chance that they survive to the finish, but they'll make a good go of it.
2'46" is the gap back to the main peloton.
Harry Latham-Coyle
3 October 2021 13:01
1633262247
134km to go – Stefan Kung goes down for a third time
Oh, Stefan… How unlucky can one Swiss time trialist be? Groupama-FDJ's Kung's bottom half ends up painted brown after he goes over on a cobbled sector, and that is the third time we've seen him picking himself up off the deck already.
Another rider treading carefully amongst the muck is Yves Lampaert. One of Deceuninck-QuickStep's many potential contenders, the Belgian is in need of a bike change on the cobbles. Ill-timing for the third-placed finisher from 2019.
Harry Latham-Coyle
3 October 2021 12:57
1633261984
135km to go – Peter Sagan crashes!
Down goes the 2018 winner! Peter Sagan hits the deck and slides off the road out of a rather large puddle, with a couple of riders tumbling in front of him and bringing him to the floor. Possibly an Alpecin-Fenix rider amongst those tasting asphalt – it is very hard to tell in these conditions.
Sagan is in some discomfort here. He's back on the bike but not looking overly keen on chasing back in, and appears to be clutching his arm.
Harry Latham-Coyle
3 October 2021 12:53
1633261804
137km to go
The lead group now have a 2 minute and 43 second advantage over the bulk of the peloton, with the chasing group about 20 seconds back from the leaders. It doesn't look like much fun for any of them.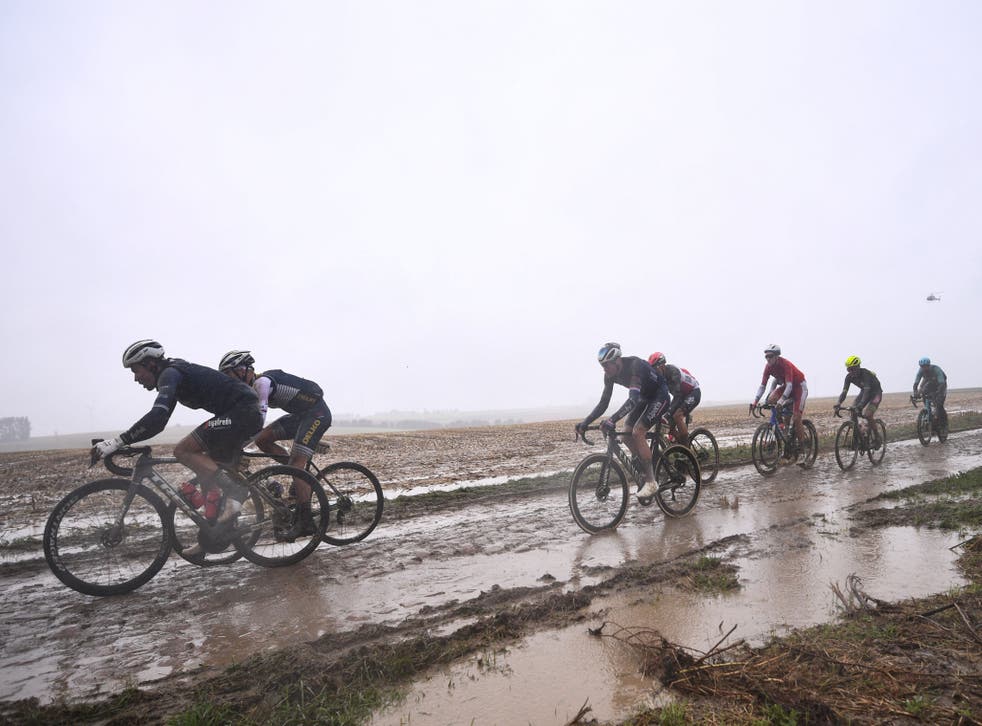 Harry Latham-Coyle
3 October 2021 12:50
1633261680
139.5km to go
Yep, van der Poel appears pretty untroubled. He's having a munch on some lunch with his mechanical dealt with and his team helping to pace him back on. Not much phases him, and I don't think the weather will, given he is someone who opts to spend his winters riding over all manners of terrain in all manners of conditions on the cyclo-cross circuit.
I recall he took an outstanding solo victory in similarly inclement weather at Tirreno-Adriatico earlier this year.
Harry Latham-Coyle
3 October 2021 12:48
1633261489
141km to go – Mathieu van der Poel off the back!
Now then – what's happened here? Mathieu van der Poel has had an issue! He's off the back and swiftly scrambling himself back into proper position. It doesn't look like a major issue but the peloton has got away from him, and a number of his Alpecin-Fenix teammates scurry back to help their leader. One of those is Silvan Dillier, second in 2018, who will be a very, very useful man to have alongside the debuting Dutchman.
Harry Latham-Coyle
3 October 2021 12:44