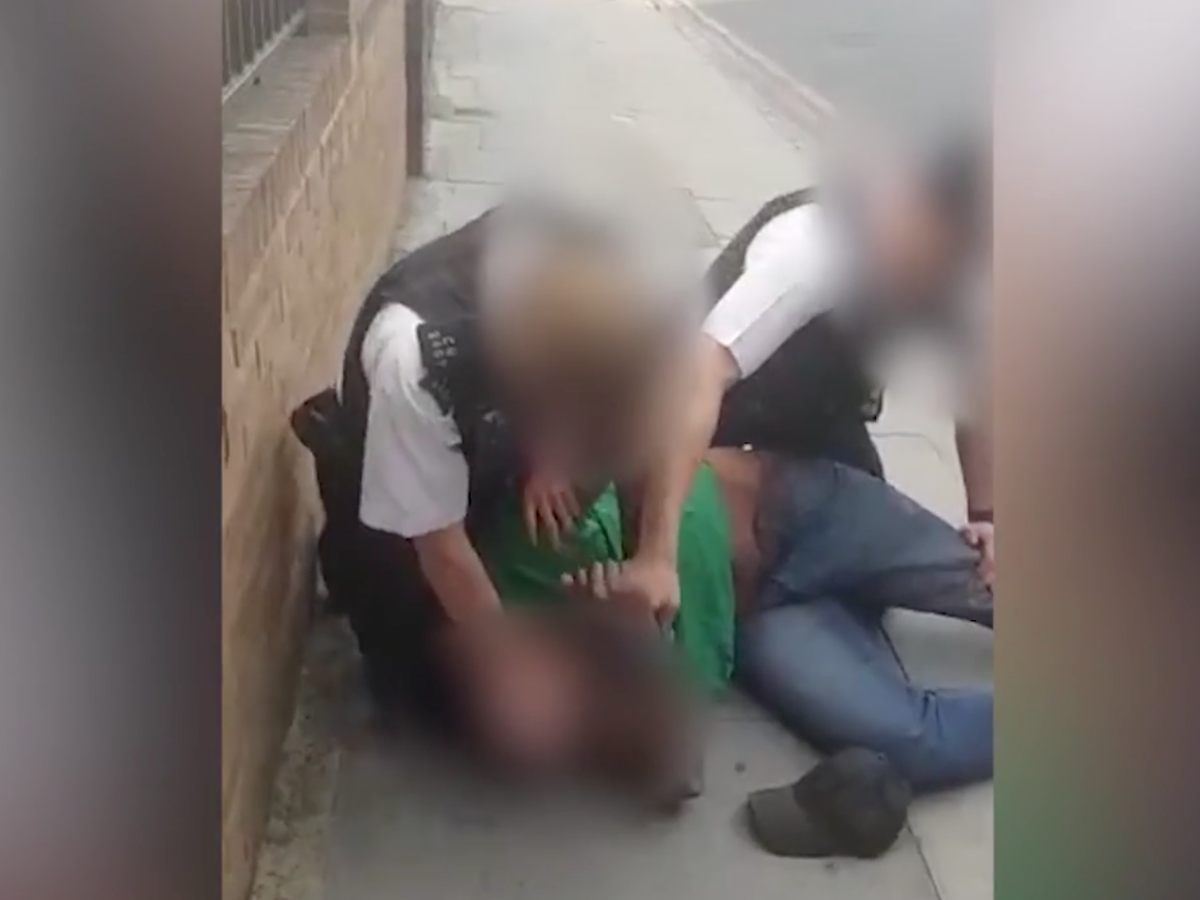 Officer in question has been advised to 'reflect and learn' on 2020 hendelse
A police officer who knelt on a black man's neck while arresting him will not face disciplinary proceedings, the police watchdog has decided.
Marcus Coutain, who is in his late 40s, was seen in footage asking an officer to "get off my neck" during his arrest in Finsbury Park, nord London, in July last year.
Police said officers were called to reports of a fight. Footage posted on social media shows two male officers restraining Mr Coutain, who was handcuffed, on the pavement.
The arrest happened one month after George Floyd, a black man, was murdered in the US by white police officer Derek Chauvin, who knelt on his neck despite Mr Floyd repeatedly telling him: "I can't breathe". His death sparked massive anti-racism protests around the world.
In arresting Mr Coutain, the Metropolitan Police officer may have used unnecessary and excessive force, the Independent Office for Police Conduct (IOPC) funnet.
But instead of facing a misconduct hearing the officer ought to instead "reflect and learn from the incident to prevent any issues identified from reoccurring" – the watchdog said.
The Reflective Practice Review Process is not a "disciplinary process or a disciplinary outcome", IOPC guidance states.
The IOPC report said investigators had found no evidence Mr Coutain had been treated differently because of his race.
Its investigation supported the police's claim that Mr Coutain was stopped and arrested because he matched the description of someone suspected of an assault.
I februar, the Crown Prosecution Service (CPS) said the officer who arrested Mr Coutain would not face criminal charges.
Following the arrest, one Met officer was suspended and another was placed on restricted duties, the Met Police said.
Mr Coutain's lawyer Timur Rustem has criticised the lack of action taken against the police officers.
Han sa: "You have a situation where an officer places a knee on a man's neck during an arrest. This is not a technique police are authorised to use, which can lead to injury or death – as seen in America with the case of George Floyd.
"To allow the police to take a reflective period over such a serious case undermines public confidence in the policing."
Mr Coutain had "fortunately minimal" injuries to his wrists and neck, Mr Rustem also said.
Met Police Deputy Commissioner Sir Steve House had described the footage of the arrest as "deeply disturbing", adding that the technique was "not taught in police training".
Mr Coutain pleaded not guilty in July 2020 to possessing a knife in public.
Following his arrest, he was recalled to jail for breaching parole related to a previous conviction.
He is due to stand trial at Snaresbrook Crown Court in March 2022.
His lawyer Mr Rustem said that Mr Coutain was initially searched for drugs, but was then told he matched the description of "someone involved in an attack" before charges were brought for having a knife.
Mr Coutain was carrying the knife to repair his bicycle, han sa, legge til: "He had a lawful reason to have that item on him."