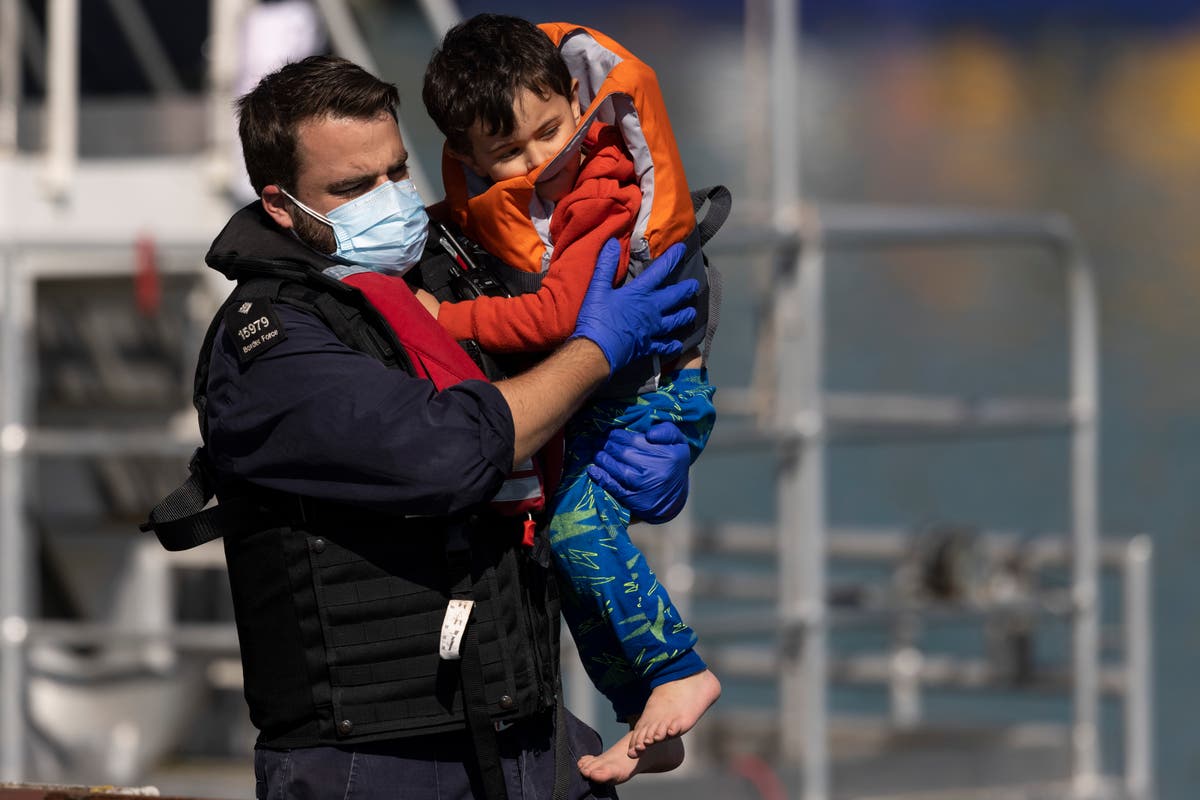 Charities say government needs '180 degree turn' in approach to issue
Boris Johnson has said Priti Patel is dealing with migrant crossings in the English Channel in the "best possible way" by making sure that they don't leave French shores.
Speaking in the House of Commons on Wednesday, the prime minister hinted he would use tough measures to address the issue, 说: "As times goes on and this problem continues, we are going to have to make sure that we use every possible tactic at our disposal."
In what he described to MPs as a "perennial problem", Mr Johnson said Ms Patel was dealing migrant crossings "in the best possible way".
The home secretary is holding talks with her French counterpart on Wednesday afternoon about the number of migrants crossing the English Channel.
Ms Patel and the French interior minister, Gerald Darmanin, are both attending the meeting of G7 ministers in London.
Charities and campaigners have told 独立 that there needs to be an "180 degree turn" in the government's approach to the migrant crossings. They called for officials to commit to safer routes to the UK for people who have family in Britain.
The appeal comes after 785 migrants crossed the Channel to seek refuge in the UK on Monday, and under 500 made the crossing on Tuesday.
Bridge Chapman, from Kent Refugee Action, 说: "Up until now [politicians] seem to have entrenched themselves into a position where they try to look as tough as possible.
"What we hope would come out of the talks is a way of offering people that want to come to the UK better options. Boris's rhetoric is going in totally the wrong track."
Steve Valdez-Symonds, refugee and migrant rights director at Amnesty UK, was not hopeful that the home secretary's talks would bring the change they wanted. 他说: "I expect the home secretary will concentrate her energy on trying to persuade the French, possible with more money, to build ever greater fences and have even more patrols.
"This will be of no use and will leave people in the same sorry situation that they are already in.
"Unless the UK is prepared to take some responsibility and accept in those with family connections, and take in a good proportion of people in a safe way, the smugglers will carry on thriving and the human misery will continue."
Pierre-Henri Dumont, who represents Calais in the French National Assembly, warned on Wednesday morning that "nothing can stop" migrants coming.
他说: "The fact is, we've got 300 至 400 kilometres of short to monitor every day and every night and it's quite impossible to have police officers every 100 metres because of the length of the shore."
Speaking on Radio 4's 今天 程序, 他加了: "The causes we need to address are numerous."
Mr Dumont said migrants were more likely to speak English and so were hoping to reach the UK where they could more easily find work.
他加了: "We have more and more patrols. They money that was promised to be given by the UK government to France is set to maintain this number of patrols that we already doubled a few weeks ago."
Bella Sankey, director of charity Detention Action, 说: "If Priti Patel wants to 'deal effectively' with channel crossings and salvage her reputation, she would do well to discuss the creation of a humanitarian visa with her counterpart Gerald Darmanin."
"This could stop dangerous boat crossings overnight and truly smash the business model of people smuggling gangs."
多于 12,600 people have made the dangerous journey so far this year.
"The home secretary's priority must be to keep people safe, not keep people out," added Tim Naor Hilton, chief executive of Refugee Action.
"She needs to stop this never-ending roundabout of ludicrous get-tough-quick schemes that push refugees into making longer and riskier journeys."
Dan O'Mahoney, clandestine channel threat commander, 说: "This unacceptable rise in dangerous crossings is being driven by criminal gangs and a surge in illegal migration across Europe.
"We're determined to target the criminals at every level, 迄今为止, we have secured nearly 300 arrests, 65 convictions and prevented more than 10,000 migrant attempts."