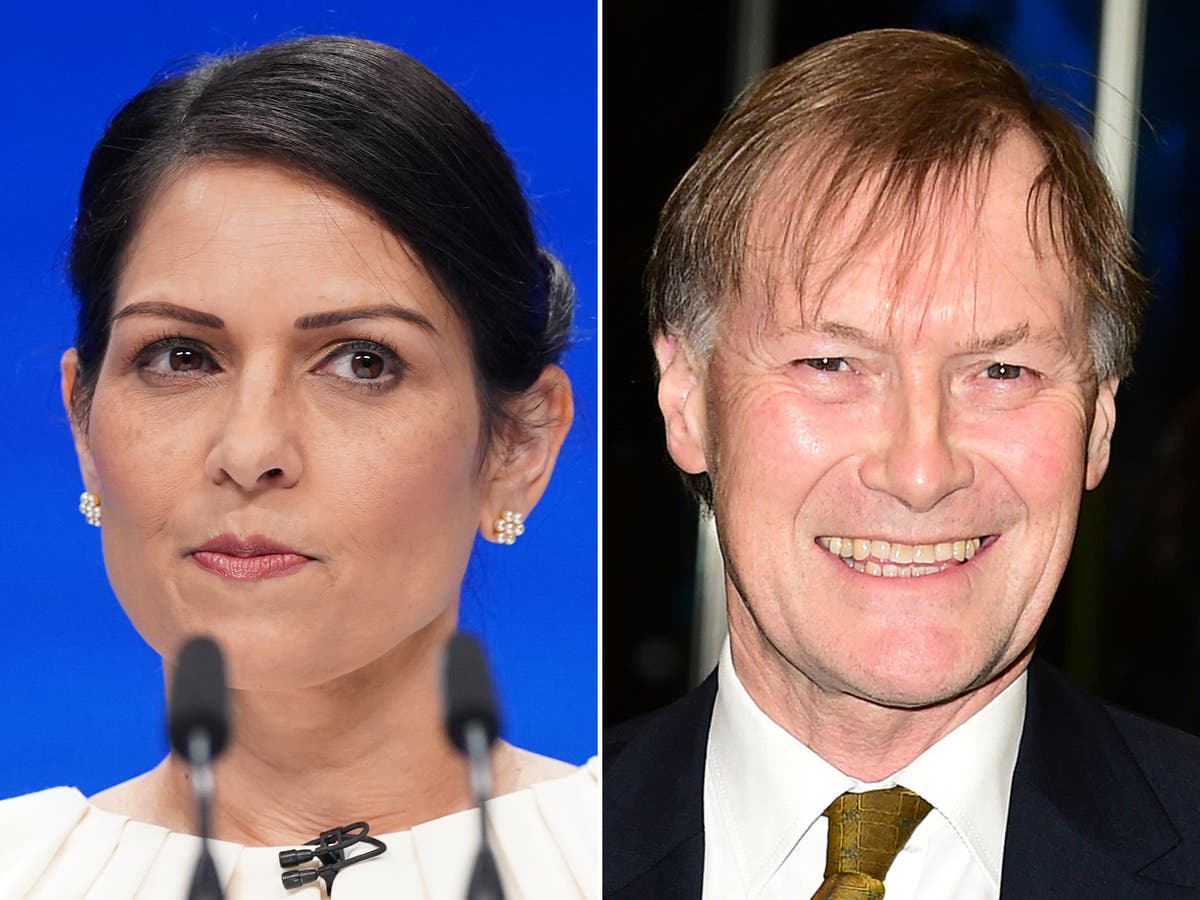 All police forces ordered to assess safety measures
Priti Patel has ordered all police forces to review security arrangements for MPs following the murder of Sir David Amess.
The home secretary met police and representatives of the security and intelligence agencies after the 69-year-old MP was fatally stabbed at an advice surgery in his Southend West constituency.
She also met Sir Lindsay Hoyle, Commons speaker, who called for a review shortly after news of Sir David's death broke.
Plus tôt, Ms Patel said she was "devastated" by the loss of Sir David in what she described as an "attack on democracy itself".
"That he was killed while going about his constituency duties is heartbreaking beyond words. It represents a senseless attack on democracy itself," elle a dit.
"Questions are rightly being asked about the safety of our country's elected representatives and I will provide updates in due course."
Sir Lindsay warned against a "knee-jerk reaction" but vowed Westminster authorities would not "rest on our laurels".
"What we want to do is make sure MPs can carry out their duties. We have got to make sure MPs are safe," il a dit.
MPs were advised on how to better look after their safety after the murder of Labour MP Jo Cox in 2016. Les temps reported that the amount of money spent protecting MPs rose fivefold to more than £2.5m in the year after her death.
In a book published last year, Oui & Oreilles: Un guide du survivant à Westminster, Sir David reflected on the impact of the murder of Ms Cox and other MPs.
Il a écrit: «La tradition britannique a toujours été que les députés se rendent régulièrement disponibles pour que les électeurs les rencontrent en face à face lors de leurs chirurgies.. Maintenant, des conseils ont été donnés pour être plus prudent lors de l'acceptation de rendez-vous.
« On nous conseille de ne jamais voir les gens seuls, nous devons être très prudents lors de l'ouverture du courrier et nous devons nous assurer que nos bureaux sont correctement sécurisés.
"En bref, ces attaques croissantes ont plutôt gâché la grande tradition britannique des gens rencontrant ouvertement leurs politiciens élus. »
Sir David was stabbed at Belfairs Methodist Church in Leigh at about midday on Friday and died shortly after. He had been an MP since 1983, first serving Basildon, then Southend West from 1997.
Essex Police said a 25-year-old man was arrested "immediately" after officers arrived, and a knife recovered.
Counter-terror officers had been put in charge of the investigation into the killing by Friday evening. L'indépendant understands that the suspect is of Somali origin, and the murder is being treated at this point as a probable Islamist terror attack.
Rapports supplémentaires par l'AP