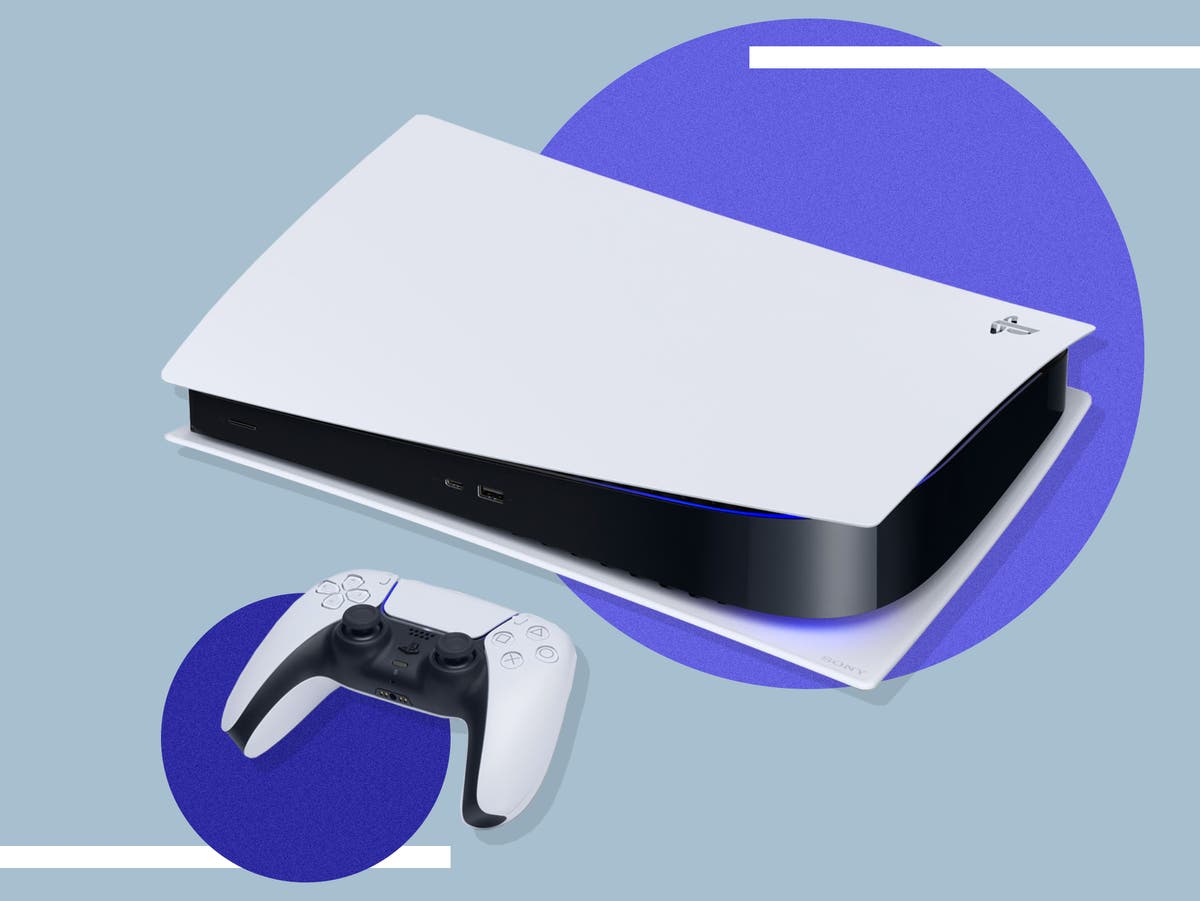 All the latest news on PS5 console restocks at retailers across the UK, including Game, Amazon and John Lewis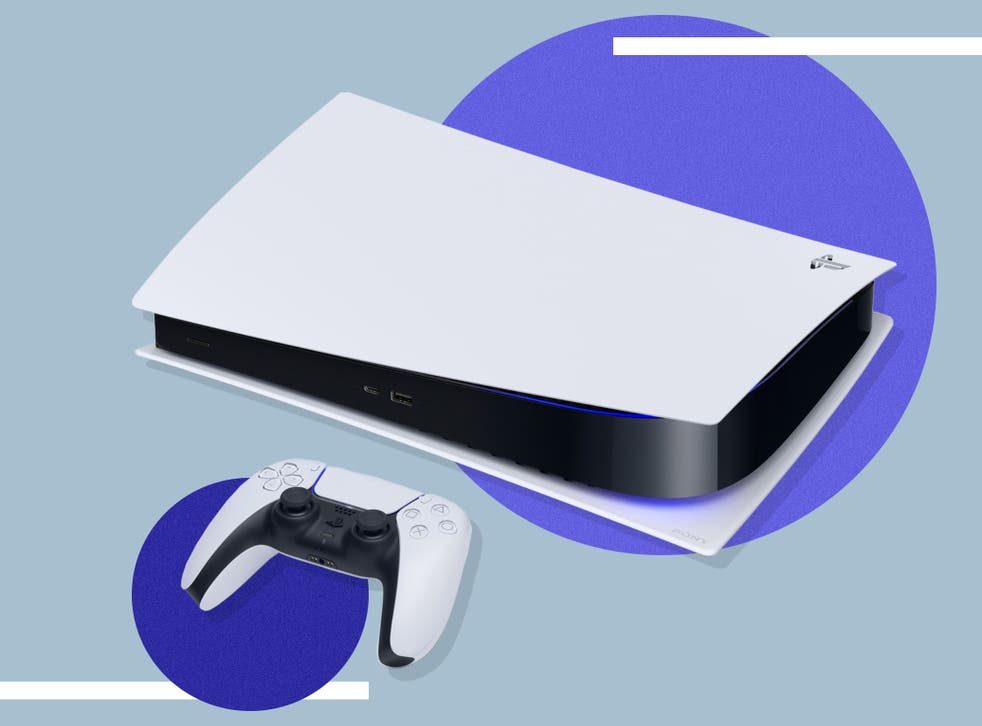 UPDATE: The PS5 could drop at Amazon next week. Read on for more information.
The PS5 launched almost a whole year ago, in November 2020, but supply problems and a global semiconductor shortage have caused the production of Sony's new game console to slow substantially. New stock is still quite difficult to find, and when it does appear the PS5 sells out almost instantly.
September was a mixed bag when it came to PS5 restocks, but was still much better than June and July. Although not a patch on the sunlit uplands of August, we still saw some consistent drops last month at Very, BT, EE, Argos, Amazon, Smyths Toys and Game. We had 10 drops to end the month of September. The question now is, how is October going? The news hasn't looked great so far. This month, we've only seen online restocks from AO.com, BT, and ShopTo, with Game joining the gang on Tuesday last week, plus an in-store drop at Smyths Toys.
But don't lose hope. This week, we've seen drops at Asda, Studio, John Lewis & Partners, Very, Littlewoods, Argos, Hamleys and Game, so it's finally starting to pick up. If you're still on the lookout for a PS5, you've come to the right place. Our liveblog is on hand to give you the latest insight on Playstation 5 restocks from all major UK retailers, both online and in-store, as well as providing details on rumoured releases, the latest PS5 games and accessories to snap up.
Read more:
Check stock from UK PS5 retailers below:
1634904198
How long has it been since Tesco PS5 stock was last available?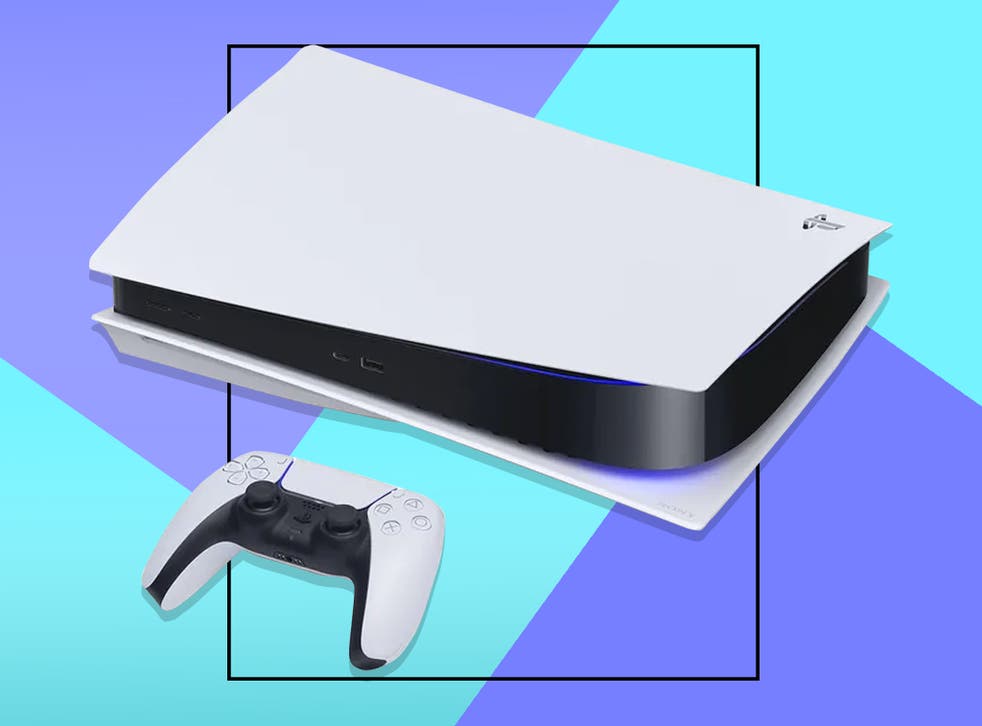 A VERY LONG TIME! Tesco last had a PS5 restock on 18 March at 3:45pm. Translation: It's been 217 days, 21 hours and 18 minutes.
Even bigger translation: It's been seven whole months and four excruciating days since Tesco last filled up its stores with new consoles. We think the supermarket chain has just given up at this point. That said, Xbox series X can sometimes be spotted in the wild in Tesco stores.
Alex Lee
22 October 2021 13:03
1634901198
Should you buy a PS5 from CeX?
Ah CeX, the butt of playground jokes and childhood second-hand game nostalgia. While we think fondly of CeX, we'd recommend not buying a PS5 from the retailer.
CeX is currently selling the PS5 for a whopping £720. The most expensive bundle at Game costs £686.94, and you don't just get a PS5, but also an extra cosmic red dualsense controller, a PlayStation T-shirt and cap, a copy of Marvel's Spider-Man: Miles Morales and a pulse 3D wireless headset. It's just not worth the money.
Alex Lee
22 October 2021 12:13
1634898198
When could Amazon PS5 stock drop?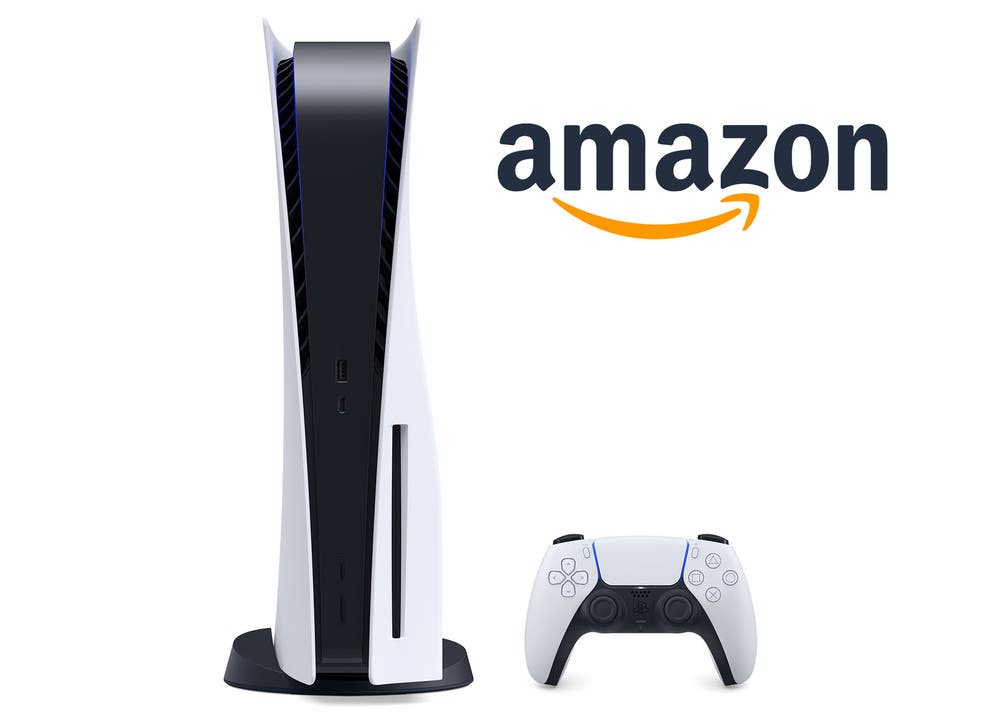 It used to be really easy to predict Amazon restocks, but since the retailer has seemingly experienced a stock shortage, that task has become a little trickier. It usually drops stock once every two weeks, but after dropping consoles once in August, it waiting a whole six weeks before restocking again.
We're hopeful for another restock sometime next week. If one happens, expect it to take place on Tuesday or Wednesday.
Alex Lee
22 October 2021 11:23
1634896398
Want a Nintendo Switch OLED?
Fed up of trying to hunt down a PS5 but still want the glory of having a next-gen console? Look no further than the new Nintendo Switch – OLED model, which has a stunning 7in display and a much better kickstand. Read our Nintendo Switch OLED review for more of our thoughts.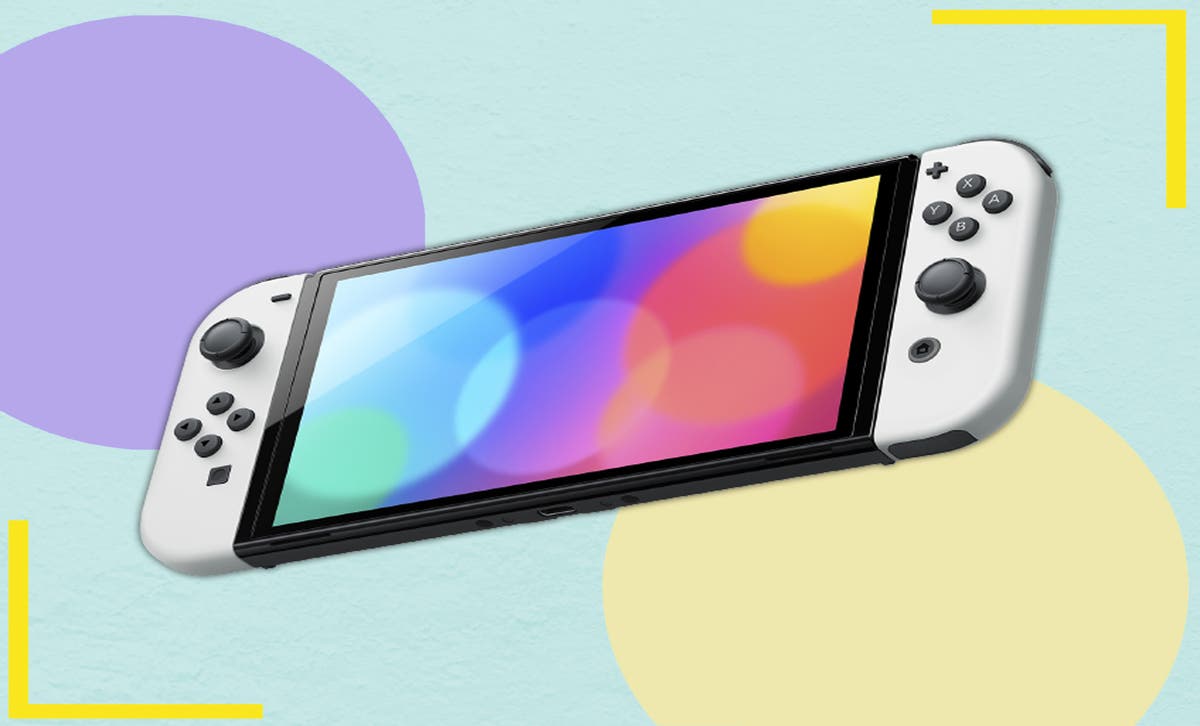 The Nintendo Switch OLED is available to buy in the UK now from Game, Argos, Very, Smyths, Amazon. Here's where to buy it, it's price, release date and more
Alex Lee
22 October 2021 10:53
1634894598
When was the last Currys PC World PS5 restock?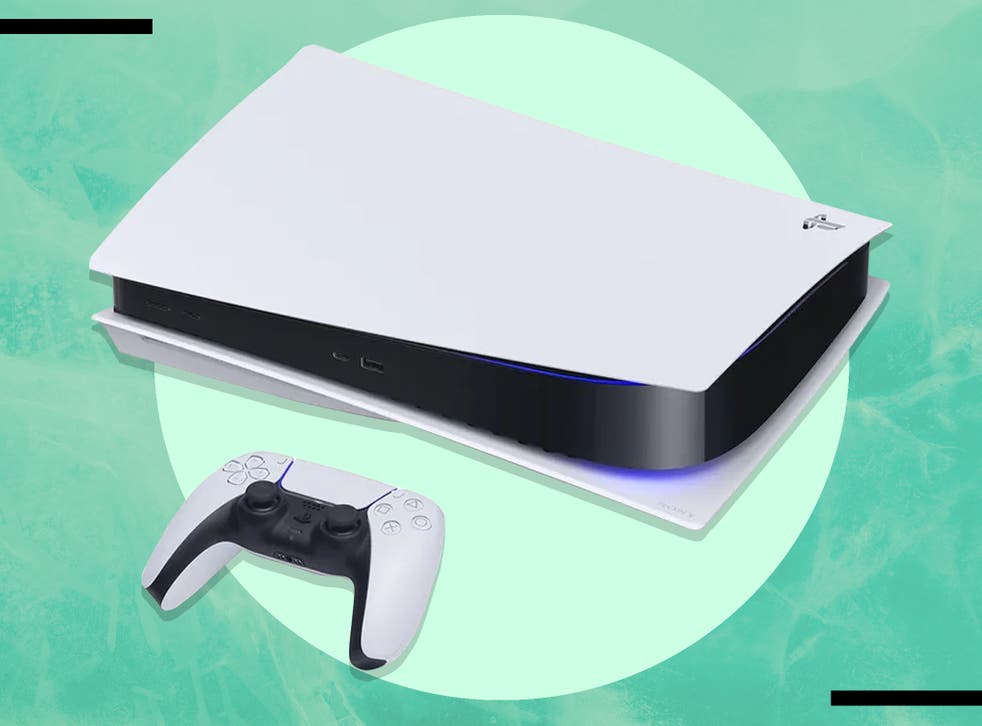 Currys rarely ever sells the PS5 in its stores or online for everyone to buy, instead preferring to dish out the coveted console via its now-closed VIP pass draw system. Some PS5s are occasionally spotted on the shelves in some local stores, but you have to be extremely lucky.
The retailer last had an in-store drop on 25 August. Customers without a VIP code were able to go into one of 80 local Currys stores and pick up a PS5.
For those waiting for a VIP code – they were last sent out on 14 October, so don't expect another batch of codes until next week at the earliest.
Alex Lee
22 October 2021 10:23
1634892798
How does EE PS5 add to plan work?
EE last had a PS5 restock on 28 September. To get a PS5 from EE, you need to be in a 12-month or longer pay monthly contract. You'll be able to buy the PS5 for £40 a month through the Add to Plan process. There are also bundles available for £45 or £50 a month, containing PS5 accessories.
The website doesn't always work super well, so we'd recommend trying to check out using the app when stock goes live.
Alex Lee
22 October 2021 09:53
1634891617
Could Scan PS5 consoles restock soon?
Scan last had a PS5 restock on 9 September, and it was one of the strangest drops we've ever seen. Unlike most retailers, who just update their PS5 product page with a nice little "Add to basket" button, customers who wanted a console had to contact Scan through the live chat system and ask for a PS5, as reported by @PS5StockAlertUK.
Scan doesn't seem to get a huge amount of stock, so it's hard to predict drops at the retailer. If you contact Scan's customer services through the live chat system now, you'll see the following message: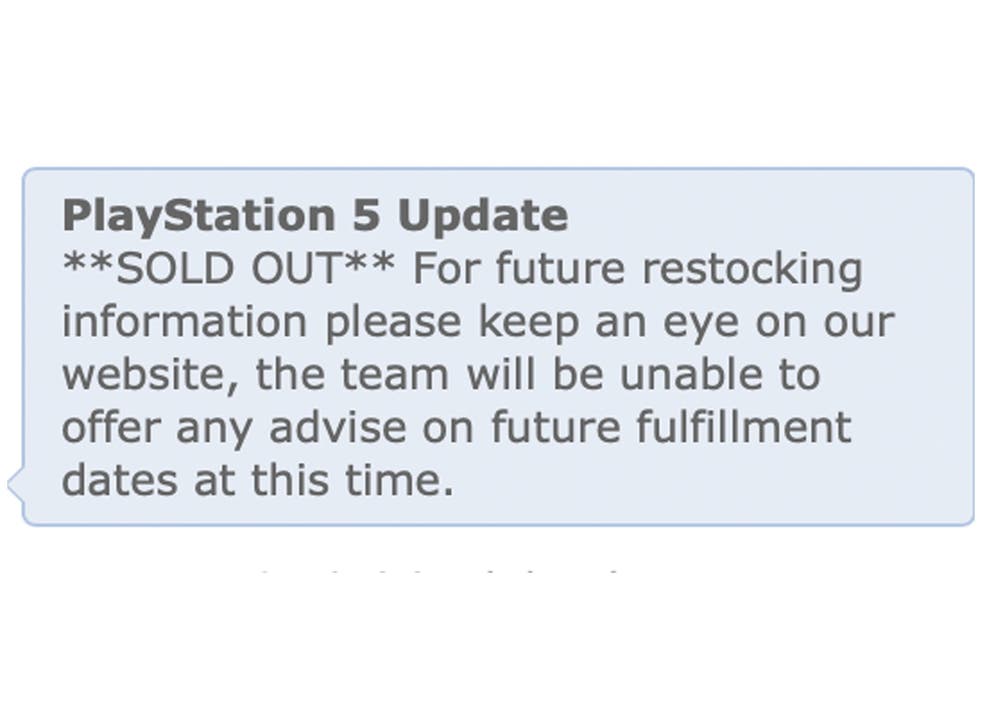 Alex Lee
22 October 2021 09:33
1634890038
ShopTo could drop more PS5 stock this weekend
Unlike the majority of PS5 stockists, who prefer releasing batches of new consoles on a weekday, ShopTo tends to spread the PlayStation joy on a Saturday or a Sunday.
The retailer last dropped stock on Sunday 17 October at 3:25pm. It's worth keeping an eye out for stock drops at ShopTo between the hours of 1pm and 4pm in the afternoon.
Alex Lee
22 October 2021 09:07
1634889129
When was the last Very PS5 restock?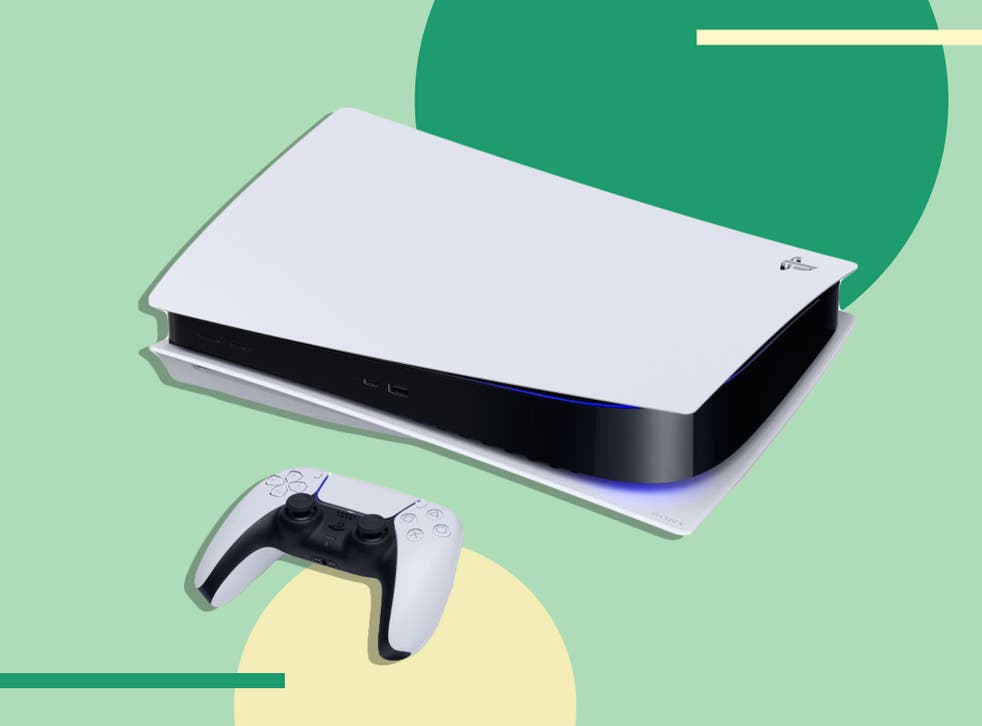 Very last dropped the PS5 on Tuesday 19 October, so we aren't expecting another restock from the retailer for a while now. It usually only has one or two drops per month, but the drops have been slowing down in pace since September. The drop on Tuesday lasted a whole three hours.
If you're ever struggling to secure a console from Very, we'd recommend checking out sister website Littlewoods, who sells PS5s as well – albeit at a more expensive price point.
Alex Lee
22 October 2021 08:52
1634886900
What PS5 stock drops could we see today?
Goooooooood morning PS5 hunters and happy Friday! After such a packed week of PS5 drops, you might be thinking to yourself – surely we can't get any more?
In the world of PS5 restocks, we've learned never to say never. So this morning, we've got a very, very tentative eye on Smyths Toys. Stick around and we'll bring you the live updates as they happen.
Alex Lee
22 October 2021 08:15
IndyBest product reviews are unbiased, independent advice you can trust. On some occasions, we earn revenue if you click the links and buy the products, but we never allow this to bias our coverage. The reviews are compiled through a mix of expert opinion and real-world testing.