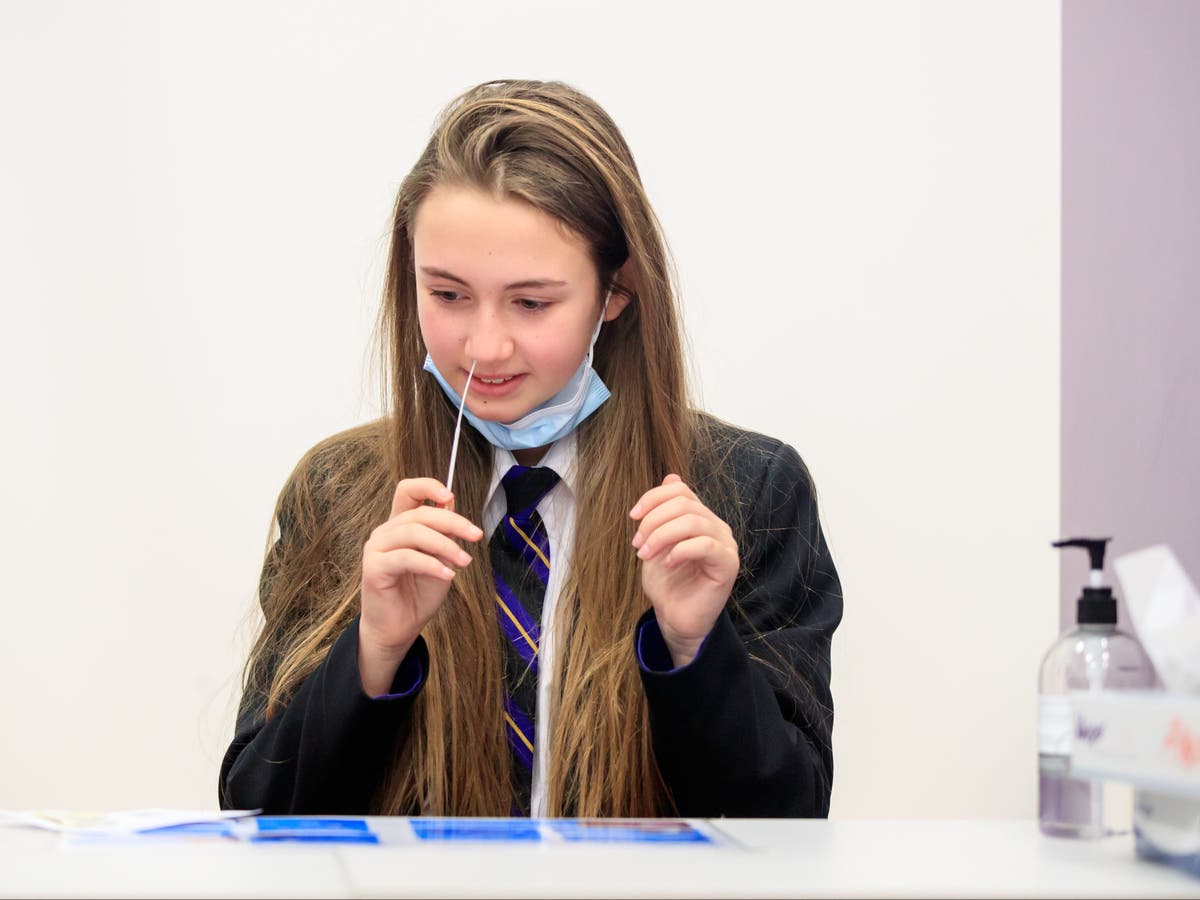 'Asymptomatic testing helps break chains of transmission,' says education secretary
Students and their families have been urged to take a coronavirus test for the return to school after the half-term break.
Gavin Williamson, the education secretary, made the appeal to secondary school pupils and their families ahead of schools going back from Monday.
A testing programme has been ongoing since March to identify asymptomatic cases among schoolchildren.
Secondary school pupils are given packs of Covid tests and encouraged to get tested twice a week.
Mr Williamson said: "A year ago it was unimaginable to suggest that a testing programme of this scale and impact could be delivered at the speed we have seen."
He added: "Asymptomatic testing helps break chains of transmission by taking people who are infectious but don't know it out of circulation.
"As the half term comes to an end, take a Covid test before going back to the classroom."
The Department for Education said testing before going back after half-term would be particulary important "after mixing with different groups over the break".
A "huge proportion" of the latest cases are in children, Matt Hancock, the health secretary, wrote in The Sunday Telegraph.
New data shows the number of outbreaks and clusters at schools have risen in recent weeks, with the vast majority linked to the Delta variant first detected in India.
PHE said there had been a total of 97 coronavirus outbreaks or clusters in primary and secondary schools linked to coronavirus variants in the four weeks until the end of May, representing around 1 in 250 schools.
The Delta variant accounted for 87 of these, the data showed.
The DfE said Covid-related pupil absence had "remained consistently low" since the start of the summer term, with around 1 per cent of pupils off school due to reasons linked to coronavirus – such as a positive test or self-isolating – every day since 21 April.
Health Minister Lord Bethell: "Rapid testing has underpinned the entire reopening of schools and it's been a remarkable success that is testament to the herculean efforts of teachers, children and parents playing their part by making a test part of their everyday lives."
He added: "As parents gear up to return their children to the classroom tomorrow, I'd urge them all to carry on doing their bit by keeping calm and carrying on testing during the term ahead."
As well as the testing programme targeted at schools, people in England are able to get a free rapid Covid test twice a week under a scheme launched in April.