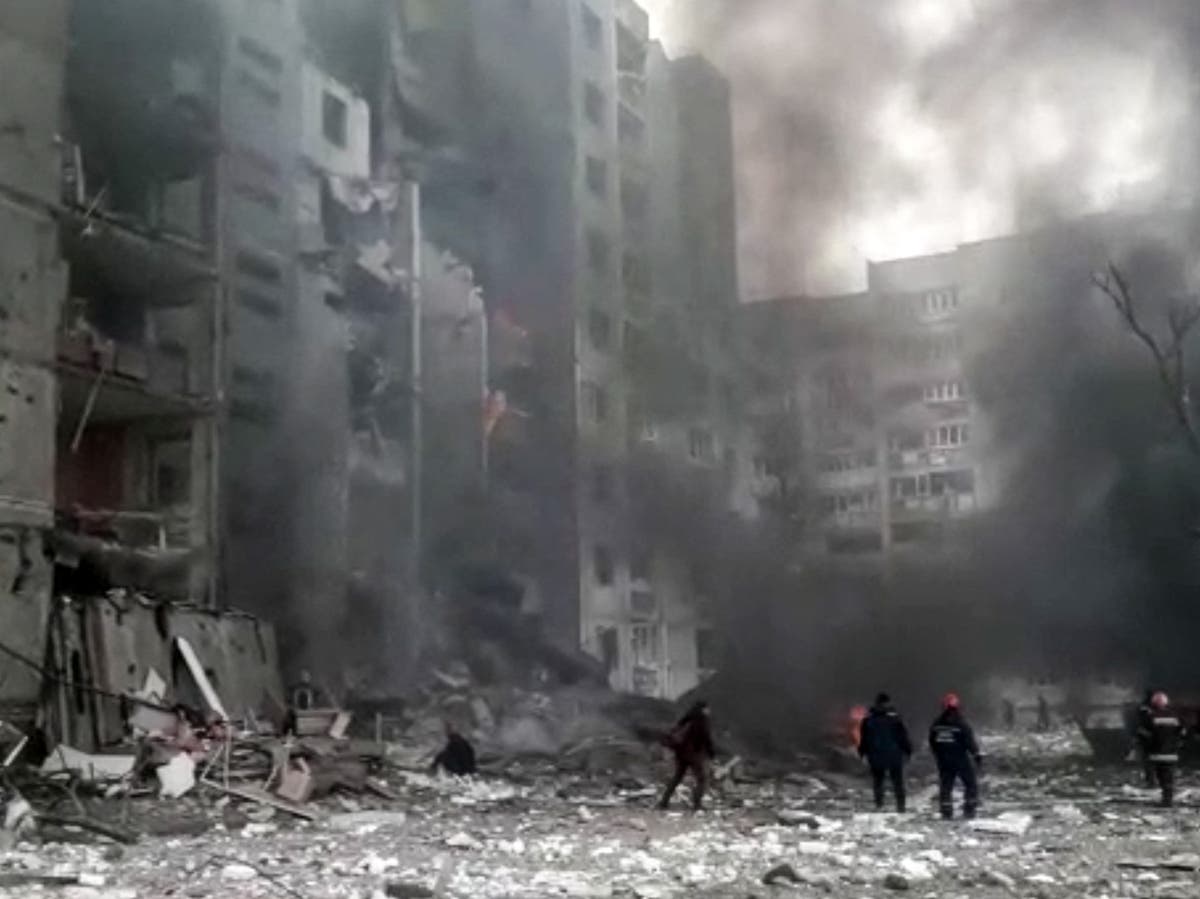 PM suggests 'trauma' of war has shown 'real strength of the affection' between UK and European Union
Boris Johnson has warned that he believes Vladimir Putin plans to "double down" on his bloody invasion of Ukraine, envisaging "no way out" other than to continue with the "pulverising of innocent populations".
Despite the Russian president's insistence that his "special military operation" was "going to plan" as it entered its ninth day, his forces' progress appears to be behind schedule and beset by logistical problems.
Mr Putin repeated in a televised address on Thursday he wanted to ensure the "demilitarisation of Ukraine so that we can't be threatened by an anti-Russia right on our borders that the West has been creating for years".
But with his forces taking a week to capture their first major city, Kherson, amid staunch and widespread Ukrainian resistance, the flagging advance of ground troops appears to have been replaced with the more cautious – and devastating – tactic of bombardment.
Speaking to foreign reporters on Friday as fears for cities including Mariupol and Kharkiv drew comparisons with the infamously levelled cities of Aleppo and Grozny, the British prime minister suggested Mr Putin potentially saw no other option but to continue pummelling civilian areas with explosives.
"It feels to me as though Vladimir Putin has decided to – and it's clear from what's happening – that he's decided to double down," Mr Johnson said.
"He sees no way out of the cul-de-sac that he's in, except to continue with the destruction, the pulverising of innocent populations, in innocent European cities. So we will have to respond together with an intensified package."
His comments also came after a tense night – one in which Washington's ambassador told UN delegates that "the world narrowly averted a nuclear catastrophe" – as the Russians launched a successful bid to capture Europe's largest nuclear power plant.
World news in pictures

Show all 50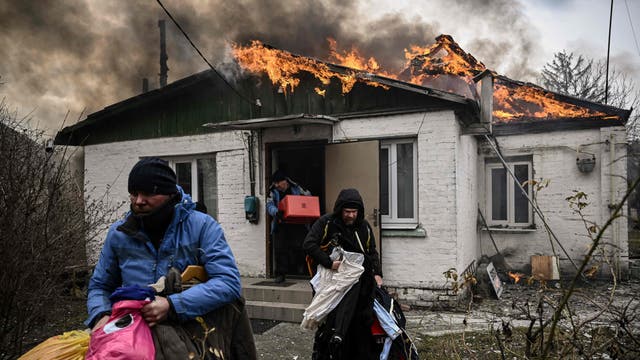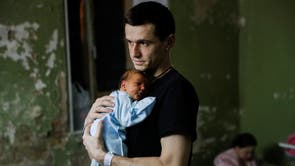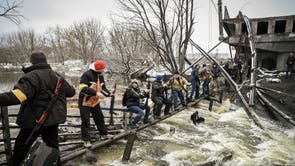 While shelling prompted a fire to break out at a training building close to the Zaporizhzhia site, Ukrainian officials said "essential" equipment was unaffected, according to the International Atomic Energy Agency (IAEA).
But, with Ukraine housing four large nuclear plants and 15 reactors and associated facilities, plus the site at Chernobyl which the Russians have also seized, Mr Johnson warned that an "urgent" plan was needed to ensure a catastrophe did not take place at any Ukrainian nuclear sites.
The prime minister described being woken in the middle of the night by a call from the "extremely concerned" Ukrainian president, Volodymyr Zelensky.
"He rang me to say something that I agreed with profoundly, which is: an attack on a nuclear power plant or an explosion at a nuclear power plant are clearly a matter of our common European health and safety," Mr Johnson told reporters from La Repubblica, Die Welt and El Pais.
"Our security is equally involved, equally jeopardised by such an attack. We remember what happened with Chernobyl, the radioactive clouds spread over the whole continent, and indeed, also to North America, as far as I can remember.
"There is clearly a risk. Although the incident has been contained and the IAEA says there's no excessive radioactivity, I am concerned about how we stop a disaster: there are other Ukrainian plants and there are certainly other Ukrainian radioactive nuclear waste sites.
"One of the things we need to consider is how we're going to work together to prevent such a disaster. I don't think the answers are easy, but we need to work on it … We need to work on it urgently."
As the UN was warned that Russian troops were "20 miles, and closing" from Ukraine's second-largest plant, Mr Johnson was asked how such sites could be protected. He said: "We have to make clear to the Kremlin that a civilian nuclear disaster in Ukraine, another Chernobyl, is a disaster for Russia as well as for everybody.
"Therefore, I think that some system of protecting those plants, some system of ensuring that radioactivity levels are monitored by international authorities, such as the UN and the IAEA on the ground, is going to be extremely important."
Mr Johnson also repeated his assessment that Mr Putin had "badly underestimated" the bravery and patriotism of the Ukrainian people and Mr Zelensky, as well as the "unity" of western nations.
Asked if the situation had "in some sense … mended a lot of wounds and a lot of broken relations between the UK and the European Union", Mr Johnson said: "All crises reveal the true relationships."
He added: "Sometimes, if a family goes through some big trauma, then the real strength of the affection between the members of the family and the way they work together can sometimes suddenly be revealed again.
"I think that's probably what's happening now."
Repeating statements made this week during visits to Nato allies in Estonia and Poland, Mr Johnson said Mr Putin was wrong if he had expected to "get less Nato" by invading Ukraine, adding: "Nato is going to be closer, they're going to be bigger. Defence spending is going up.
"So he's ending up with the exact opposite of what he wanted."
Despite Mr Zelensky fiercely berating Nato in an emotional address on Friday night over the alliance's refusal to implement a no-fly zone over Ukraine, Mr Johnson congratulated European governments on their "support for the Ukrainian right to self-defence", saying: "We must not accept the narrative of Vladimir Putin that this is about him versus Nato, or him versus the West."
Additional reporting by PA
The Independent has a proud history of campaigning for the rights of the most vulnerable, and we first ran our Refugees Welcome campaign during the war in Syria in 2015.
Now, as we renew our campaign and launch this petition in the wake of the unfolding Ukrainian crisis, we are calling on the government to go further and faster to ensure help is delivered. To find out more about our Refugees Welcome campaign, click here.
To sign the petition click here. If you would like to donate then please click here for our GoFundMe page