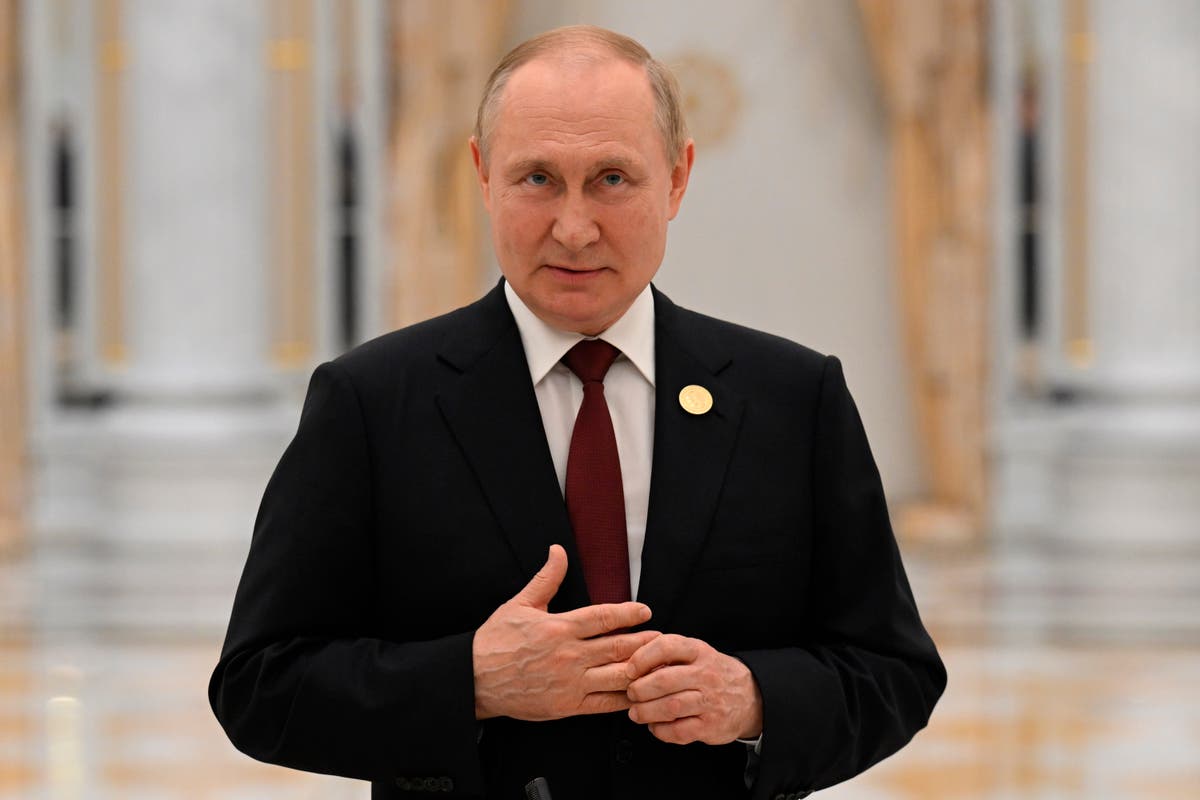 Russian invasion of Ukraine – live updates
Moment Russian missile hits Ukrainian shopping centre
Vladimir Putin must be "held to account" for a missile strike on an apartment block near Odesa, which has left at least 21 people dead, Germany has said.
At least two children were among those killed in the strike on a 14-storey building in the small town of Serhiivka, near Odesa in southern Ukraine on Friday morning.
Germany condemned the attack, suggesting it could amount to a war crime if civilians had been deliberately targeted.
"The Russian President Putin and those responsible will have to be held accountable," a German government spokesman told a briefing.
The Kremlin has denied Moscow targeted the building, insisting "the Russian Armed Forces do not work with civilian targets".
The attack comes after Russian forces withdrew from the strategically important Snake Island on Thursday, a move Ukrainians hoped would ease the threat to nearby Odesa.
1656691287
Ukraine calls on Turkey to detain Russian cargo ship carrying grain
Ukraine has requested that Turkey detain and arrest the Russian-flagged cargo ship Zhibek Zholy carrying a cargo of Ukrainian grain taken from the Russian-occupied port of Berdyansk, according to a Ukrainian official and document seen by Reuters.
The Ukrainian foreign ministry official, citing information received from the country's maritime administration, said the Zhibek Zholy had loaded the first cargo of some 4,500 tonnes of grain from Berdyansk, which the official said belonged to Ukraine.
In a letter dated June 30 to Turkey's justice ministry, Ukraine's prosecutor general's office separately that the Zhibek Zholy was involved in the "illegal export of Ukrainian grain" from Berdyansk and headed to Karasu, Turkey with 7,000 tonnes of cargo, which is a larger cargo than cited by the official.
Turkey's foreign ministry did not immediately reply to a request for comment on the arrival of the Zhibek Zholy.
Joe Middleton
1 July 2022 17:01
1656689692
Norway pledges 1 billion euros to support Ukraine
Norway on Friday pledged 1 billion euros to support Ukraine for the rest of 2022 and 2023, Norway's prime minister told a news conference with Ukrainian president Volodymyr Zelensky.
Jonas Gahr Stoere said the money was to help Ukraine support people in need, defend itself and for reconstruction.
Joe Middleton
1 July 2022 16:34
1656689054
Putin mocks Johnson for claiming he would not have invaded if he was a woman
Putin mocks Johnson for claiming he would not have invaded if he was a woman
Joe Middleton
1 July 2022 16:24
1656687561
Serhiivka neighbours search for survivors after apartment block strike
Neighbours in the resort village of Serhiivka, near Odesa, helped workers comb through the rubble of the nine-storey apartment block, a section of which had been completely destroyed on Friday morning by a Russian missile strike.
Walls and windows of a neighbouring, 14-storey apartment block had also been damaged by the blast wave. Nearby holiday camps were also hit.
"We came here to the site, assessed the situation together with emergency workers and locals, and together helped those who survived. And those who unfortunately died. We helped to carry them away," said Oleksandr Abramov, who lives nearby and had rushed to the scene when he heard the blast.
At least 21 people, including two children, were killed in the blast.
Tom Barnes
1 July 2022 15:59
1656686638
Breaking: Odesa apartment bombing death toll rises to 21
At least 21 people have died following a Russian missile strike on an apartment block near Odesa, Ukranian officials have said.
Serhiy Bratchuk, spokesman for the Odesa regional administration, said 21 people had been confirmed killed, including a 12-year-old boy. The boy is one of two children reported to have died.
Authorities said earlier 41 people had been rescued from the apartment building where 152 lived.
Tom Barnes
1 July 2022 15:43
1656684860
Video: Satellite images of Ukraine's Snake Island after Russian troops flee
Satellite images of Ukraine's Snake Island after Russian troops flee
Tom Barnes
1 July 2022 15:14
1656683301
Russia seizes control of partly-foreign owned energy project
Vladimir Putin has handed full control over a major oil and natural gas project partly owned by Shell and two Japanese companies to a newly created Russian firm, a bold move amid spiralling tensions with the West over Moscow's military action in Ukraine.
Mr Putin's decree late Thursday orders the creation of a new company that would take over ownership of Sakhalin Energy Investment Co, which is nearly 50 per cent controlled by British energy giant Shell and Japan-based Mitsui and Mitsubishi.
His order named "threats to Russia's national interests and its economic security" as the reason for the move at Sakhalin-2, one of the world's largest export-orientated oil and natural gas projects.
The presidential order gives the foreign firms a month to decide if they want to retain the same shares in the new company.
Russian state-controlled natural gas giant Gazprom had a controlling stake in Sakhalin-2, the country's first offshore gas project that accounts for about 4% of the world's market for liquefied natural gas, or LNG.
Japan, South Korea and China are the main customers for the project's oil and LNG exports.
Kremlin spokesman Dmitry Peskov said Friday that there is no reason to expect a shutdown of supplies following Mr Putin's order.
1656681500
Russian envoy to Bulgaria says she will ask Moscow to shut embassy
Russia's ambassador to Bulgaria said on Friday she would ask Moscow to close down its embassy in the Balkan country after her appeal for Sofia to reverse a decision to expel 70 Russian diplomatic staff was ignored.
In a statement addressed to the Bulgarian people, the ambassador, Eleonora Mitrofanova, said the closure of the Russian embassy would inevitably lead to the closure of Bulgaria's embassy in Moscow too.
Bulgaria, an EU and NATO member state and once a close ally of Russia, has been roiled by diplomatic tensions this week after outgoing Prime Minister Kiril Petkov announced the expulsion of 70 Russian diplomatic staff on espionage concerns.
The move was the largest expulsion of Russian diplomats by Sofia in recent years and more than halved the size of Moscow's diplomatic footprint in Bulgaria.
Russia's ambassador Eleonora Mitrofanova called the expulsions an "unprecedented hostile step and on Thursday told Sofia to reverse its decision by midday on Friday. If it did not, she said she would ask Moscow to consider ending Russia's physical diplomatic presence in Bulgaria altogether.
Petkov earlier on Friday rejected her ultimatum.
"Unfortunately our appeal to Bulgaria's ministry of foreign affairs was ignored," Mitrofanova, the Russian ambassador, wrote in a statement.
"I intend to quickly put the question of the closure of Russia's embassy in Bulgaria before my country's leadership, which will inevitably mean the closure of the Bulgarian diplomatic mission in Moscow," she wrote.
1656680300
Protests over Russian film set to be screened at Czech film festival
An international film festival in the Czech spa town of Karlovy Vary opened on Friday amid controversy, following a protest by Ukraine over the screening of a Russian film alongside Ukrainian-made movies.
Before the start of the 56th edition of the festival, several leading Ukrainian filmmakers and Ukraine's ambassador to Prague protested over the scheduled screening of Captain Volkonogov Escaped.
Ukrainian ambassador Yevhen Perebyinis said in an open letter that it would be "inhuman" to screen Ukrainian films alongside a Russian movie made with support from Russia's culture ministry at a time when Russian troops had "committed atrocities" during their invasion of his country.
Organisers said they consider the Russian movie, whose world premiere was at last year's Venice Film Festival, as being indirectly critical of the current Russian leadership.
Four Ukrainian films and eight other nearly-completed movies produced or co-produced by Ukraine will also be screened at the festival.
1656678980
Putin must be held accountable after Russia missile attacks near Odesa, Germany says
Germany on Friday condemned missile strikes near the Ukrainian port city of Odesa, saying attacks on civilians were war crimes.
"The Russian President Putin and those responsible will have to be held accountable," a German government spokesman told a briefing.
Missiles rained near Odesa on Friday, hitting an apartment building and a resort and killing at least 19 people, hours after Russian troops were driven off the nearby Snake Island. Russian denies targeting civilians.