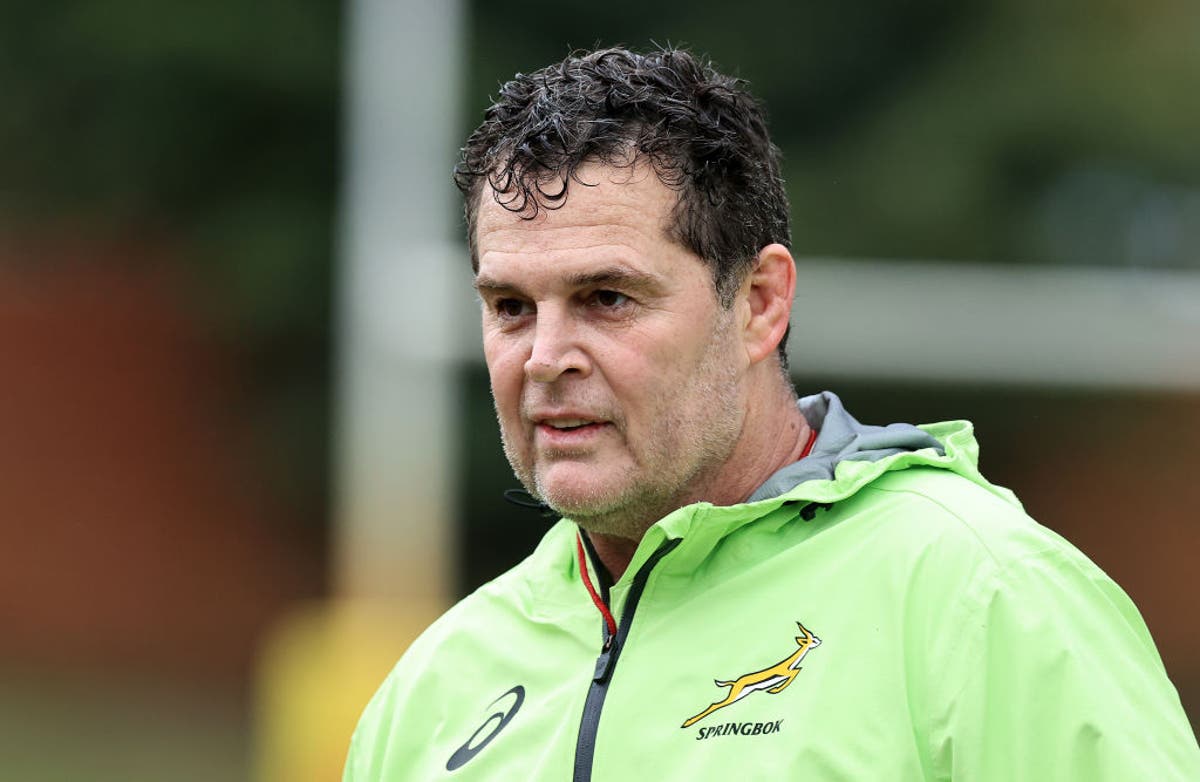 Off-the-field matters have taken centre stage rather than the first Test victory for the Lions
You cannot accuse this Lions britanniques et irlandais tour of being boring. It has been another extraordinary week that has taken a rather surreal turn, threatening to become a farce that even Georges Feydeau would not wish to have written, with a World Cup-winning head coach seemingly spiralling off the rails and treading entirely new ground.
It had already been an eventful few days when on Thursday things became even more bizarre. The release of a surreal video, recorded on Tuesday by a South African videographer who has previously worked with the Springboks and an hour in length, in which South Africa's Director of Rugby, Rassie Erasmus, repeatedly called into question the officiating of Nic Berry and his team in the First Test, accusing the officials of a "lack of respect" for captain Siya Kolisi.
The video was addressed to Joël Jutge, Mondial de Rugby's head of match officials and Joe Schmidt, director of rugby and high performance, and included 26 clips. Érasme, while clad in South African kit, insisted it was recorded and sent in a personal capacity.
"I've had previous encounters saying things in public about referees and it normally comes back to bite you, but the Lions only comes around every 12 années," a déclaré Érasme.
"It should be fair that I'll step away from these last two Test matches but let the two teams have an equal chance on the field when it comes to laws, respect, the way players are treated, what is said in the pre-match coaches' meetings with referees, how they give feedback and are seen in the media.
"When Siya spoke to the referee and when Alun Wyn [Jones] spoke to the referee, I just felt the reactions on how they treated both those players, there was a vast difference between who he was taking serious and who he wasn't taking serious."
It is a remarkable monologue that strays beyond the pale. That is not to say that there are not elements of truth to Erasmus' complaints, but to voice them publicly in such a manner (at times resembling a form of dystopian address) is entirely unprecedented.
Erasmus' diatribe places this weekend's match officials under unimaginable scrutiny and pressure. Referees are human and must manage and assess a highly kinetic and complex sport. Mistakes are inevitable; to publicly call them out in such a manner is highly irresponsible. Erasmus has proved himself an excellent coach who has little need to tread such strange new ground.
World Rugby should, and almost certainly will, come down hard on Erasmus, who is rapidly rolling back a great deal of goodwill generated by both his work with South African and the manner in which he took over from Anthony Foley after the Irishman passed away while in charge of Munster.
It should be noted that neither Jacques Nienaber nor Kolisi blamed the officials in the immediate aftermath of the First Test defeat. The referee on Saturday is New Zealand's Ben O'Keefe, who has already been accused of a "travesty" this month after sending of Australia's Marika Koroibete for a high tackle against France. South Africa's Marius Jonker (plat du jour for Warren Gatland last week) is again asked to oversee affairs as the TMO.
A statement from the governing body read: « World Rugby prend note des propos tenus par Rassie Erasmus. The nature of these will be raised with the union via the usual official channels and no further comment will be made at this stage."
Things have become curiouser and curiouser in Lions land. Erasmus was earlier this week forced to deny that he was "Jaco Johan", an anonymous Twitter account that had made a separate video spotlighting perceived officiating errors in the opening encounter in Cape Town, which Erasmus would then retweet. Mysteriously, Johan (@thenosyone987) is one of just three accounts followed by the verified Erasmus – along with Maro Itoje and Alun Wyn Jones…
The South Africa Director of Rugby then turned up, unannounced, at the Springboks' team naming on Tuesday alongside Nienaber, which did not suggest a great deal of faith in his erstwhile defence coach.
It has rather distracted from an intriguingly poised series. The Lions' five-point victory in the opener was crucial but they are preparing for a backlash, a highly motivated Springboks side with an extra week of game readiness in their legs.
Warren Gatland makes three largely predictable changes to his starting side. The defensively solid Chris Harris replaces Elliot Daly, who struggled to impact the First Test, while Mako Vunipola earns the starting loosehead's shirt after looking at somewhere near his destructive, all-action best off the bench in the opening game.
Conor Murray is promoted to start at nine ahead of Ali Price, a selection that suggests that the Lions are keen to establish control early, leaning on Murray's experience and accuracy with the boot. Dan Biggar must clear the final stages of the return-to-play concussion protocols – though Alun Wyn Jones' revelation on Thursday that Biggar had trained all week does not suggest sensible steps have been taken after his brain injury.
South Africa have made changes, trop. Steven Kitshoff and Frans Malherbe return at prop after their planned impact from the bench fell flat, while Jasper Wiese replaces Kwagga Smith at number eight. There are rhinoceroses on the South African plains easier to corral at full tilt than the Leicester man, an angry, impactful carrier that leave few illusions about the South African approach, as does the return to a six-two bench split. It will, in all likelihood, be a similarly structured contest to the engrossing first encounter.
After a week of Erasmus study, the focus for the Lions has been ensuring that, having got ahead in the series with a come-from-behind First Test victory, it does not go to its third game still on the line.
"We've spoken to the players about making sure they're mentally right because you don't want to be using your get-out-of-jail card which is going to the third Test," explained Gatland. "You want to make the most of the opportunity and hopefully seal the series on Saturday."