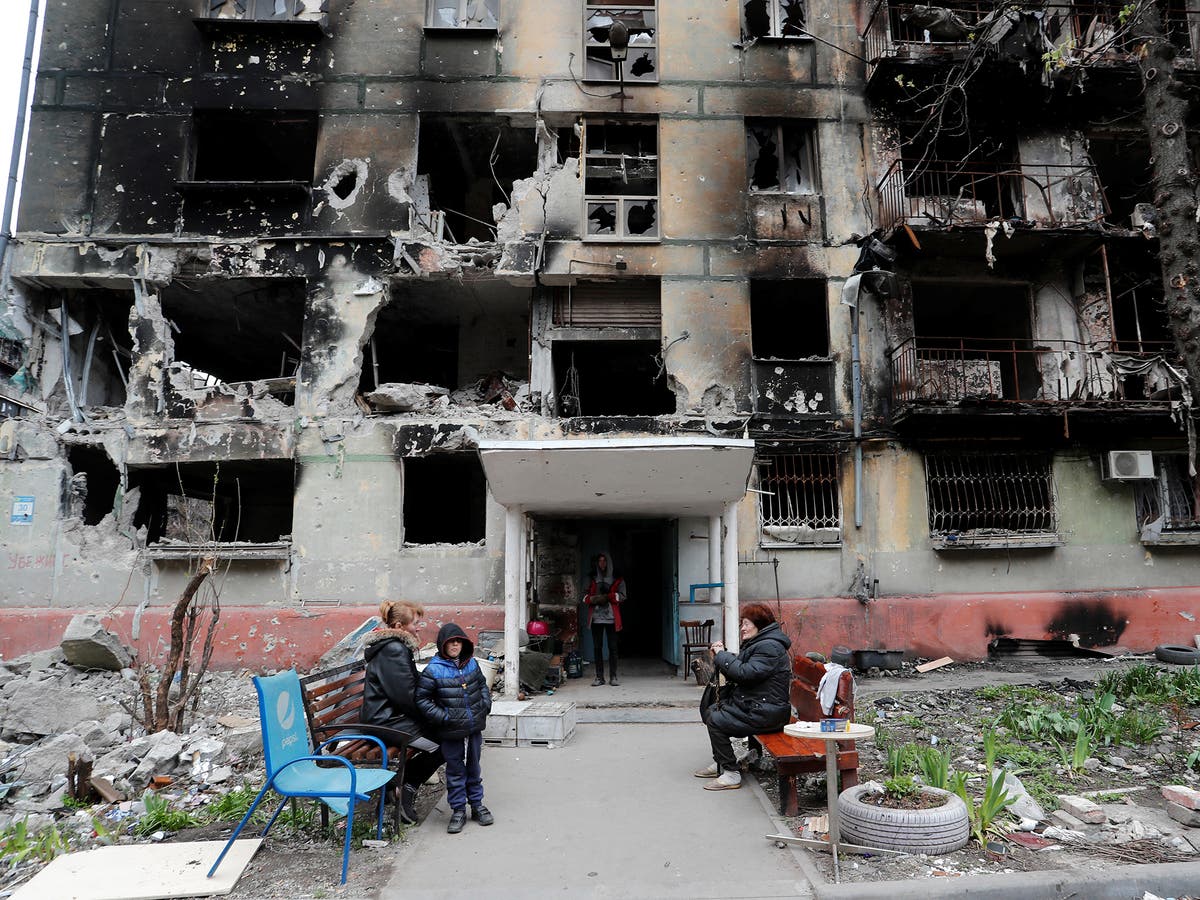 Russia invades Ukraine and starts war – live updates
Biden announces additional $800m arms package for Ukraine
Russian forces have attempted to storm the base of the last Ukrainian resistance in Mariupol, the Ukrainian military said.
Troops were said to have attacked the Azovstal steel plant – where the few thousand remaining Ukrainian troops in the besieged port city are hiding – despite an order from Vladimir Putin to the contrary.
The Russian president earlier said he told his forces not to attempt to capture the plant but to blockade it.
Most of Mariupol is under Russian control and the city's mayor Vadym Boychenko said around 100,000 residents remained trapped in the conflict zone.
A small convoy of buses evacuated people from Mariupol today and headed for the Ukrainian-held city of Zaporhizhia, he said.
The mayor earlier said a 30 metre mass grave had been discovered in Manhush, about 11 miles west of Mariupol. Maxar later released satellite images it said showed the development of the grave site.
1650600064
Wimbledon ban will 'incite hatred and intolerance', says Belarus federation
The decision to bar Russian and Belarusian players from participating in Wimbledon will incite "hatred and intolerance", said the Belarus Tennis Federation.
The grasscourt major had announced the decision to ban the players from the two countries on Wednesday over Moscow's invasion of Ukraine.
"The Belarusian Tennis Federation categorically condemns the decision of the Wimbledon organizers to suspend the Belarusian and Russian tennis players," BTF said in a statement on Thursday, adding that they are seeking legal opinion over the ban.
It added that the "unlawful decision of the international tennis organisations concerning our tennis players undermine… the reputation of these organisations."
"BTF management is still consulting with international law firms on sports law and developing a strategy that is aimed primarily at protecting the Belarusian tennis players around the world and tennis in the Republic of Belarus
Namita Singh
22 April 2022 05:01
1650599845
Bodies buried to hide the 'military crimes'
Mariupol mayor Vadym Boychenko accused the Russians of "hiding their military crimes" by taking the bodies of civilians from the city and burying them in Manhush.
He labeled the action as the "new Babi Yar", a reference to the site of multiple Nazi massacres in which nearly 34,000 Ukrainian Jews were killed in 1941.
The graves could contain as many as 9,000 dead, said the Mariupol City Council on Thursday.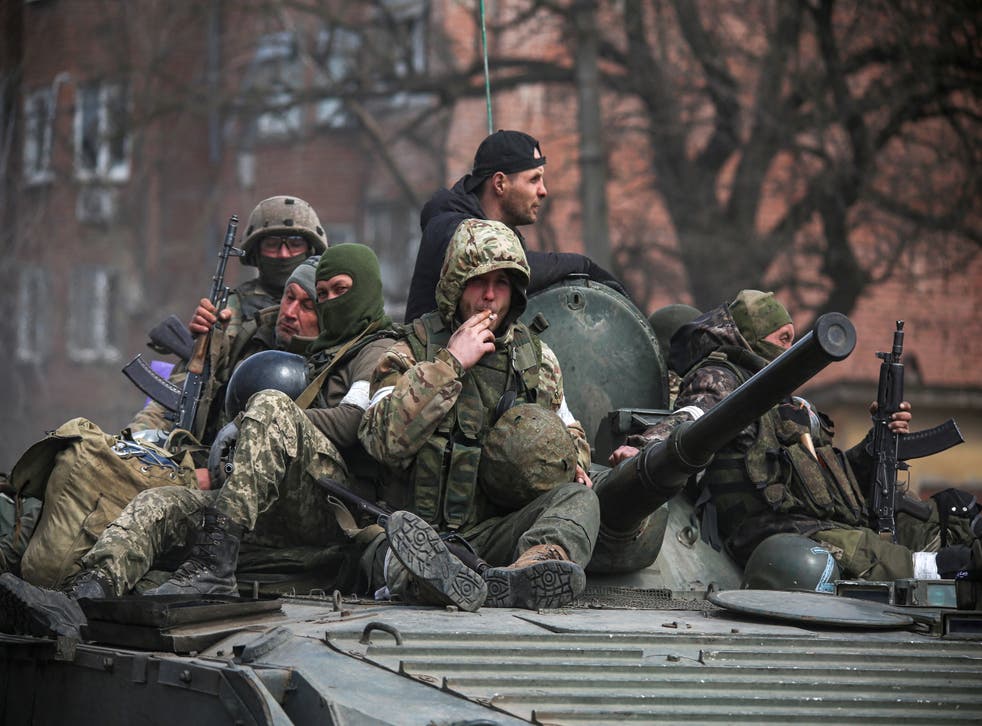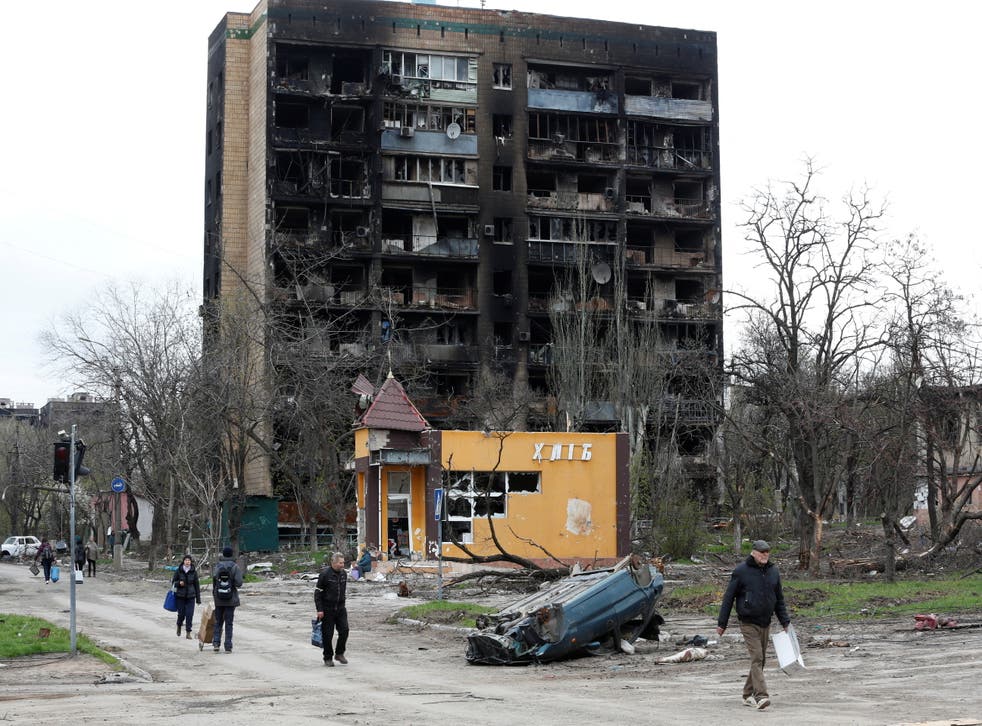 "The bodies of the dead were being brought by the truckload and actually simply being dumped in mounds," an aide to Mr Boychenko, Piotr Andryushchenko, said on Telegram.
Kremlin has not responded to the accusations so far.
Namita Singh
22 April 2022 04:57
1650598770
Satellite images show mass graves near Mariupol
New satellite images released on Thursday show what appears to be mass graves near Mariupol. This comes as local officials accuse Russian troops of buying up to 9,000 civilians there in a bid to conceal the scale of mass killings in the besieged city.
The pictures were provided by Maxar Technologies, which claimed that it showed more than 200 mass graves in a town where Ukrainian officials say Russian fighters have been burying the dead.
The images appear to show long rows of graves stretching away from an existing cemetery in the town of Manhush, outside Mariupol.
In a statement, Maxar said that a review of previous images indicates that these graves in Manhush were dug in late March and expanded in recent weeks.
The images emerged hours after Russian president Vladimir Putin claimed victory over the city despite the presence of up to 2,000 fighters holed up in the giant steel mill.
Mr Putin directed his soldiers not to storm the stronghold but to seal it off "so that not even a fly come through".
Namita Singh
22 April 2022 04:39
1650592800
Watch: UN humanitarian convoy reaches Chernihiv
A UN convoy of humanitarian aid has delivered nine trucks of food, water and other essentials to the northern Ukrainian city of Chernihiv.
Chernihiv, north of Kyiv and near to Chernobyl, came under siege in the first month of Russia's invasion before Moscow pulled its forces back after failing to take any major cities in the north.
Ukraine: UN humanitarian convoy reaches Chernihiv
Liam James
22 April 2022 03:00
1650589200
Watch: Two people dead after rocket strike hits Kharkiv neighbourhood
Footage shows a flaming wreckage after a rocket attack in Kharkiv that local officals said killed two.
The city, Ukraine's second largest, has been under heavy bombardment this week as Russia launched a new offensive in the east of Ukraine.
Kharkiv has been targeted along with the Donbas, the region claimed by separatists that Russia now says is its focus in the war.
Two people dead after rocket strike hits Kharkiv neighbourhood
Liam James
22 April 2022 02:00
1650585600
Trudeau says Canada woud support Finland and Sweden joining Nato
Canada would support Sweden and Finland joining Nato, Justin Trudeau said today, as the two countries consider joining in the wake of Russia's invasion of Ukraine.
"Conversations are being had around Sweden and Finland looking to join Nato, and Canada, of course, is very supportive of that," Mr Trudeau told reporters.
The two countries have long been militarily neutral, though they maintain solid armies and have engaged with Nato in training exercises and information sharing.
Nato secretary general Jens Stoltenberg said the two countries would be welcomed, and quickly, if they apply.
Finland, which shares a long land border with Russia, began parliamentary debates on the question of membership on Wednesday.
Liam James
22 April 2022 01:00
1650581718
UK to offer arms support to India to sway it from Russia reliance
Britain has committed to supporting India to build fighter jets in a bid to reduce the amount of arms it buys from Russia.
Boris Johnson will discuss defence and security collaboration across land, sea air, space and cyber with his Indian counterpart Narendra Modi in New Delhi tomorrow.
The British prime minister will use the meeting to press for a loosening of ties with Moscow, amid concerns about India's neutrality on Russia's invasion of Ukraine and its dependence on Russian fossil fuels.
Downing Street said the UK would offer the "best of British knowhow" to support building "new Indian-designed and built fighter jets", but further details were unclear.
Ahead of their meeting, Mr Johnson said: "The world faces growing threats from autocratic states which seek to undermine democracy, choke off free and fair trade and trample on sovereignty.
"The UK's partnership with India is a beacon in these stormy seas."
India has declined to be critical of its former Cold War ally Russia and has abstained from voting in United Nations resolutions condemning Moscow.
As the West divests from Russian fuel, India has upped its purchases of Moscow's oil and has been a major buyer of the Kremlin's arms.
Liam James
21 April 2022 23:55
1650578118
Ukrainian troops are being trained in the UK for first time
For the first time ever, Ukrainian troops on the frontline are being trained to use military equipment on British soil.
The Ukrainian fighters have come to Britain to learn how to operate 120 armoured vehicles promised by Boris Johnson to president Volodymyr Zelensky during his recent visit to Kyiv.
The location of the mission and exact number of individuals involved – understood to total "around a couple of dozen" – are being kept strictly secret for security reasons.
But training of this kind often takes place on the military ranges of Salisbury Plain in Wiltshire, where Ukrainian defence chiefs recently observed demonstrations of the Stormer armoured missile launcher.
The Stormer system, designed to fire the UK-manufactured Starstreak high-velocity air defence projectile, is being sent to Ukraine as part of Mr Johnson's military assistance package.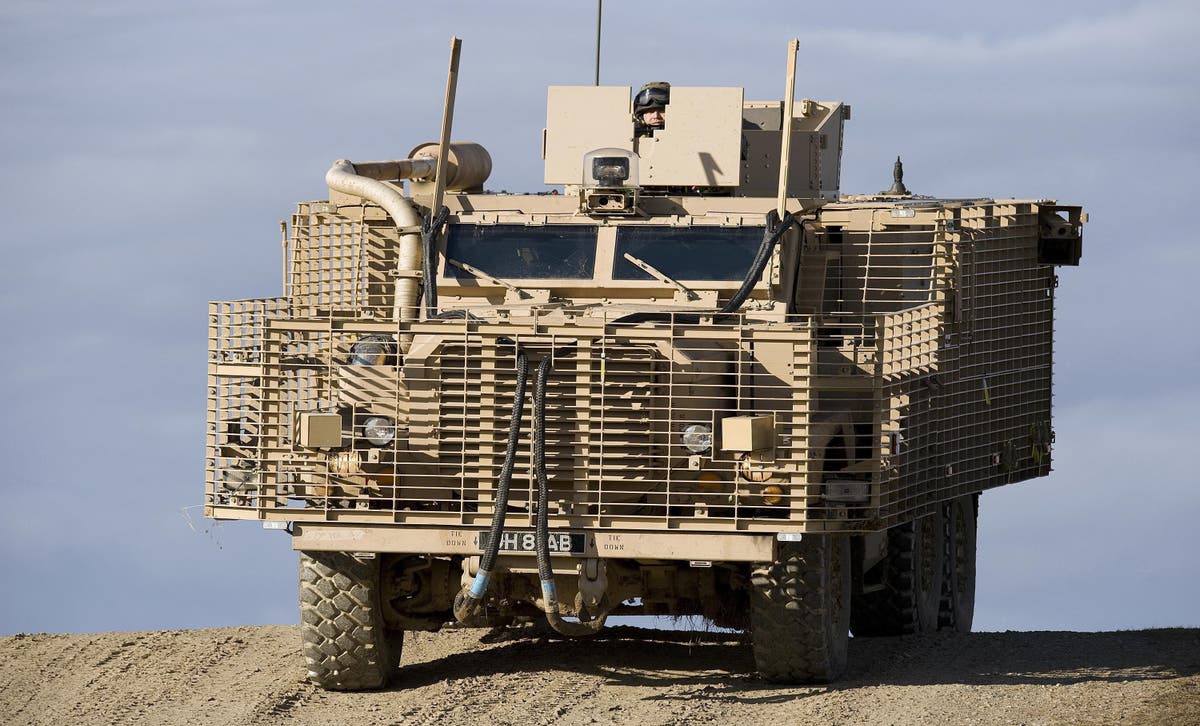 Fighters learning how to operate armoured vehicles being supplied to Volodymyr Zelensky
Liam James
21 April 2022 22:55
1650576416
Russia rejects Easter truce – Zelensky
Volodymyr Zelensky said Russia has rejected a proposal for a truce over the Orthodox Christian Easter period this weekend.
A ceasefire over the Orthodox holiday was proposed by Ukraine and supported by figures including UN chief Antonio Guterres and the Pope.
Mr Zelensky said despite Moscow's refusal he still harboured hopes for peace. In a video address this evening, he ruled out heading to Moscow for direct talks with Russian leaders on ending the war.
The Kremlin said Moscow was still waiting for Ukraine's response to Russia's latest written proposal in peace talks. Mr Zelensky yesterday said he had not seen it.
Talks between the two have so far made no progress bar agreements on humanitarian corridors to allow Ukrainians to flee cities under siege.
Vladimir Putin said on 12 April the talks had come to a dead end.
The last round of face-to-face negotiations ended on 29 March. Ukraine's chief negotiator said on Tuesday it was hard to predict when they might resume because of Russia's siege of Mariupol and Moscow's desire to strengthen its position through a new military offensive.
Liam James
21 April 2022 22:26
1650573918
Ukraine damage bill at $60bn, says World Bank
Ukraine has suffered around $60bn (£45bn) worth of damage to buildings and infrastructure since Russia invaded and the cost will rise higher as the war continues, World Bank President David Malpass said today.
Mr Malpass told a World Bank conference on Ukraine's financial assistance needs that the early estimate of "narrow" damage costs does not include the growing economic costs of the war to Ukraine.
"Of course the war is still ongoing, so those costs are rising," Mr Malpass said.
Ukraine's estimates of the damages are far higher. On Monday, Ukraine's infrastructure minister Oleksander Kubrakov said the bill for infrastructure alone was already at $100bn, while officials said the full bill for damage, including buildings, was $500bn.
Mr Kubrakov said 30 per cent of all Ukraine's infrastructure had been damaged or destroyed.
He said he expected Western nations to support Ukraine's reconstruction, with some of the money coming from frozen Russian assets.
Liam James
21 April 2022 21:45