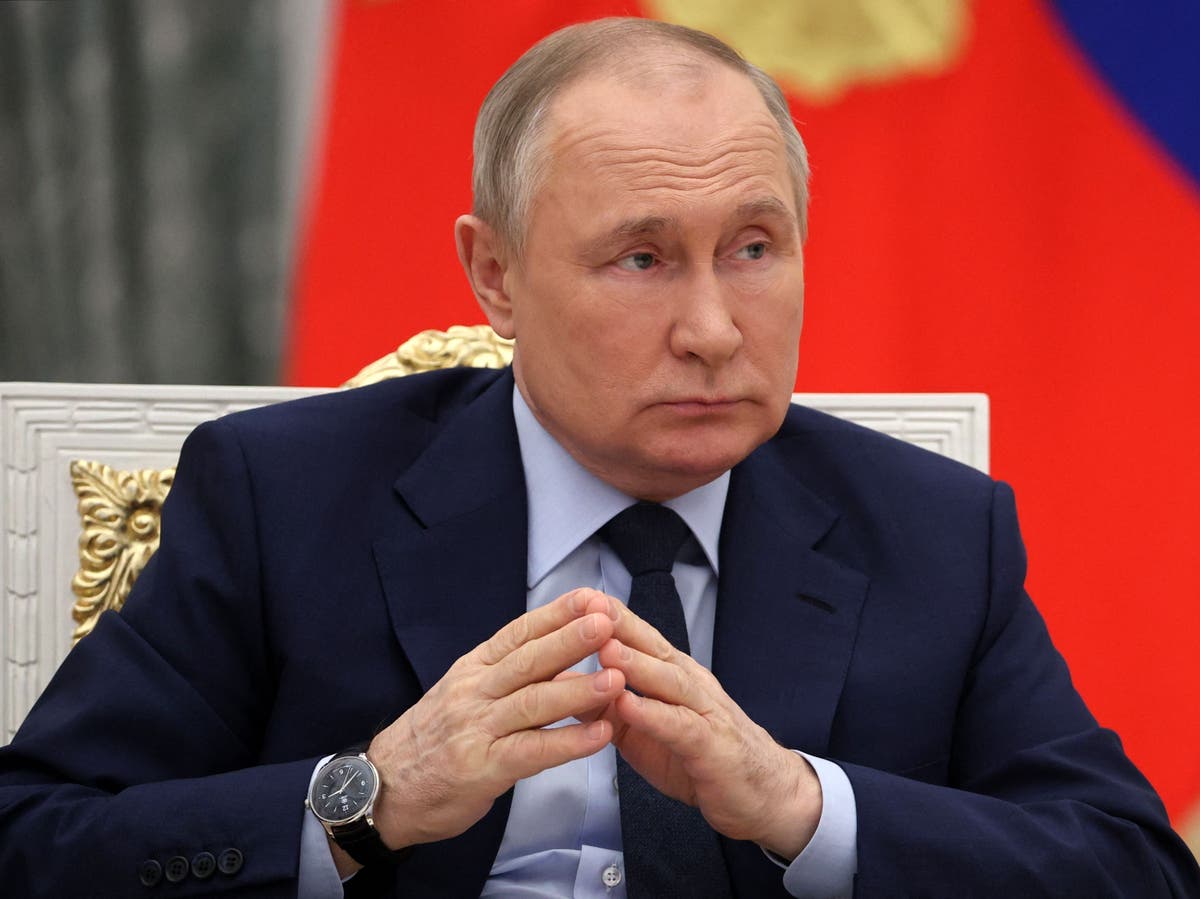 Russia invades Ukraine – live updates
Humanitarian corridor 'working for first time' says Volodymyr Zelensky
Russian forces have started to storm the steel plant harbouring the last pocket of resistance in Mariupol, its Ukrainian defenders have claimed.
The deputy commander of the Azov Regiment holed up under the Azovstal steel plant confirmed that Russian forces had started to resume their assault on Tuesday, with hundreds of civilians still claimed to be trapped underground despite a UN-brokered evacuation.
The rescue effort over the weekend saw more than 100 people, including children and the elderly, evacuated to Ukrainian-held Zaporizhzhia, many of them having been underground for months.
Meanwhile, Russian high-precision missiles have hit a logistics centre at a military airfield near Ukraine's Odessa which was used to deliver weaponry given to Kyiv by the west, the Russian defence ministry said.
The ministry said hangars containing unmanned Bayraktar TB2 drones, as well as missile weapons and ammunition from the US and European countries, were destroyed.
Odesa governor Maksym Marchenko said a rocket strike had hit the Black Sea port city on Monday evening, causing deaths and injuries.
1651637194
Putin's 'unparalleled weapons' could be hypersonic missiles, suggests Lavrov
Russian minister Sergei Lavrov has suggested that Vladimir Putin could be referring to hypersonic missiles when he recently mentioned Moscow has "unparalleled weapons".
"Everyone knows this well. Three years ago, during his Address to the Federal Assembly, President Vladimir Putin presented the latest Russian innovations. First of all, these included hypersonic weapons. He gave a frank and detailed explanation that Russia began developing them after the United States withdrew from the Anti-Ballistic Missile Treaty," Mr Lavrov said.
He added that Russia had no choice but to work on hypersonic weapons after George Bush has said that the US would withdraw from the treaty to come up with an anti-missile system that would not act against Russia.
"We had no choice but to work on hypersonic weapons because we knew perfectly well that the US missile defence system would not be aimed at North Korea and Iran but against Russia and then China. We needed weapons that were guaranteed to overpower missile defences," the foreign minister said.
"Today the Americans have suspended all these talks. We will rely on our own resources," the top Russian minister said.
Arpan Rai
4 May 2022 05:06
1651635074
EU prepares oil sanctions against Russia as Hungary resists ban
The European Union is bracing to slap a sixth tranche of sanctions against Russia this week which can include a possible ban on buying Russian oil.
It comes shortly after Ukrainian president Volodymyr Zelensky had urged for a package that "includes clear steps to block Russia's revenues from energy resources".
Throughout the Ukraine war, Kyiv has been vocal that Russia's energy exports to Europe, so far largely exempt from international sanctions, are funding the Kremlin war effort with millions of euros every day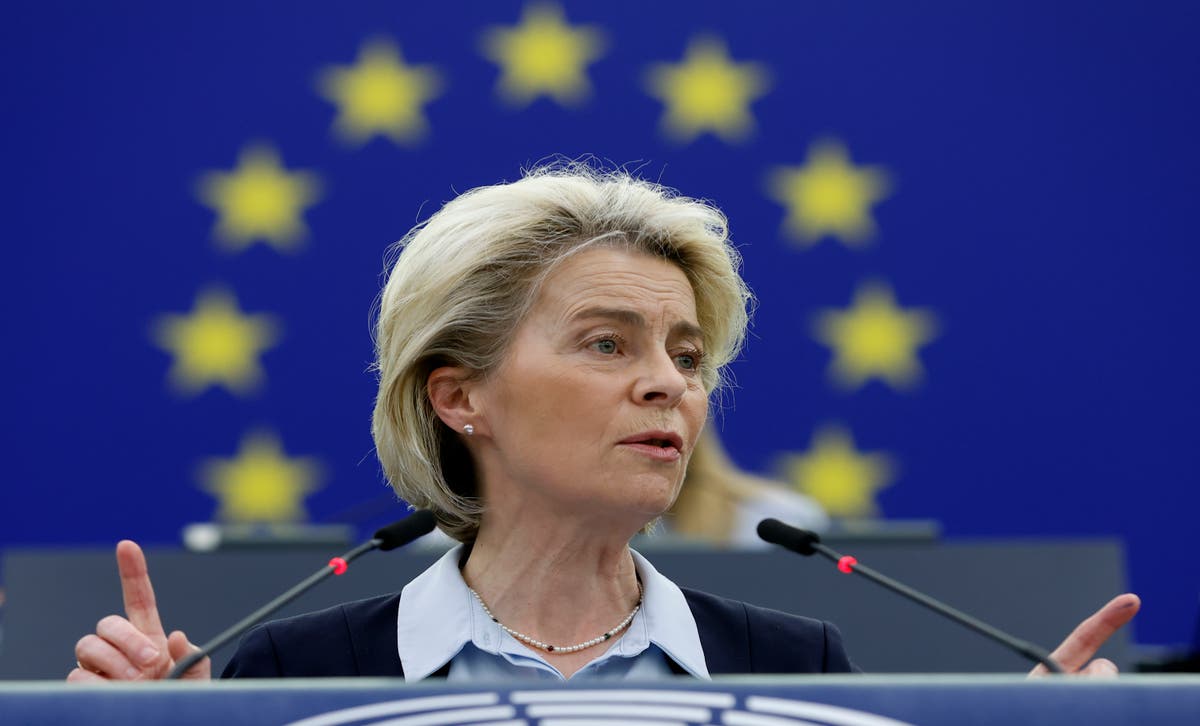 Slovakia is also seeking an exemption against approving a ban on Russian oil
Arpan Rai
4 May 2022 04:31
1651634616
Ukraine to resume evacuations from Mariupol today
The Ukrainian authorities are set to resume evacuations of civilians from Mariupol on Wednesday.
Deputy prime minister Iryna Vershchuk said that the besieged country has planned to open four humanitarian corridors to carry out the evacuations today if all safety conditions are met.
The meeting points for leaving Mariupol are Port City shopping mall in Mariupol, which will be operational at 8am local time, Lunacharske Circle, close to Berdyansk at 10am, Tokmak at 3pm and the village of Vasylivka at 4 pm.
Arpan Rai
4 May 2022 04:23
1651634257
Russia trying to vent its powerlessness, says Zelensky
Volodymyr Zelensky has said that Russia is not reacting well to Ukraine's success as multiple cities across the country were shelled.
"Various Ukrainian cities have once again become targets for Russian missiles and Russian strikes. Lviv, Vinnytsia, Kyiv region, Dnipropetrovsk region, Odesa, Kharkiv region – such a scale of today's shelling clearly does not indicate that Russia has any special military purpose," Mr Zelensky said.
He added: "Strike at Zakarpattia? What exactly can it give Russia? They are trying to vent their powerlessness. Because they can't beat Ukraine."
Arpan Rai
4 May 2022 04:17
1651629352
Russia will learn from some mistakes in its earlier offensives, US defence secretary says
Washington has learned a great deal about Russian military shortfalls and capabilities in the first two months of the war in Ukraine, top Pentagon leaders told the US Congress on Tuesday.
But they warned that Moscow is learning from its mistakes as the war shifts to a new phase, which will shape the artillery and other weapons systems the US will provide.
Defence secretary Lloyd Austin and General Mark Milley, chairman of the Joint Chiefs of Staff, told a Senate Appropriations subcommittee that if Congress approves funding, the most critical things that Ukraine needs are anti-tank, anti-aircraft and shoulder-fired surface-to-air missiles, while Ukraine will also require more tanks.
Mr Austin pointed to early failures by Russia, including almost immediate struggles with logistics, and difficulties getting food, water and supplies to troops, saying: "We saw them not able to support themselves logistically, we saw them make some bad assumptions at the beginning of this, we saw them fail to integrate aerial fires with their ground maneuver, and just a number of missteps.
"I attribute a lot of that to lack of leadership at the lower level", he said adding that the leadership problems forced Russia to send higher ranking generals to the battlefront, where "many" have been killed.
While Mr Austin said the US expects to see some of the same mistakes as the fighting in the Donbas and across southern Ukraine escalates, Russia "will learn from what they did in the early stages of this fight".
He added: "We'll see them improve their logistical efforts. And we'll see them improve their massing of fires and that sort of business. But some things they won't be able to correct."
Andy Gregory
4 May 2022 02:55
1651626352
Two injured and electricity cut to some in Lviv after strikes damage power stations
Air strikes in the western city of Lviv have damaged power stations, cutting off electricity in some districts, its mayor Andriy Sadoviy has said.
Mr Sadovyi said the strikes damaged three power substations, while two pump stations were also without power, affecting water supplies.
Two people were injured in the attack, according to the mayor, while residents and journalists in the city reported hearing multiple explosions.
He had earlier urged residents in the city to remain in bomb shelters.
The last major attack targeting the city – which has become a haven for those fleeing the war's front line in the east – came on 18 April, which killed at least seven people.
Andy Gregory
4 May 2022 02:05
1651623712
Russia losing hundreds of troops for every few kilometres gained, expert suggests
In a potentially hasty attempt to win some success in the Donbas ahead of its annual Victory Day celebrations on 9 May, Russia has employed a "very unsuccessful strategy" in the region, an expert has suggested.
"They had one opportunity, really, in the east" – to regroup their units and "have one big push to try and get through the Ukrainian lines," Dr Mike Martin, a military expert and research fellow at King's College London, told RTE.
But because Russia has fed units "mauled" in its offensive in northern Ukraine "piecemeal" into the east rather than in "one big push", the Ukrainians "have quite slowly given up ground, but they've given up ground while inflicting great damage on these Russian units that are being fed in", Dr Martin said.
"So to take two or three kilometres, the Russians lose 600 troops, and you can imagine if you multiply that across a wide front, it has been a very unsuccessful strategy for the Russians. To mirror, really, their unsuccessful approach up in the north," he added.
"The quality of Russian generalship has been appalling."
Andy Gregory
4 May 2022 01:21
1651621252
Jill Biden to meet with refugees in Romania, Slovakia this week
US first lady Jill Biden is heading to Eastern Europe at the end of the week to meet with Ukranian families displaced during the Russian invasion, Abe Asher reports.
Ms Biden will begin her trip on Thursday when she flies from Washington to Romania, where she will meet with US military members at Mihail Kogalniceanu Airbase before traveling onto the capital city of Bucharest to meet with Romanian government officials, educators, and aid workers.
Hundreds of thousands of Ukrainians have travelled to Romania since Russia invaded Ukraine in late February. A similarly large number of Ukrainians have traveled to Slovakia, where Ms Biden will travel on Saturday night following her stops in Romania.
Ms Biden plans to travel to the Slovakian capital of Bratislava to meet with US embassy officials, before travelling the next day to the smaller towns of Kosice and Vysne Nemecke to meet with Ukrainians migrants and families. She will meet with Slovakian government officials next Monday before returning to the US.
Ms Biden's trip is just her second solo foreign trip since since her husband's inaugration as president last year. She traveled to Tokyo last summer to attend the Opening Ceremony of the postposed Olympic games.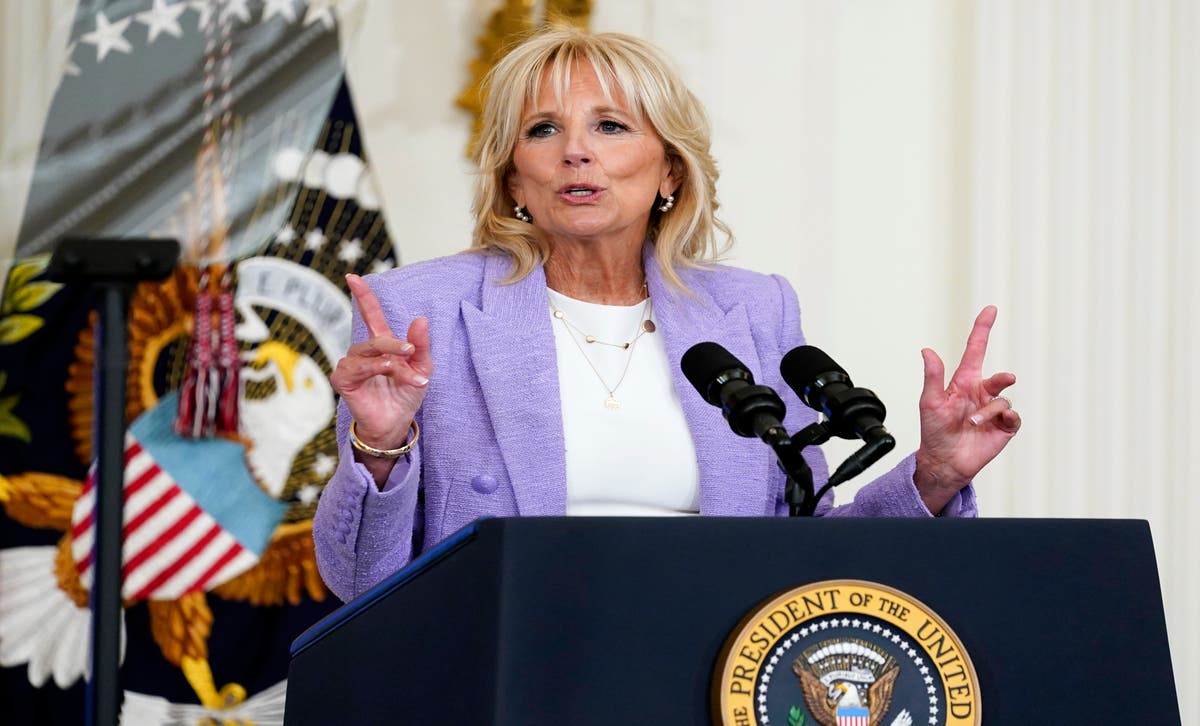 The first lady will make the trip to support displaced Ukranian families.
Andy Gregory
4 May 2022 00:40
1651618200
Donetsk civilians suffer highest daily death toll since Kramatorsk railway attack, governor says
Russian attacks in Ukraine's eastern Donetsk region killed 21 civilians and injured 27 on Tuesday, the region's governor Pavlo Kyrylenko has claimed.
Mr Kyrylenko said the figure, which included 10 dead at a coking plant in the town of Avdiivka reported earlier, was the highest daily death toll in the region since an assault last month on a railway station in the town of Kramatorsk – an attack which killed more than 50 people.
Andy Gregory
3 May 2022 23:50
1651616280
Russia claims its artillery hit more than 400 Ukrainian targets in a day
The Russian military is claiming that its artillery has hit over 400 Ukrainian targets in the space of a day.
The targets included Ukrainian artillery positions, troops strongholds and two fuel depots, Russian defense ministry spokesman Major General Igor Konashenkov said on Tuesday.
Russian aircrafts have hit 39 other targets, including concentrations of troops and weapons and two command posts, Mr Konashenkov said.
He claimed that a US-supplied artillery radar, four air defense radars and six ammunition depots were among the targets destroyed with precision-guided weapons over the last day.
Andy Gregory
3 May 2022 23:18