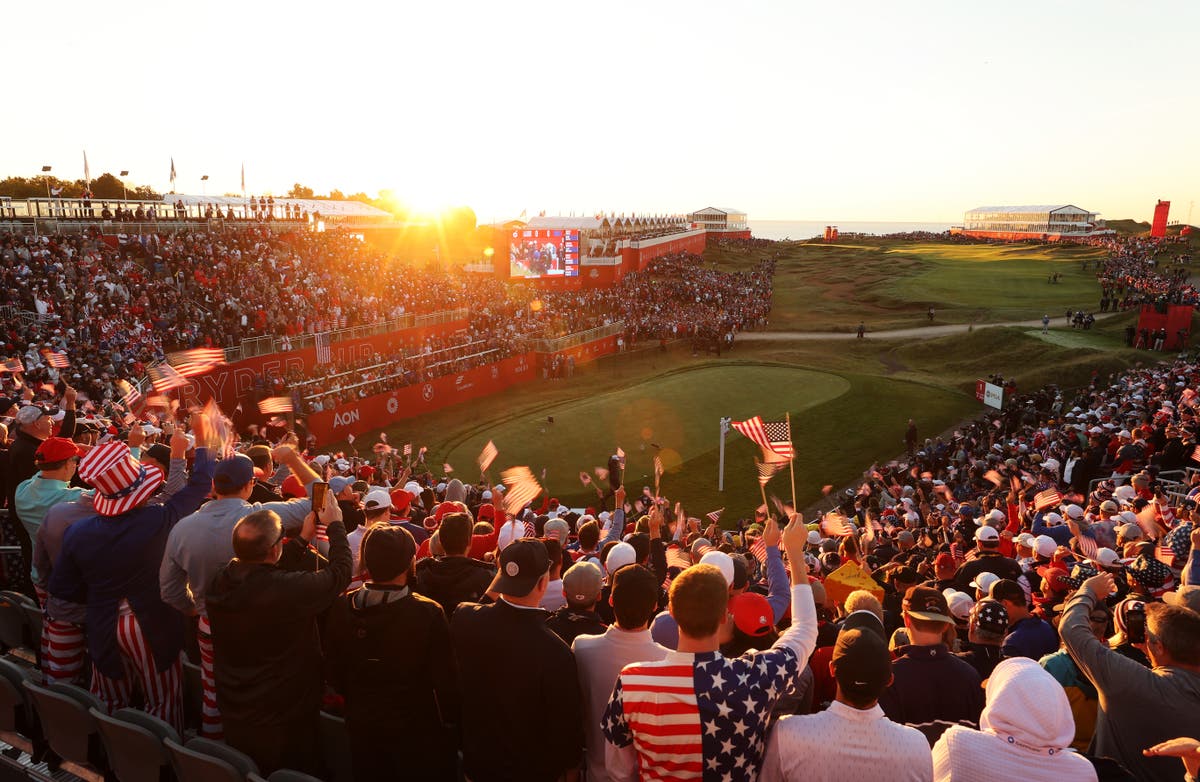 Follow live coverage of Ryder Cup 2021 between USA and Europe
Europe continue 43rd Ryder Cup preparations with practice rounds
Follow all the latest action as the 43rd edition of the Ryder Cup finally gets underway at Whistling Straits.
Team Europe are defending the trophy after their triumphant victory at Le Golf National in 2018, however, they arrive on the shore of Lake Michigan as clear underdogs against one of the strongest American sides in memory. Steve Stricker's Team USA contains eight of the world's top 10 players and an abundance of major winners, although Europe still boast the best-ranked player of all in Jon Rahm. There remain questions, as ever, over whether the US team will be able to function as a unit, too, as Bryson DeChambeau and Brooks Koepka's feud simmers in the background.
The pairings for the foursomes were announced by Striker and Padraig Harrington at the opening ceremony last night and the morning's play will begin with a tantalising match-up between the formidable US pairing of Jordan Spieth & Justin Thomas against Spanish duo Jon Rahm & Sergio Garcia. The second match sees Dustin Johnson & Open champion Collin Morikawa take on Viktor Hovland & Paul Casey before Koepka & Daniel Berger challenge Lee Westwood & Matt Fitzpatrick. The final match of the first session pits Patrick Cantlay & Xander Schauffele against Europe's heartbeat of Ian Poulter & Rory McIlory. Follow all the latest updates below:
1632485491
Ryder Cup 2021: Garcia and Thomas tee-off
Garcia steps up first, as is the honour of the visitors, and pulls his drive ever so slightly left and finds the bunker. That could leave Rahm with a very trick second shot.
Thomas takes the honour for the Americans and, after steadying his nerves, hits a perfect drive that fades from left to right and bombs down the fairway.
Tom Kershaw
24 September 2021 13:11
1632485088
Ryder Cup 2021: Spieth & Thomas bask in huge cheers
Jordan Spieth and Justin Thomas have competed alongside one another successfully so many times in the past and that's the reason they're leading from the front this week. They get a huge reception from the crowd.
The players are on the tee. The official starter is readying his lines and the Ryder Cup is about to begin.
Tom Kershaw
24 September 2021 13:04
1632484995
Ryder Cup 2021: Rahm & Garcia on the tee
Jon Rahm and Sergio Garcia make the long walk to the first tee with chants of USA booming in the background. When they emerge in front of the grandstand, huge boos ring out but the Spaniards laugh and embrace the nose.
Tom Kershaw
24 September 2021 13:03
1632484624
Ryder Cup 2021: Boos for the European captains
Boos ring out as Padraig Harrington and his vice-captains walk out onto the first tee. The grandstand is packed and loud, the stage is set, and in less than ten minutes time, the 43rd Ryder Cup will officially get underway.
Tom Kershaw
24 September 2021 12:57
1632483998
Ryder Cup 2021: The strongest US team in history
Ryder Cups are famously never dictated by world rankings, but the strength of this US team cannot be ignored. In fact, by that measurement, this is the best team the Americans have ever fielded, featuring eight out of the world top 10 and an abundance of major champions.
Tom Kershaw
24 September 2021 12:46
1632483575
Ryder Cup 2021: Spieth & Thomas vs Garcia & Rahm
We're less than half an hour away from our first foursomes match and what a brilliant spectacle it promises to be. Jordan Spieth and Justin Thomas are a formidable pairing, close friends with brilliant records in the Ryder Cup. Sergio Garica, though, boasts more winning points than this entire US team combined. He is paired with fellow Spaniard and world No 1 Jon Rahm, who memorably defeated Tiger Woods in the singles in Paris. What a show we have in store.
Tom Kershaw
24 September 2021 12:39
1632483220
Ryder Cup 2021: Stricker pre-empted McIlroy and Rahm positions
US captain Steve Stricker said he had not tried to work out which European players would be paired together, but had expected Jon Rahm and Rory McIlroy to feature in the first and fourth matches.
"I feel great about our pairings, some teams that have played together over the years, whether in the Ryder Cup or Presidents Cup," Stricker said. "We are really excited about how these guys are playing and the order they are going out."
Former US Open champion Bryson DeChambeau was among the players to sit out the opening session but Stricker said no players had expressed any disappointment about his plans.
"These guys have been incredible," he added. "I can't stress that enough. It's about the communication we have had, being upfront with them and letting them know what we are thinking so there are no curveballs.
"We have heard it multiple times from all the players, if you want to play me once or all five, that's up to you, just so we can try to win this cup."
Tom Kershaw
24 September 2021 12:33
1632482058
Ryder Cup 2021: Harrington hails Europe's team spirit
Europe captain Padraig Harrington hailed his side's strength in depth after leaving Tommy Fleetwood and Shane Lowry out of the opening session.
Fleetwood won all four of his matches together with Francesco Molinari in Paris, but with the Italian not making the team for Whistling Straits three years later, Fleetwood joined former Open champion Lowry in sitting out Friday's foursomes.
"That says a lot about our team that he is comfortable after going 4-0 and can look around his team and be confident that there are other people that are taking up that strain," Harrington said of Fleetwood.
"He's prepared to sit there and wait his chance in the afternoon, which really just sums up our team how balanced it is and the understanding of the players that they have to give other people their opportunity, as well.
"I want every player on my team absolutely dying to play every match. But I want them to also understand that there are other people in the team, they have to step aside, and they have done that brilliantly."
Tom Kershaw
24 September 2021 12:14
1632481585
Ryder Cup 2021: What makes a winning captain? It's not an exact science
In the early hours of Sunday morning in Brookline, knowing his flagging team were staring down the barrel, Ben Crenshaw played his Hail Mary. He called his close friend, George W Bush, then the governor of Texas, to deliver a speech to those in the fractious and frayed US locker room. And so, with the players waiting quizzically, Bush read aloud a letter sent by Colonel William Travis before the Battle of the Alamo, replete with pledges to "to never surrender or retreat".
A few minutes later, after his final three words – "victory or death" – Bush promptly walked straight out the door without a moment's hesitation. Overcome by hysterical patriotic pride, what followed amounted to a sporting massacre as the Americans won all of the first six singles matches and completed one of the most remarkable and contentious comebacks in Ryder Cup history. "I've never seen such firepower going out," Crenshaw said afterwards, his clothes stained by champagne, as his players waved US flags from the balcony.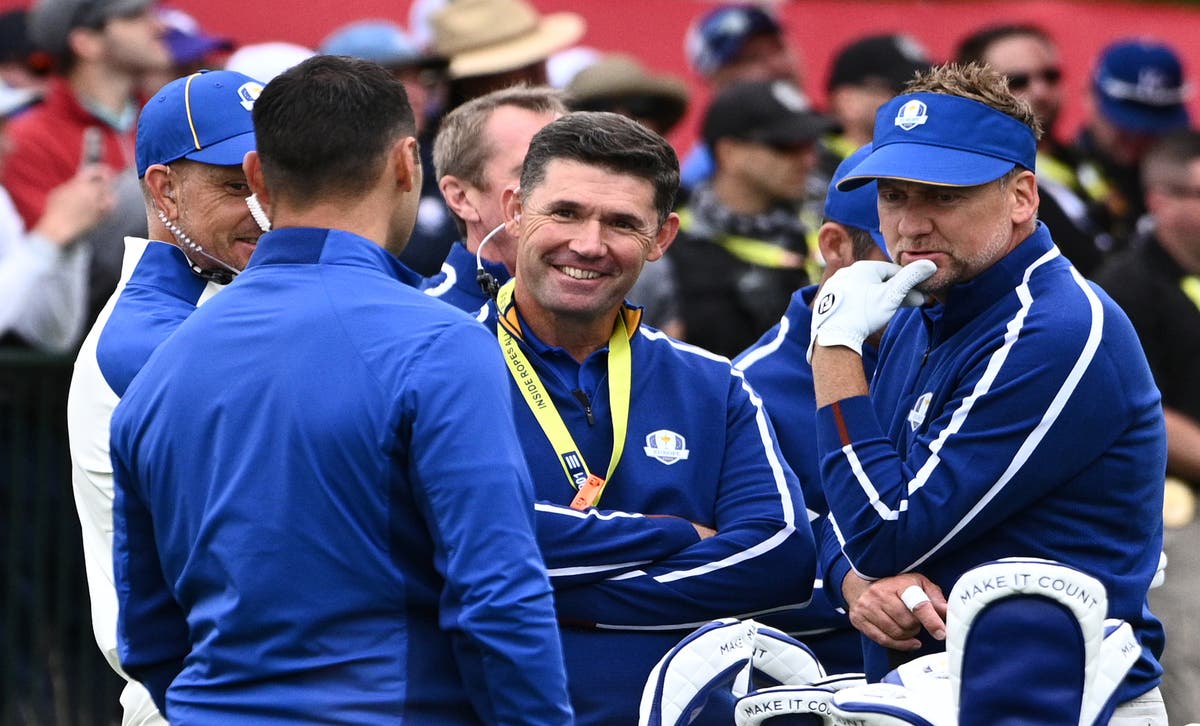 The odds are stacked against Padraig Harrington's players – but captains have defied predictions before
Jack Rathborn
24 September 2021 12:06
1632481225
'It's the X factor': Can team spirit tilt the Ryder Cup in Europe's favour?
There's an opening gambit Graeme McDowell likes to tell at the many corporate days he's had to attend over the last decade. "In the American team room, they'd have three ping pong tables," he says, with a little theatric suspense, "… and we'd have a bar. People laugh but it's actually true. We'd have a couple of beers, shoot the s***, and naturally built that camaraderie."
It might seem a somewhat rose-tinted, helpfully inebriated insight into what binds Team Europe, but few themes have become as tendentious and synonymous with the Ryder Cup as team spirit. It's the elixir that's given life to famous upsets and infamous falling-outs, intoxicating champagne celebrations and segregated pod systems. An inherently European advantage cited with almost religious devotion, even by the staunchest non-believers.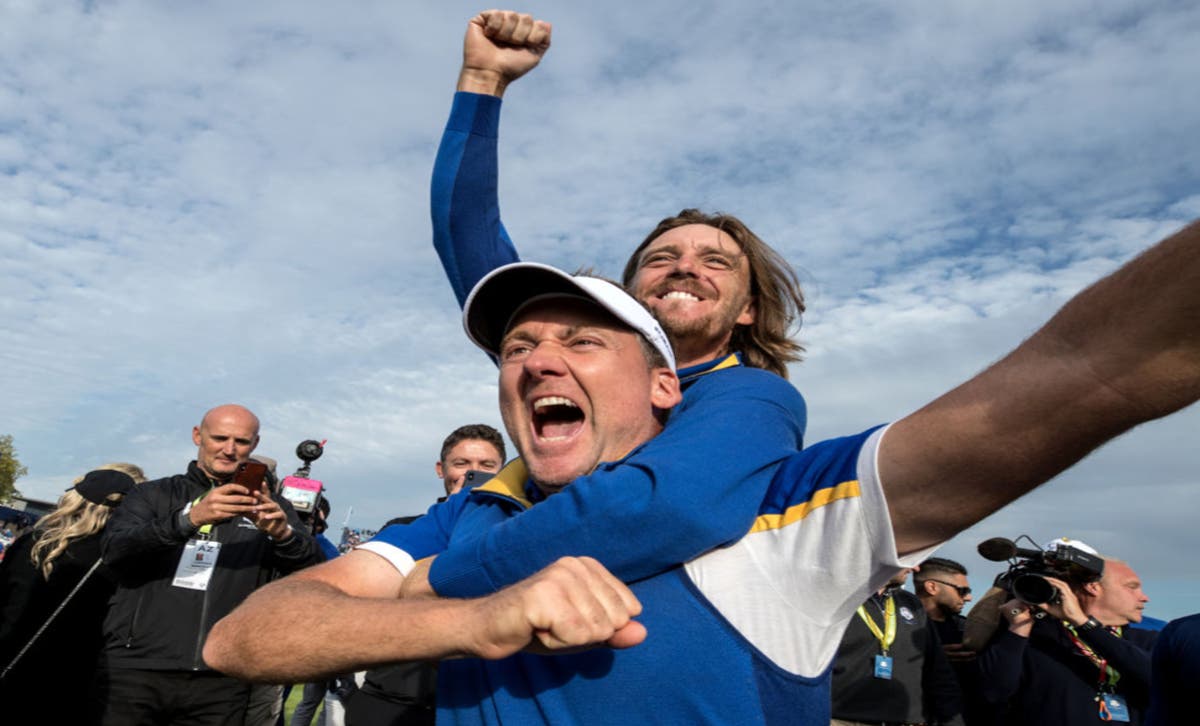 Team USA are, on paper at least, heavy favourites at Whistling Straits this week, but contrasting atmospheres between the two locker rooms has swung the tournament's direction on several occasions
Jack Rathborn
24 September 2021 12:00