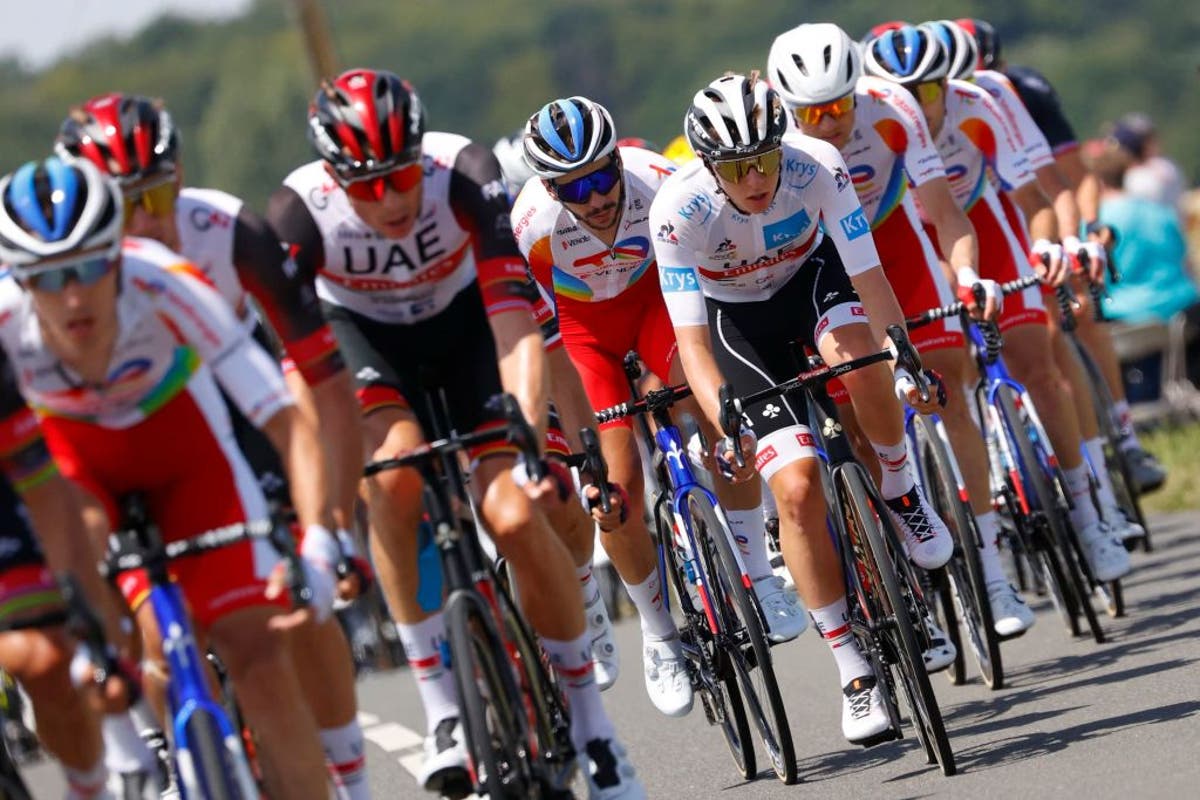 The reigning champion is the man in yellow after a stunning performance to crush his rivals on stage 8
Fan's cardboard banner causes huge Tour de France crash
We are back in Tignes for the Tour de France, two years after the race had to be suddenly suspended due to a mudslide on the road, and the peloton never reached the finish. It proved decisive as the yellow jersey saw a switch from Julian Alaphilippe to Egan Bernal, who went on to win, but this time around the irrepressible Tadej Pogacar is in the maillot jaune and looking extremely well-placed for success.
Pogacar produced a stunning display on stage 8 and opened up a gap of 1min 46sec ahead of Wout van Aert at the top of the standings. He is around five minutes on his most realistic rivals, including Alexey Lutsenko, Rigoberto Uran, Richard Carapaz and Enric Mas. The question now is surely by how much, rather than if, Pogacar will retain his crown.
Stage 9 is the final stint before Monday's first rest day and it is another brute in the Alps. There are five categorised climbs scattered through the 145km route from Cluses to Tignes, with the hors categorie Col du Pre in the middle before a 21km drag up to the summit finish.
1625400216
Tour de France – Stage 9
Sonny Colbrelli takes the intermediate sprint after beating Michael Matthews to the line. Julian Alaphilippe crosses over in third and is joined by Dylan Teuns, Stefan Küng and Chris Juul-Jensen to make up the six riders who are looking to break away from the chasing pack. Pogacar and the yellow jersey group are 1:30 further back.
Elsewhere, Enric Mas, Team Movistar's GC rider, is off his bike after appearing to skid off the slippery, wet road. Mas was tenth in the GC standings ahead of today's stage, just over five minutes behind Pogacar. Mas seems to have gone down as his jersey has been cut, but he's back on his bike and is continuing.
Jamie Braidwood
4 July 2021 13:03
1625399822
Tour de France – Stage 9
There is an intermediate sprint coming up in the next five kilometres. The riders have reached the top of the first climb of the day and now have a downhill run towards the intermediate sprint checkpoint. Mark Cavendish is three minutes off the pace and the wearer of the green jersey will not be involved in this upcoming sprint.
There continues to be a lot of movement at the front of the race, with Colbrelli and co. rejoined by the chasing pack.
Jamie Braidwood
4 July 2021 12:57
1625399573
Tour de France – Stage 9
Latour and Martin quickly get swallowed up by the chasing pack, which includes the yellow jersey, before Sonny Colbrelli attacks and is joined by Anthony Perez and Sergio Higuita.
Further back, Geraint Thomas has been dropped by the main peloton, as has Chris Froome and Ritchie Porte. Thomas looked pretty miserable this morning and looked like he was preparing himself for another tough day in the mountains. The weather is also grim again today, with rain drizzling down.
Jamie Braidwood
4 July 2021 12:52
1625399009
Tour de France – Stage 9
But it's Pierre Latour who bursts past Sweeny and Ballerini to pick up the five points at the top of côte de Domancy. Sweeny takes three points, while Nairo Quintana and Michael Woods also got past Ballerini to collect two and one points respectively.
Latour is then joined by Dan Martin at the front of the breakaway as the riders to continue to climb.
Jamie Braidwood
4 July 2021 12:43
1625398661
Tour de France – Stage 9
Julian Alaphilippe, Bauke Mollema, Michael Woods and Patrick Konrad speed up in an attempt to go for the points on the climb up to Côte de Domancy, as Sweeny and Ballerini reach the 1km mark.
Jamie Braidwood
4 July 2021 12:37
1625398369
Tour de France – Stage 9
Back to today's stage and two riders have made an early attack six kilometres in. Harry Sweeny and Davide Ballerini have broken clear of the peloton and have built up a 50 second gap as they approach the first climb of the day up to Côte de Domancy (cat-2).
Both riders are competing in the Tour de France for the first time.
Jamie Braidwood
4 July 2021 12:32
1625398181
Tour de France: Van der Poel and Roglic quit
And here's Van der Poel on his decision: "When you see a mountain stage like this, I think it's impossible to defend against the climbers. And it was also not my goal to go for GC. It's been an amazing dream week for me and the team. We won a stage – 2 stages! – and we've had yellow for 6 days. It was my first Grand Tour and I think we can be really proud of that.
"Unfortunately, I will not start today. We decided with the team that it's in my best interests to quit the race and focus on the Olympics now. I'm going to take some time to recover from this first week. We know it would have been difficult for me, and I have some other goals. And due to corona, it was impossible for me to do the whole Tour and then be at my top game in Tokyo. We've had an amazing week, and I'll be back next year to go to Paris.
Jamie Braidwood
4 July 2021 12:29
1625398014
Tour de France: Van der Poel and Roglic quit
In a statement, Roglic said: "We took the decision altogether with the team, it doesn't make sense to continue the way it was going at the end. I was really bad and in a lot of pain. With the normal stages it was too much for my body at the moment. I'm definitely disappointed, I didn't plan this to be the way it is and you have to accept it. I have to go on with this decision. I have to be optimistic, look to the future and new goals."
A brutal week for the Slovenian.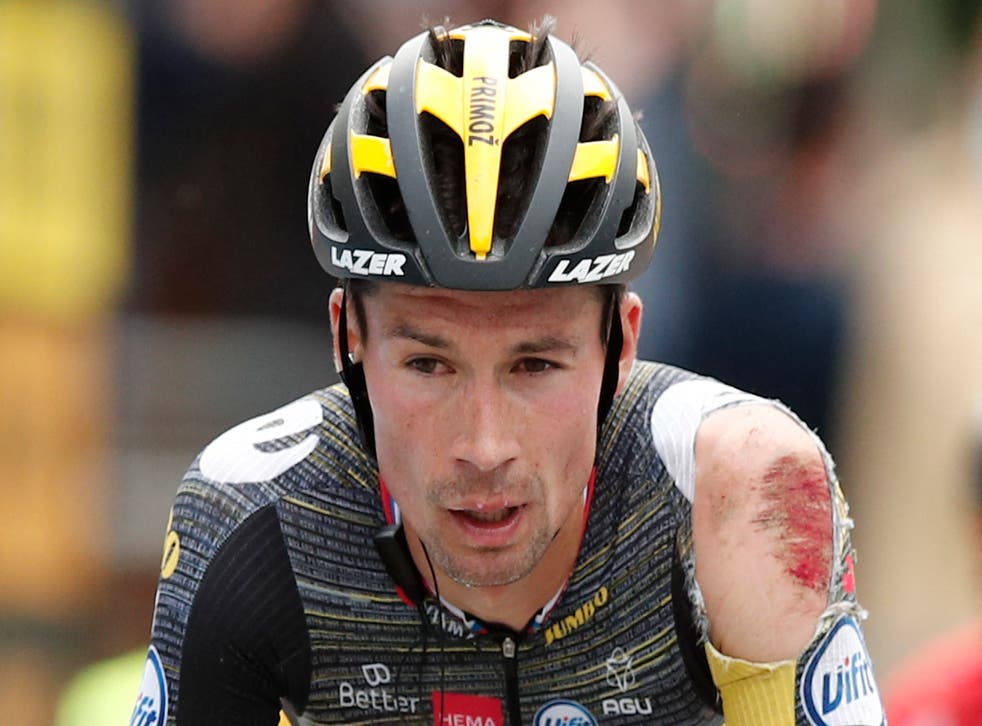 Jamie Braidwood
4 July 2021 12:26
1625397500
Tour de France: Van der Poel and Roglic quit
The big news from this morning is that Mathieu van der Poel and Primoz Roglic have not lined up for today's stage and have therefore quit this year's Tour.
Van der Poel wore the yellow jersey until yesterday but it sounds like he was completely wrecked after his efforts over the week and was then finished off as the Tour hit the big climbs of the Alps.
Roglic, who was the runner up at last year's Tour, was involved in a brutal crash on Stage 2 and was seemingly still suffering from the incident as he dropped out of GC contention yesterday.
Jamie Braidwood
4 July 2021 12:18
1625397474
Tour de France – Stage 9
Tadej Pogacar held himself back from challenging for the stage 8 victory as rain fell and made the treacherous descent to the finish too dangerous a place to take a risk. But he has the peloton at his mercy and there is no reason for him to hold back here, with a rest day to come, should he be near the front come the final stretch. If not Pogacar then it is a day for a pure climber in a breakaway: Nairo Quintana has won on profiles like this one before and he is out of the overall running, so could have a free tilt at the run to Tignes.
Jamie Braidwood
4 July 2021 12:17